Among the Great Whales 2024
January 20 - 27, 2024
Prices starting at $6,720
Please call our tour operator at:
800-543-8917
Join our Seven-Day Cruise to Meet Gray Whales Up Close & Explore the Beauty of Baja California
Based aboard our National Geographic expedition ship, discover all the natural treasures Baja California is famous for, including whales, dolphins, sea lions, blue-footed boobies and frigatebirds, huge cardon cacti, mangroves and sand dunes. Each winter, gray whales migrate from their Arctic feeding grounds in the Bering Sea to breed and birth their young in the sheltered lagoons of Mexico's Baja Peninsula. The annual journey is the longest mammal migration on Earth, covering more than 10,000 miles roundtrip. In the protected waters of Magdalena Bay on Baja California's Pacific coast, cruise among the whales in expedition rafts, offering the rare privilege of a close-up, water-level perspective—these friendly mammals sometimes approach our boats directly! We also enjoy naturalist-guided walks on uninhabited islands, plus swimming, snorkeling and kayaking in the Sea of Cortez.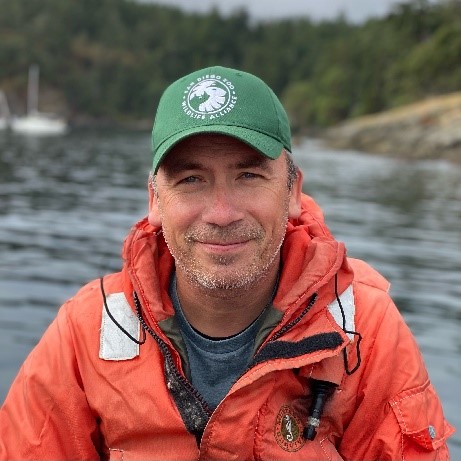 The SDZWA host for this trip will be:
Hendrik Nollens, Vice President of Wildlife Health
Dr. Nollens leads the nutrition and veterinary clinical, research and diagnostic teams at the San Diego Zoo and the Safari Park. He joined SDZWA in 2021. He received his veterinary degree from the University of Gent in Belgium, a master's degree in marine biology from the University of Otago, New Zealand, and a PhD in infectious diseases of marine mammals from the University of Florida.  Dr Nollens gained much of his clinical experience during his time as a clinical veterinarian at SeaWorld San Diego and as lead veterinarian for the SeaWorld and Busch Gardens parks.  He has since served as the Vice President of Conservation Medicine and Science of the Pacific Marine Mammal Center. He is a member of the Society for Marine Mammalogy, the American Veterinary Medical Association and the Wildlife Disease Association. He is the President Elect of the International Association for Aquatic Animal Medicine.
Dr. Nollens looks forward to sharing the humbling and exhilarating experience of being alongside these majestic animals, while they are at the southernmost tip of one of the longest migration trips of any known mammal.
Above is a short video from our SDZWA Host Hendrick Nollens about his thoughts on this adventure.
Trip Highlights
Intimate Whale Encounters
Experience magical moments with gray whales—one of the world's largest mammals—and witness the start of the whale calves' life journey
An Immersion in Baja Wildlife
Swim, snorkel and hike among the Sea of Cortez islands as we look for blue whales, bottlenose dolphins and endemic black jackrabbits
Discover the varied ecosystems of Baja California—desert, dunes and mangroves home to frigatebirds, pelicans, cormorants and great blue herons
Sail with the World Leader in Conservation-Focused Small Ship Cruising
We're proud to offer this Adventure Cruise through our partner, Lindblad Expeditions. Lindblad Expeditions is the company who pioneered eco-conscious expeditions for "citizen explorers" and today is the world leader in conservation-focused small-ship cruises. Our Adventure Specialists are intimately familiar with the ships and itineraries and are on call to answer any questions you might have.
Travel with a Top Naturalist Expedition Team




Gain a deep understanding of the natural history of Baja as you sail with a veteran expedition team. This trip includes an SDZWA Host, an Expedition Leader and a team of naturalists, plus an undersea specialist, a Lindblad-National Geographic certified photo instructor, and a wellness specialist. Our Baja naturalists represent a diversity of specialties, including marine biology, evolutionary biology, ornithology and more. As you choose your daily activities, flexibility lets you gravitate to the naturalists whose interests mirror your own. 

Gain Unmatched Access to Whales


Enjoy the rare privilege of entering the Pacific gray whale birthing lagoons for close encounters with these gentle giants. Lindblad is the only non-local company allowed to bring its own expedition landing craft into this area of Magdalena Bay. This is also the only itinerary that explores both the lagoons on the Pacific Ocean side plus the Sea of Cortez on the same voyage, offering more chances for whale sightings. While gray whales offer the most consistent interactions, the Sea of Cortez is home to a great variety of whales and dolphins: pods of hundreds of common and bottlenose dolphins; orcas and false killer whales; blue, fin, Bryde's, humpback, pilot and sperm whales; and more.

Explore in Depth via Excursion Craft & Specialized Equipment




The ship's fleet of tandem and single kayaks facilitates intimate water-level exploration of scenic coastlines with close proximity to nesting birds. Complete snorkel gear, including wetsuits, is at your disposal so you can swim with sea lions and schools of colorful reef fish. If you prefer to stay dry, observe the underwater world of the Sea of Cortez via HD video shot by our undersea specialist who shares footage from each day's dives on the plasma screens in the ship's lounge. Listen to whale communications via hydrophone, and observe the whales underwater in real time via a bow-mounted camera that sends a live feed to the onboard screens. Via expedition landing craft, explore with a naturalist's expert narration, and get great photos from this platform with tips from a Lindblad-National Geographic certified photo instructor.

Be a Part of Citizen Science




Witness research on board our ship that's supported by National Geographic. Watch our crew lower scientific instruments that measure various levels in the Sea of Cortez, with the goal of revealing changes in an ecologically important zone.

Flexibility Keeps You Closer to Wildlife




Flexibility is a hallmark of our expeditions, and our small ship is what makes that possible. Expedition landing craft get you close to whales and follow the shoreline for close-up photos of plunge-diving pelicans and blue-footed boobies. And the captain will change course to keep the ship among a pod of dolphins. A less-scripted voyage means more spontaneity to follow the wildlife.
Itinerary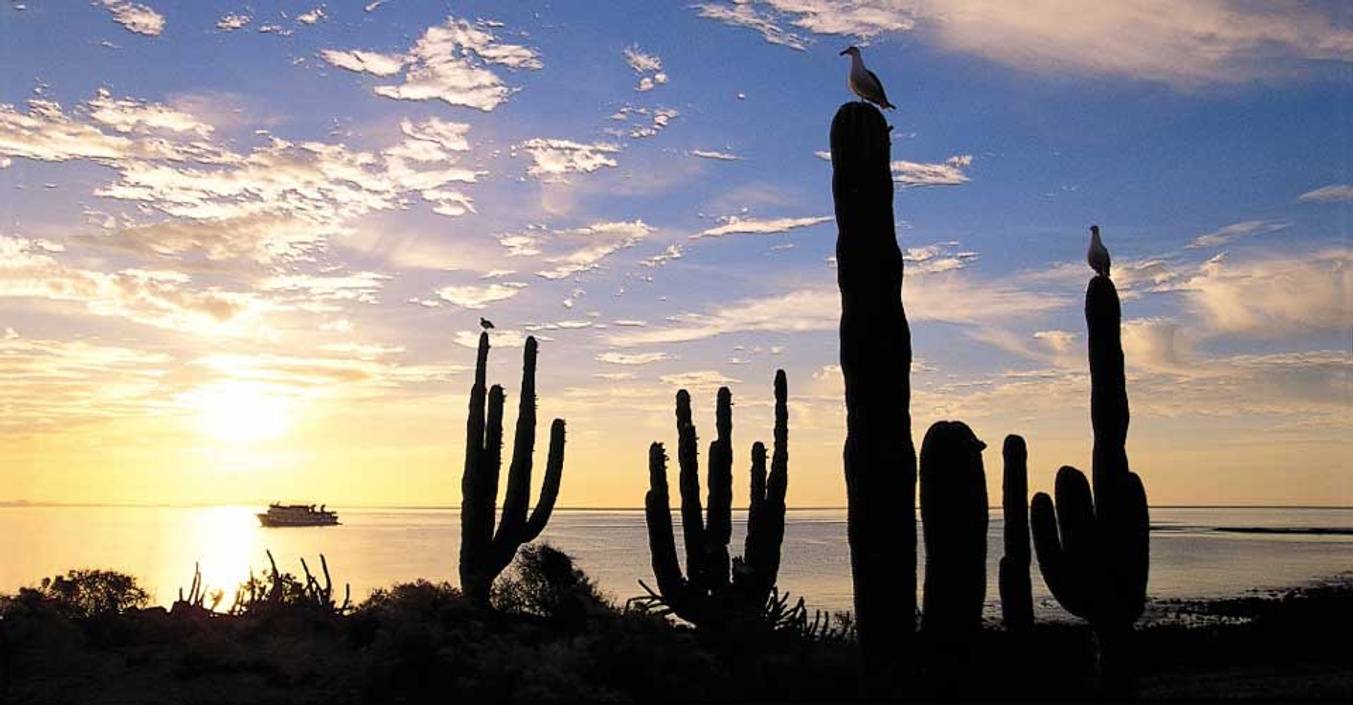 Day 1–8: Enjoy magical close encounters with enormous gray whales in the warm waters of the Baja Peninsula, which are their winter breeding and nursery grounds.
Accommodations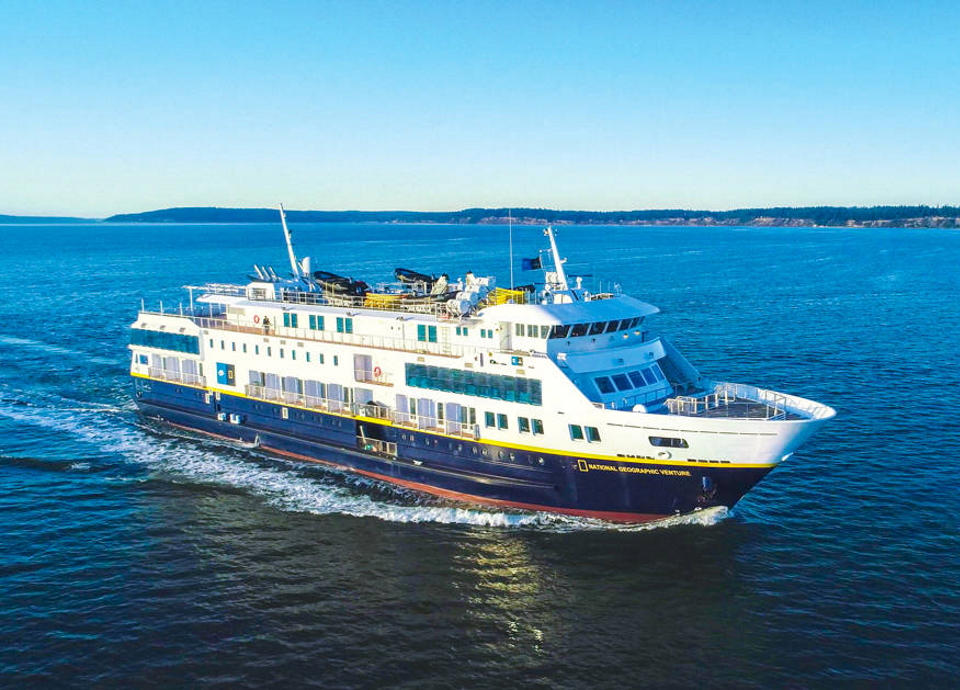 National Geographic Venture
Baja, Mexico
Built in 2017, the National Geographic Venture is a state-of-the-art expedition vessel designed to navigate coastal waters where wildlife congregates. An open bow and spacious sundecks create optimum open-air vantage points for wildlife viewing, and a twin expedition craft landing platform ensures quick trips on and off the ship for closer exploration. Small coves and other hard-to-reach places become accessible with Venture's exceptionally shallow draft, and large, luxurious cabins are a comfortable and relaxing place to retire to at the end of an active day.
Accommodating 100 guests in 50 cabins, Venture offers an intimate expedition ship experience. All cabins have views to the outside, with two portholes and a large window or balcony. Floor-to-ceiling sliding doors access small balconies on 22 of the cabins, and a dozen more can connect via internal doorways for families. Cabins are equipped with modern en suite bathrooms, Wi-Fi access and USB outlets. Well-equipped for exploration, Venture sails with 24 two-person kayaks and eight expedition landing crafts to get everyone off the ship and on to adventure quickly—and a remotely operated vehicle, hydrophone and underwater camera make sure you won't miss action under the sea. Meals feature fresh, local, sustainable ingredients, while a lounge with wraparound windows, multiple high-definition screens and a small reference library is the gathering spot for everything from cocktail hour to guest speakers, interpretation and photography talks. Enjoy massages at the onboard spa and workouts at the fitness center.
Trip Pricing
Trip Price: Price based on 2023 rates, subject to change.

Category 1 $6,720 double occupancy, Category 2 $7,490 double occupancy, Category 3 $8,110 double occupancy, Category 4 $8,950 double occupancy, Category 5 $9,930 double occupancy, 
Category 1 $10,230 single occupancy, Category 2 $11,140 single occupancy.

Deposit: 15% of cabin price at the time of booking.
Group Size
Limited to 100 Travelers (28 SDZWA)
An important feature of any Lindblad Expeditions adventure cruise is the small ship size. Smaller ships are able to access more remote areas off limits to large cruise ships, and guests aboard enjoy more intimate nature encounters as well as more personalized interactions with the ship's naturalist staff. Guests are divided into smaller groups for boat excursions, kayak outings and hikes ashore.
Included
Accommodations; meals indicated; excursions; services of SDZWA Host and Lindblad Expeditions' Leader; naturalist staff and expert guides; use of kayaks; snorkel gear; all port charges and service taxes.
Not Included
Air transportation; voyage DVD; personal items such as alcoholic beverages, emails, etc.; discretionary tips to ship's crew; optional travel and/or medical evacuation insurance. 
Physical Requirements: Easy to Moderate
This adventure does not require a high degree of physical fitness. You must be able to walk up and down stairs, wade through shallow water to step in and out of the excursion skiffs, and sit on bench seats for long periods of time while whale watching. Depending on weather and sea conditions, boat excursions to the whales can be rough, bumpy and wet. Winds may be strong, water may spray into the boat, and temperatures may be cold. Optional hikes will also be available, and in order to participate, you should be able to walk unassisted on uneven terrain for at least one mile. All activities are completely optional, and travelers should only participate in those activities with which they feel comfortable.
Recommended Insurance
Since the areas we travel to are remote and wild (that's why we go there!), we strongly recommend that all guests have, at minimum, medical evacuation insurance for this program. While this is not required, we make this strong suggestion in the interest of our guests' safety. We recommend that your chosen independent insurance plan includes at least $250,000 in medical evacuation coverage.
To protect your investment and to provide peace of mind while you travel, we also strongly recommend purchasing comprehensive travel insurance. Plans may cover everything from medical treatment to trip cancellations and delays and lost luggage. Please contact our office if you would like more information about the medical evacuation and comprehensive travel insurance policies we offer by calling 800-543-8917. 
Getting There and Getting Home
You will need to fly in and out of Loreto, Mexico.
We can best serve you by having Lindblad Expeditions' air department book your flights, since Lindblad is most familiar with the special requirements of each trip. Please call Lindblad directly at 800-397-3348. Note that while Lindblad Expeditions' air department will offer you its best available rates on airfare, you may find better fares online.