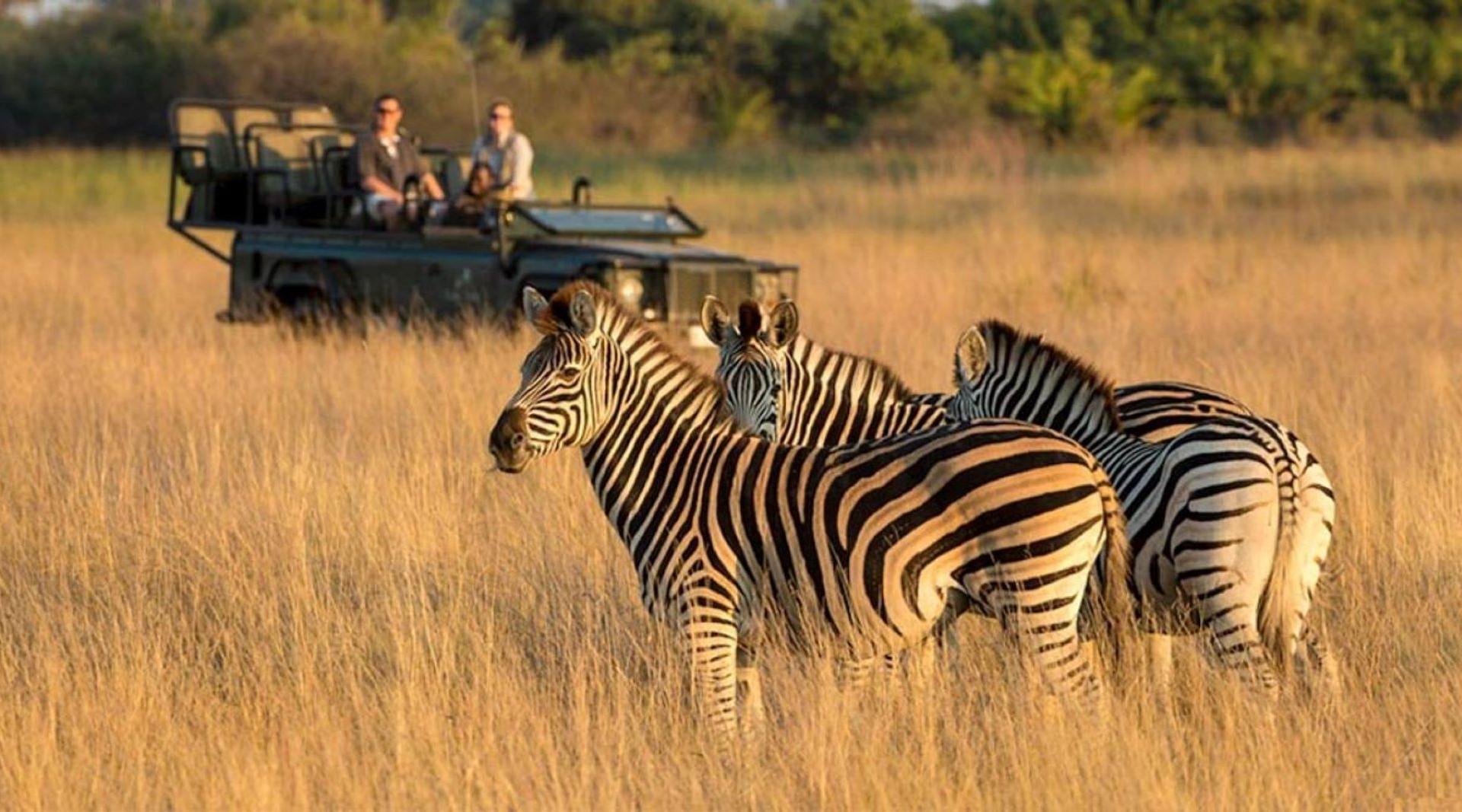 Botswana Explorer Safari 2025
May 28-June 5, 2025
Prices starting at $12,595
Please call our tour operator at:
800-543-8917
Limited to 13 Travelers
A Classic Tented Camp Safari into the Okavango Delta and Kalahari Desert
This deep immersion in the Botswana bush reveals the essence of wilderness, protected by a conservation-minded country that leads the continent in habitat stewardship. An ancient landscape occupied by the San people for more than 100,000 years, Botswana today is a stronghold for elephants, home to Africa's largest population of more than 130,000, and endangered species like rhino and wild dog. Sprawling grasslands, deltas, and savannas sustain a multitude of wildlife that thrives within this mosaic of ecological diversity. From our traditional canvas camps that are exceptionally comfortable without extravagance, explore exceptionally varied habitats on wildlife drives, bush walks, and dugout canoe excursions. And when night falls, gather around the campfire to revel in each day's wonders, as the stars glitter overhead and animal calls resound in the darkness.
This trip will be hosted by a SDZWA Wildlife and Conservation Expert
The host for this trip will be an SDZWA expert on wildlife specific to the region. They will be with you every step of the way, to educate and inspire you, and to share their passion for nature! Check back for more details.
Trip Highlights
Explore Where Wildlife Reigns
Traverse Botswana's diverse habitats, as we delve deep into the most remote, wildlife-rich reaches of the Okavango Delta and Kalahari Desert.
Stay at Authentic and Intimate Camps
Experience rustic bush luxury and African hospitality at our secluded small safari camps, surrounded by untouched wilderness.
Travel with the Finest Safari Guides
On private reserves with a premier safari guide, thrill to close encounters with charismatic predators, huge elephant herds, and more.
What's So Distinctive About this Botswana Safari?
This exclusive adventure in some of Africa's last true wilderness is not your standard safari. We deliver a remote nature experience focused on close-up wildlife sightings in an intimate context—you're likely to see animals roaming right on the edge of our classic tented camps! Here's what makes this safari stand out:
A Compact Itinerary Designed for Variety
Our itinerary is carefully crafted to showcase varied wildlife habitats over just nine days. From the flooded marshlands of the Okavango Delta with its lions, leopards and elephants to the semi-arid savanna of the Kalahari Desert, teeming with zebras and wildebeest, you'll find some of wild Africa's most impressive animal encounters.
 
Private Reserves Get You "Out There"
Enjoy the advantages of remote locales and exclusive activities. Avoiding more heavily visited national parks, we concentrate on uncrowded private reserves. Our intimate tented camps are located in isolated settings amid abundant wildlife, which we encounter not only on traditional game drives, but also on guided bush walks and night drives in search of nocturnal creatures—activities not allowed in the national parks.
 
An Open "Window" Seat for Everyone
You'll have an unimpeded view no matter where you sit in our chartered top-quality safari vehicles. They have open sides (no glass to interfere with your view) and nine cushioned passenger seats—one in front next to the driver, followed by two rows of three seats each and a pair of seats at the back. On wildlife drives, we limit our capacity to no more than seven travelers in each vehicle, for maximum comfort, viewing, and photo opportunities.
 
The World's Finest Safari Guides
Natural Habitat Adventures is known worldwide for employing the finest naturalists on the planet! Our Botswana Explorer Safari includes your own private expedition leader, ranked among the most highly trained guides in Africa and renowned for providing exceptional service. Our safari expedition leaders average 15 years of guiding experience.
 
A Maximum of 13 Travelers
A small group is essential for an authentic safari experience. With a maximum of just 13 guests plus our expedition leader and local guide—always divided into two vehicles—you'll have a sense of being totally secluded in nature.
Itinerary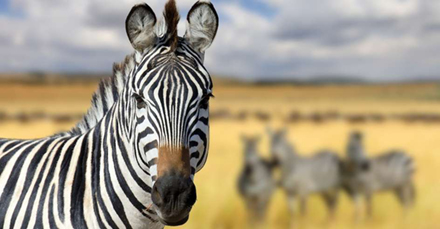 Day 1–9: A classic tented safari exploring Botswana's wildlife-rich Okavango Delta and Kalahari Desert, with exclusive adventures on remote, private reserves.
Accommodations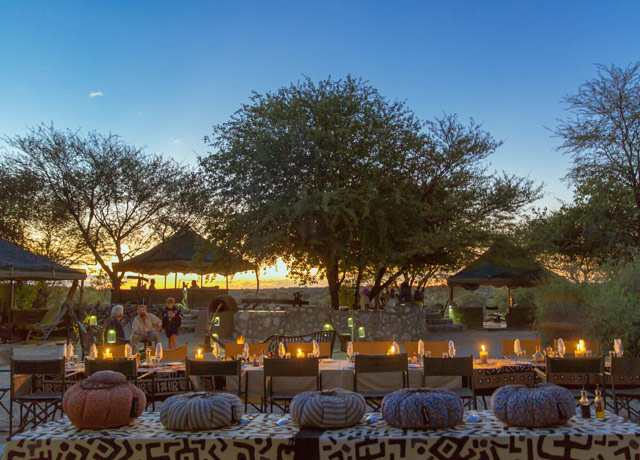 Meno a Kwena
Makgadikgadi Pans National Park, Botswana
Situated between the sprawling Okavango Delta and the Central Kalahari Game Reserve near Makgadikgadi Pans National Park, this camp offers a comfortable retreat in nine traditional canvas tents overlook the Boteti River. The camp's name translates to "teeth of the crocodile," referencing the common presence of these reptiles chilling out on nearby riverbanks. Style supersedes opulence in Meno a Kwena's cool, relaxed atmosphere. Tent sides roll up to take in the broad vista, but your private space remains hidden among thorny branches that offer seclusion and protection from wandering wildlife. Each tent has an en suite flush toilet and authentic indoor and outdoor safari showers. Furnishings are distinctly African, with dark wood, bold textiles, and woven carpets under foot. Harnessing the power of Botswana's typically sunny days, solar power fires the camp's energy-efficient lights, as well as your camera battery charger. This is a low-impact camp that supports recycling and recognizes water as a limited and precious resource.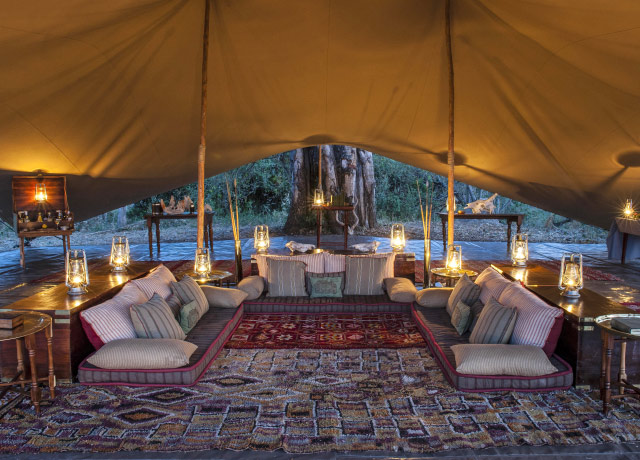 Nat Hab Expedition Camp—Northern Okavango
Okavango Delta, Botswana
Slide in closer to the real Africa as you delve into this authentic safari experience at the heart of the teeming-with-wildlife Okavango Delta. Enjoy the solitude of a small expedition camp within a gigantic wilderness—the rustic mobile camp with just eight tents is exclusive for your group's visit. We'll be situated in a prime location to encounter lions, leopards, elephants, hippos, and more. And while it's infinitely comfortable, these Meru-style canvas tents are grounded in traditional old-school charm. Dark wood and iron campaign furniture, oriental rugs, and lantern lights fill the cozy indoor spaces, while white table cloths, flickering candles, and vintage chairs grace your al fresco dining experience. Each tent has an en suite bathroom and flush toilet, but your bucket shower and lack of electricity in your tent "keep it real"—since this is a genuine bush camp, after all. After wildlife drives, sink into plush lounge pillows in the shady tea tent, where you can recharge your batteries, both personally and electronically. And when you tuck in at night, it's with thick blankets, hot water bottles, and nothing but the wild sounds of the Okavango. The custom-tailored camp bends to the season, too. When the water levels are right, there's the option for fishing and mokoro explorations.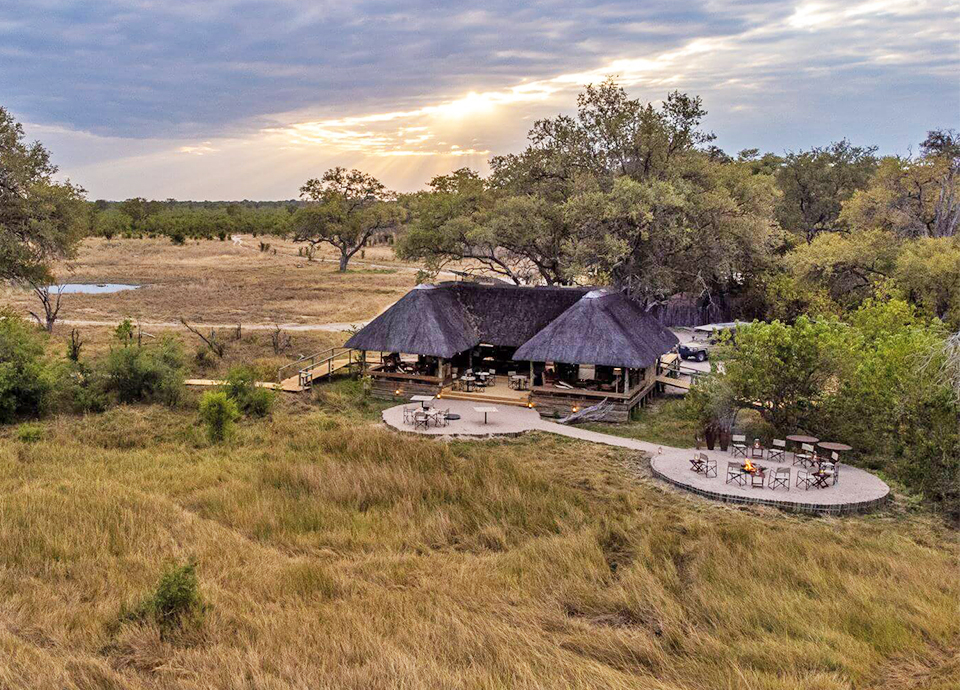 Little Sable Camp
Khwai Private Reserve, Okavango Delta, Botswana
With wide-open views out your tent door that make you feel truly one with nature, this camp in the heart of the wildlife-rich Khwai Private Reserve has been completely revamped to upgrade the interiors and service level, while maintaining its intimate and relaxed simplicity. Eight traditional tents on raised wooden platforms have a king-size bed (which can be converted to two twins), a writing desk, an en suite bathroom with indoor and outdoor showers, and a private viewing deck surveying the shimmering grasslands, including a popular elephant and zebra grazing area. Design and decor blend a touch of Old World English heritage with African-inspired artistry. The broader redesign includes the extension of the outside deck to create a larger lounge and dining space, sheltered under thatch. The firepit area has been enhanced to provide an even more inviting opportunity to sit around the crackling logs, gin and tonic in hand, surrounded by the sounds of the night and spray of stars overhead. The pool area has also been enlarged, improving this unexpected wildlife-viewing platform.
Know Before You Go
Whether you're preparing for your upcoming safari or just want to learn more about Botswana, be sure to check out these useful resources.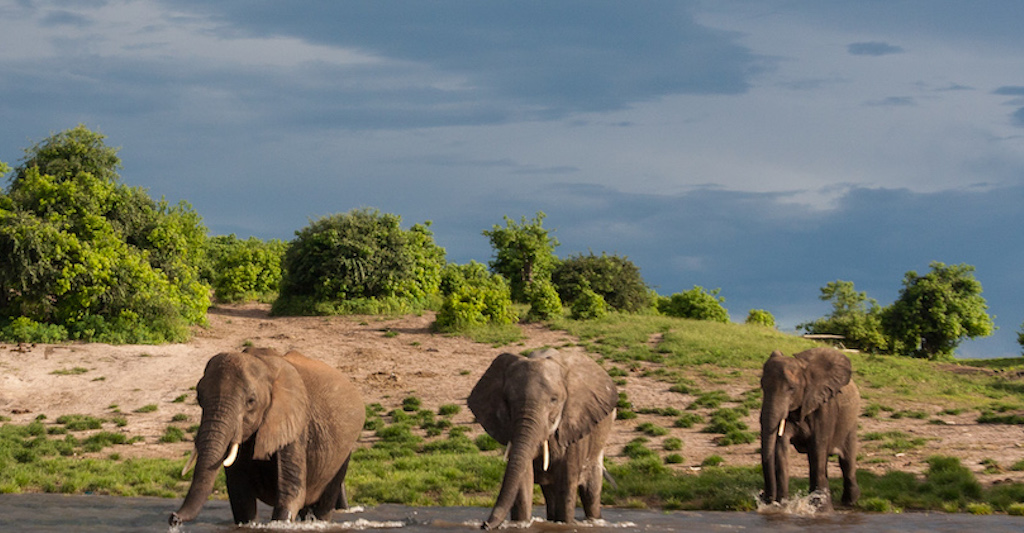 Weather and Climate
Find out about Botswana's weather conditions during the dry and green seasons.
Trip Pricing
Trip Price: $12,595 (+internal air).  This price is based on 2024 rates and subject to change slightly.
Internal Air Cost: $1,174 per person (this will be listed separately on our invoicing).
Single Occupancy: For a single room, add $1,595. Contact Us to learn how you can avoid the single supplement.
Deposit: $500 per person (non-refundable)
Group Size
Approximately 13 Travelers—with 2 Guides!
A very important feature of our Botswana Explorer Safari is the limited group size, as wildlife viewing on safari is best experienced in quiet, intimate settings. We facilitate this by traveling with two guides—a conservation leader with you from start to finish, and a knowledgeable local guide at each camp. This arrangement allows us to divide our group into two safari vehicles with no more than seven passengers each—assuring more personalized wildlife encounters augmented with excellent interpretation. 
Specialized 4x4 Land Rovers and Land Cruisers
An essential element of this safari is our use of a combination of two specialized vehicles during different parts of the trip, facilitating unmatched wildlife viewing opportunities. Sometimes we travel in open Land Cruisers that provide a comfortable and safe ride over the sometimes uneven terrain of Botswana's desert and delta environs. We also use 4x4 Land Rovers, with a unique suspension system and an open-sided, tiered seating arrangement designed to maximize wildlife viewing opportunities and comfort. It is common to have a shade net over the vehicle to provide sun protection and cover during possible intermittent rains. This protective net comes off during the cooler summer months in Botswana, to allow the sun to warm us on morning and afternoon drives.

Both types of vehicles have 10 cushioned passenger seats—one in front next to the driver, followed by three rows of three seats each—though we limit our capacity to seven travelers per vehicle, each with a window seat on wildlife drives during our Botswana Explorer Safari—again, for maximum comfort, viewing, and photo opportunities. Vehicles have a mini fridge stocked with cold drinks, a small library with reference books and field guides, and ponchos for each traveler, in case of rain. Each custom-built vehicle sports front bull bars and runner boards, as well as a full recovery kit, including spare tires and a high-lift jack. Vehicles are updated or replaced regularly and meticulously maintained to provide our guests with an outstanding safari experience.
Included
Trip price includes: 

Accommodations in luxury safari camps, services of SDZWA wildlife and conservation expert(s) and Nat Hab's professional expedition leader(s), local guides and camp staff, premier open-sided 4-wheel-drive Land Cruisers or Land Rovers, all meals from dinner on Day 1 through breakfast on the final day, some alcoholic beverages, most gratuities, airport transfers on Day 1 and the final day, all activities and entrance fees, all taxes, permits, and service fees.

Internal air cost includes:

All light aircraft flights within the itinerary (this will be listed separately on our invoicing).
Not Included
Travel to and from the start and end point of your trip, some alcoholic beverages, some gratuities, passport and visa fees (if any), optional activities, items of a personal nature (phone calls, laundry, and internet, etc.), airline baggage fees, airport and departure taxes (if any), required medical evacuation insurance, and optional travel protection insurance are not included.
Physical Requirements: Easy to Moderate
To participate in this trip, you must be able to walk unassisted at a steady pace for at least one mile over uneven terrain, climb steps to get into and out of our raised safari vehicles, and be able to tolerate daily outdoor excursions that may last four to five hours or even a full day at a time, sometimes in hot, windy, and/or dusty conditions. Wildlife drives pose a particular type of physical demand on the body, as they require long hours of sitting and take place over terrain that is often very rough and bumpy, including dirt roads with many ruts and potholes. Travelers with back or neck problems, or other health issues that could be exacerbated by such conditions, should take this into consideration. While any walking safaris are considered optional, travelers must be able to walk unassisted to and from the vehicle to our camp accommodations, sometimes walking over uneven ground or on boardwalks. Days spent on safari are often long, as mornings typically start before daybreak and evening meals are served after sundown. Safari accommodations and vehicles are not climate-controlled and, depending on the season, temperatures can range from quite cold to extremely hot, so it is critical that travelers come prepared.

On custom or private departures with smaller groups, our ability to accommodate varying levels of physical abilities or interests is limited, since these trips are staffed with a single expedition leader who may be assisted, pending availability, by local guides.
Important Information About This Trip
We have designed this family safari for those guests whose African dreams include the most remote wildlife experience available and who don't require over-the-top accommodations to accomplish that goal. On these trips, changes to the itinerary may occur in order to take advantage of conditions unique to the season. Depending upon availability, itineraries may run in a different order.
Mandatory Insurance
Since the areas we travel to are remote and wild (that's why we go there!), we strongly recommend that all guests have, at minimum, medical evacuation insurance for this program. While this is not required, we make this strong suggestion in the interest of our guests' safety. We recommend that your chosen independent insurance plan includes at least $250,000 in medical evacuation coverage.

To protect your investment and to provide peace of mind while you travel, we also strongly recommend purchasing comprehensive travel insurance. Plans may cover everything from medical treatment to trip cancellations, and delays and lost luggage. Please contact our office if you would like more information about the medical evacuation and comprehensive travel insurance policies we offer by calling 800-543-8917.
Getting There and Getting Home
Please plan to arrive in Maun, Botswana by 1:30 p.m. on Day 1, and you may depart Maun, Botswana anytime after 1:30 p.m. on the final day.