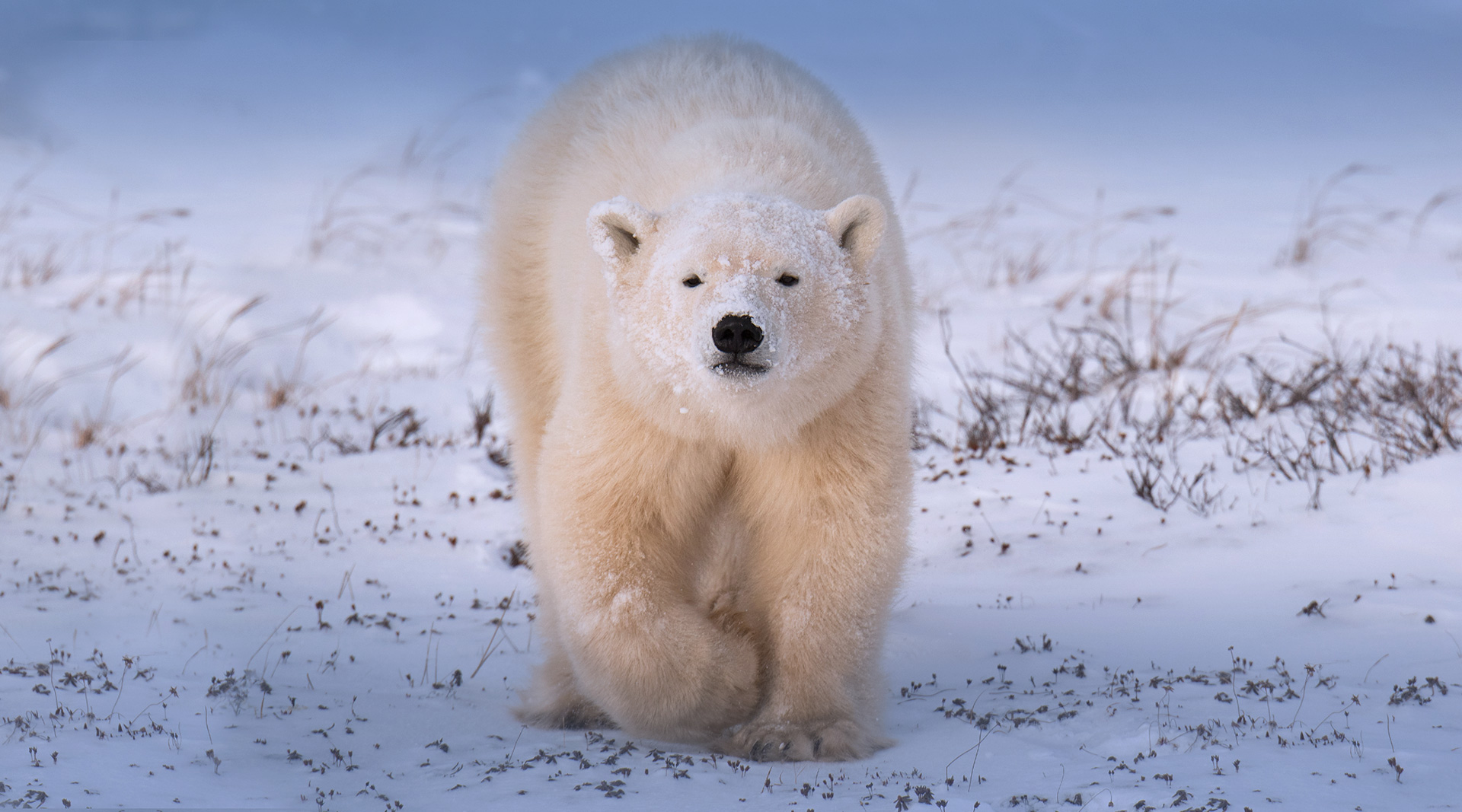 SOLD OUT. Contact us for wait list.
Classic Polar Bear Adventure
October 19–24, 2022
Prices starting at $7,295
Please call our tour operator at:
800-543-8917
Limited to 16 Travelers
The World's Most Coveted Small-Group Polar Bear Expedition
When you're standing on the outdoor platform of our Polar Rover, the chill Arctic air feels invigorating. But not as much as the sight of the huge polar bear ambling toward us. Sometimes they are silhouetted against the horizon, slowly moving shadows on the vast expanse of tundra. Other times, one may wander up directly below. Safely elevated, you're nonetheless just feet away as you look down on his shaggy, cream-colored bulk. Noticing us, he stops, sniffs, and turns his face our way, curious. We grin, filled with delight. The big bear rises on his haunches to peer at us more deliberately. We watch in wonder. Minutes go by, perhaps an hour, who knows? Out here among the bears, time stands still. It's nearly impossible to describe the feeling, but your photos will capture one of nature's most wondrous wildlife encounters!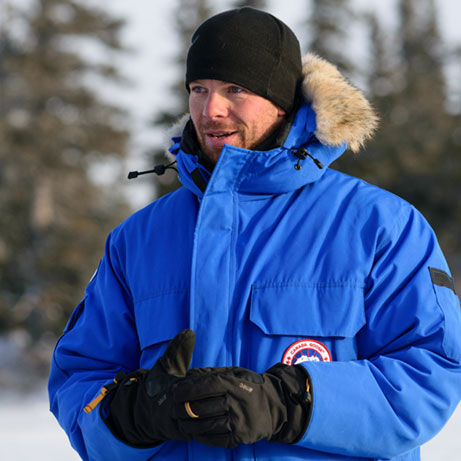 The SDZWA host for this trip will be:
Nicholas Pilfold, Ph.D. Scientist, Population Sustainability
Dr. Nicholas Pilfold is a scientist in the Conservation Science group at San Diego Zoo Wildlife Alliance. He has worked at SDZWA for six years, focused on the conservation of large carnivores, with polar bears a key research area. Nicholas grew up in Canada, and completed his Ph.D. at the University of Alberta in polar bear ecology under the tutelage of Dr. Andrew Derocher and Dr. Ian Stirling. Nicholas has worked on polar bear conservation research for more than a decade, including on the population of polar bears in Hudson Bay. Fall is a special time in Hudson Bay, and Nicholas looks forward to seeing the polar bears interact together on the shorelines as they wait for the sea ice to refreeze, to sharing his experiences and knowledge of the bears, and hopefully, the chance to see the Aurora Borealis dance in the starry night.

Trip Highlights
Intimate Polar Bear Encounters
In a small group led by an expert naturalist guide, meet the world's greatest concentration of polar bears as they wait for Hudson Bay to freeze.
Custom Vehicles Get You Closer
With huge windows and see-though steel grate flooring on the outdoor platform, our custom Polar Rovers get you safely up close to wild polar bears.
Experience Northern Culture
Meet a local musher and his team on an authentic dog sled ride through the boreal forest, and enjoy cultural presentations from Churchill residents.
There is a Difference in Polar Bear Tours—Choose Wisely!
We know that most people who make the journey north to witness the magic of Churchill's polar bears will do so just once in their lives. For that reason, we promise you will enjoy the highest-quality polar bear trip possible! Here's why our polar bear adventures are the very best:
We Hold Exclusive Permits for the Best Bear Viewing Area
Just two polar bear tour operators in Churchill hold exclusive permits to access the full range of the Churchill Wildlife Management Area where the best—and often only—polar bear viewing occurs. Naturally, in our commitment to running the world's greatest nature journeys, the Nat Hab/Great White Bear team possesses one of these permits. Those who don't can only offer trips aboard school-bus-style vehicles along the road to Halfway Point, which is, as the name implies, only halfway to the prime polar bear-viewing area. If you're going to Churchill just once in your life, don't miss making it a complete experience!
 
Our Polar Rovers are the Most Impressive Vehicles in the North
The original tundra truck designed for polar bear viewing was invented in the 1980s, an innovative concept that has since been substantially improved upon. Our partner in Manitoba, a world-renowned specialty vehicle designer, has created the world's premier tundra vehicle—the Polar Rover—which we operate exclusively in Churchill. Its innovative drive train allows us to traverse the tundra with virtually no chance of breakdowns. With the advanced elite suspension system that smooths the ride, plus onboard flush toilet facilities (rather than odorous drop buckets), our guests enjoy a superior level of comfort and safety.
 
Steel Mesh Flooring Offers Close-up Bear Observation
Built into the rear viewing platform of every Polar Rover is an innovative and exclusive feature we've pioneered for optimal polar bear viewing—corrugated steel-mesh floors that let us witness from remarkably close proximity the curious bears that often wander beneath our vehicles!
 
The Smallest Groups Ensure the Best Nature Adventures
A fundamental element of a successful nature expedition is a small group. It may cost a little more, but considering the hugely superior experience, we know it's well worth it. By limiting our groups to approximately 16 guests (even though our Polar Rovers hold more than 30 passengers), we ensure that every guest has plenty of space aboard our vehicles to enjoy a window seat, angle for the best photos of polar bears, and enjoy a personal experience with the polar bears without too much intrusion from other travelers.
 
Private Chartered Planes Maximize Our Time with the Bears
So we don't waste precious time planning around airline schedules and making our way through airport security screenings, we charter our own private aircraft, flying directly from Winnipeg to Churchill at a time that is most convenient for us. We'd rather maximize our time watching bears and exploring the tundra, rather than sitting around airports.
 
Sled Dog Experience Included on Every Departure
Every one of our Churchill tours includes a personal visit with a local dog musher and his team, and the chance to glide through the boreal forest on a dog sled ride! During the earlier part of our season, if there isn't sufficient snow cover, the dogs will pull our guests in a wheeled cart. But whenever you come to Churchill, this authentic Northern adventure is standard on all departures.
 
Local Cultural Interactions Enhance Our Adventures
Through years of developing close relationships with local people, we are able to offer our guests exclusive opportunities to meet revered elders of First Nations, Inuit, and Metis cultural groups in Churchill. These storytellers are some of the most senior in their communities, passing on their knowledge of the past to younger generations and, fortunately for us, also to our travelers.
Itinerary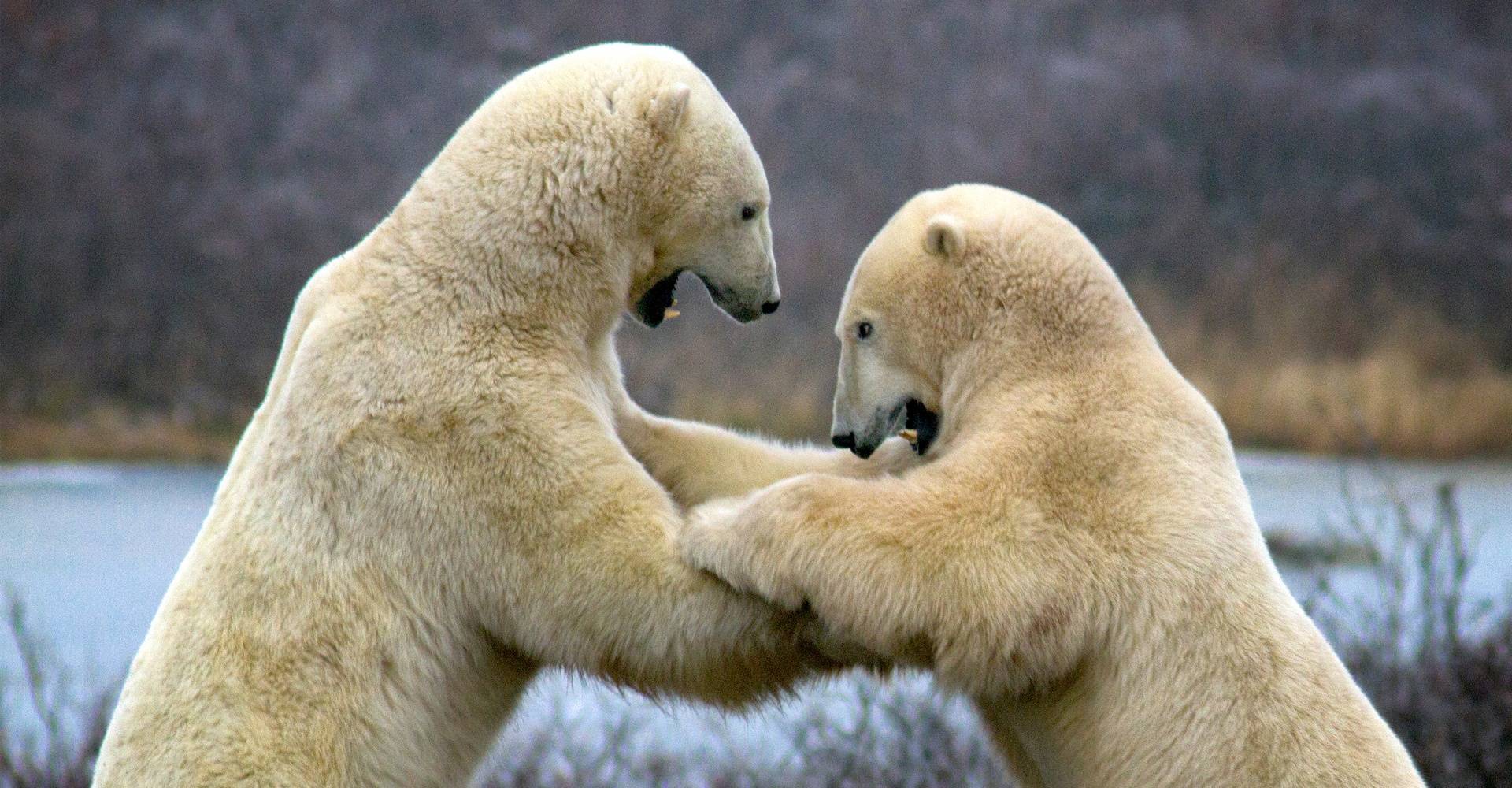 Day 1–6: Spend 6 days of Arctic exploration among the world's greatest concentration of polar bears as they wait at the edge of Hudson Bay for sea ice to form. 
Accommodations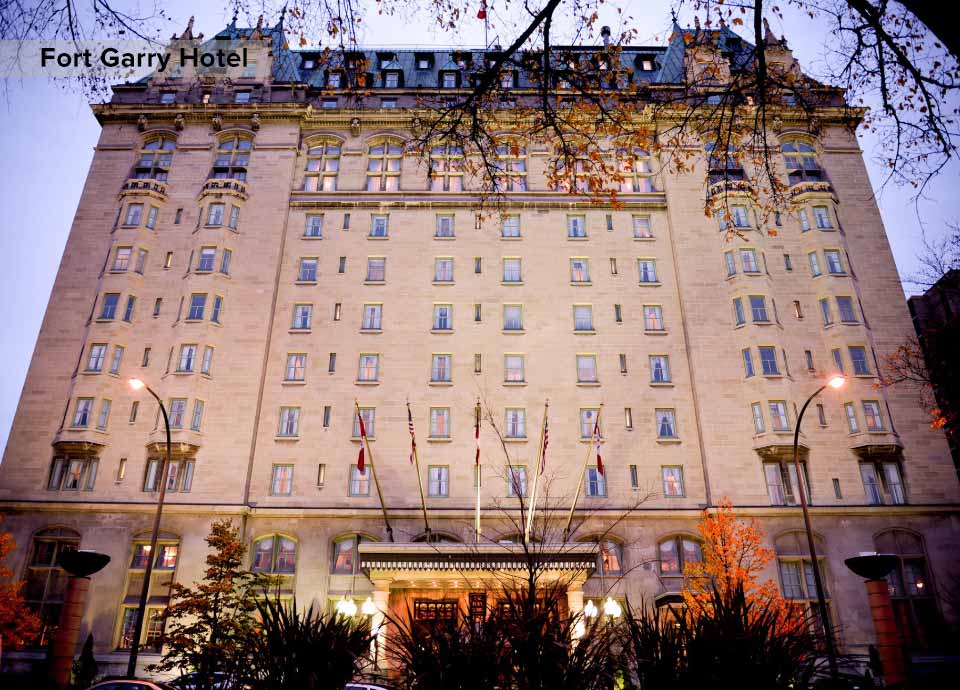 Winnipeg & Churchill Hotels
Manitoba, Canada
In Winnipeg, we stay at the Fort Garry Hotel, one of Canada's elegant railway hotels built by the Grand Trunk Pacific Railway in 1913, and long a symbol of this prairie city's importance as a transportation, commerce, and culture hub. Located downtown just one block from Union Station, this historic landmark built in French chateau style is Winnipeg's finest hotel, retaining the air of gracious opulence of an earlier era. Relax in the lounge, enjoy a drink in the antique bar, or indulge in a sumptuous treatment at Ten Spa, an authentic Turkish-style bath and spa located on the top floor of the hotel.
In the subarctic frontier outpost of Churchill, with a population just under 1,000, hotels are small and basic. While none could be considered fancy by any means, they are clean, comfortable and conveniently located in the center of town. Every room has an en suite bathroom with a shower. Please be aware that hotel space in Churchill is scarce, and to accommodate demand, we must use a variety of local properties. Room size, amenities, and range of services vary among hotels, despite comparable pricing.
Know Before You Go
Whether you're preparing for your upcoming polar bear adventure or just want to learn more about Churchill, we've got you covered. We've rounded up an array of helpful resources, from wildlife guides and packing tips to inspirational travel stories and blog posts that will fuel your excitement.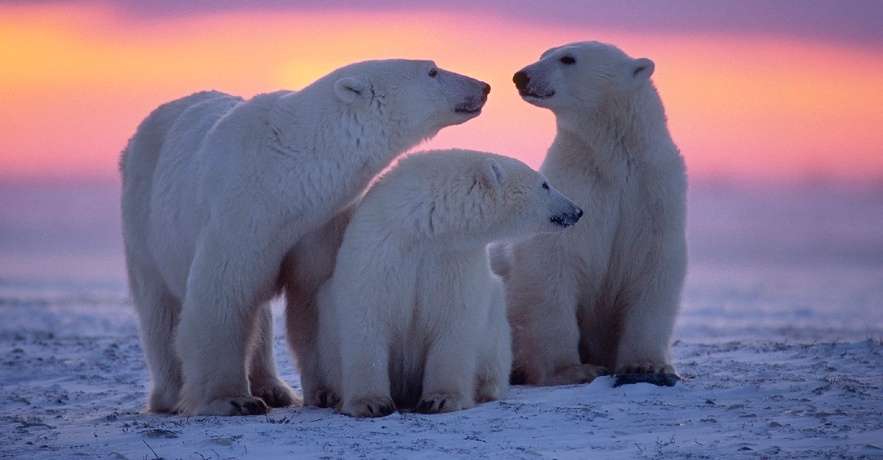 Frequently Asked Questions
Have questions about Churchill? We've got answers! We've compiled a list of our most frequently asked questions about polar bears, Churchill wildlife, hotels, transportation, weather and more.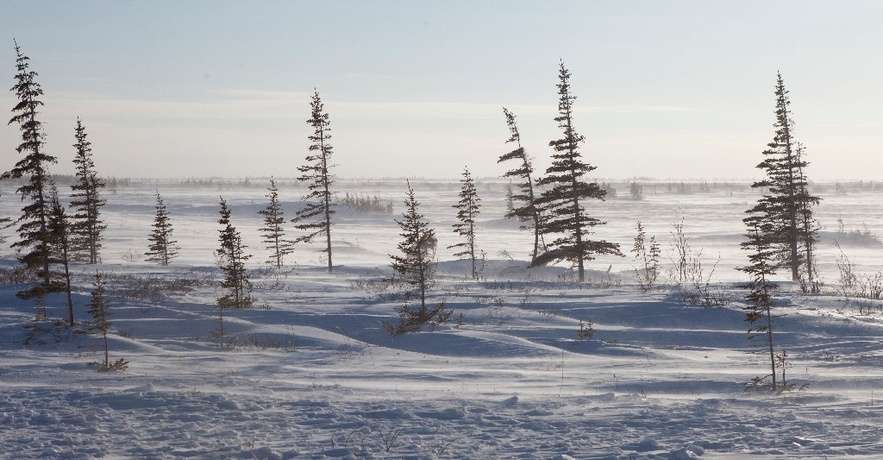 Weather and Climate
Find out what the weather conditions are typically like in Winnipeg and farther north in Churchill during polar bear season.
Trip Pricing
Trip Price: $7,295 (+internal air)
Internal Air Cost: $995 per person (this will be listed separately on our invoicing) 
Deposit: $500 per person
Group Size
Limited to 16 Travelers 
An important feature of our Churchill polar bear expeditions is the limited group size. Nature is always best experienced in smaller groups, and it is particularly important on this expedition to ensure that our guests have plenty of room on board the tundra vehicles, for comfort and easy access for photos. 
Included 
Trip price includes:

Accommodations, services of

SDZWA wildlife and conservation expert

(s) and

Nat

Hab's

professional expedition leaders/

assistants, Polar Rover excursions, dog sledding excursion, evening wildlife and cultural presentations, all meals from dinner on Day 1 through breakfast on the final day, cold-weather gear—including a parka and boots—during your trip, most gratuities, airport transfers on Day 1 and the final day, all activities and entrance fees, all taxes, permits, and service fees.

 

Internal air cost includes:

Round-trip private charter flights from Winnipeg to Churchill (this will be listed separately on our invoicing).

 
Not Included 
Travel to and from the start and end point of your trip, alcoholic beverages, some gratuities, passport and visa fees (if any), optional activities, items of a personal nature (phone calls, laundry, and internet, etc.), airline baggage fees, airport and departure taxes (if any), optional travel protection, and medical evacuation insurance are not included. 
Physical Requirements: Easy 
A polar bear tour with SDZWA Adventures requires very little walking. Travelers must be able to walk up and down stairs. Our Polar Rover vehicles, designed to travel over the tundra for polar bear observation, can sometimes offer a bumpy ride. Travelers must be prepared for below-freezing temperatures and slippery surfaces.
On custom or private departures with smaller groups, our ability to accommodate varying levels of physical abilities or interests is limited, since these trips are staffed with a single Expedition Leader who may be assisted, pending availability, by local guides. 
Important Information About This Trip 
This flagship polar bear tour has been our most popular adventure for more than two decades. Its longstanding success is due to the outstanding bear viewing opportunities Churchill offers, as well as the appeal of our subarctic environs and broad introduction to the natural and cultural history of the Hudson Bay region and daily life in the Canadian North that this trip provides. Two Polar Rover day trips and a night excursion are complemented by time spent exploring the frontier outpost town of Churchill, with expert interpretation from our naturalist expedition leaders.

Regarding polar bears: They are typically in the Churchill area year round. The highest concentration occurs in October and November, as the bears gather to await freeze-up on Hudson Bay and the beginning of their winter hunting season. But bear viewing is never predictable. Sometimes the best viewing happens at the beginning of the season, sometimes it occurs in the middle, and sometimes it's at the end—we never know for sure. Once the bay freezes, many of them depart. Historically, this has happened in early December, but an unusually early cold spell can sometimes occur, hastening their departure to the ice. Please be aware that conditions vary, and polar bears here live wild and free: we can never guarantee that you will see them, or promise exactly what your experience will be. 
Meals 
Please understand that the meals in Churchill are specially planned and prepared for, well in advance. With ample notice, dietary requirements due to serious medical conditions or strict personal restrictions can be met, but must be adhered to while on the adventure. If you have a very restricted diet, we recommend bringing some of your preferred snacks along, with the appreciation that certain foods are limited in this part of the world. 
Getting There and Getting Home 
In case of flight or weather delays, we recommend that you arrive a day early. Please schedule your flights to arrive by 5 p.m. in order to attend a 7 p.m. orientation dinner on Day 1 of your program. You are free to depart at any time on the final day.