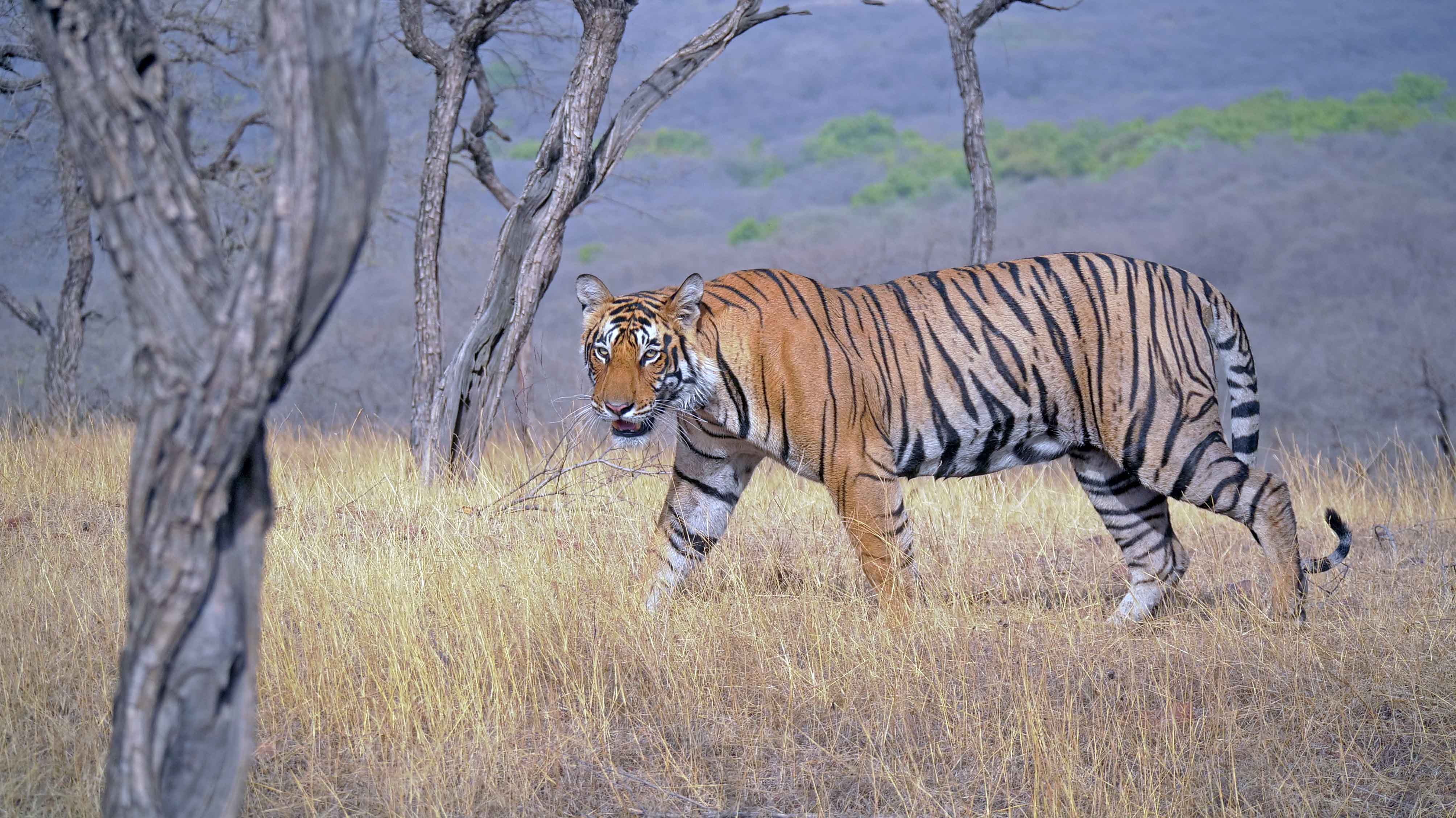 The Grand India Wildlife Adventure 2024
January 17- 28, 2024
Prices starting at $10,995
Please call our tour operator at:
800-543-8917
itinerary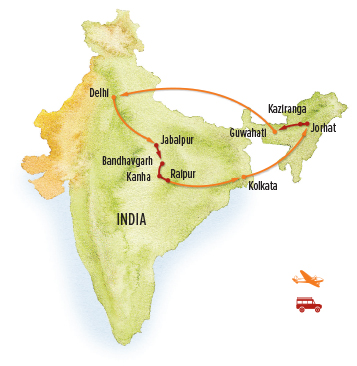 Day 1: Delhi, India—City Tour
Arrive in New Delhi and transfer to the 5-star Taj Mahal Hotel. This afternoon, explore the new sectors of India's vibrant capital on a city tour. Driving through Lutyen's Delhi, much of which dates to the period of the British Raj, we pass Rashtrapati Bhavan, home to India's president; the India Gate, a war memorial to the troops of British India who fought in World War I; and the Old Secretariat, the seat of India's government. We visit Humayun's Tomb, a grand garden mausoleum complex built in the 1560s that today is a UNESCO World Heritage Site. This red sandstone masterpiece was designed in a Mughal architectural style that would culminate 80 years later in the Taj Mahal. We also stop to view the Qutub Minar, which at nearly 240 feet is the world's tallest brick minaret, built in the late 12th century under India's first Muslim ruler. Return to our lavish hotel with time to relax and refresh before a welcome dinner this evening, with an orientation to our India wildlife safari by our Expedition Leader.
Day 2: Jabalpur / Bandhavgarh National Park
Transfer to the airport early this morning for our flight south to Jabalpur. Continue by road through the countryside of Madhya Pradesh to Bandhavgarh National Park. An essential stop on any serious India safari, Bandhavgarh is renowned for one of the country's highest concentrations of Bengal tigers. Originally established as a national park in 1968, Bandhavgarh was declared a protected tiger reserve under Project Tiger in 1993. At 444 square miles, it is a relatively small park with a thriving tiger population, offering visitors a good chance of encountering them, as well as other distinctive Indian wildlife. Check in to Kings Lodge, surrounded by wild natural forest just outside the park boundary. Then, time permitting, we'll set out on our first wildlife drive in open 4x4 safari vehicles.
Days 3 & 4: Bandhavgarh National Park
Over the next two days, explore Bandhavgarh's varied habitats on morning and afternoon wildlife drives. Covered predominantly with sal and mixed deciduous forest, thickets of bamboo and expansive grasslands that line the stream valleys, the park's hilly terrain harbors one of the highest densities of tigers in the world. Bandhavgarh was once a prime hunting reserve for the Maharajahs of Rewa, where Maharaja Raman Singh himself shot an astounding 111 tigers by 1914. Today it is a pacesetter in tiger protection. With tigers at the apex of the food chain, Bandhavgarh's rich biodiversity includes a multitude of other wildlife. We'll hope to see a sampler of its 37 mammal species, among which are leopard, jungle cat, civet, wild boar, sambar, spotted deer, muntjac (barking deer), sloth bear and Asiatic jackal. Some 250 bird species, 70 different butterflies and various reptiles round out the diverse wildlife population.
Day 5: Bandhavgarh / Kanha National Park & Tiger Reserve
Embark on a morning drive to Kanha National Park. Situated in central India in the Satpura Hills, the park covers 750 square miles of rich and varied wildlife habitat. Its lush sal and bamboo forests, grassy meadows and ravines provided inspiration to Rudyard Kipling for his famous collection of stories in The Jungle Book. Kanha was established as a national park in 1955 and forms the core of the Kanha Tiger Reserve, created in 1974 under India's Project Tiger. The park's landmark achievement is the preservation of the rare barasingha, an endangered swamp deer with 12-point antlers, saving it from near-extinction. Strict conservation programs for the overall protection of the park's fauna and flora make Kanha one of the most exemplary national parks in Asia. From our ecolodge base in the tiger heartland of the world, learn in depth about the Bengal tiger and its habitat and observe how conservation travel directly benefits local communities and the tiger reserve.
Days 6 & 7: Kanha National Park
Spend two full days in search of Bengal tigers and other wildlife on excursions in open 4x4 vehicles. Scenic Kanha, once a hunting ground for imperial rulers and viceroys, is now one of India's most important conservation reserves. With ideal habitat for tigers and their prey, it offers some of India's best tiger viewing, though it can take effort to locate them in the sun-dappled scrub forest that provides superb camouflage for many species. Greet the dawn each day with an early wildlife drive, entering the park just as the sun's rays break over the jungle. The open meadows where herbivores graze attract tiger, leopard and dhole (wild dog) to the edges of the clearings, and we'll hope to see some of these predators on the hunt. The Banjaar River bordering the park provides a steady water source for wildlife. Dense jungle interspersed with vast grassy meadows called maidans support a range of species similar to those in Bandhavgarh. Other mammals we might see include chowsingha (four-horned antelope), common langur, gaur (the world's largest wild ox), rhesus monkeys and occasionally leopard.
Day 8: Kanha / Raipur / Kolkata
As the morning mists recede, one last sunrise wildlife drive reveals more of Kanha's wildlife. After breakfast, we drive a half-day to Raipur, then fly to Kolkata. Our luxury hotel, with an elegant spa and outdoor pool, provides a restful layover after a long day of travel as we transit from one region of the country to another. Located outside the city center, our accommodations offer convenient access for our airport departure tomorrow morning.
Day 9: Jorhat / Haroocharai Tea Estate / Kaziranga National Park
Fly from Kolkata to Jorhat, the tea capital of India, then drive to Haroocharai Tea Estate for lunch. Continuing by road into far-eastern India, we reach Kaziranga National Park in Assam. The park, which borders the sacred Brahmaputra River, was created in 1926 as a refuge for the one-horned rhinoceros. Once hunted nearly to extinction, this 2-ton beast today is a conservation success story, its population rebounding to more than 1,600 individuals. Two-thirds of the world's one-horned rhinos are found within the park, and we're sure to see plenty of them grazing in the open. In addition to the rhino, Kaziranga is home to some of India's other largest mammals including Asian elephant, Asian water buffalo and barasingha. Stay at the Diphlu River Lodge, whose verdant grounds contain more than 40 species of trees and some 200 species of shrubs, creepers and climbers.
Days 10 & 11: Kaziranga National Park
Morning and afternoon wildlife drives reveal Kaziranga's diverse habitats—a mix of elephant grass, thorny rattan cane, tracts of semi-evergreen forest and shallow marshes. Stretching from the banks of the Brahmaputra River to the dense forests of the Mikir Hills, the reserve hosts an impressive variety of animals. In addition to one-horned rhinoceros, keep a close eye out for buffalo, elephant, wild boar, hog deer, hoolock gibbons, sloth bears and pythons, as well as the elusive Bengal tiger. The national park has been declared an Important Bird Area by Birdlife International and is home to a great variety of resident and migratory birds. Drawn to the life-giving artery of the Brahmaputra River, waterfowl abounds, and we may see egrets, pond herons, river terns, black-necked storks, fishing eagles and pelicans. In the river, look for otters and rare Gangetic dolphins.
A special event during our time in Kaziranga is a chance to meet the park's working elephants up close. These elephants, which accompany rangers on regular patrol missions, are accustomed to interacting with guests. Conditions permitting, on one afternoon an elephant will be brought to our lodge where we can help wash it under the guidance of its handler. On our final evening, revel in memories of our Indian safari adventures as we gather for a farewell dinner.
Day 12: Guwahati / Delhi / Depart
After breakfast, drive to Guwahati to catch our afternoon flight back to Delhi. Day rooms have been reserved for the remainder of the afternoon, with a transfer included to the international airport to meet departing flights this evening.
Please Note: National parks in central India are closed on Wednesday afternoons. Should a portion of our visit to Kanha or Bandhavgarh fall on a Wednesday, we will have alternate afternoon activities planned in place of a wildlife drive.