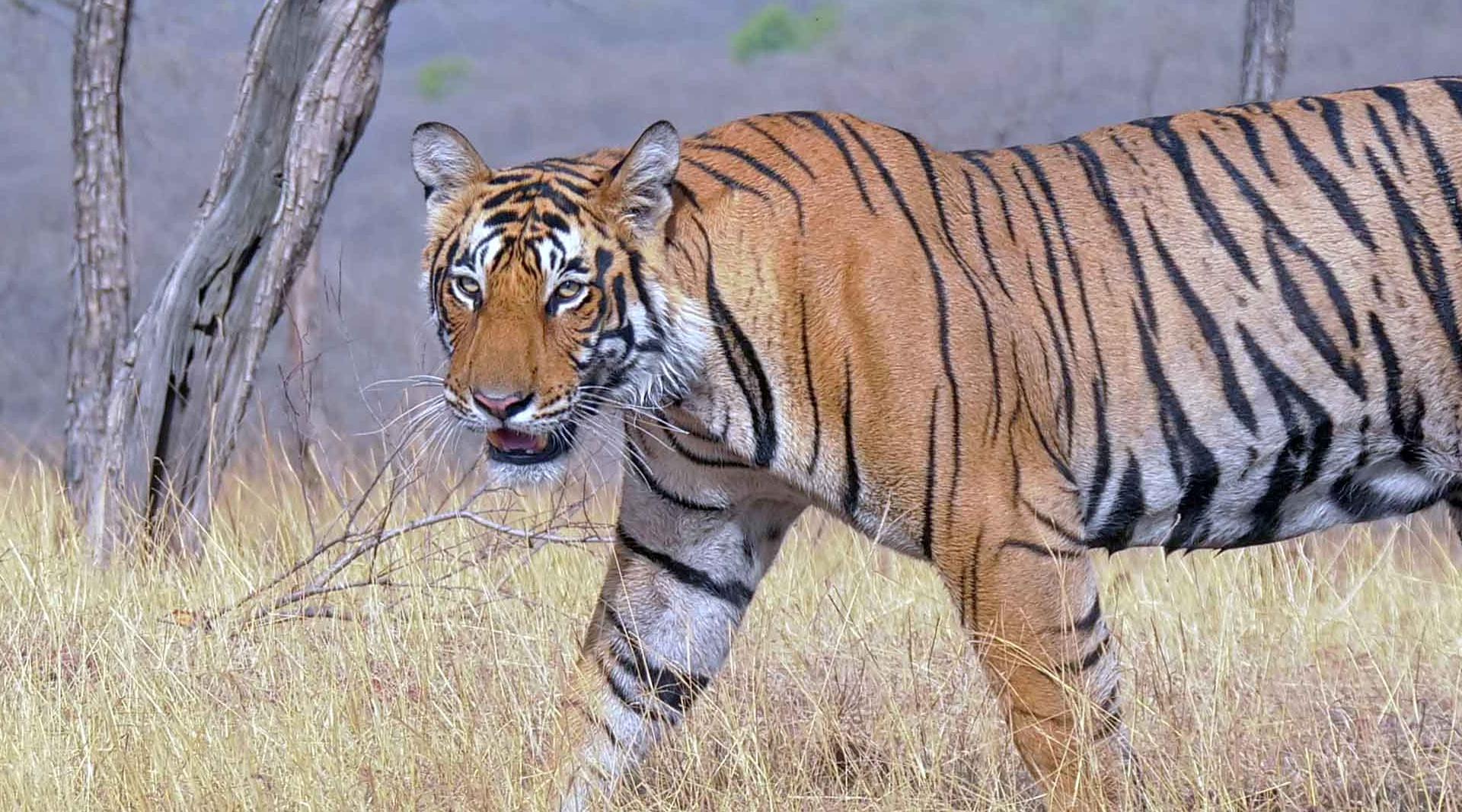 The Grand India Wildlife Adventure 2025
March 15- 26, 2025
Prices starting at $10,995
Please call our tour operator at:
800-543-8917
Limited to 11 Travelers
An In-Depth Nature Odyssey in Search of Bengal Tigers & Other Rare Wildlife
The Indian subcontinent is one of the world's most stimulating destinations. While its melange of cultures has long drawn the attention of historians and travelers, its wild habitats offer rare treasures for those who are passionate about nature. This comprehensive safari gets you far away from India's intense cities and into its natural realm, a landscape of powerful rivers, fabled jungles and intriguing wildlife. From Bandhavgarh to the Brahmaputra Basin, this is the native territory of the Bengal tiger, whose numbers are on the rise after a century of decline. Conservation travel is integral to protecting wildlife in India, and our presence directly benefits the continued existence of tigers and other precious vanishing species, which we go in search of on daily 4x4 wildlife drives. Join us for the grandest Indian wildlife safari we know of!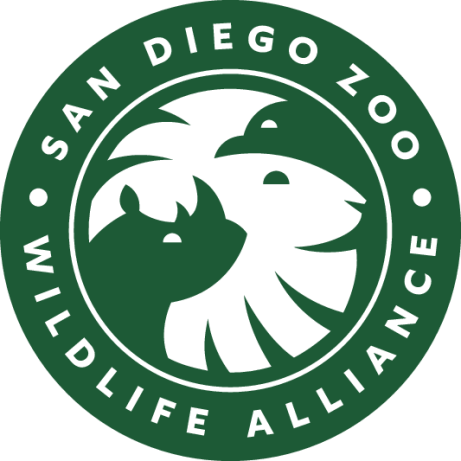 This trip will be hosted by a SDZWA Wildlife and Conservation Expert
The host for this trip will be an SDZWA expert on wildlife specific to the region. They will be with you every step of the way, to educate and inspire you, and to share their passion for nature! Check back for more details.
Trip Highlights
Explore Three Diverse National Parks
Explore three of India's top national parks on multiple safari drives in open 4x4s—you won't find a richer or more varied itinerary focused on wildlife
Search for Tigers & So Much More
Safari with our host and naturalist guides in search of tigers, one-horned rhinoceros, Asian elephants, sloth bears, barking deer and other fascinating species
Stay at Secluded Ecolodges in Nature
Relax in comfort at premier ecolodges tucked within India's best wildlife reserves—yet we avoid the crowds by choosing less-visited destinations
Why Choose Us for Your India Nature Adventure?
India is one of the world's most captivating travel destinations. But choosing a trip can be overwhelming if you're looking to maximize your time in nature, up your odds of seeing tigers, avoid crowds wherever possible, and travel with a superlative guide. That's why we've designed the ideal India odyssey for nature lovers. Our Grand India trip is a comprehensive adventure that is simply the best way to experience India's outstanding wildlife. Here's why:
An All-Encompassing Wildlife Itinerary...in Less-Traveled Parks




This is the ultimate India experience for nature lovers. Boost your chances of seeing Bengal tigers—plus a host of other Indian wildlife—on visits to three different national parks that are home to some of India's most concentrated tiger populations. Most travelers go to Ranthambore National Park at peak season, which is heavily advertised and very crowded. We visit equally appealing Bandhavgarh National Park instead, plus Kanha and Kaziranga, which are more remote with far fewer tourists. Kanha also offers some of India's best tiger-viewing possibilities, while Kaziranga offers close encounters with rhinos and wild elephants. We also have a chance to see seven deer species and 600-plus bird species among an impressive diversity of wildlife.

India's Finest Naturalist Guides




Our India Expedition Leaders average more than 15 years' experience. You won't find more knowledgeable, personable or enthusiastic guides. Our philosophy is simple: a nature adventure is only as good as the hosts and guides who lead it, so we provide the very best!

A Small Group Means More Authentic Nature Experiences




Most visitors to India travel in large groups aboard tour buses, focusing on cities and crowded cultural monuments. But that's no way to experience India's rich nature, which is our focus. We take just 11 guests, for a lower impact in nature reserves and more personal encounters with wildlife and local people.

Nine Days of Wildlife-Focused Activities in Varied Habitats




Spend three days each in three premier wildlife reserves as we explore contrasting Asian habitats: the dry mixed deciduous forests of central India and the moist floodplains and grasslands of the Brahmaputra basin. Daily morning and afternoon safari outings provide a variety of perspectives.

Distinctive Accommodations Enhance Your Safari




When you travel with us to India, our accommodations ensure your every comfort. Environmentally sensitive ecolodges, while secluded, offer exceptional amenities. Each is selected for proximity to wildlife and the high quality of the guest experience. India's luxury urban hotels are renowned worldwide, and the 5-star hospitality of the landmark Taj Mahal Hotel in Delhi and the Westin Kolkata Rajarhat offer welcome indulgences before and between our safari adventures.

Our Presence Directly Helps to Protect Tigers




After years of precipitously declining tiger numbers, India is charting steady increases. Its 2018 quadrennial tiger census counted 2,967 tigers, a 33% rise over the 2014 census, which was also up 30% from 2010. Conservation groups attribute a share of the increase to responsible ecotourism. The economic value of visitors to India's tiger reserves benefits local communities, offering people an incentive to protect the wildlife they share the land with. Given that India is home to 70% of the world's remaining wild tigers, our presence here for wildlife tourism here is integral to that continued success.
Itinerary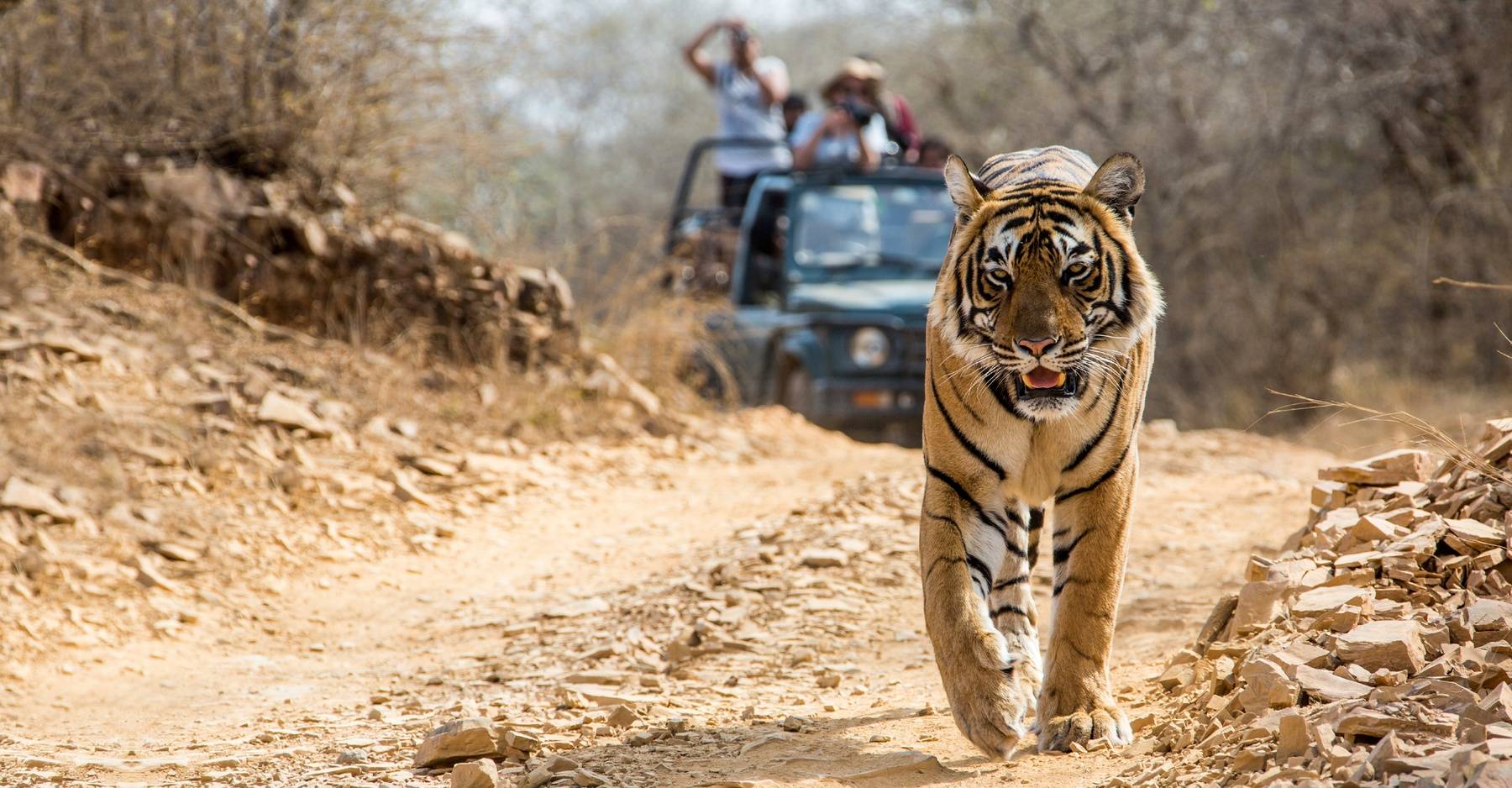 Day 1–13:  Look for Bengal tigers and other rare animals as we discover India's wild side on this in-depth exploration of three premier national parks.
Accommodations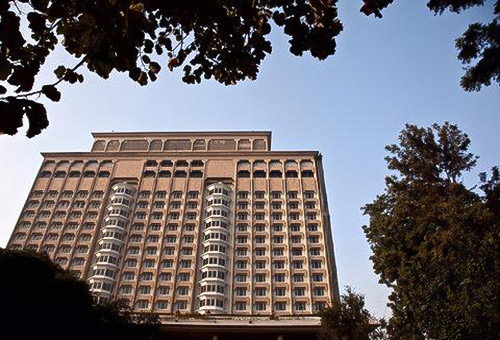 Taj Mahal Hotel
New Delhi, India
One of the most distinguished addresses in the national capital, the 5-star Taj Mahal Hotel is a city landmark, located in the exclusive residential area of Lutyens' Delhi close to the seat of government and foreign embassies. The hotel's elegant interiors reflect the heritage of Mughal Delhi, with intricate motifs, golden inlay work, marble fountains, original art and a veritable showcase of historic artifacts. Exuding refined ambience, the hotel's 294 spacious guestrooms enjoy views over the city or pool and gardens through panoramic windows. Each room is appointed with every amenity befitting a property of this caliber. The health and fitness center features steam baths, sauna, Jacuzzi and traditional Indian Ayurvedic massage and Sirodhara treatments. A suite of restaurants offers a wide range of cuisines and beverages, and classic afternoon tea is served each day in the Machan and Emperor Lounge.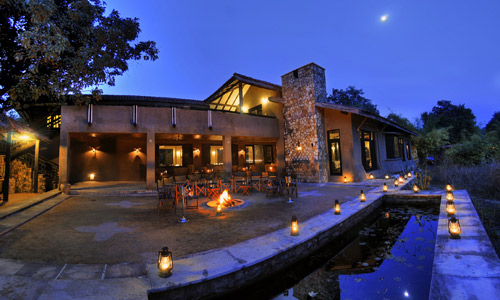 Kings Lodge
Bandhavgarh National Park, India
Kings Lodge is nestled among sal-forested hills in a large natural wooded estate just minutes from the Tala gate of of Bandhavgarh National Park. Surrounded by wild country, this elegant ecolodge enjoys an exceptional location near some of India's most diverse and abundant wildlife. The lodge exhibits a concern for conservation and local communities in every aspect of its design and operations. Utilizing stone, tile, stucco and wood, it is built to blend with its environment using a rural vernacular style of architecture and ecologically friendly construction methods, including eco-sensitive waste disposal systems.
Accommodations are in 10 cottage rooms and 8 stilt cottages, built with nature and solitude in mind. All have air conditioning, 24-hour electricity, modern en suite bathrooms, and a large private veranda with views of the forest. Wi-Fi is able in the public areas. The dining room serves varied cuisines in a warm and romantic setting, with a fireplace and views of the expansive wild grasslands backdropped by sal-forested hills. An outdoor barbecue and bush dinner area provide opportunities for outdoor dining. In between morning and late-afternoon game drives, enjoy the swimming pool and sundeck, indulge in an Indian massage at the spa, peruse a book in the small natural history library, or climb up into the watch tower to survey the surrounding landscape and search for wildlife.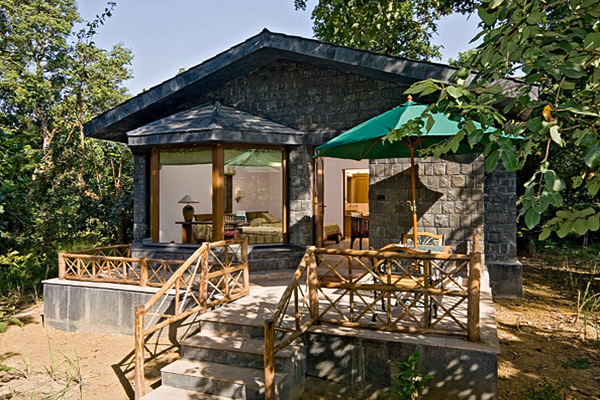 Singinawa Jungle Lodge
Kanha National Park, India
Singinawa Jungle Lodge offers all the comforts of a world-class resort within the wild environs of India's tiger heartland. The lodge name reflects its practice of the Sherpa philosophy of singinawa—protection of the sacred forest—while working closely with the local communities on conservation. The lodge is situated within 55 acres of undisturbed jungle punctuated with open grasslands and striking rock outcrops. The Tannaur River provides year-round fresh water. Accommodations are in 12 charming stone and slate cottages decorated in crisp white hues accented by traditional, colorful sari fabric designs, bright rugs and intricate carved wood furniture. All feature a large bedroom, en suite facilities with double vanity and rain shower, air conditioning, fireplace, mini bar and private veranda, offering secluded environs for relaxing. A large free-form swimming pool offers refreshment between wildlife drives, and the estate also houses the Kanha Museum of Life and Art, a museum of tribal art that showcases the indigenous Gond and Baiga artisans and their labors of love.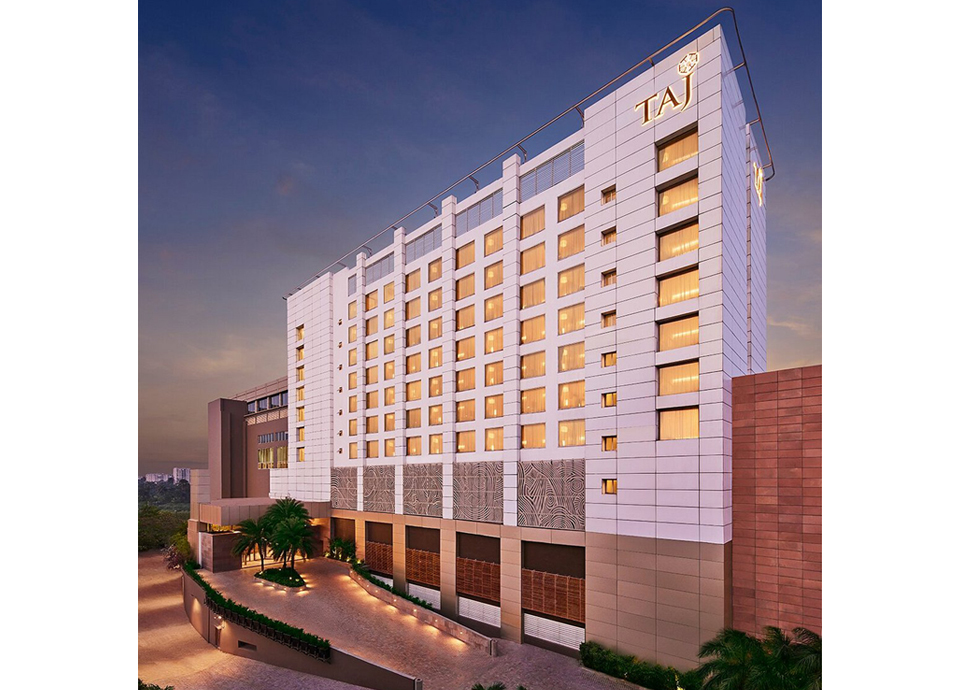 Taj City Center New Town Kolkata
New Town, Kolkata, India
Enjoy a restful layover at the luxurious Taj Kolkata, conveniently located near the airport, where you will return the following morning to fly to Jorhat, the tea capital of India. Kolkata's satellite city, New Town, is situated north of the Bay of Bengal and east of the Hooghly River and sets a national precedent for coexisting with nature. As one of only four other cities in the country to be awarded the 'Platinum-Rated Green City Certificate' by the Indian Green Building Council, New Town is a revitalizing retreat within the urban jungle. Take in the story of the city through the hotel's local artwork, handwoven fabrics and warm wooden features. Old-world architecture is complemented by modern comforts, including award-winning restaurants and an infinity pool that cascades over the bustling center. Guests seeking rejuvenation can recline under an umbrella of palm trees or indulge in a traditional aromatherapy massage at the JIVA Spa.
Time permitting, explore one of the largest open spaces in the area is just under two miles from the hotel. Covering 500 acres, Eco Park is a self-sustaining ecosystem that serves as a "living classroom" for the surrounding community. Stroll down the Lake Front Promenade, watch pollinators hatch from their cocoons in the butterfly garden, and take in the scents of Bengali native plantlife in the fruit, herb and tea gardens. The park's wetland habitat harbors the Pakhi Bitan sanctuary, the perfect setting to practice birdwatching before continuing our adventure to Kaziranga National Park.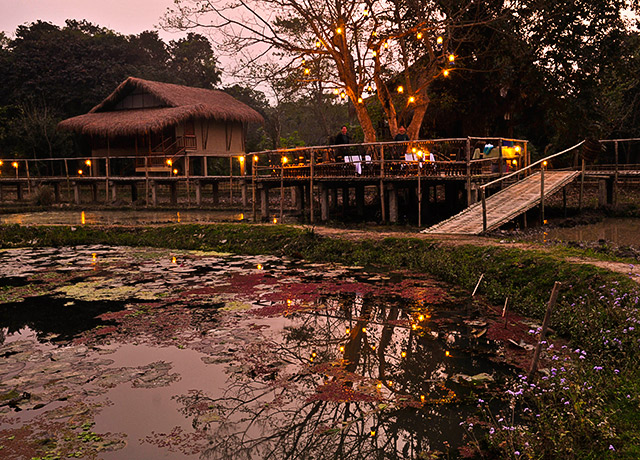 Diphlu River Lodge
Kaziranga National Park, India
Diphlu River Lodge provides top-class accommodations in Kaziranga National Park, a magnificent Indian wildlife enclave that is a World Heritage Site. The position of the lodge is second to none: only the boundary river separates its extensive grounds from the national park itself, and the jungle views are exceptional. The charming cottages are raised on stilts and made of bamboo and thatch, using local materials to blend in with the stunning natural surroundings. Each spacious cottage has en suite facilities and is well-appointed with air conditioning, a seating area, mini bar, safe, refrigerator and tea- and coffee-making facilities. Each has a balcony from which to savor the magical environs in the open air.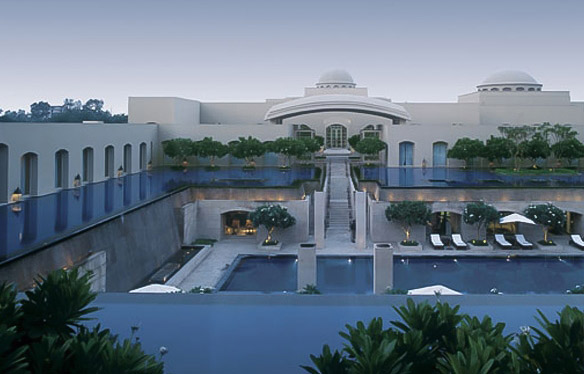 Trident Gurgaon
Gurgaon, India
Voted "Asia's Leading Hotel" multiple times at the World Travel Awards, the Trident Gurgaon is located in the central business district of Gurgaon, part of the New Delhi national capital region, just 30 minutes from the international airport. Designed by Thai architect Lek Bunag, the low-rise hotel is set amid seven acres of landscaped gardens, courtyards, walkways, reflection pools and fountains, creating a resort-like ambience. The hotel's 136 rooms are defined by warm, understated contemporary decor and enjoy serene views of the gardens and manicured lawns or the reflecting pools. Three restaurants feature world, Indian and Japanese cuisine, and an elegant bar offers drinks in a sophisticated setting. A separate pool bar serves beverages and casual fare alongside the magnificent outdoor swimming pool, while a spa and fitness center complete the hotel's recreation facilities.
Know Before You Go
Whether you're preparing for your upcoming India safari or just want to learn more about this vibrant country, we've got you covered.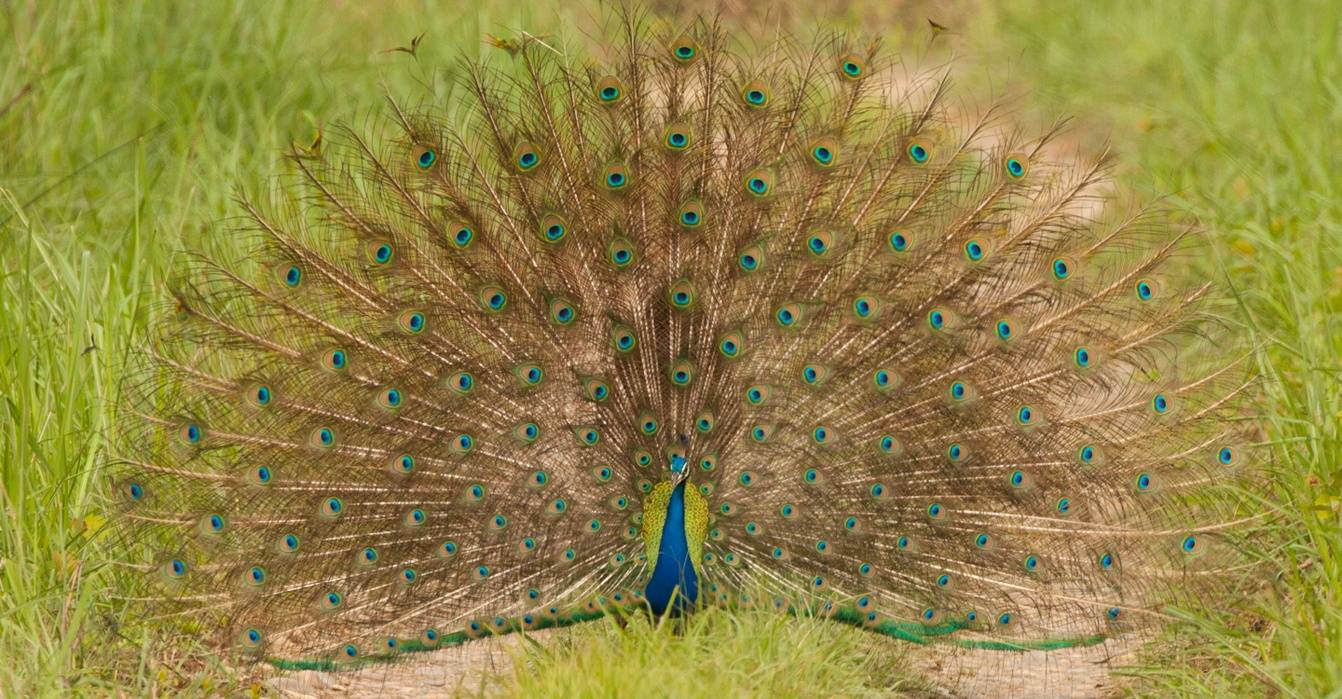 Frequently Asked Questions
Discover our most frequently asked questions about India wildlife, lodging and more.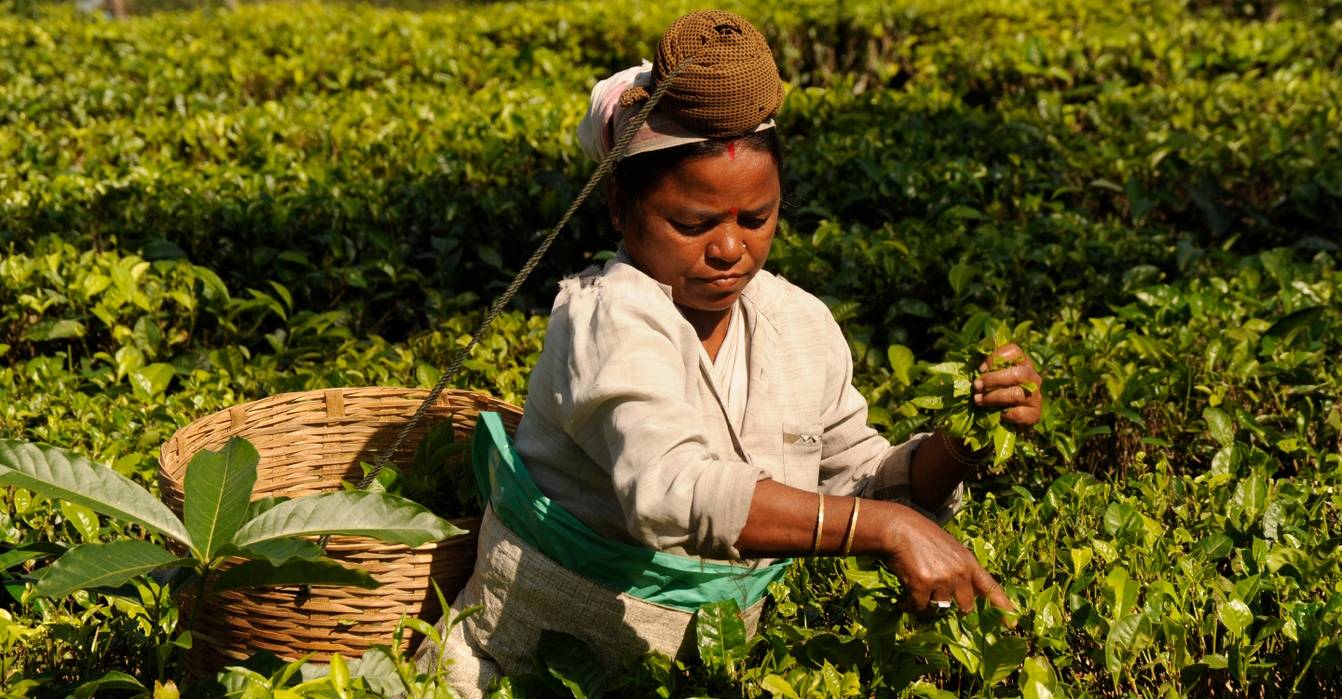 Weather and Climate
Find the typical weather conditions in India.
Trip Pricing
Trip Price: $10,995 (+internal air).  This price is based on 2024 rates and subject to change slightly.
Internal Air Cost: $1,127 per person (this will be listed separately on our invoicing).
Single Occupancy: For a single room, add $2,175. Contact us to learn how you can avoid the single supplement.
Deposit: $1,500 per person (non-refundable)
Group Size
Limited to 11 Travelers
A very important feature of our India wildlife safari is the limited group size, as nature encounters are best experienced away from crowds within the intimate setting of a small group.
Included
Trip price includes: Accommodations, services of SDZWA Host and Nat Hab's Expedition Leader(s), local guides, lodge and park staff, all meals from dinner on Day 1 through lunch on final day, most gratuities, still camera fees, airport transfers on Day 1 and final day, all activities and entrance fees, all taxes, permits and service fees.
Internal air cost includes: All flights within the itinerary (this will be listed separately on our invoicing).
Not Included
Travel to and from the start and end point of your trip, alcoholic beverages, some gratuities, passport and visa fees, optional activities, items of a personal nature (phone calls, laundry and internet, etc.), airline baggage fees, required medical evacuation insurance, optional travel protection insurance. Note: India requires additional fees for video camera usage in parks, which is not included in your trip fee. 
Physical Requirements: Easy / Moderate
In order to participate in this trip you must be able to walk unassisted (without the use of walking aids) at a steady pace for at least two miles over uneven terrain, climb multiple sets of stairs at some accommodations, and climb a short ladder to get into and out of our safari vehicles. Activities include a city walking tour that could be as long as three miles in crowded conditions, walking with luggage through multiple airports, and walking on sometimes dark and uneven paths at our accommodations. Wildlife drives in the parks take place on very rough and bumpy dirt roads with many ruts and potholes, in conditions that are potentially very dusty. Travelers with back problems or other health issues that could be exacerbated by such conditions should take this into consideration. The trip also involves many very early morning starts and long, full days of activities with little downtime, which can be quite tiring. As the national parks we visit are spread over a large area, we are required to fly and drive between several locations, with some drives lasting between 5-6 hours and occurring amid rather chaotic local driving conditions. 
Important Information About This Trip
Wildlife Encounters
Our guests choose a trip to India for encounters with the country's unique wildlife. While the nature experiences here are exciting, there is a fundamental difference between the wildlife experience in the Indian jungle and a typical African safari. At times, guests who are lured to India by tourist brochures promising "tiger safaris" can be disappointed to see fewer animals than they expected, or at least fewer than they might normally see in Africa. It is not that the surviving jungles are thinly populated with wildlife, but, similar to places like Costa Rica where the forest vegetation is dense, animals have mastered the art of camouflage in thick cover and can be extremely difficult to spot. We design our itineraries to capitalize on the best places to see tigers. But various factors can affect potential sightings, including inclement weather, which creates small pockets of water that allow the animals to remain hidden in the forest, rather than being driven into the open to drink. There is no doubt that India's nature, and the forests Kipling immortalized, offer wondrous discoveries. The secret for visitors lies in the assistance of expert guides, as well as knowing what to expect, and in understanding that the privilege of stepping into a wild natural realm is a reward in itself.
Safari Vehicle Routes & Seating Allocation
Rather different than in nearly every other country we travel to, in India the driving routes in national parks are pre-assigned and must be followed. In most parks this is generally not a problem, but when searching for tigers this can be frustrating as they simply may not be visible on a given route on a given day. Our hope is that we are able to utilize different routes on different days. However, the park service allocates routes at random for each vehicle, so there is no guarantee that vehicles will get a different route for each wildlife drive. We understand that one of the goals for your journey is to view tigers, and but please understand that there is a chance that the vehicle to which you are assigned could take the same route multiple times. Thank you for participating in this adventure knowing that this may be the case.
Also, on rare occasions you may see film crews during your time inside parks. These crews have special permits in order to film inside park boundaries and, as a result, they do enjoy certain advantages that a regular tourist does not, such as spending the entire day inside the park and having access to places where others cannot go.
Indian park regulations are also extremely strict with regard to seating arrangements on wildlife drives. Requirements dictate that guests be confirmed in specific vehicles upon booking, well in advance of the departure date, and we are unable to change vehicles while we are exploring each park. To the best of our ability, we attempt to ensure that guests who are traveling with a partner or friend will have seats together during wildlife drives. Because couples or friends are booked together in the same vehicle and are unable to split up during drives, it may mean that in some instances, certain vehicles will contain fewer guests than others.
It is also important to understand the limitations based on available vehicle space. Each open safari vehicle has two front seats and two rows of bench seats. Regulations require that the front two seats be occupied by a park ranger and registered driver. Our Expedition Leader and local guides are allowed more flexibility and will switch among vehicles for each drive so that all guests are able to spend equal time with them. However, this means that as our Expedition Leaders and local guides rotate vehicles, there may be times when there will be three people (two guests and one Expedition Leader or local guide) to a row—our Expedition Leader/local guides may be required to sit in the rear left seat of the vehicle.
Please know that while there are indeed limiting factors to the tiger viewing experience in India, we have taken great pains to ensure that this special India tiger and wildlife safari with Nat Hab provides the best viewing experience possible. 
Mandatory Insurance
Since the areas we travel to are remote and wild (that's why we go there!), we strongly recommend that all guests have, at minimum, medical evacuation insurance for this program. While this is not required, we make this strong suggestion in the interest of our guests' safety. We recommend that your chosen independent insurance plan includes at least $250,000 in medical evacuation coverage. 
To protect your investment and to provide peace of mind while you travel, we also strongly recommend purchasing comprehensive travel insurance. Plans may cover everything from medical treatment to trip cancellations, and delays and lost luggage. Please contact our office if you would like more information about the medical evacuation and comprehensive travel insurance policies we offer, by calling 800-543-8917. 
Getting There and Getting Home
Arrive in Delhi by 9 am on Day 1 in order to participate in a guided city tour beginning at approximately 1 pm. You are free to depart Delhi any time after 9 pm on the final day. We can best serve you if our Natural Habitat Adventures Travel Desk makes your reservations, as we are intimately familiar with the special requirements of this program and can arrange the most efficient travel. Please call us at 800-543-8917. Note that while we offer you the best possible rates available to us on airfare and additional nights' accommodations, you may find special web rates or better fares online.