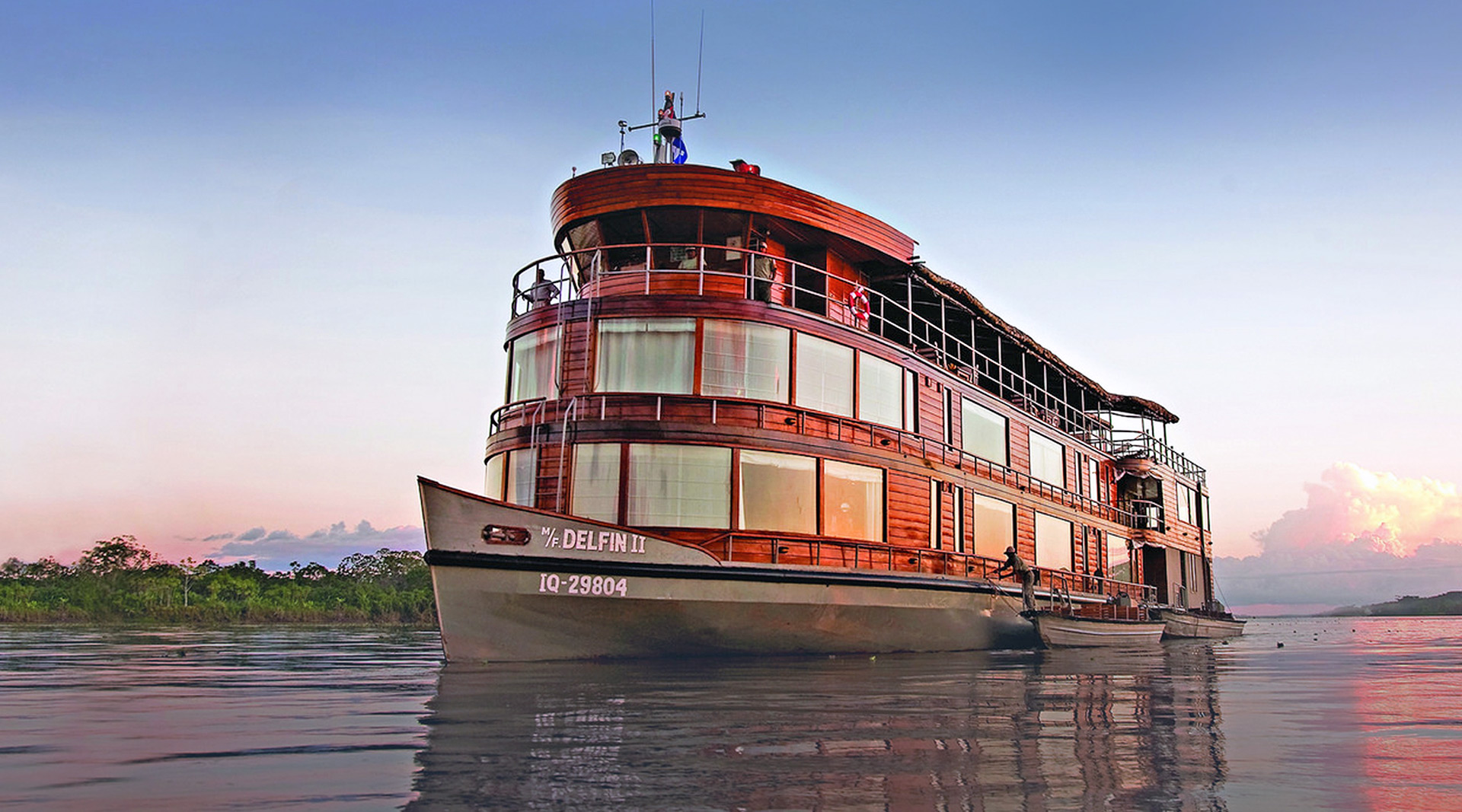 The Great Amazon River Expedition
November 18–26, 2023
Prices starting at $7,700
Please call our tour operator at:
800-543-8917
itinerary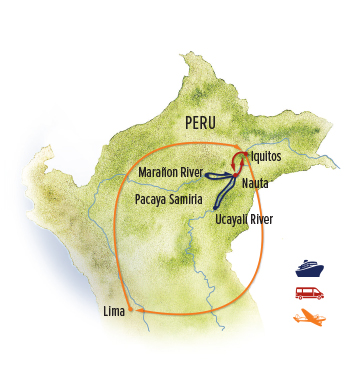 Day 1: Lima, Peru
Arrive in Lima, where our local representative meets you at the airport. Then, transfer to our hotel, where we'll have a welcome dinner this evening with our expedition leaders. Our location near the airport provides convenient access for tomorrow morning's flight to Iquitos.
Day 2: Lima/Iquitos/Nauta—Embark Delfin II/Piranha Caño/Marañon River
We'll fly east across the spine of the Andes to land in Iquitos. Accessible only by air or water, this once-booming rubber town is now one of the largest cities in the Amazon. We transfer to Nauta, a small riverside town on the banks of the Marañon River, whose name literally means "end of the road." Here, we board our deluxe riverboat, the Delfin II. Cruising slowly upstream, bound for the Amazon headwaters, we enjoy panoramic views from the open-air top deck and sip exotic cocktails made with regional fruits and pisco, Peru's famous national brandy, as our expedition leaders provide an overview of the journey ahead.
This afternoon, we disembark for a short skiff excursion to Piranha Caño, near the confluence of the Ucayali and Marañon Rivers that join to create the main stem of the mighty Amazon River. Traveling through flooded terrain, we discover a tranquil lagoon rich in birdlife, especially seed eaters that are difficult to find elsewhere. This is also a good spot to search for monkeys and sloths. It's important to know at the outset, though, that the prolific wildlife of the Amazon is also skilled at hiding: it takes an expert eye to locate animals sheltered by the dense vegetation. That's where our guides come in!
Day 3: Amazon River/Clavero Lagoon/Supay Cocha
We'll board excursion boats and head out for an introduction to the "river sea" that is the Amazon. These legendary waters thrum with small boats coming to market, while the skies overhead are animated with birdlife. On a morning excursion to Clavero Lagoon, we hope to observe egrets, herons, hawks, and long-legged neotropical cormorants fishing for breakfast. We'll also explore other linked blackwater lagoons that are part of this huge lake, watching wattled jacanas compete for food with spiders, and spying grasshoppers and butterflies that thrive along the edges of freshwater swamps and marshes. This afternoon, we take another skiff excursion into Supay Cocha, a lagoon teeming with fish. We'll watch for troops of squirrel monkeys and plenty of birds, including black- and white-tailed trogons and paradise tanagers.
Day 4: Ucayali River/Yanallpa/Dorado River
This morning we'll visit Belluda Caño Creek near Yanallpa, home to the ribereño people, Indigenous dwellers in the rainforest for centuries. This small tributary is a prime location to look for pink and gray Amazon river dolphins, freshwater cetaceans that are highly social, friendly, and intelligent. Plying the water in open skiffs, we have a chance for close encounters with these rare creatures, if we're lucky. We'll keep an eye peeled, too, for wide-eyed owl monkeys—the world's only nocturnal monkeys—resting in the forest canopy in preparation for their next forage.
Navigating small waterways off the main river, we are immersed in the verdant recesses of the world's largest rainforest. The Dorado River is our first stop inside the Pacaya Samiria National Reserve. Established in 1982 to preserve the exceptional biodiversity of the northern Amazon wilderness, it is Peru's largest protected area. As we glide slowly along, we'll search for birds such as snail kites, festive parrots, olive-spotted hummingbirds, Amazonian parrotlets, wood creepers, and endangered scarlet macaws. Squirrel monkeys move in large, noisy troops overhead, while iguanas laze in the sun. We may see more river dolphins gliding gracefully through the water. At every turn, our guides reveal the secrets of the rainforest, helping us spot creatures we would never see on our own, given the amazing camouflage of so many masterfully adapted species. Before making our way back to the ship, we scan the riverbanks for spectacled caimans, frogs, owls, and capybaras, the world's largest rodent. After dark, we head up to the top deck to listen to the symphony of night sounds in the forest.
Day 5: Zapote River/Pacaya River
This morning, we explore the blackwater Zapote River by kayak and skiff. The water, while clear, is the color of dark tea, an effect of the tannins deposited by rich vegetation along the banks. Along this small tributary, we frequently observe a variety of monkeys—including squirrel monkeys, monk saki, and brown capuchins. Where dry ground exists, we'll step ashore for rainforest walks, keeping an eye out for a host of birds: large-billed terns, laughing falcons, gray tanagers, snowy egrets, horned screamers, tiger herons, short-tailed parrots, parakeets, and perhaps the flashy scarlet macaw. We may even spy a three-toed sloth nestled in a cecropia tree.
This afternoon, we'll reach the Pacaya River at the heart of the Pacaya Samiria Reserve. This vast flooded landscape, known as the "mirrored forest," covers 10,000 square miles at the headwaters of the Amazon and is home to Peru's greatest concentration of wildlife. We set out to explore this emerald realm of trees, vines, streams, lagoons, and islands. Overhead, we look for macaws, black-collared hawks, prehistoric hoatzin birds, and capuchins, and we listen for red howler monkeys—with their eerie call that reverberates through the canopy for miles. We begin to get a sense of the layered richness of the reserve's mixed habitats: its 85 lakes are home to 250 fish species, while it protects 132 species of mammals (most are very elusive), 150 reptile and amphibian species, and 450 different kinds of birds. The reserve also contains the largest variety of flora in Peru, including huge bromeliads and 22 orchid species.
Day 6: Sapuena Creek/Yarapa River/Puerto Miguel
We will wake to the sounds of a jungle teeming with life, and join our expert naturalists for a dawn birding excursion on Sapuena Creek, a blackwater stream leading to a large lake. We'll watch for purple and azure gallinules and wattled jacanas along the lakeshore before returning to the ship for breakfast. This afternoon, we will cruise upstream via skiff to reach the Yarapa River, a remote tributary of the Upper Amazon. Turning into the Yarapa, we'll watch for colorful birds such as plum-throated cotingas, and look for river dolphins swimming alongside. According to local lore, the dolphins turn into humans during celebrations, to steal handsome men or pretty women from their villages.
Later in the day, we disembark for a short skiff ride to Puerto Miguel, a riverside village where we meet Indigenous residents whose culture has been a part of this region for centuries. At the arts and crafts market, we have a chance to purchase items that support the community and empower women artisans. Sales indirectly help preserve local fauna, since income generated by these items decreases the financial allure of illegal hunting. We may also get to visit a local school before heading out on a jungle walk in search of sloths and monkeys—then return to the Delfin II for dinner.
Day 7: Amazon Natural Park—Canopy Walk/Yanayacu Pucate/San Regis
This morning, we will head up the other main tributary of the Amazon, the Marañon River. Along the way, we stop at Amazon Natural Park, which has the area's sole canopy walk. Suspended 85 feet above the ground, the walkway extends a third of a mile through the upper tier of the rainforest—one of the longest canopy walks in the world. The treetops provide an excellent vantage point for observing the terra firma forest, including walking palms and trees festooned with epiphytes.
We will board kayaks and skiffs this afternoon to travel farther up the Marañon to a virtually unvisited section of Pacaya Samiria, where the Yanayacu and Pucate rivers meet. Giant kapok and strangler fig trees along the banks shelter a multitude of wildlife, and our expedition leaders will explain the various micro-ecosystems found here in one of the most pristine parts of the Pacaya Samiria Reserve. We'll search once more for pink dolphins, then continue to San Regis, an isolated village that rarely sees outsiders. We will visit with the prestigious shaman Carola, known throughout the region as a healer and spiritual guide. In addition to living a normal village life with her woodcarver husband, she is a spiritual caretaker for hundreds of residents living throughout the jungle's remote reaches.
Day 8: Fundo Casual Trail/Nauto Caño Creek
Early risers are rewarded with the reserve's most abundant bird and animal life on this morning's excursion. We will set out at sunrise, when wildlife is most active in the tropics, to follow the Fundo Casual trail, walking deep into the forest on dry ground in search of sloths, birds and more. Look closely for brightly colored poison frogs, leafcutter ants, and other intriguing small creatures along our path. After lunch, we cruise to the Nauto Caño River, a small creek, via which we explore marshes, side streams, and oxbow lakes while searching for many different birds and three-toed sloths in the trees.
As the sun sinks below the canopy, an exciting adventure awaits: a chance to witness the transformation of the rainforest at nightfall. An orchestra of sounds evolves as nocturnal creatures awaken, with crickets and night birds providing a percussive rhythm. In the darkness, our guides use powerful spotlights to search for wildlife. Black caimans, frogs, common potoo, black-crowned night herons, pauraques, spectacled owls, and nighthawks are commonly spotted along the banks, while fish bats swoop down to scoop fish from the water. Back aboard our deluxe riverboat, we will head up to the observation deck to savor a last night of stargazing under the black Amazon skies. 
Day 9: Nauta—Disembark/Iquitos/Lima/Depart
We disembark in Nauta this morning, then visit the Rescue & Rehabilitation Center for River Mammals en route to Iquitos. Here, biologists and volunteers care primarily for endangered Amazon manatees that conservation authorities have seized from fishermen and locals who have captured them illegally. Scientists discuss efforts to help these vulnerable mammals, including how they are prepared for reintroduction to their native habitat. We'll have the chance to see young manatees and interact with charming, docile adults—maybe even helping to feed them. The center also cares for other animals that are often rescued after being captured as pets. Leaving the rainforest behind, we will fly together to Lima. For your convenience, we have booked overnight accommodations at the Wyndham Costa del Sol airport hotel. Relax in your own private space until an overnight flight home, or take advantage of the opportunity for a full night's stay and depart the following morning.
Please Note: This itinerary is meant as a guideline, and can change due to weather conditions, internal flight schedules, and river water levels. On some occasions, these conditions may require us to deviate from our intended itinerary, in which case we will provide the best available alternative. And we'll make a great adventure of it!
Physical Rating: Easy