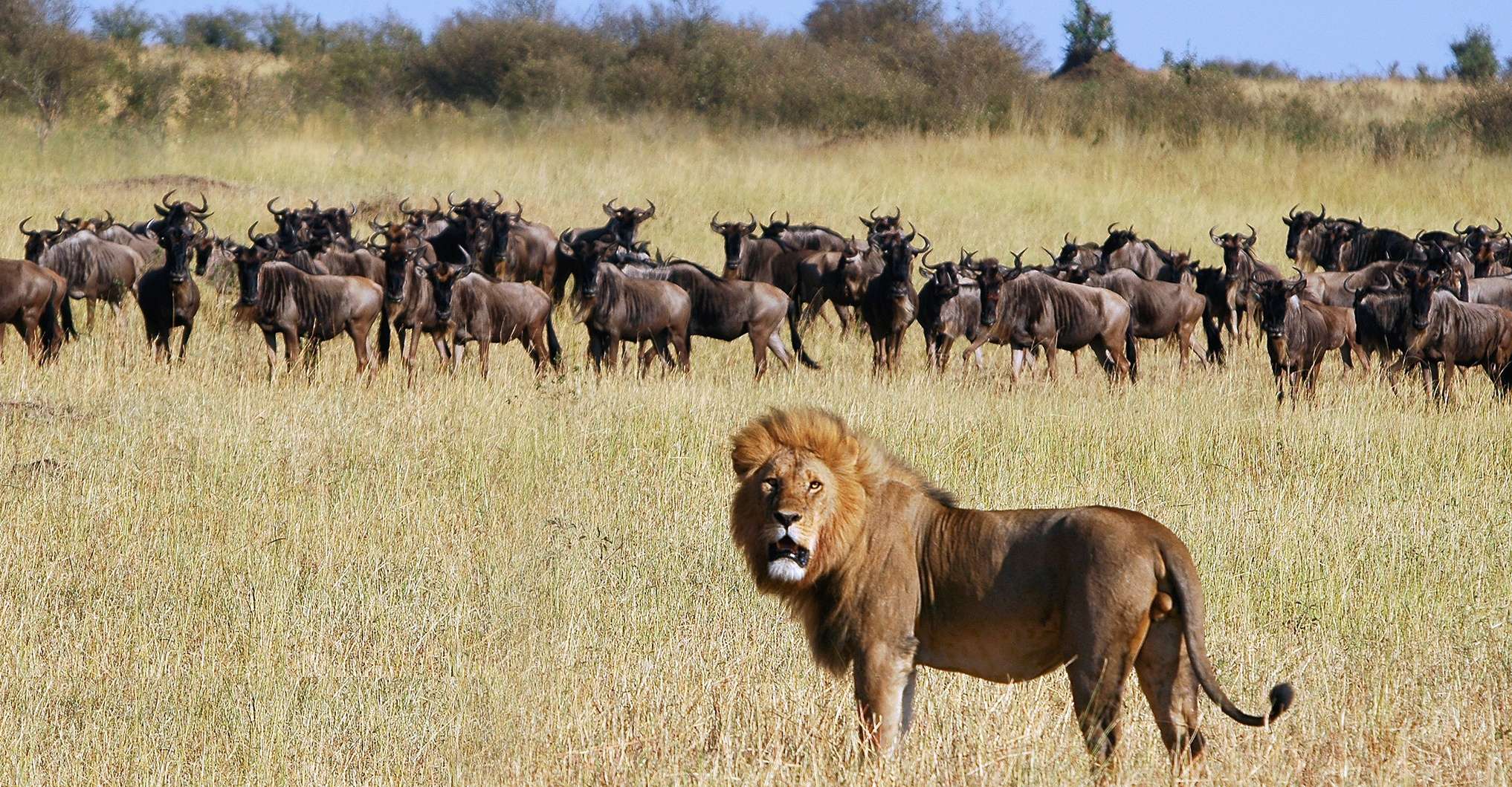 Kenya Migration & Reteti Adventure 2024
August 24- September 5, 2024
Prices starting at $23,995
Please call our tour operator at:
800-543-8917
faqs
Where is the Maasai Mara?
The Maasai Mara National Reserve is a large wildlife reserve in Narok County, Kenya, that covers more than 700 square miles. It is situated next to—and is therefore the northern extension of—the famed Serengeti National Park in northern Tanzania.
What is the Great Migration?
The Great Migration is the largest group movement of land mammals on Earth. During this event, around 1.5 million wildebeest, gazelle and zebra traverse the Maasai Mara, with hordes of hungry predators in tow. They move in search of greener lands to the northern Serengeti as the plains dry out. The sheer scale of this event and the intense encounters between predator and prey offer an unrivaled and unmissable wildlife spectacle.
When is the best time to see the Great Migration?
Kenya's long, dry season from July to October drives the famous migration in the Maasai Mara. While herds of wildebeest and zebra numbering hundreds of thousands can be seen at this time, local factors such as rainfall and wildfires affect wildlife movement patterns and cause mini migrations through the Maasai Mara and northern Serengeti. As a result, sightings of the iconic lines of animals stretched across the plains can never really be predicted, yet our safaris will put you in areas with the highest chances of witnessing this spectacle.
What are Africa's Big Five?
Africa's famous Big Five consist of the lion, buffalo, elephant, rhino and leopard.
What type of wildlife will I see on a migration safari?
The Maasai Mara has an exceptionally large population of predators, including lions, leopards, and cheetahs, as well as zebra, gazelle, and wildebeest that take part in the annual Great Migration. The other members of Africa's Big Five—buffalo, elephant and rhino—can all be found in large numbers here as well, along with around 400 hundred unique bird species, making for a one-of-a-kind diverse wildlife viewing experience.
What time of day is wildlife most active in Kenya?
Wildlife in Kenya are usually the most active in the morning and evenings. This works out especially well for travelers because the morning and evenings are the coolest times of the day, and therefore the best times to be out in the bush. The morning and evening also provide the best lighting for capturing the perfect photographs of any animals you may encounter on your game drives or bush walks.
Will we have a chance to meet any local Maasai tribespeople?
The Maasai Mara is home to the Maasai people, a traditional tribe of pastoralists. Once nomadic and fiercely warlike, the Maasai have lived alongside wildlife for centuries and consider themselves the guardians of the ecosystem. Depending on the location of the small safari camps and lodges chosen for your itinerary, it may be possible to include an authentic and culturally sensitive visit to a local village, market or school and also spend time on a Maasai naturalist-guided bush walk, seeing nature through their eyes and learning some of the skills the warriors use when traveling through the wilderness.
How will we travel around Kenya on our safari?
On our Kenya safaris we travel around the country by light aircraft with our game drives and road transfers done in either open or closed 4x4 safari land cruisers. Our safari vehicles have five to seven cushioned passenger seats, though we rarely fill them to capacity so that each guest gets a window seat and has plenty of room for gear.
What clothing should I pack for the weather in Kenya?
Though it gets warmer throughout the day and temperatures rise in the afternoon, mornings and nights can be quite cold, so guests should pack multiple layers. Bring lightweight long- and short-sleeved shirts, pants (zip-off pants are a great idea), a warm fleece or jacket, hat, and good walking shoes for safari walks. A wide-brimmed hat is always helpful on an Africa safari!
What are the physical requirements for the Kenya migration safari? 
Nat Hab rates the physical requirements of our Kenya safaris as "easy" with the most strenuous activities being climbing in and out of the safari vehicles and long, sometimes bumpy rides. Optional walking activities are often available, covering distances of one to two miles on uneven ground.
What are Nat Hab's private mobile camps like?
Our mobile safari camps are located in the heart of wildlife regions and allow us an experience that is different than at permanent camps, particularly in the evening when others have left the park and we remain. These spacious accommodations combine comfort with immersion in nature. Each private room includes full beds and bedding, an en suite bathroom and a hot water safari shower. Our camps are designed with classic décor, giving them the safari feel of yesteryear but with all the modern comforts.
What type of food will be served at the safari camps?  Will we have a chance to try locak Kenyan cuisine?
Meals on our African safaris are often described as "fine cuisine!" Breakfast generally consists of a light continental meal before our morning activities, and then often there is coffee/tea with treats while on safari. Returning late morning, we generally enjoy a full, hot brunch/lunch at camp; or, on the days we do a longer safari, a picnic buffet lunch may be served in the field. Dinners at the end of a long and exciting day can be quite elaborate, with European and local dishes often tilted toward American tastes. We provide plenty of options for all palates and dietary restrictions.
Is What currency is used in Kenya? Can I exchange money while I'm there?
The national currency of Kenya is the Kenyan Shilling (KES). Since the acceptance of US dollars is widespread throughout East Africa, it is much easier to refrain from exchanging money. If necessary, small amounts can be exchanged at banks in Nairobi.
Is a Kenya safari appropriate for children?
The Kenya is a fantastic destination for families with both teenage and younger children. On our regular safaris, the minimum age required is 12.
What is the best way to get to Kenya to meet the group?
Guests are responsible for booking round-trip flights from their home city to Nairobi, Kenya. We recommend that you use Natural Habitat Adventures' Travel Desk, as our Air Travel Specialists are intimately familiar with the requirements of our trips and can arrange the most efficient and cost-effective travel into Nairobi.