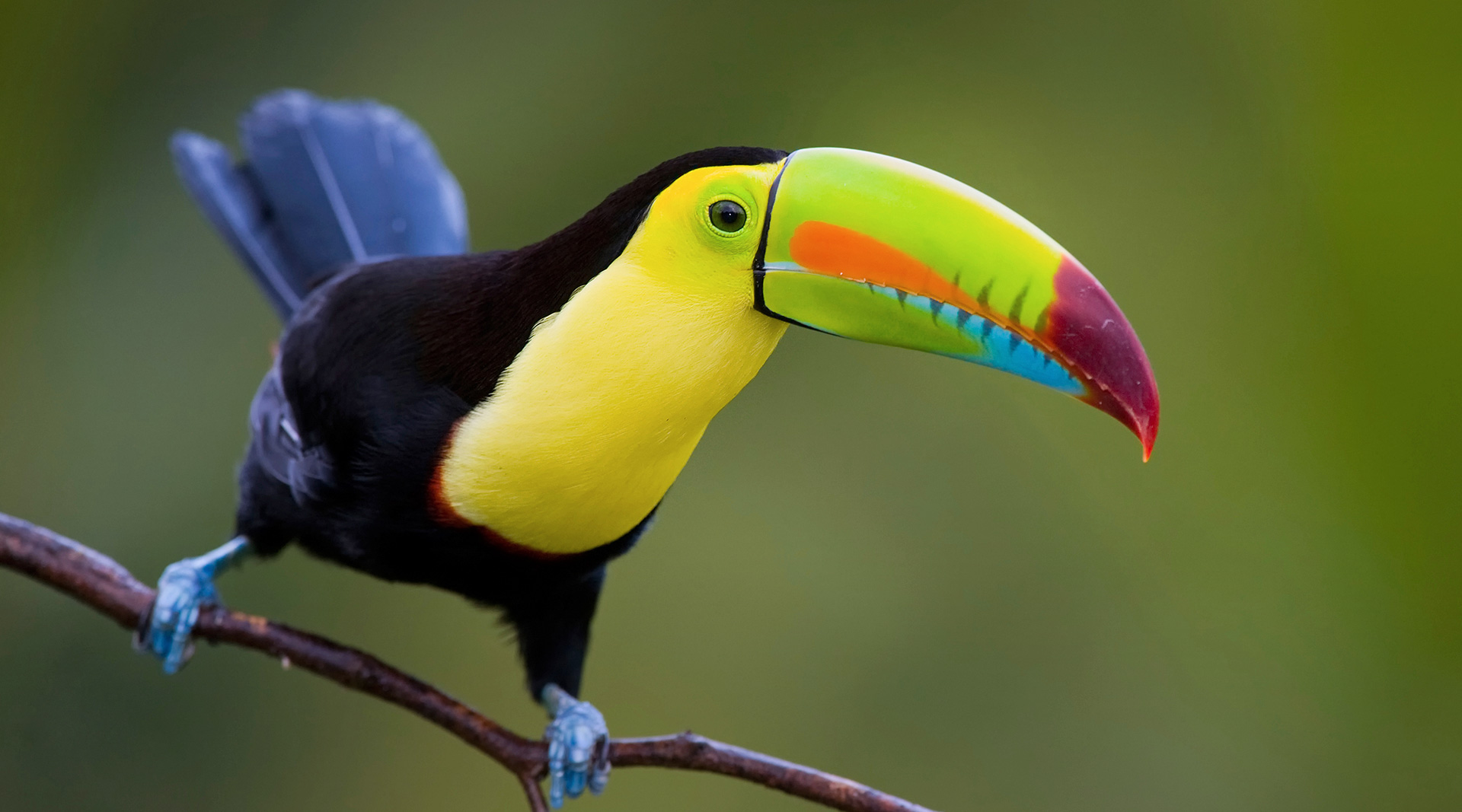 Natural Jewels of Costa Rica
November 17–26, 2022
Prices starting at $7,595
Please call our tour operator at:
800-543-8917
Limited to 10 Travelers
Tropical Forests, Jungle Wildlife, and Two Oceans on Costa Rica's Most Diverse Nature Adventure!
Costa Rica may be a small country wedged between two continents, but few locations in the world are bigger on nature, adventure, and conservation—and no itinerary we know of shows you more of its varied wild treasures than this one. Flanked by miles of empty beaches on the Pacific and the Caribbean, Costa Rica's interior is a lush tangle of rainforest, mist-veiled mountains, rushing rivers, active volcanoes, and habitat for some of the greatest biodiversity on Earth. Within the layers of green upon green, thousands of species thrive: gigantic ferns, magenta orchids, neon-bright parrots, iridescent hummingbirds, three-toed sloths, monkeys, peccaries, agoutis, crocodiles, sea turtles, iguanas, and frogs ... and that's just for starters! Amid the colors and cacophony of the tropical jungle, our senses have never been so engaged.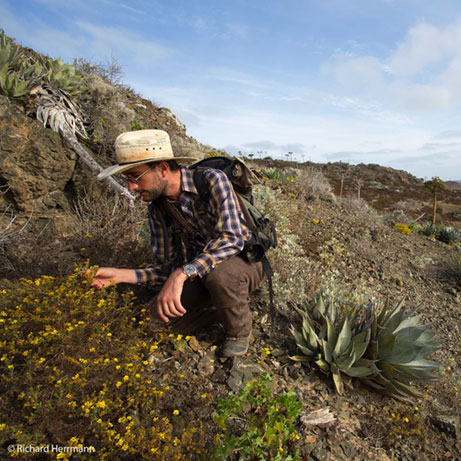 The SDZWA host for this trip will be:
Charlie de la Rosa, Ph.D., Natural Lands Program Manager
Charlie is a conservation biologist focused on human impacts to ecosystems in the American Southwest and Northern Mexico. The son of a tropical biologist, he spent much of his childhood on biological field stations in the dry tropics of Costa Rica. He received a doctorate in biology at UCLA's Department of Ecology and Evolutionary Biology in 2018, where his dissertation focused on free-ranging cattle foraging and the effects of traditional cattle ranching on tree diversity and abundance in the Sierra Madre Mountains of Sonora, Mexico. As natural lands program manager for San Diego Zoo Wildlife Alliance, Charlie oversees biodiversity monitoring, restoration, research, and outreach on the 900-acre Biodiversity Reserve adjacent to the San Diego Zoo Safari Park, and the 670-acre Samataguma Ranch Reserve in the foothills of San Diego's Cuyamaca Mountains.
Trip Highlights
By private boat, look for endangered sea turtles and abundant wildlife in lowland jungle waterways, and view Arenal Volcano from Lake Arenal.
Resplendent Quetzals in Monteverde
Search for cloud forest wildlife, including rare quetzals and sloths, on a canopy skybridge walk and guided hikes in a private nature sanctuary.
Remote Corcovado National Park
Discover the hidden beauty of the little-visited Osa Peninsula as we explore pristine coastal rainforest and wild Pacific beaches—a rare inclusion!
Experience MORE of Costa Rica's Astounding Diversity
Costa Rica offers many options for visitors, from all-inclusive beach resorts to self-drive hotel-based tours. If you love nature, however, come with us—it's that simple. We've been scouring the country for more than three decades, and we're experts when it comes to sharing its most entrancing natural treasures—in places that are often far less discovered. Join us for experiences typical travelers miss.
The Most Diverse, All-Encompassing Costa Rica Itinerary You'll Find
We don't know of another itinerary that covers the broad range of terrain and habitats this one does. From jungle canals in the lowlands of Tortuguero National Park on the Caribbean coast to the high-altitude cloud forest of the central highlands and down to the remote rain forest of the Osa Peninsula on the Pacific Ocean—plus Arenal Volcano—you'll see more of Costa Rica's stunning biodiversity.
 
Small Groups—Just 10 Max!—Make a Big Difference
Imagine following a narrow trail through the rainforest with 20 or 30 other travelers. Footsteps and voices drown out the delicate sounds, and a sense of solitude in nature is impossible. Yet, many tour companies run groups this size. With that much human company, there is simply no chance for a quiet sense of wonder when you spot the rare resplendent quetzal or listen to a troop of howler monkeys in the canopy. You won't be able to hear your guide whisper details about the animals to you. That's why we cap our groups at 10!

Chartered Flights Maximize Your Time in Nature
We charter a private plane to Tortuguero, then from Tortuguero to Drake Bay on the remote Osa Peninsula, and back to San Jose from Corcovado, cutting out domestic flights that waste numerous hours when you should be experiencing more of Costa Rica's nature and wildlife. Plus, no need to transfer planes in San Jose when we can fly direct from Tortuguero to Osa on a private charter and gain precious time in the wild.

Private Boat Tours of Tortuguero National Park & Lake Arenal
We include four private boat cruises: three through the canals of Tortuguero National Park, one of Costa Rica's top wildlife destinations, and one on Lake Arenal in view of the famous volcano. Most travel operators and lodge-based tours have you sharing boats with guests from other lodges—not us! As ever, a secluded experience of nature is paramount on our trips.

The Most Intimate Wildlife Viewing Opportunities
We've been taking guests to Costa Rica for many years, and our goal has always been to share the country's best wildlife locations with our guests. Our itinerary is designed to facilitate the richest wildlife encounters in the closest proximity, away from crowds. From sea turtles to sloths to scarlet macaws, you're more likely to see them all when you go with us.

A Rare Chance to Visit Corcovado National Park
Corcovado National Park in southwest Costa Rica is described by National Geographic as the "most biologically intense place on Earth." It lies off the standard tourist itinerary even though it occupies more than 100,000 acres, encompasses 13 different ecosystems, and protects a host of endemic wildlife and plant species. On privately guided hikes, explore coastal trails and inland paths that traverse this biodiversity stronghold as we search for toucans, parrots, monkeys, tapirs, elusive jaguars, and more.
Itinerary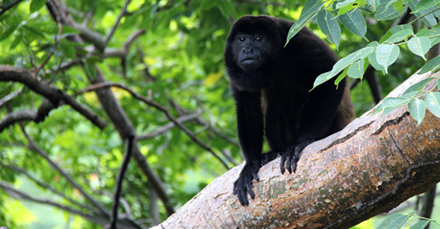 Day 1–10: An all-encompassing nature expedition through the jungle canals of Tortuguero to the misty cloud forests of Monteverde and Corcovado's wild beaches—Costa Rica's best flora and fauna immersion!
Accommodations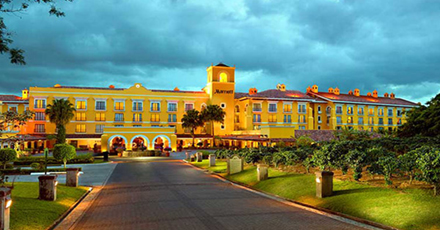 Costa Rica Marriott Hotel Hacienda Belen
San Jose, Costa Rica
Voted one of Central America's best hotels by Conde Nast Traveler, the grand Marriott San Jose offers resort-style accommodations amid a 30-acre coffee plantation setting. Surrounded by lavish gardens, the colonial hacienda-style hotel is both elegant and relaxed, with every conceivable guest amenity. Luxurious rooms feature heavy, dark-wood furnishings, supremely comfortable beds, spacious, well-appointed bathrooms, work desks and in-room Wi-Fi, and wrought-iron balconies with magnificent views over the sprawling Central Valley and mountains. Enjoy recreation opportunities with two palm-shaded outdoor pools, tennis courts, state-of-the-art fitness center, and walking paths through the lush gardens. The spa offers a range of indulgent treatments, while several sophisticated restaurants and bars serve diverse cuisine featuring Japanese, Peruvian, and other Latin American specialties.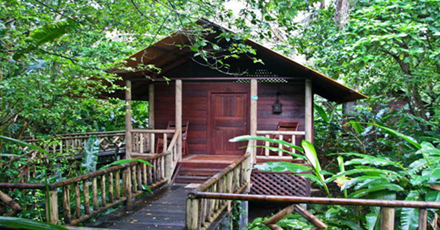 Evergreen Lodge
Tortuguero, Costa Rica
Evergreen Lodge is tucked deep within the tropical rainforest, just five minutes from the boundary of Tortuguero National Park. Rustic yet comfortable, this classic Costa Rican ecolodge provides the ideal base from which to explore the wildlife wonders of Tortuguero. Individual cabanas have en suite bathrooms and large windows that offer a panorama of the surrounding rainforest and its wild residents, including many monkeys. The spacious dining room and bar have a soaring peaked roof and walls of windows that look out onto the jungle landscape. A swimming pool invites a refreshing dip after a day of discovery in the steamy forest environs. From the lodge, we explore Tortuguero's scenic, winding canals by boat, searching for the abundant wildlife for which the park is renowned. We may also explore the forest surrounding the lodge on foot via a network of nature trails.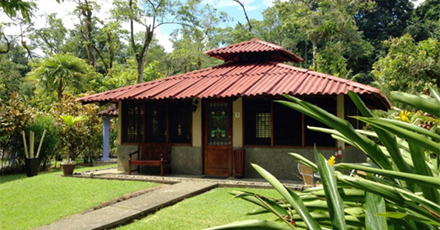 Casa Corcovado Jungle Lodge
Corcovado National Park, Costa Rica
Enjoying a prime location on the edge of Corcovado National Park, Casa Corcovado is a deluxe outpost in one of the world's last true wildernesses. There are no roads to the jungle lodge, and the only access is by boat. This premier ecolodge—a TripAdvisor Certificate of Excellence winner—offers the ultimate blend of luxurious comfort and nature-based adventure. Its setting on a hilltop above a palm-fringed beach, surrounded by tropical gardens and 170 acres of pristine rainforest, provides awe-inspiring views and cooling ocean breezes. 

Accommodations are in individual bungalows spaced throughout the gardens for maximum peace and privacy. The design of our junior suites (the largest of the bungalow offerings) mixes the vibrant, earthy colors and textures of the jungle with contemporary sophistication and amenities. The suites have separate sleeping and living quarters, plus a private screened porch. Special touches included wood-beamed ceilings, shutters, stained glass crafted by local artisans, and an open-air garden shower designed to offer a unique and refreshing experience of being one with the surrounding nature. Other amenities include safe deposit boxes, ample closets, hot water, tiled floors, ceiling fans and 24-hour electricity provided by the lodge's sustainable hydroelectric and solar systems. Two swimming pools are available for guests' enjoyment, a small spring-fed pool tucked into the forest, and the larger "El Solar" pool, which uses solely solar energy to recycle the water. Los Vitrales restaurant features creative Costa Rican cuisine incorporating locally sourced fruits and vegetables.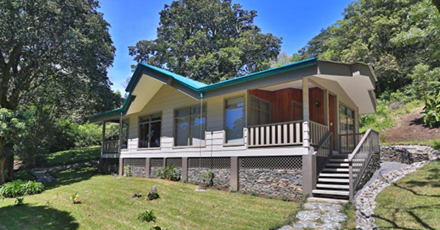 Senda Monteverde Hotel
Monteverde Cloud Forest, Costa Rica
This sustainable luxury ecolodge located high on Costa Rica's continental divide was recently rebuilt from the ground up. It features 24 warmly appointed suites in contemporary mountain bungalows. Duplexes have covered open-air porches on either end with a hilltop view of the distant Pacific Ocean, or they overlook lush gardens and the cloud forest beyond. Interiors feature gleaming hardwoods, contemporary art, modernist furnishings, king or twin beds, mini bar, coffee maker, ceiling fan, and in-room laptop-size safe. Stylish en suite bathrooms have minimalist semi-enclosed glass showers, freestanding porcelain basins and organic toiletries. The farm-to-table movement is strong here, and guests enjoy artfully prepared meals sourced from fresh regional ingredients, including artisanal produce, locally raised meats, Monteverde cheese, and famous Costa Rican coffee. Bread is baked in-house and served with house-made nut butters and spiced fruit chutneys. The lodge is proximate to both the Monteverde Cloud Forest Reserve and the Curi-Cancha Reserve, and within walking distance of the Aguti Wildlife Reserve, where a network of trails provides access to more than 60 acres of flourishing flora and fauna.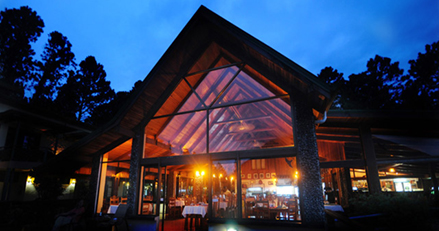 Arenal Observatory
Arenal, Costa Rica
One of the most striking accommodations in Costa Rica, Arenal Observatory Lodge lies 1.7 miles across a deep river valley from the crater of Arenal Volcano, which was until recently one of the world's most active volcanoes. Originally built in 1987 as a Smithsonian Institution scientific research station, the lodge was carefully positioned by scientists who needed a close but safe vantage point from which to study the volcano. Still the closest accommodation to the volcano itself, the lodge sits on 870 acres adjacent to Arenal Volcano National Park, which contains 270 acres of primary rainforest with well-marked trails, 400 acres of reforestation projects, and 200 acres of working farmland.

Most of the property's 48 spacious rooms have spectacular volcano views through huge windows. The restaurant and dining room look out on the southern face of the volcano through floor-to-ceiling windows. Meals are memorable, with the lodge's accomplished chef preparing international and Costa Rican cuisine using local fruits, vegetables and farm-raised meats whenever possible. Outside, a large deck offers panoramic views of the volcano and nearby Lake Arenal. After exploring the area, guests can relax in the infinity swimming pool or the sunken Jacuzzi that's covered with a glass gazebo framing Arenal Volcano.
Know Before You Go
Whether you're preparing for your upcoming Costa Rica adventure or just want to learn more about the wildlife-rich jungles and beaches of this lush country, we've got you covered. We've rounded up an array of useful resources, from wildlife guides and packing tips to compelling firsthand accounts written by travelers and staff.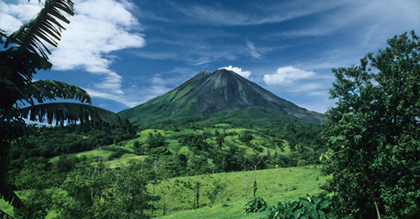 Frequently Asked Questions
Have questions about Costa Rica? We've got answers! We've compiled a list of our most frequently asked questions about wildlife, climate, accommodations, transportation, and much more.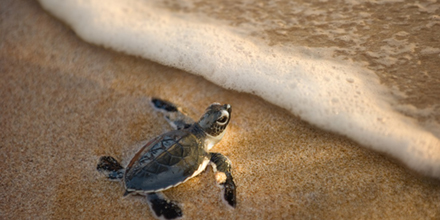 Weather and Climate
Discover the typical weather conditions in Costa Rica's most famous national parks in this month by month breakdown of average temperatures and precipitation.
Trip Pricing
Trip Pricing: $7,595 (+internal air)
Internal Air Cost: $1,484 per person (this will be listed separately on our invoicing)
Single Occupancy: For a single room, add $1,495. Click here to learn how you can avoid the single supplement.
Deposit: $500 per person
Group Size
Limited to ~10 Travelers
A very important feature of our Costa Rica trips is the limited group size, as nature encounters are best experienced in a quiet, intimate setting with a lighter footprint on the environment.
Included
Trip price includes: Accommodations, services of SDZWA wildlife and conservation expert(s) and Nat Hab's professional expedition leader(s), local guides and lodge staff, all meals from dinner on Day 1 through breakfast on the final day, most gratuities, airport transfers on Day 1 and the final day, all activities and entrance fees, all taxes, permits, and service fees.
Internal air cost includes: All private charter flights within the itinerary (this will be listed separately on our invoicing).
Not Included
Travel to and from the start and end point of your trip, alcoholic beverages, some gratuities, passport and visa fees (if any), optional activities, items of a personal nature (phone calls, laundry, and internet, etc.), airline baggage fees, airport and departure taxes (if any), required medical evacuation insurance, and optional travel protection insurance are not included.
Physical Requirements: Moderate
This adventure does not require a high degree of physical fitness, though our days in Costa Rica generally start quite early and are very full with activities. In order to participate in daily excursions, travelers must be able to walk unassisted for a minimum of two miles over uneven terrain and often muddy, slippery surfaces, and up and down inclines and steps with some altitude gain. This itinerary includes a number of short- to medium-length walks over a variety of terrain, including gravel, pavement, boardwalks, and dirt trails, sometimes over large roots and rocks (note that all walks can be more difficult to navigate during inclement weather). In Tortuguero and Corcovado, expect to be engaged in two three-hour excursions per day in very hot and humid conditions.
In order to get to Casa Corcovado and participate in all activities there, travelers will need to be able to wade into the ocean, potentially knee-deep, over slick rock, rolling pebbles and sand; and sit on the flat edge of a small boat, and swing both legs over the side. Sea conditions may make for a bumpy ride, and we may sometimes be in the boat for over an hour at a time. Although the boat is equipped with a sun shade, travelers may be exposed to the full intensity of the sun, as well as wind, rain, and sea spray. Roads may be bumpy on drives.
On custom or private departures with smaller groups, our ability to accommodate varying levels of physical abilities or interests is limited, since these trips are staffed with a single expedition leader who may be assisted, pending availability, by local guides.
Mandatory Insurance
Since the areas we travel to are remote and wild (that's why we go there!), we strongly recommend that all guests have, at minimum, medical evacuation insurance for this program. While this is not required, we make this strong suggestion in the interest of our guests' safety. We recommend that your chosen independent insurance plan includes at least $250,000 in medical evacuation coverage.

To protect your investment and to provide peace of mind while you travel, we also strongly recommend purchasing comprehensive travel insurance. Plans may cover everything from medical treatment to trip cancellations, and delays and lost luggage. Please contact our office if you would like more information about the medical evacuation and comprehensive travel insurance policies we offer by calling 800-543-8917.
Getting There and Getting Home
Arrive in San Jose by 4:30 p.m. in order to make it to the hotel in time for a 6 p.m. welcome dinner on Day 1. You may depart any time after 2 p.m. on the final day.