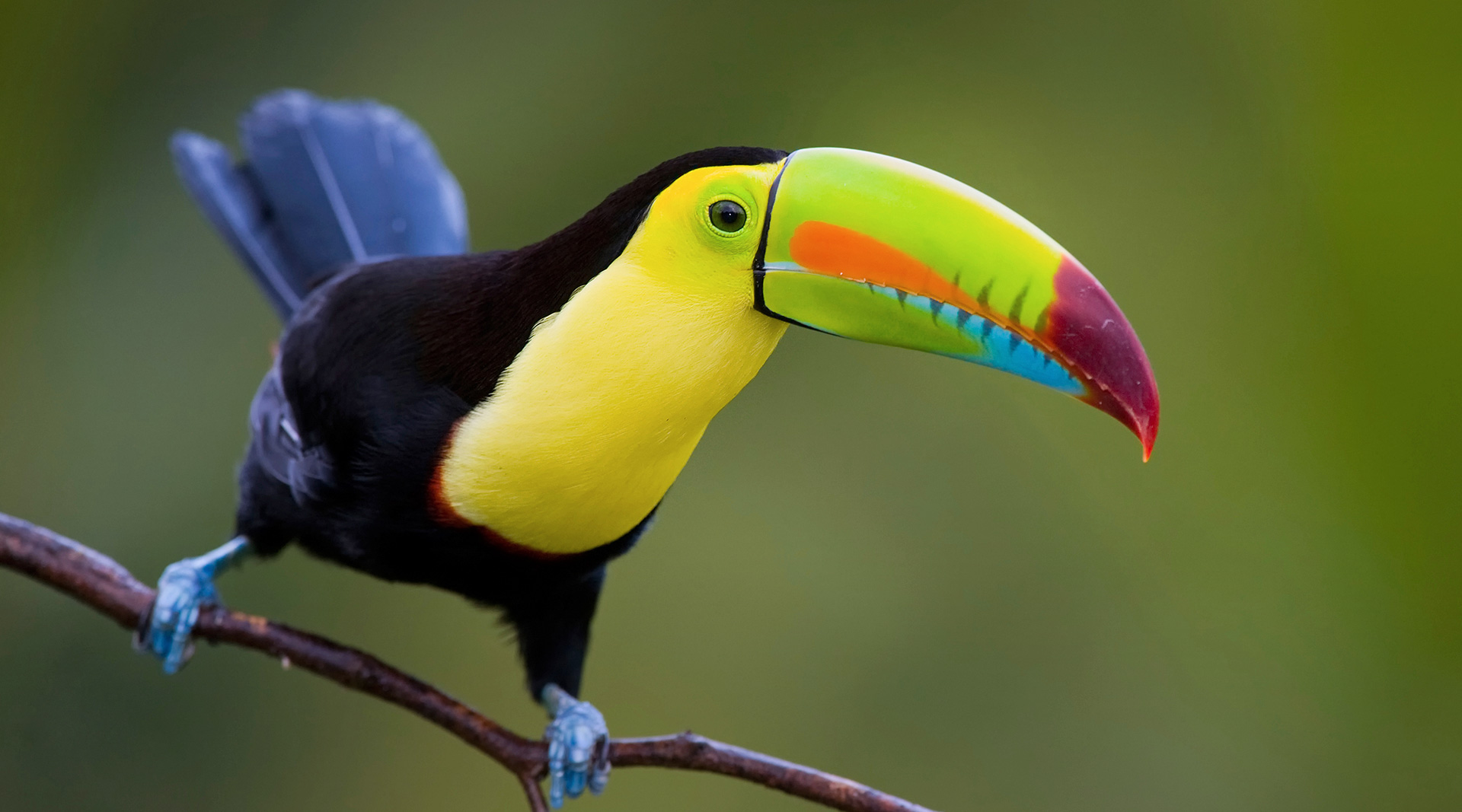 Natural Jewels of Costa Rica
November 17–26, 2022
Prices starting at $7,595
Please call our tour operator at:
800-543-8917
faqs
When is the best time of year to visit Costa Rica?
Costa Rica offers gorgeous landscapes and enthralling wildlife year round, so there is no best time to visit. However, it is important to consider various seasonal changes when deciding when to travel. Departures during the dry season months of December through April bring slightly warmer temperatures and drier weather, but because of the warmer climate, there may be more travelers throughout the country. Green season departures are in July and August, and though precipitation is likely during this time, the rains bring an abundance of wildlife. July and August are months of new birth and wildlife transition, as well as peak season for green sea turtles and humpback whales.
What is the weather like in Costa Rica?
The annual average temperature of Costa Rica is always above 75°F. The cool, dry season lasts from mid-December through April, and the warm, wet season occurs from mid-April to late November. The mountainous areas we'll visit experience cooler temperatures, while the coasts are warmer. It is particularly chilly in December and January due to rain and humidity. Though it rains significantly more during the wet season, there is a year-round possibility of precipitation in Costa Rica, so come prepared with good rain gear. The dry season may experience less-frequent, lighter rain showers. Temperatures can also fluctuate greatly from day to night, so packing layers is advised.
What is Costa Rica's green season?
Costa Rica's green season lasts from mid-April to late November and is wetter than the dry season. Our green season departures are in July and August. Rain during the green season is always possible, especially on the coast and even in the highlands. During these months, the rain is rarely severe enough to spoil the adventure and wildlife is particularly abundant.
Does it rain every day during the green season?
Though rain is likely during the green season, some days may only experience light showers or possibly no rain at all.
Is Costa Rica affected by hurricanes?
The country is located between 8 and 11 degrees north of the equator, which is below the path of most hurricanes. Costa Rica is generally not included in the "Hurricane Belt" of other Caribbean islands, so it is most often not affected by hurricanes.
What wildlife are we likely to see in Costa Rica?
Costa Rica is one of the best places to see an abundance of typical rainforest and cloud forest animal life. You may see howler monkeys, white-faced capuchins, spider monkeys, squirrel monkeys, sloths, jaguars (although rare), tapirs, agoutis, anteaters, kinkajous, tayras, bats, quetzals, black-mandibled toucans, sea turtles, crocodiles, tree frogs, and much more.
Is Costa Rica a good destination for bird watching? 
While our trips are not explicitly designed for birders, Costa Rica is one of the top birdwatching destinations in the world. About 10 percent of the world's total number of recorded bird species are found within the country. There are approximately 850 bird species in Costa Rica, some of which include toucans, scarlet macaws, frigate birds, Pacific parakeets, hummingbirds and blue-crowned motmots. Though wildlife sightings are never guaranteed, it is likely you'll also encounter resplendent quetzals. These iridescent-green birds live in rainforests with dense vegetation and cloud cover. They are fairly tricky to spot, so keep your eyes open when we visit the cloud forest.
How will we get around Costa Rica during the trip?
We'll explore Costa Rica by plane, by 4x4 vehicle, by boat, and on foot. For longer distances, we'll be taking chartered flights and driving in spacious and comfortable Toyota Coasters, but we'll also go on private boat cruises and various nature walks.
What clothing should I pack for Costa Rica?
We recommend packing layers, so you can be prepared for a wide variety of temperatures and climates. Bring short- and long-sleeved shirts, long pants, a rain jacket, sun protection, and sturdy walking shoes. If you are on a Natural Jewels of Costa Rica trip, which departs during the green season, adequate lightweight, waterproof rain gear (jacket and pants) is essential.
How physically active are your Costa Rica adventures?
Our Costa Rica trips are rated as moderately active. Guests must be able to walk at least two miles over uneven and rugged terrain, typically in warm and humid conditions. All activities are optional, though we may not always have an alternative option for guests who choose to opt out of certain activities. On our Natural Jewels trip, the Active Walking Departure itinerary is rated as difficult because guests must be able to walk at least five miles over uneven terrain and with inclines.
What are the lodges and hotels like on your Costa Rica trips? 
Our accommodations on the tour are spacious, comfortable and conveniently located in close proximity to wildlife. We stay at a combination of contemporary, luxurious hotels and jungle lodges immersed in the lush rainforest near national parks and reserves. All of our accommodations provide various amenities and room for relaxing while placing guests in the heart of Costa Rica's natural wonders.
What is the food like in Costa Rica? Will we have the chance to try traditional Costa Rican cuisine?
Costa Rican cuisine is fairly simple and mild, with a heavy reliance on beans, rice, fruits and vegetables. Potato and corn dishes, pork, beef, plantains, gallo pinto, tamales, and a wide array of tropical fruits and vegetables are available. We will have many opportunities to try traditional Costa Rican food in both San Jose and at jungle lodges.
Will we be able to do any hiking while in Costa Rica?
There will be various guided hiking opportunities during the trip through terrain that includes rainforests, mountains and beaches, as well as optional additional nature walks for guests who are interested. 
Can you snorkel in Costa Rica?
Our Natural Jewels of Costa Rica trip offers the opportunity to snorkel at Isla del Caño.
What currency is used in Costa Rica? Can I exchange money while I'm there?
The official currency of Costa Rica is the colon, but U.S. dollars are widely accepted throughout the country, so you will likely not need to exchange money. We recommend you have enough cash on hand for souvenir purchases, gratuities and incidentals. Most larger shops and restaurants accept credit cards and Visa and Mastercard are most widely accepted.
Will there be cellphone reception or internet connection in Costa Rica?
Internet access will be available at almost all of our accommodations in the lounge/main areas, but phone service will be limited or nonexistent through most of the country.
Is Costa Rica a good destination for children and families?
Costa Rica is a terrific destination for visitors of all ages, and children will love the wide array of adventure activities and wildlife to discover. The minimum age requirement for our Costa Rica trips is 12 years old. Our expedition leaders are known for their excellent rapport with kids and for their humor, relatability and genuine love of children.
What is the best way to get to San Jose to meet the group?
Guests are responsible for arranging round-trip airfare from their home city to San Jose. We recommend using the Natural Habitat Adventures' Travel Desk, as they are intimately familiar with the special requirements of each trip and can arrange the most efficient travel. However, you are also free to book your own travel arrangements. Make sure to arrive in San Jose on or before Day 1. See the Getting There & Getting Home information and the Dates, Prices & Info page for information on required arrival and departure times for this adventure.
What are some fun things to do in San Jose if I want to arrive early?
Costa Rica's capital city sits in the Central Valley and offers a combination of cultural and natural attractions. The National Theatre of Costa Rica, Museo Nacional de Costa Rica, and the Plaza de la Cultura are popular cultural destinations, showcasing ornate Spanish colonial architecture. La Sabana Metropolitan Park, Morazán Park, and the Parque Zoológico Nacional Simón Bolívar feature nature trails, botanical gardens and activities for children and adults alike. Visit San Jose's central market to chat with locals and search for handmade souvenirs, and check out the city's many restaurants and bars. Nat Hab is happy to reserve a hotel room for you in San Jose before your Costa Rica tour begins, but please note that pre-nights are subject to availability at the time of booking.