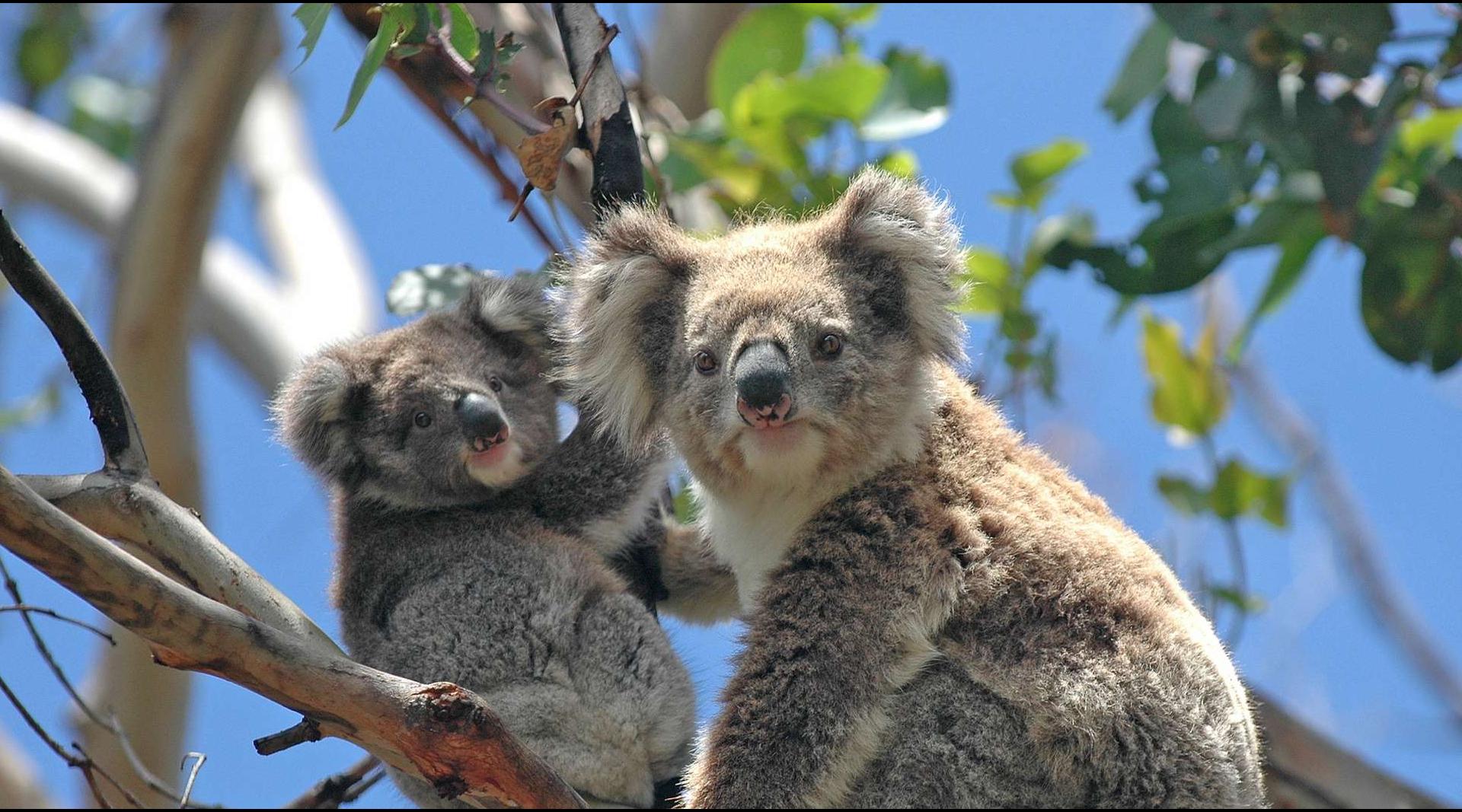 Southern Australia & Tasmania 2024
November 15-26, 2024
Prices starting at $15,195
Please call our tour operator at:
800-543-8917
Limited to 12 Travelers
A Diverse Safari Down Under with Koalas, Kangaroos, Wombats & Wallabies
Southern Australia is full of dramatic landscapes, unique flora and quirky animals. From the familiar koala and ferocious Tasmanian devil to the lesser-known wombat and echidna, native wildlife abounds. Many unusual species stir to action after dark, and we seek them out at dawn and dusk. Step inside a cave to marvel at bioluminescent glowworms. Converse with researchers at the Conservation Ecology Center responding to urgent challenges facing at-risk species in the Cape Otway region. Marvel at sea stacks off the rugged Southern Ocean coast. At the secluded lodges we tuck into each night, kangaroos and Tammar wallabies may frequent your front stoop. Offshore, the isolated isles of Tasmania and Kangaroo Island boast their own endemic species, prized national parks and winemaking prowess. Discover it all on this grand survey of the wonders way down under.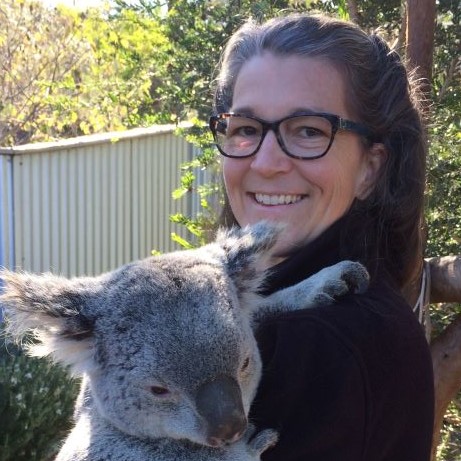 The SDZWA host for this trip will be: Cora Singleton, Senior Veterinarian
Cora is a Senior Veterinarian at the San Diego Zoo. She completed the zoological medicine residency jointly offered by the University of California-Davis, SeaWorld San Diego, and San Diego Zoo Wildlife Alliance in 2006. After working at two other zoos, she was excited to return to the San Diego Zoo in 2014. In addition to caring for all the different wildlife at the Zoo, Cora provides special veterinary oversight for the marsupials, including the large koala colony and the Tasmanian devils.  She serves as the Veterinary Advisor for the Association of Zoos & Aquariums Koala Species Survival Plan (SSP) Program, through which she provides training and support for veterinarians caring for koalas across the United States. Cora is looking forward to exploring some of Australia's treasured landscapes along with a group of people who share her same passion for wildlife and conservation.
Trip Highlights
Close Encounters with Unique Wildlife
Seek out Australia's intriguing native species—kangaroo, koala, wallaby, platypus, echidna, pademelon, wombat and the elusive Tasmanian devil!
Six National Parks & the Southern Ocean
Explore the diverse habitats of far-south Australia in the wildlife-rich reserves of Tasmania, Kangaroo Island and Cape Otway—away from crowds.
Remote Lodgings Surrounded by Nature
Absorb warm Australian hospitality at secluded private lodges and a luxury riverside camp, and enjoy farm-to-table meals sourced with local bounty.
An Exclusive Encounter with Wild Australia
Australia is hardly an unknown destination. Its unique wildlife, dramatic coastlines and diverse landscapes are high on travelers' must-see lists. When you explore Australia with SDZWA, however, you'll have anything but a standard approach. Learn more about what sets our trips apart:
A Distinctive Focus on Nature & Conservation




Australia's impressive landscapes and unique wildlife are front and center on our one-of-a-kind itinerary. From the remote edge of Kangaroo Island to the rugged mountains of Tasmania, we explore World Heritage Sites, wildlife sanctuaries, internationally protected wetlands and more, learning about efforts to protect these wild habitats and native animals

.

Chartered Flights Maximize Your Time in Nature




Australia is a huge country. That's why we fly between many of our itinerary highlights. But adhering to commercial air schedules and logistics can eat up precious safari time down under. That's why we charter planes to and from Kangaroo Island. On the day we return fly from KI to Warrnambool, a commercial schedule would require a full travel day including a layover—but with a chartered flight, it's only about 90 minutes of travel total. You don't want to come this far to spend excessive time sitting in airports or driving (although the drives we do include are integral for an immersive experience in nature!).

Visit Six National Parks




Diversity is the appeal on our southern Australia adventure, which includes six spectacular national parks: Flinders Chase National Park on Kangaroo Island, Twelve Apostles & Port Campbell National Park on Cape Otway, and four national parks in Tasmania: Mole Creek Karst, Cradle Mountain–Lake St. Clair, and Mount Field.

S

earch for Unique Wildlife When Viewing is Best




Since most Australian species are nocturnal, we devote our days to exploring scenic landscapes and maximize our wildlife viewing opportunities around sunrise and sunset, when low light draws out the marsupials, echidnas and other species that stir to activity during the night. Typical Australia tours don't generally adapt to this important consideration.

Explore with Just 12 Travelers...and TWO Expedition Leaders




In a small group, we can seek out more remote places in nature and stay in intimate lodges (sometimes with exclusive occupancy), close to wildlife and conservation sanctuaries. With fewer people, you get a deeper nature experience. And with two Expedition Leaders – and a SDZWA Host - for just 12 guests, you're assured flexibility in activities and personal attention.
Itinerary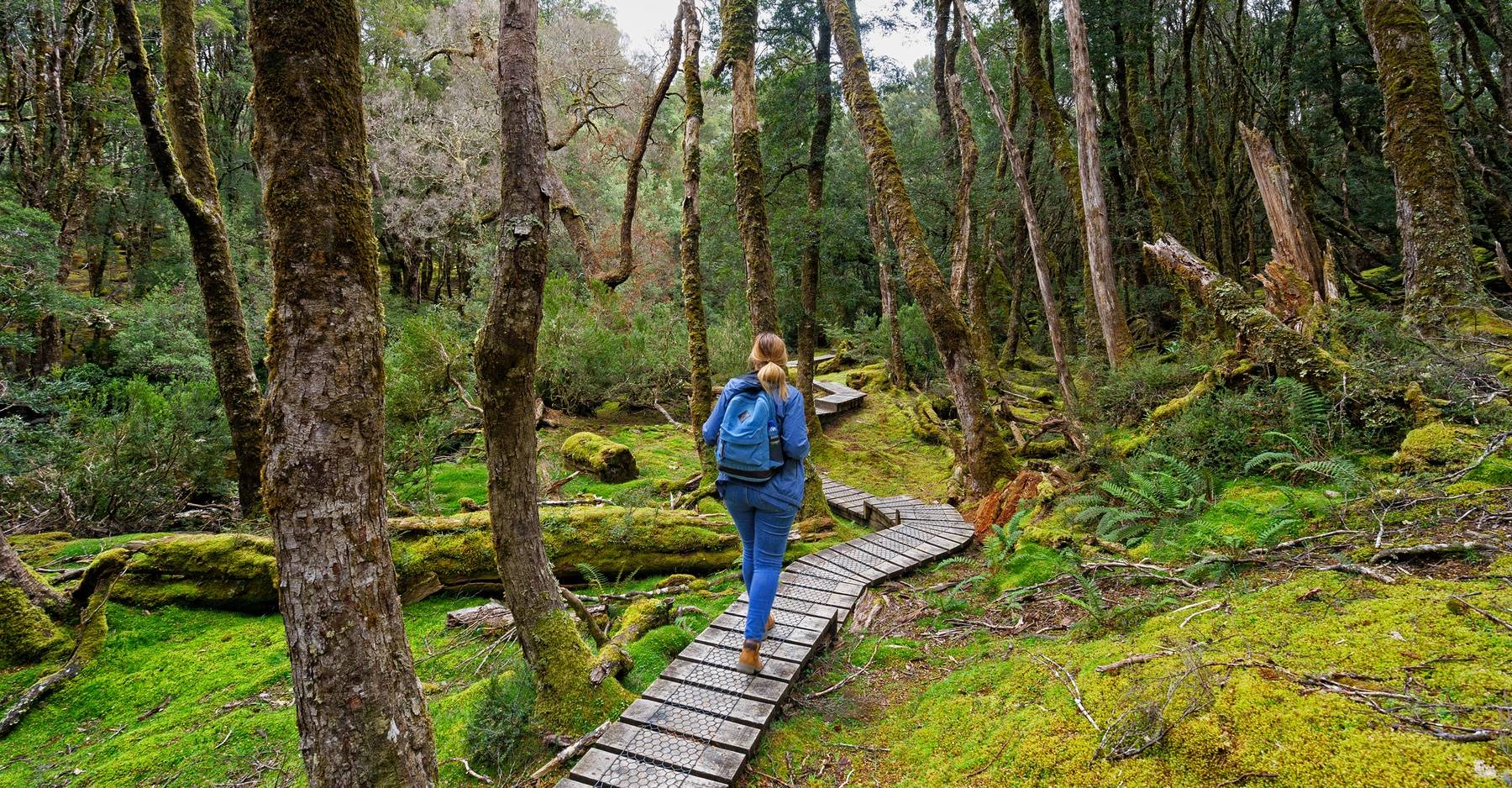 Day 1–12: Discover the diverse landscapes and ecology of far-south Australia as we explore six national parks, private research sanctuaries and other nature reserves teeming with endemic and endangered wildlife.
Accommodations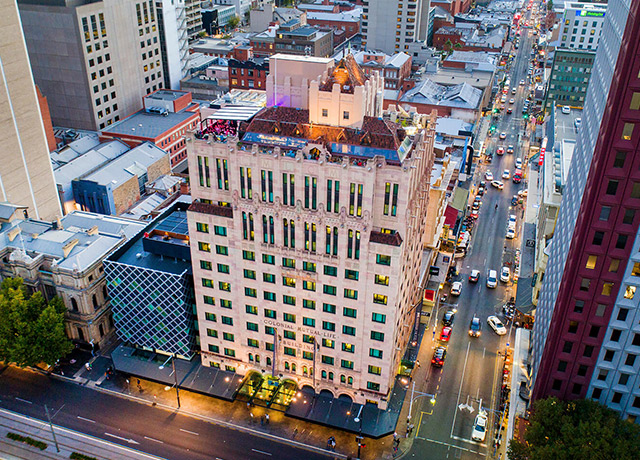 Mayfair Hotel
Adelaide, Australia
Adelaide's newest 5-star boutique hotel is set in the heart of the city in a heritage-listed and impeccably renovated Romanesque-style building. Sink into a luxury room decorated with warm contemporary detail in soothing neutral tones. Custom-crafted king-size beds are made in South Australia, and spacious en suite bathrooms have a walk-in rain shower, bathrobe and slippers, and L'Occitane toiletries. Other amenities include a media hub, large screen TV, mini bar, complimentary Wi-Fi and hand-selected artwork. Due to the historic nature of the building, each room has its own unique floor plan. Stylish public spaces include a restaurant and bar featuring South Australia's fines wine and locally sourced cuisine. Named after the original building's architects, the Hennessy rooftop lounge is set beneath the steeply pitched roofline and incorporates a bar and relaxation leading to a glass-topped open-air terrace.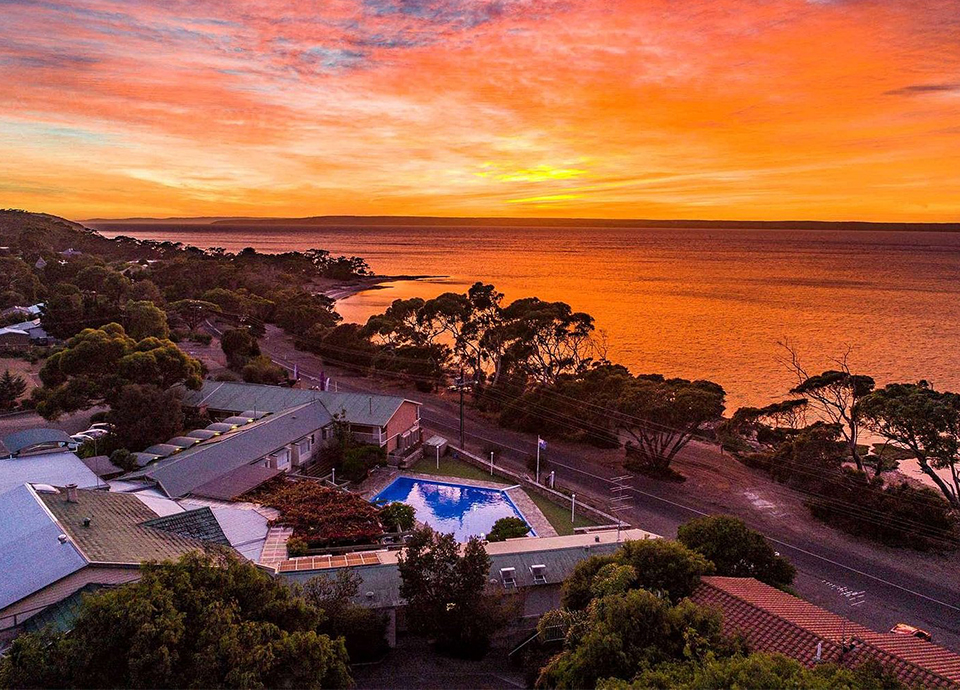 Mercure Kangaroo Island Lodge
Kangaroo Island, South Australia, Australia
The 4-star Mercure Kangaroo Island Lodge, surrounded by the lush coastal flora of Eastern Cove, sits on seven acres of natural bushland, four of which are committed to the preservation of native vegetation. Wildlife thrives in this secluded location overlooking American River Bay, with Tammar wallabies, brush-tailed possums, black swans, Cape Barren geese, Australia pelicans and rare glossy black-cockatoos are often spotted on the property. All 38 air-conditioned, natural-light-filled rooms have sea or pool views and come with a private balcony or patio ideal for birdwatching. Rooms have a modern vibe with warm wood accents and are furnished with a king-size bed that can be converted to two singles, plus a comfortable chair and a writing desk for those who may want to journal the day's adventures.  Rooms also have a flat screen TV, Wi-Fi, and coffee- and tea-making facilities. Guests can enjoy the saltwater pool and a nature trail on the premises, and if time permits, also participate in the morning pelican feeding with fish scraps from the restaurant. Kangaroo Island Lodge takes pride in its environmental consciousness, reflected in its use of solar power, rainwater storage, and composting.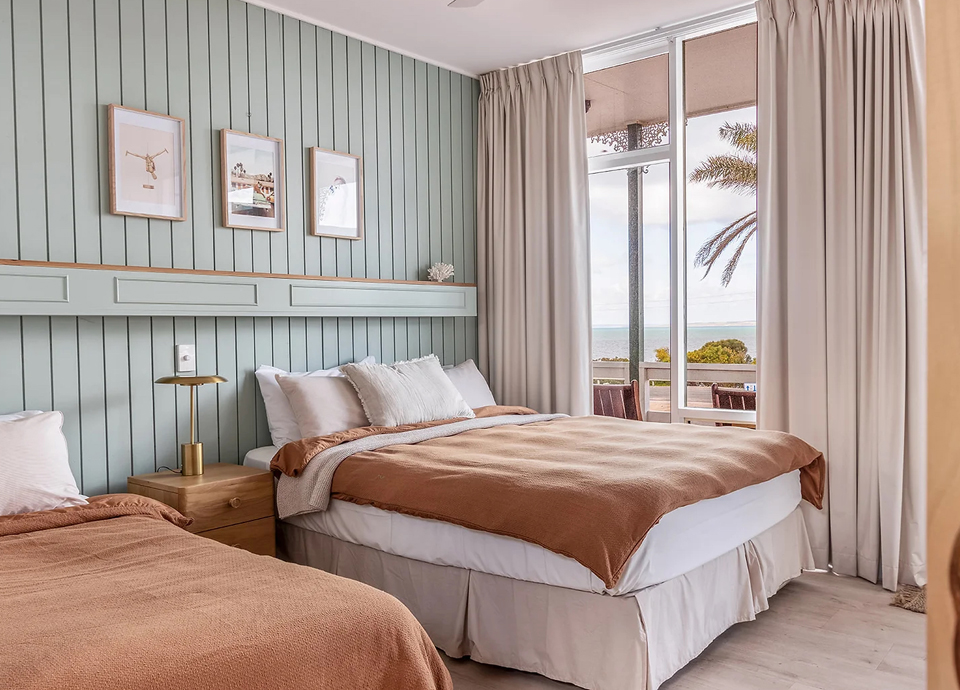 Kangaroo Island Seaview
Kangaroo Island, South Australia
A century of heritage meets contemporary comfort at this enchanting property, situated in the heart of Kangaroo Island on the main street of Kingscote, just a short drive from the airport. Kangaroo Island Seaview Motel offers a tranquil retreat to unwind, soak up the sun and take a refreshing dip in Nepean Bay and Kingscote's tidal swimming pool.
Rooms are spacious, comfortable and well-equipped, with air conditioning, queen-size bed, smart TV, mini fridge, microwave, tea kettle and Nespresso coffee machine, and en suite bathroom with toiletries. Ocean View rooms have private balconies with panoramic views of the shimmering sea.
Seaview Motel's on-site restaurant, the Odd Plate, is located in a charming heritage guesthouse built in 1927, overlooking the bay. Enjoy the intimate atmosphere indoors, or sit outside under the veranda and watch the sunset.
Chris's Beacon Point
Apollo Bay, Victoria, Australia
Nat Hab/SDZWA groups enjoy exclusive occupancy of this dramatic property, in private 4-star villas that offer 180° views above Skenes Creek and Bass Strait through the floor-to-ceiling windows. Set high in the Otway Ranges above the Great Ocean Road, Chris's Beacon Point offers an unmatched sense of seclusion. Each air-conditioned villa features clean lines and a bright white palette accented with cool, muted tones to create a calm and restful space. Relax on the sofa in the living room with a panorama of the ocean out your window, or watch a movie on the large LCD TV. Bedrooms have one queen and two single beds, with crisp white linens. Spacious bathrooms have raised porcelain sinks and glass-enclosed tiled, walk-in showers. Early risers can make their own cup of tea or coffee in the kitchenette, then head out to the private balcony to look for koalas in the nearby manna gum trees as the sun comes up over the water. Some lucky guests occasionally find koalas hanging out on their deck!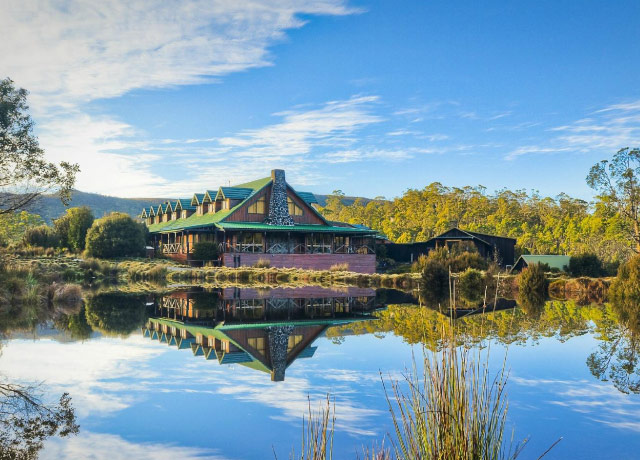 Cradle Mountain Lodge
Cradle Mountain–Lake St Clair National Park, Australia
This lakeside lodge at the edge of Tasmania's Cradle Mountain-Lake St Clair National Park offers warm hospitality, local food and wine, indulgent spa treatments and close proximity to the wonders you want to explore. Located close to the main lodge and linked by timber boardwalks, each private cabin is set discreetly in the wilderness with a balcony overlooking the lake or bushland. Cabins reflect a crisp modern sensibility with bright accents and plenty of lounge space. Cozy armchairs and a daybed round each cabin's gathering space around the gas fireplace, and rooms include en suite bathroom, a queen size bed, and coffee and tea making facilities. Gather around the fireplace at the on-site Highland Restaurant with its refined mountain vibe.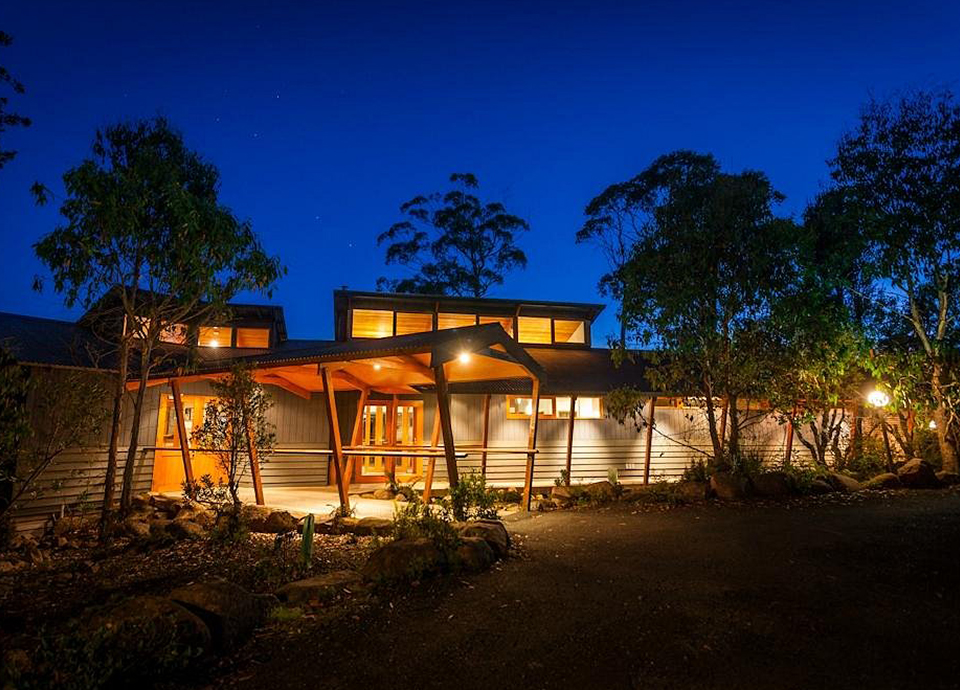 Cradle Mountain Wilderness Village
Cradle Mountain, Tasmania, Australia
Tucked into temperate rain forest on the edge of World Heritage-listed Cradle Mountain/Lake St. Clair National Park, Cradle Mountain Wilderness Village offers an ideal location for quick access into one of Australia's earliest national parks—in fact, it's just a 5-minute walk to the Visitor Center. The grounds are surrounded by imposing peaks and pine-fringed glacial lakes, while the individual chalets are hugged by ancient plants, including the long-lived King Billy pine and native deciduous beech. To enhance privacy and seclusion, the chalets are set in small clusters. While the exteriors suggest rustic cabins, inside guests find modern furnishings in a cozy atmosphere.  Each chalet has a private balcony accessed via a large sliding glass door that offers views even when the weather is inclement. It's the perfect vantage point to observe local wildlife—usually at dawn and dusk—which may include wallaby, pademelon, possum, currawong and wombat (a cuddly cousin to the koala). In the pond at the front of the mountain lodge, guests with patience might even spot an elusive platypus. After dark, end the day with a night walk in search of wild Tasmanian devils and quolls.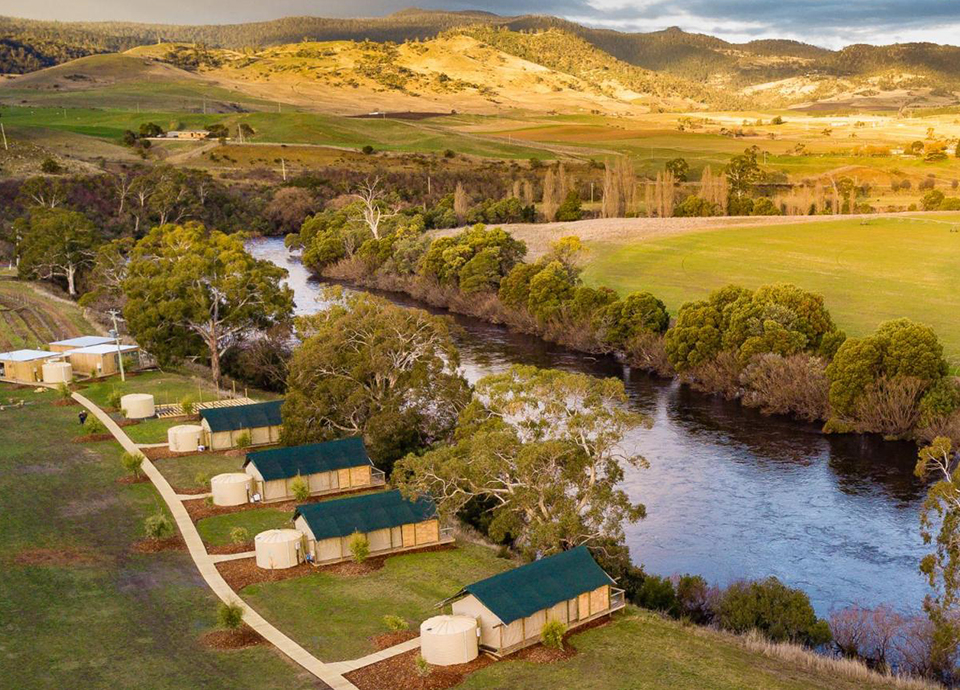 Truffle Lodge
Gretna, Tasmania, Australia
Described as a "5-star hotel under canvas," Truffle Lodge offers guests a peaceful, unhurried experience in nature. Surrounded by farm country and wild bush, the lodge shares space with wildlife, including resident platypus and charming marsupials that appear at dusk. Styled like a bush safari camp, with vintage atmosphere and contemporary comfort, the lodge enjoys an incomparable setting on the banks of the Derwent River with a view of the mountains beyond. Guests stay in individual safari tents, but "tent" belies the true nature of these elegant accommodations, which are spacious suites (870 square feet) with rustic ambience captured in wood plank floors, wicker trunks and furnishings made of leather and recycled wood. Its name comes from the terrain on which it is built: one of Australia's first truffieres — a plot of land cultivated to produce truffles.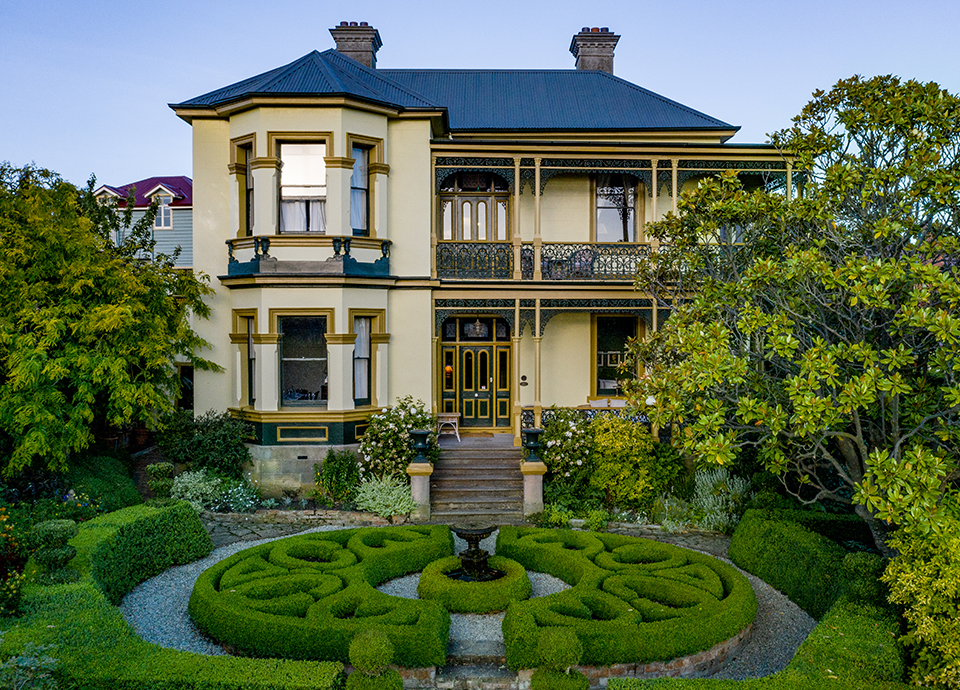 Corinda
Hobart, Tasmania, Australia
Corinda is a genteel historic estate in the state capital, built in the 1870s and surrounded by one of the finest private gardens in Tasmania. It's now an inn run by the great-great grandson of the original owner, Alfred Crisp, who was a timber magnate, state politician and former mayor of Hobart. Julian Crisp and his wife have retained the home's Victorian elegance while bringing it up to date with every modern convenience. Our group has the run of The House, the original residence, which is reserved entirely for our use during our stay. Six private en suite bedrooms are individually decorated with opulent period furnishings, antiques and original artworks. Each room is named after one of the many fascinating characters who have lived in the house or been closely associated with it, with their history noted in a specially bound handbook next to your bed.
Corinda is perfectly located for easy access to all Hobart has to offer, within walking distance of the city center and Royal Botanical Gardens. It also lies on the downtown edge of the Queen's Domain, a 450-acre natural reserve just 10 minutes' walk from the central business district.  Just down the hill in front of the house is Hobart's historic waterfront, once a whaling center but now home to the famous Salamanca Market and the city's hippest galleries, restaurants and bars.
Trip Pricing
Trip Price: $15,195 (+internal air).
Internal Air Cost: $2,727 per person (this will be listed separately on our invoicing).
Single Occupancy: For a single room, add $2,495. Contact us to learn how you can avoid the single supplement.
Deposit: $500 per person
Group Size
Limited to 12 Travelers with Two Expedition Leaders
A very important feature of our South Australia expedition is the limited group size, as nature travel is most meaningful when experienced in the company of fewer travelers, and our environmental footprint is lighter.
Included
Trip price includes: Accommodations, services of SDZWA wildlife and conservation expert(s) and Nat Hab's professional Expedition Leaders, local guides and lodge staff, all meals from dinner on Day 1 through breakfast on final day, some alcoholic beverages, most gratuities, airport transfers for those arriving by air on Day 1 and final day, all activities and entrance fees, all taxes, permits and service fees.
Internal air fee includes: Private charter flight from Adelaide to Kangaroo Island, private charter flight from Kangaroo Island to Warrnambool, and flight from Melbourne to Launceston, Tasmania, plus airline baggage fees and any additional taxes and fees on these flights (this will be listed separately on our invoicing).
Not Included
Travel to and from the start and end point of your trip, alcoholic beverages, some gratuities, passports and visa fees, optional activities, items of a personal nature (phone calls, laundry, and internet, etc.), airline baggage fees, airport and departure taxes (if any), required medical evacuation insurance, and optional travel protection insurance are not included. 
Physical Requirements: Easy / Moderate
This adventure does not require a particularly high degree of physical fitness, however, walks can range from 1 to 4 miles in fluctuating climates and environments. Although these walks are easy to moderate in terms of physical exertion, they can sometimes include fairly steep, uneven or slippery terrain. A variety of early morning and night walks, often in dim light, are offered throughout the itinerary. In order to fully enjoy the experience, travelers should be able to walk unassisted for at least 2 miles over sometimes-rough terrain and inclines. Our days start early and/or finish late, and are full with activities.
Having two Expedition Leaders guiding this trip is of vital importance so we are able, at times, to divide our groups according to varying physical abilities. This advantage ensures that our guests can move at the pace, and travel the distance, that suits their preference. Please note that all walks and activities are optional, and travelers should only participate in those activities in which they feel comfortable. While travelers are not required to participate in all activities, should you opt out of a scheduled activity, we cannot always guarantee alternatives will be available. Travelers who would like to take longer or more strenuous hikes may have limited opportunities to do so at their leisure. Many days involve long drives on winding roads, including over mountain passes at altitudes as high as 6,000 feet. 
Mandatory Insurance
Since the areas we travel to are remote and wild (that's why we go there!), we strongly recommend that all guests have, at minimum, medical evacuation insurance for this program. While this is not required, we make this strong suggestion in the interest of our guests' safety. We recommend that your chosen independent insurance plan includes at least $250,000 in medical evacuation coverage. 
To protect your investment and to provide peace of mind while you travel, we also strongly recommend purchasing comprehensive travel insurance. Plans may cover everything from medical treatment to trip cancellations, and delays and lost luggage. Please contact our office if you would like more information about the medical evacuation and comprehensive travel insurance policies we offer, by calling 800-543-8917. 
Getting There and Getting Home
This trip begins in Adelaide, South Australia and ends in Hobart, Tasmania. You must arrive in Adelaide by 4 pm on Day 1 in order to join your group for your orientation dinner. We recommend that you arrive at least one day prior to Day 1 of your trip to adjust to the time difference. You may depart Hobart at any time on your final day.
We can best serve you if our Natural Habitat Adventures Travel Desk makes your reservations, as our staff is intimately familiar with the special requirements of this program and can arrange the most efficient travel. Please call us at 800-543-8917. Note that while we offer you the best possible rates available to us on airfare and additional nights' accommodations, you may find better fares online.