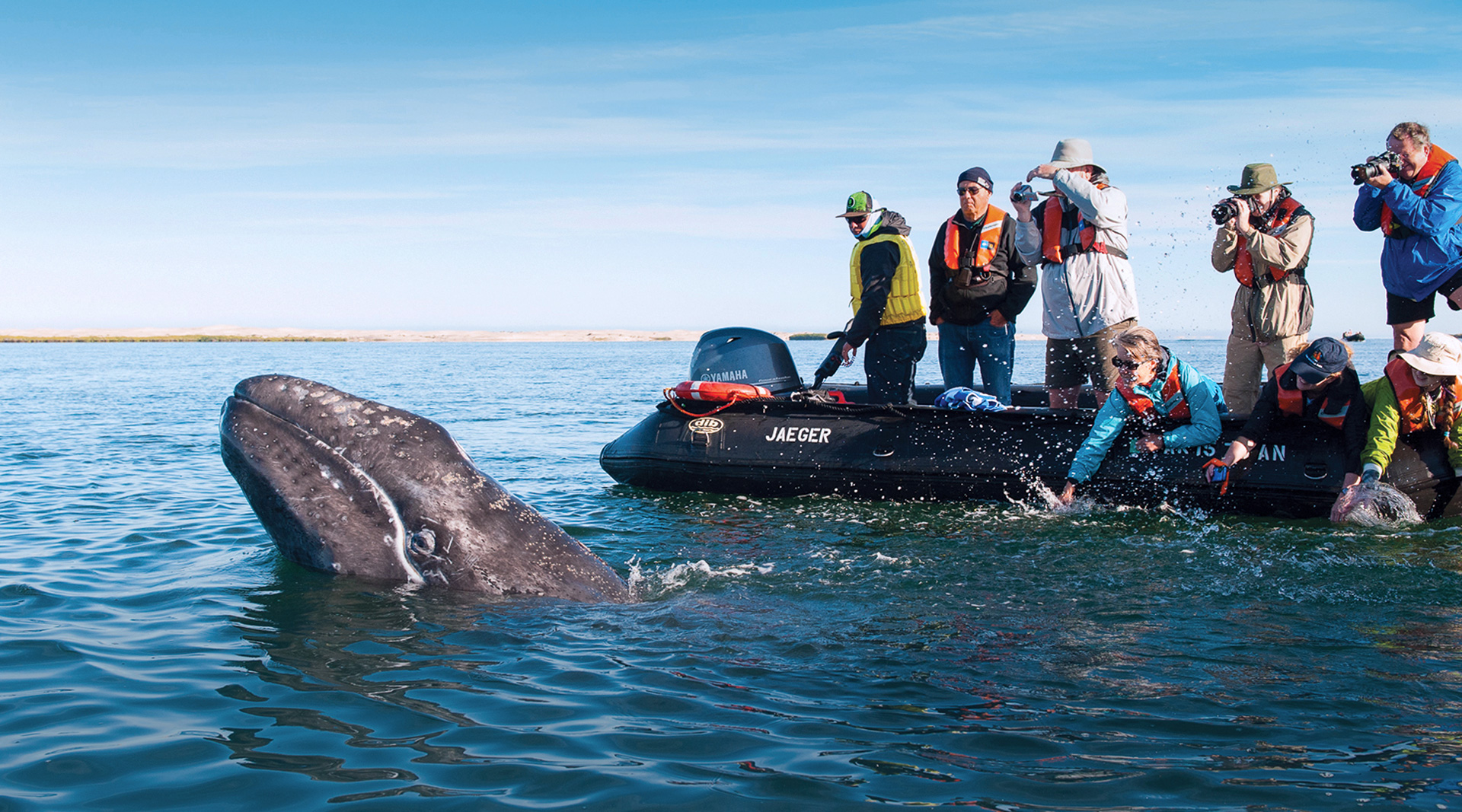 Ultimate Baja Whales Expedition
March 7-13, 2023
Prices starting at $5995
Please call our tour operator at:
800-543-8917
Limited to 14 Travelers
Explore the Sea of Cortez & Magdalena Bay Among Baja's Blue & GrayWhales
A close encounter with whales in their natural habitat is one of the world's great wildlife adventures. And there's no more exhilarating place for it than Mexico's Baja Peninsula, where gray whales mate and give birth in protected Pacific lagoons before migrating to their summer feeding grounds in Alaska. From our small-ship base in Magdalena Bay, we explore by Zodiac, hoping to see gray whale mothers with calves, sometimes within arm's reach! Gray whales are very active, and we may witness them breaching and spy-hopping. Ashore, wander among sand dunes, and paddle a kayak to look for scores of seabirds in the lush mangroves. Across the Sierra de la Giganta mountains, search for even bigger blue whales—the largest creatures on Earth—in the Sea of Cortez. This diverse expedition is Mexico's ultimate whale adventure!
This trip will be hosted by a SDZWA Wildlife & Conservation Expert
The host for this trip will be an SDZWA expert on wildlife specific to the region. They will be with your every step of the way to educate and inspire you, and to share their passion for nature! Check back for more details.

Trip Highlights
Explore Both Coasts of Baja
Our exclusive itinerary shows you both sides of the Baja Peninsula as we search for gray and blue whales in Magdalena Bay and the dazzling Sea of Cortez
Meet Gray Whales at Close Range
From our expedition ship base, spend in-depth time with gray whales in warm Pacific lagoons—the world's best place to see them up close!
Look for Giant Blue Whales
Blue whales are Earth's largest animal, weighing up to 200 tons—and we seek them out in the clear waters of Loreto Bay Marine National Park
See More of Baja & Its Whales on This Comprehensive Expedition Cruise
Travel aboard an agile expedition ship equipped with varied exploratory equipment for close encounters, including motorized skiffs and kayaks, and enjoy the chance to explore both sides of the Baja Peninsula on a single adventure into the marine realms of both blue and gray whales.
Make Five Separate Excursions to Watch Gray Whales
Typically, we spend two hours on each whale-watching excursion (times are strictly regulated by marine reserve regulations), for a total of five gray whale encounters during our seven-day trip.
 
An Exclusive Expedition in Search of Blue Whales
In addition to our five gray whale outings, we make a special small-boat journey in the Loreto National Marine Park in search of blue whales, the largest animals on Earth. Look for their 22-foot-tall columnar blows, and possibly spot a huge fluke when one of these 100-foot-long leviathans casts its tail into the air.
 
Explore Both Sides of Baja—Pacific Lagoons & the Sea of Cortez
"Divided by a ribbon of desert and rugged mountains, the waters of the east and west sides of Baja amazing biodiversity unique to their geography. Our comprehensive expedition explores both the Sea of Cortez and Magdalena Bay, and the interior desert scenery in between. "
 
Our Small Groups Mean More Intimate Whale Encounters
In small boats, we get closer to whales and have more personalized interpretation from our Expedition Leaders, including plenty of opportunities to learn about the whales' habitat and behavior.
 
Explore in Depth via Excursion Craft & Specialized Equipment
The ship's fleet of tandem and single kayaks facilitates intimate exploration of scenic coastlines with proximity to nesting birds. Observe the underwater world of Magdalena Bay via HD video shot by our undersea specialist who shares footage from each day's dives on the plasma screens in the ship's lounge. Listen to whale communications via hydrophone, and observe the whales below the surface in real time via a bow-mounted camera that sends a live feed to the onboard screens.
Itinerary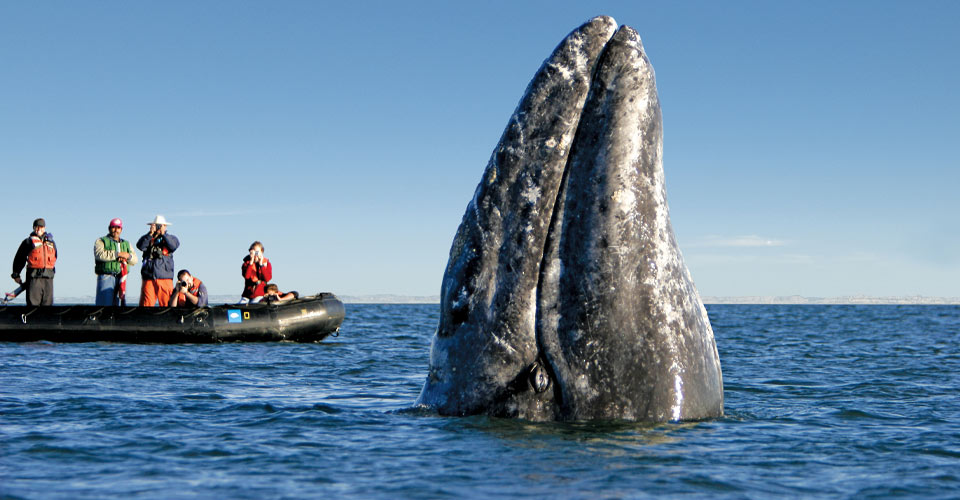 Day 1 –7: Visit both sides of the wild Baja Peninsula as we cruise, kayak, and hike among the gray whales and wildlife of Magdalena Bay and seek out blue whales in the Sea of Cortez from our expedition ship.
Accommodations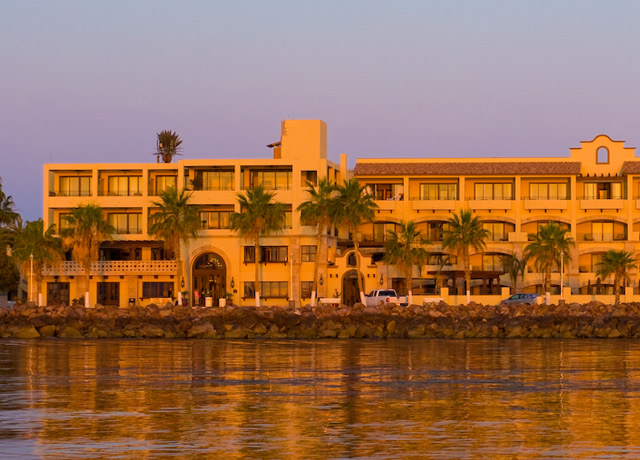 La Mision
Loreto, Baja California Sur, Mexico
Against a rich tapestry of old Spanish mission heritage and authentic Mexican culture, La Mision offers deluxe waterside accommodations in Loreto, the first capital of the Californias. In the shadow of the Sierra de la Giganta Mountains, this boutique resort fronts the intense blue Sea of Cortez, where seabirds float and fishing boats bob offshore. Spacious guest rooms—the finest accommodations in Loreto—feature hacienda-style decor with distinctive touches including hardwood furnishings and Old World hand-laid plaster walls. Our guests enjoy luxury suites with ocean views, each with a private balcony or patio overlooking the sea, a travertine marble bath with walk-in shower, one king or two queen beds, armoire, flat screen TV, writing desk and all the amenities that ensure an exceptionally comfortable stay. Opportunities for relaxation include a large swimming pool surrounded by umbrella-shaded chaise lounges and a spa offering soothing therapeutic treatments featuring local spices and oils. The hotel is an easy few blocks' walk from the central plaza at the heart of Loreto's Old Town.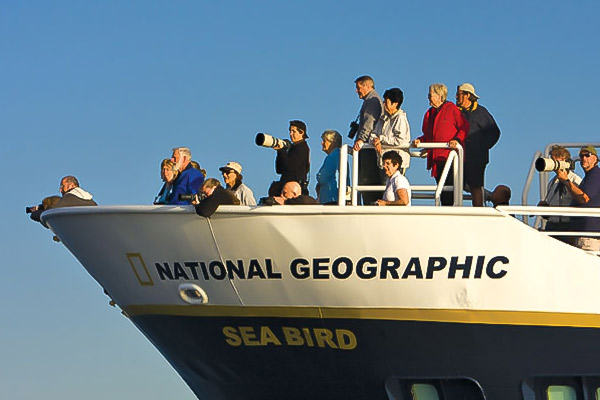 National Geographic Sea Bird
Our expedition ship, National Geographic Sea Bird, can reach places inaccessible to larger ships due to its smallsize, yet it comfortably accommodates 62 guests in 31 outside cabins. The feeling, we're told, is often compared to that of a large private yacht, with everyone integral to the adventure. Accessibility means freedom. Our captains have decades of sailing experience in the regions we explore. They know when and where to navigate so that you feel the places we visit are all ours. Thanks to our sturdy fleet of Zodiacs and a brace of virtually untippable kayaks, you can be off the ship and out exploring Baja within a moment's notice. Launch your kayak from a picturesque beach, hike with our naturalists or walk easily along a sandy dune. During your time with us, our expedition staff likes nothing better than to surprise and delight us by directing the ship toward breaching whales, bow-riding dolphins or into an alluring cove. Our seasoned crew consists of expert Zodiac drivers and considerate service providers. Their energy, enthusiasm and field expertise are sure to enhance your experience. This is what expedition travel is all about: not just seeing wildness, but being out there, in it.Room types on the Sea BirdEvery cabin has individual temperature controls, space to store luggage, and one or two closets plus drawers under the beds.
Trip Pricing
Trip Prices: $5995 Category 2 cabins
Single Occupancy: For a single room add 50% of the trip price. If requested, we can also match you with a roommate. If we are unable to find you a match, you will not be charged for a single room.
Deposit: $750 per person
Other Notes: Shared accommodation at double rate. Trip prices are per person based on double occupancy and are given in U.S. dollars.
Group Size
National Geographic Sea Bird: Limited to ~54 Travelers
An important feature of the Ultimate Baja Whale Expedition is the small ship size. Smaller ships are able to access more remote areas off limits to large cruise ships, and guests aboard enjoy more intimate nature encounters as well as more personalized interactions with the ship's naturalist staff. Guests are divided into smaller groups for whale watching excursions, kayak outings and hikes ashore.
Included
Accommodations for one night in Loreto and five nights aboard the National Geographic Sea Bird; all meals from dinner on Day 1 through breakfast on final day; some alcoholic beverages; all excursions; services of SDZWA Wildlife & Conservation Expert(s), Nat Hab's professional Expedition Leader(s) and naturalist staff; use of exploration equipment and kayaks; all port charges and service fees.
Not Included
Travel to and from the start and end point of your trip, some alcoholic beverages, some gratuities, passport and visa fees (if any), items of a personal nature (phone calls, laundry, internet, etc.), airline baggage fees, airport and departure taxes (if any), required medical evacuation insurance, optional travel protection insurance.
Physical Requirements: Easy
This adventure is not strenuous and does not require a high degree of physical fitness, however you must be able to walk unassisted for a minimum of one-half mile in order to participate in this trip. Some of our group meals are a short walk from the hotel and an alternate means of transportation is unavailable. You must be able to walk up and down steep stairs, wade through shallow water to step in and out of the excursion skiffs, and sit on bench seats for long periods of time while whale watching. Depending on weather and sea conditions, boat excursions to the whales can be rough, bumpy and wet. Winds may be strong, water may spray into the boat, and the air temperature may be chilly. Optional hikes will also be available, and in order to participate, you must be able to walk unassisted over uneven terrain for at least one mile. Travelers may have the opportunity to participate in optional kayaking, weather permitting. Though no prior kayaking experience is required, general fitness and mobility, including the ability to get into and out of a kayak, are essential. All activities are completely optional, and travelers should participate only in those activities with which they feel comfortable.
Important Information About This Trip
This trip offers the closest possible whale encounters and is a must for lovers of marine wildlife. Please be aware that flights to and from Loreto, our start and finish point, are sometimes limited. We strongly advise signing up for this trip as early as possible to avoid problems with flight availability and expensive fares. Additionally, airlines tend to alter flight schedules on this route fairly often, so please be aware that we may need to address a schedule change after flights have been booked.
Mandatory Insurance
Since the areas we travel to are remote and wild (that's why we go there!), we strongly recommend that all guests have, at minimum, medical evacuation insurance for this program. While this is not required, we make this strong suggestion in the interest of our guests' safety. We recommend that your chosen independent insurance plan includes at least $250,000 in medical evacuation coverage.

To protect your investment and to provide peace of mind while you travel, we also strongly recommend purchasing comprehensive travel insurance. Plans may cover everything from medical treatment to trip cancellations and delays and lost luggage. Please contact our office if you would like more information about the medical evacuation and comprehensive travel insurance policies we offer by calling 800-543-8917.
Getting There & Getting Home
Please plan to arrive in Loreto by 4:30 pm on Day 1, as there is a group orientation and welcome dinner at 5 pm. You are free to depart any time after 3:00 pm on the final day. We can best serve you if our Natural Habitat Adventures Travel Desk makes your reservations, as we are intimately familiar with the special requirements of this program and can arrange the most efficient travel. Please call us at 800-543-8917. Note that while we offer you the best possible rates available to us on airfare, you may find special web rates or better fares online.