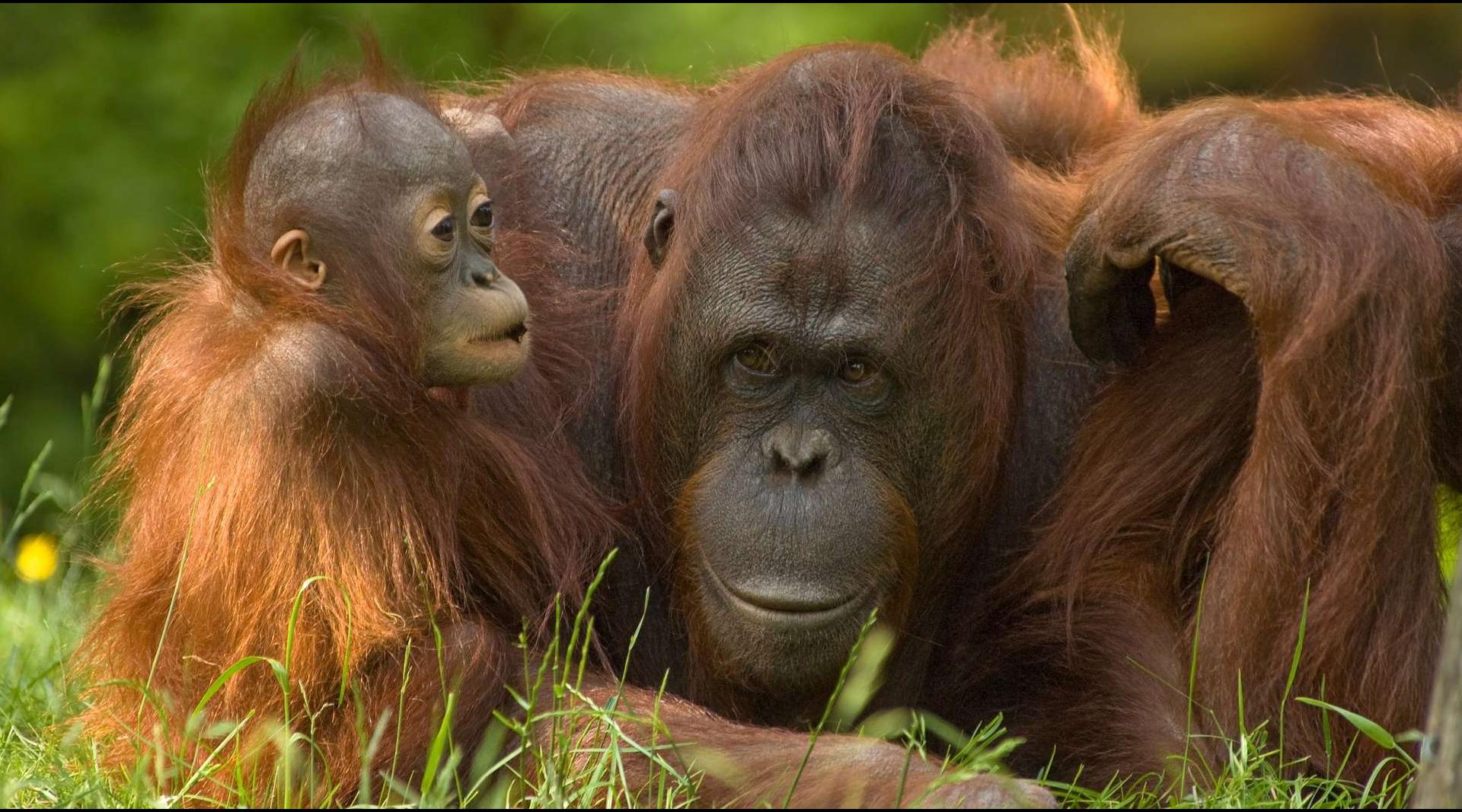 The Wilds of Borneo: Orangutans & Beyond 2024
May 7-18, 2024
Prices starting at $12,295
Please call our tour operator at:
800-543-8917
Limited to 12 Travelers
A Quest in Search of Rare & Threatened Wildlife in the World's Oldest Rain Forests
Borneo, the world's third-largest island, harbors the tallest and most ancient rain forests on Earth. Sheltered beneath their dense canopies are jungle rivers, waterfalls and a host of wildlife that leaps, darts and crawls in the emerald depths. Endangered orangutans thrive in the lush vegetation, sharing branches and vines with leaf monkeys, wild gibbons, flying lemurs and more than 300 vibrant bird species. Rare proboscis monkeys are at home in coastal mangroves where hornbills and sea eagles soar above. Tiny turtle hatchlings find their way to the sea on Selingan Island. In the forest beneath Mount Kinabalu's prominent peaks, pygmy elephants lumber through the underbrush while monitor lizards sunbathe on the banks of the Kinabatangan River. Wildlife flourishes in Borneo, and we safari in search of it on a matchless tropical nature adventure.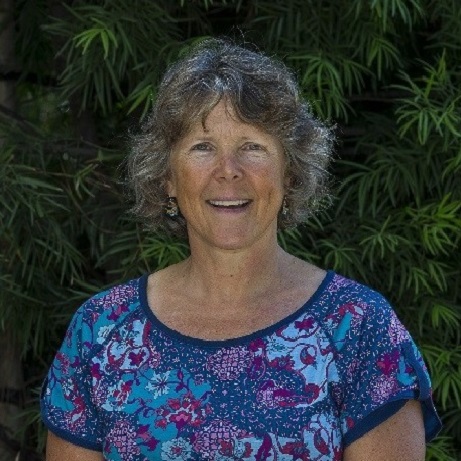 The SDZWA host for this trip will be: Dr. Meg Sutherland-Smith, Director of Veterinary Services, San Diego Zoo
Dr. Meg Sutherland-Smith received her Bachelor's in Arts & Sciences from Virginia Tech in 1982. After completing a Master's in Biochemistry at North Carolina State University (NCSU) she attended the NCSU College of Veterinary Medicine graduating in 1989. Following veterinary school, she completed a one-year internship in small animal medicine and surgery at The Animal Medical Center is New York City. Dr. Sutherland-Smith has had the pleasure of working as a veterinarian for the San Diego Zoo Wildlife Alliance in various capacities starting as a resident in 1990. She is currently the Director of Veterinary Services for the San Diego Zoo. She worked extensively with the giant panda program at the Zoo and was involved with Andean bear and Chacoan peccary projects abroad. Meg is a member of and has served as an officer of several professional organizations. She is an avid swimmer and scuba diver. When not in the water, she enjoys watching birds as well.
Above is a short video from our SDZWA Host Meg Sutherland-Smith about her thoughts on this adventure.
Trip Highlights
Close Encounters with Orangutans
Observe wild orangutans living freely in the rain forest, and learn about crucial efforts to conserve them at two rehabilitation centers
Private Tour of Sun Bear Rehabilitation Center
Behind the scenes, hear the inspiring success story of how the world's smallest bear was brought back from the brink of extinction
Explore Ancient Tropical Rain Forest
Deep in the Danum Valley, search for proboscis monkeys, gibbons and the slow loris, and scout for pygmy elephants along the Kinabatangan River
See More of Borneo's Natural Wonders When You Travel With Us
From watching free-ranging orangutans in their natural rain forest habitat to scouting for pygmy elephants along the Kinabatangan River, you'll experience the most varied and wildlife-centric Borneo itinerary on offer. Our multifaceted journey emphasizes a wide array of species, plus encounters with local cultures.
More Diverse Wildlife Viewing in Widely Varied Settings




This is a comprehensive nature survey of Borneo, encompassing diverse ecosystems: the jungle sanctuaries of Sepilok, Semenggoh and Kinabatangan, mangroves in Bako National Park, Selingan Turtle Island, and virgin rain forest in the Danum Valley. In these contrasting locales, search for endangered orangutan, pygmy elephant, Bornean bearded pig, smooth-coated otter, long- and pig-tailed macaques, monitor lizard, proboscis monkey, rhinoceros hornbill, silvered leaf monkey and numerous tropical bird species—for starters! 

From Riverside to Rain Forest, Stay Closer to Borneo's Wildlife




Our accommodations are selected for their quality, atmosphere and secluded locations, getting you as close as possible to nature in the most comfortable settings. From our eco-resort near an orangutan sanctuary to a remote ecolodge on the Kinabatangan River and our lodge in Danum Valley that overlooks primary growth rain forest, you are immersed in wild Borneo.

Internal Flights Enhance Comfort & More Time with Wildlife




Rather than subject you to long, winding, often bumpy drives, we use air transfers for comfort and efficiency. Two internal flights get you between destinations faster, giving you more time with nature and wildlife.

Visit Two Different Orangutan Sanctuaries




A chance to see orangutans is a big reason for coming to Borneo. We maximize your opportunities in two different locations: Sepilok and Semenggoh nature reserves. Semenggoh focuses on the study of orangutan biology and behavior while providing a safe and natural haven for dozens of semi-wild orangutans that are graduates of its original rehabilitation program.

See Green Sea Turtle Hatchlings Reach the Sea




Spending a night on Selingan Turtle Island, protected habitat for endangered green sea turtles, we expect the rare opportunity to observe these pelagic reptiles coming ashore to lay their eggs, then watch in wonder as tiny hatchlings are released to scurry over the beach into the Sulu Sea.
Itinerary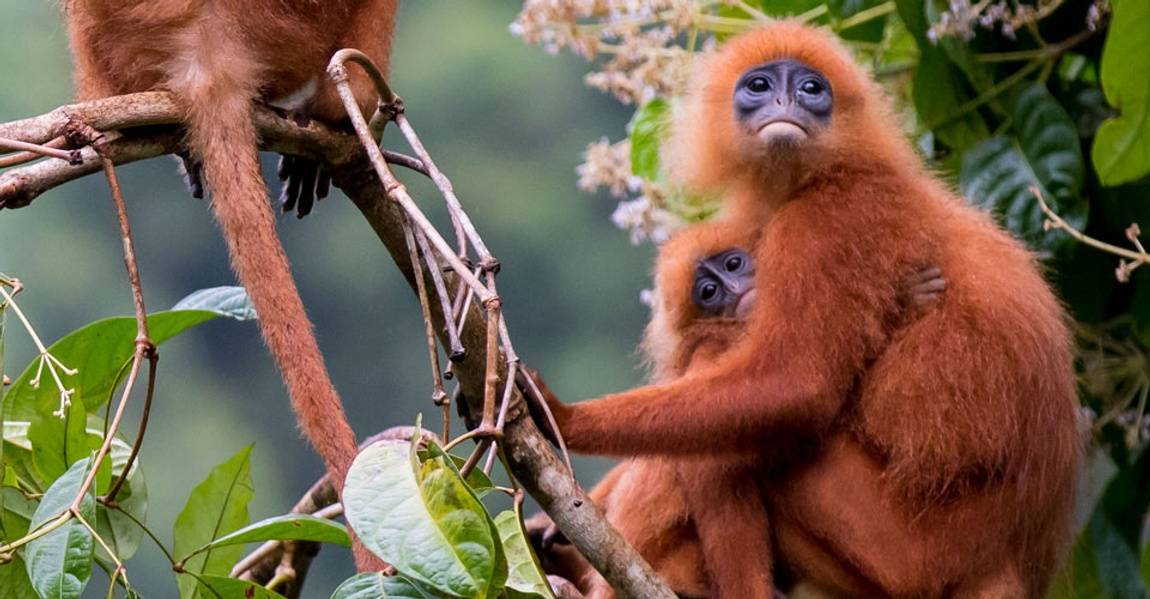 Day 1–12: Discover the world's oldest and tallest rain forests in search of wild orangutans, pygmy elephants and other jungle wildlife, and view nesting sea turtles in protect tropical island habitat.
Accommodations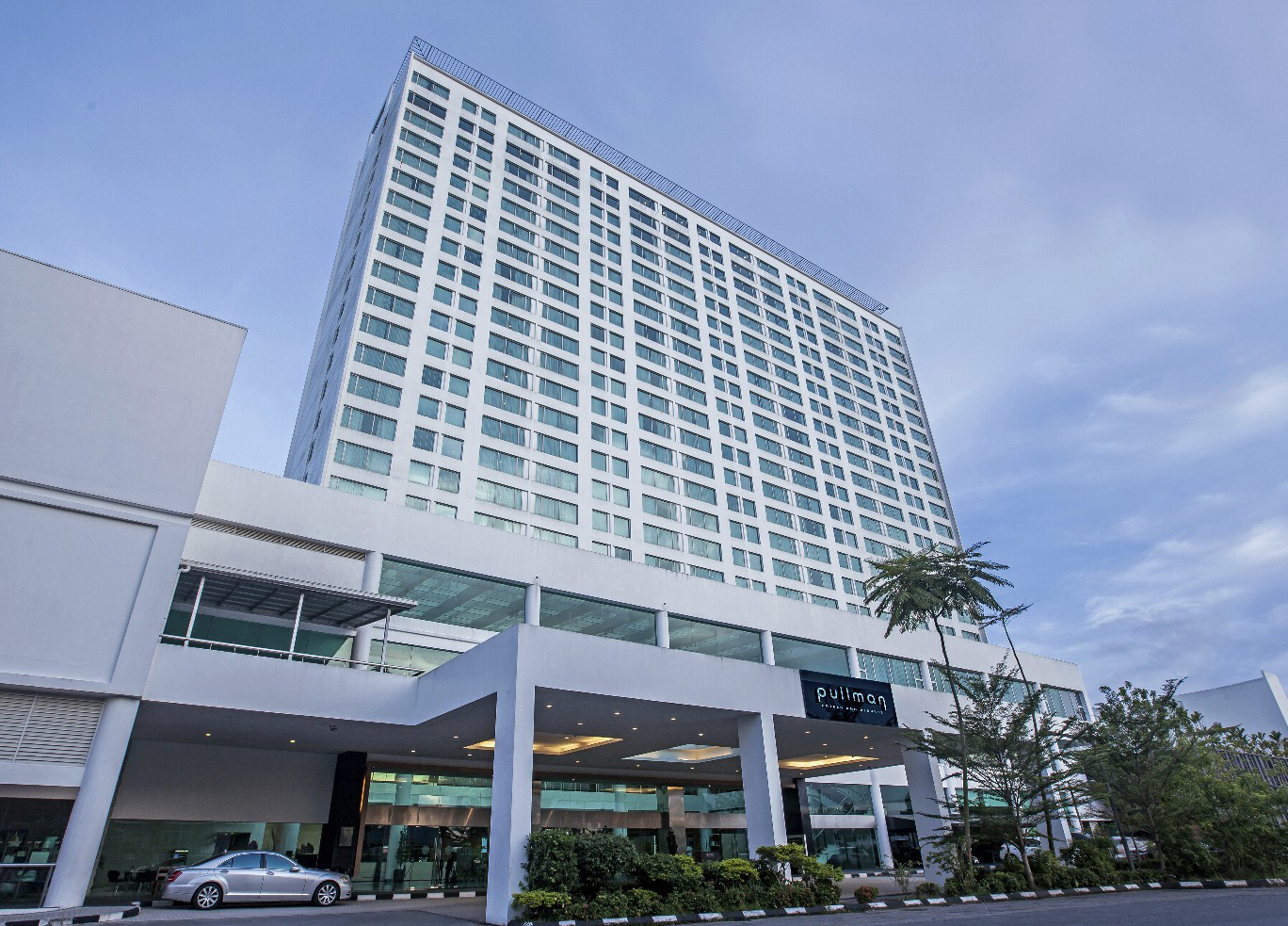 Pullman Kuching
Kuching, Sarawak, Malaysia
Located in the heart of the Kuching Golden Triangle, this sleek, 5-Star, high-rise hotel is the crown jewel of Jalan Mathies Hill, offering panoramic views of Kuching City and Sarawak River. 

Our deluxe rooms face west, offering sweeping sunset views over Mt. Serapi. Each is elegantly appointed with dark wood floors and furnishings. Amenities include Wi-Fi, satellite and cable TV, air conditioning, a walk-in closet with a robe and slippers, a yoga mat and hand weights, desk, telephone, iron, safe, mini bar, tea kettle and coffeemaker, and an en suite bathroom with rain shower and separate tub. Pullman Kuching also has a state-of-the-art fitness center and spa with sauna and steam rooms or indulge in a coconut- or coffee-scrub massage.

Several restaurants cater to guests' needs, including breakfast at Puzzle, serving a generous array of Asian and Continental options. Stop by Cafe´ De Arts and grab a cup of freshly brewed coffee or dragon fruit smoothie, end the evening in style with a cocktail at Deja Vu Bar & Lounge. Liquid Bar, located beside the outdoor pool, serves drinks and snacks under the sun.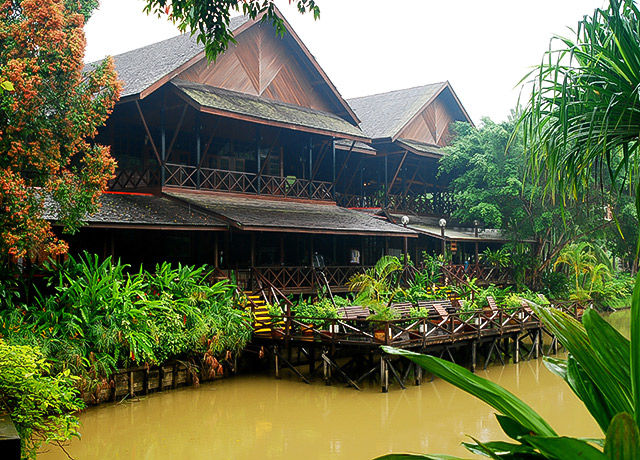 Sepilok Nature Resort
Sandakan, Borneo
The consummate jungle lodge, Sepilok Nature Resort is hidden amid dense tropical vegetation including hug trees and rare blooming orchids. Steep-roofed wooden bungalows offer roomy accommodations within walking distance of the famous Sepilok Orangutan Sanctuary. The fully air-conditioned chalets have forest views from individual verandas. Interiors have glossy hardwood floors, a high beamed ceiling, comfortable beds with crisp cotton linens, and private baths with stone soaking tubs. Walk along elevated wooden boardwalks among 150 orchid varieties in the lavish surrounding gardens before heading to the patio deck to dine overlooking a lake backdropped by dense rain forest.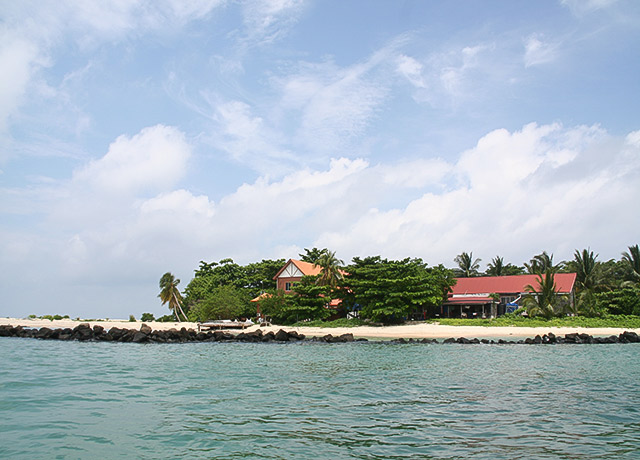 Selingan Turtle Island Chalets
Selingan Island, Malaysia
The sole accommodation on Selingan Turtle Island, these simple chalets afford guests the unique opportunity to observe nesting green turtles up close and assist in releasing hatchlings into the clear waters of the Sulu Sea. Accommodations here are basic but comfortable. Each chalet has an attached bath, air conditioning and simple, tropical inspired decor. You won't find any pools or spas, but that's not really what a stay on Selingan is about. Visitors will enjoy a highly privileged opportunity to watch both egg layings and the release of hatchlings into the sea.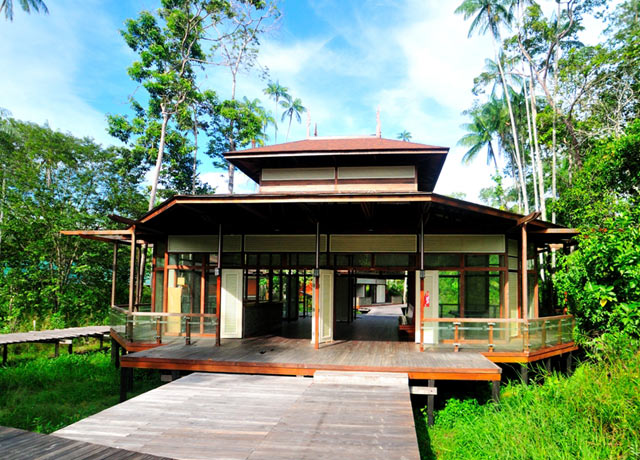 Kinabatangan Wetlands Resort
Kinabatangan Wildlife Sanctuary, Sabah
This remote jungle ecolodge offers an incomparable location from which to explore the wildlife-rich wilderness of the Lower Kinabatangan Segama Wetlands region. Tucked within a secondary forest reserve and surrounded by pristine freshwater swamps and mangrove forest, this exclusive nature retreat is located in undeveloped wilderness about an hour's boat ride from Sandakan Harbor. Access is by elevated walkways made from local Bornean ironwood. Accommodations are in 10 deluxe wooden chalets offering plenty of space, privacy and amenities. All have gleaming hardwood floors, comfortable beds with cool linens, air conditioning, ceiling fan, and a private en suite bathroom with large walk-in hot and cold showers. Electricity is provided 24 hours a day via solar panels and a generator. The resort uses river water that is treated and sand-filtered before use. Rainwater is also collected to supplement the water system.
The broad floodplain surrounding the lodge is one of the most important wildlife refuges in Malaysia and is recognized as an internationally important wetland for its undisturbed ecosystem that shelters a number of rare, endangered and threatened species including Sumatran rhinoceros, proboscis monkey, Borneo pygmy elephant, oriental darter and rhinoceros hornbill. The biodiversity of the area is striking, with 1,000 plant species, more than 200 bird species, 90 fish species, and 50 mammal species. In the vicinity of the lodge, guests can expect frequent sightings of birds and monkeys such as silvered langur, maroon langur and hose langur, and wild orangutans are regularly spotted in the area, too.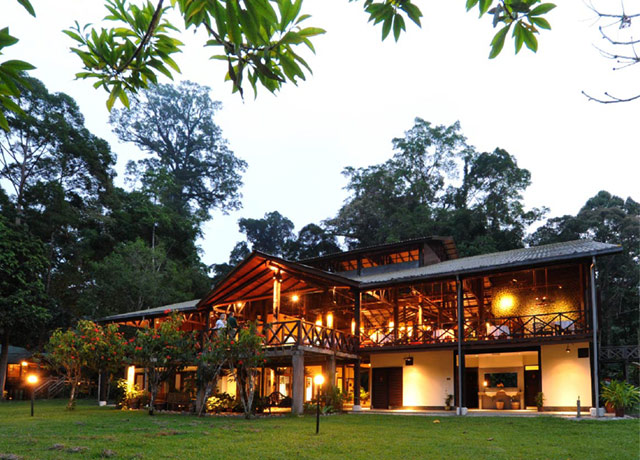 Borneo Rainforest Lodge
Danum Valley, Borneo
Borneo Rainforest Lodge provides an exotic wildlife experience in the remote reaches of the Danum Valley. Premium deluxe rooms in individual chalets have large picture windows for an immersive view on the rain forest; elegant, clean-lined contemporary furnishings incorporating sustainably harvested tropical hardwoods; air conditioning; ceiling fans; spacious en suite baths; and large private decks with plunge pools overlooking the last vestiges of the country's virgin primary forest, the oldest in the world. The central lodge, standing on columns of Borneo's famous belian hardwood (Borneo ironwood), contains a spacious veranda and dining area. The spa offers massage and foot soaks to rejuvenate weary wildlife trekkers. The lodge accommodates a maximum of 60 people, ensuring guests an intimate experience of the jungle with a limited impact on the valley's natural resources and wild character.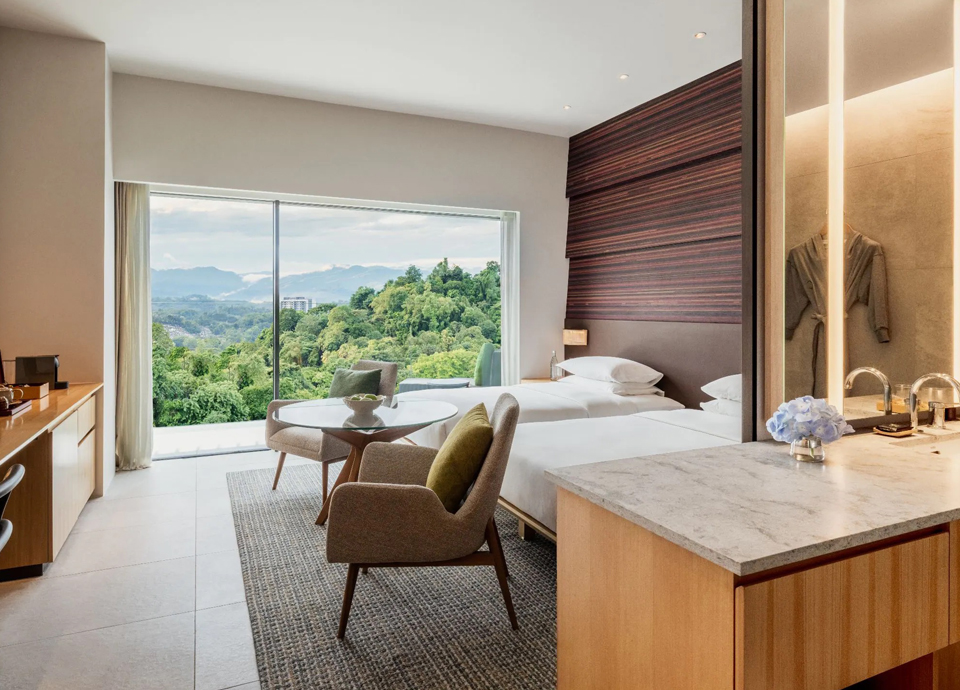 Hyatt Centric Kota Kinabalu
Kota Kinabalu, Sabah, Malaysia
Surveying the South China Sea, the new Hyatt Centric hotel exudes 5-star luxury and striking contemporary flair in the heart of Kota Kinabalu's vibrant waterfront district. Guests are greeted in the bright and stylish lobby. Each room has a private balcony overlooking the sea, islands and/or lush mountains. Furnishings are distinctly modern, incorporating rich woods, clean lines and contrasting textures. Rooms have floor-to-ceiling windows, air conditioning and individual climate control, one low-rise king or two twin beds made with crisp white linens, and blackout curtains. Upscale amenities include Nespresso coffee maker, electric kettle, electronic safe and complimentary high-speed Wi-Fi. Spacious bathrooms have a walk-in rain shower, plush robes and slippers, and eco-friendly premium toiletries.
The hotel's ON22 restaurant serves fresh, locally sourced Asian cuisine in both indoor and al fresco settings. On the 23rd floor is the double infinity-edge swimming pool and shaded outdoor lounge space, offering stunning territorial views, as does the 24-hour fitness center, with a wall of windows overlooking the verdant hills beyond.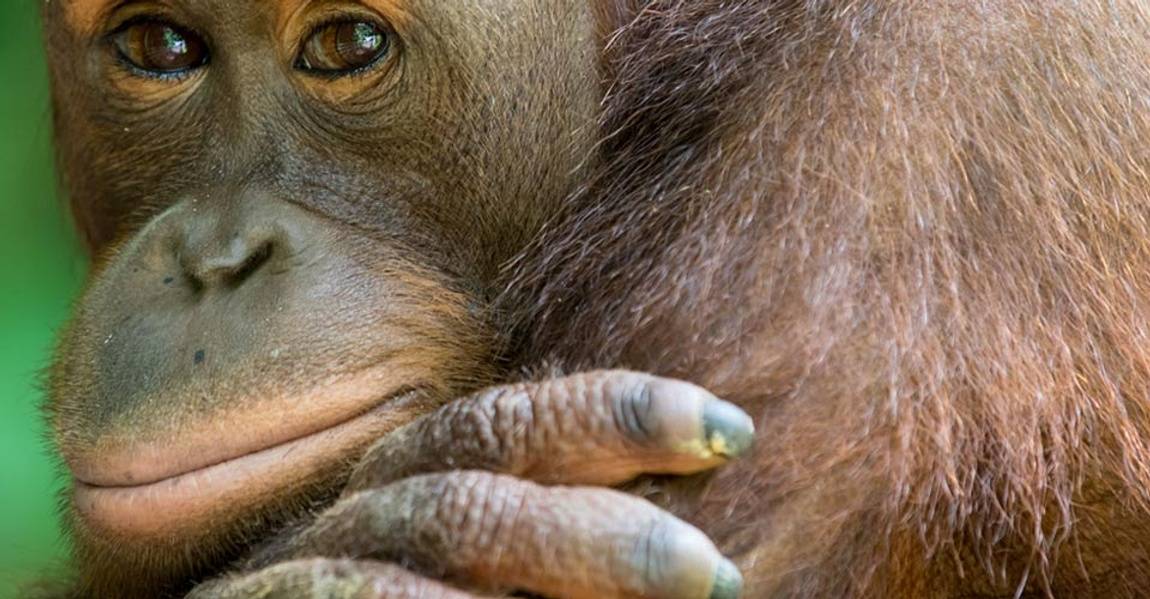 Frequently Asked Questions
Whether you're preparing for your upcoming Borneo Adventure or just want to learn more about this lush island, we've got you covered.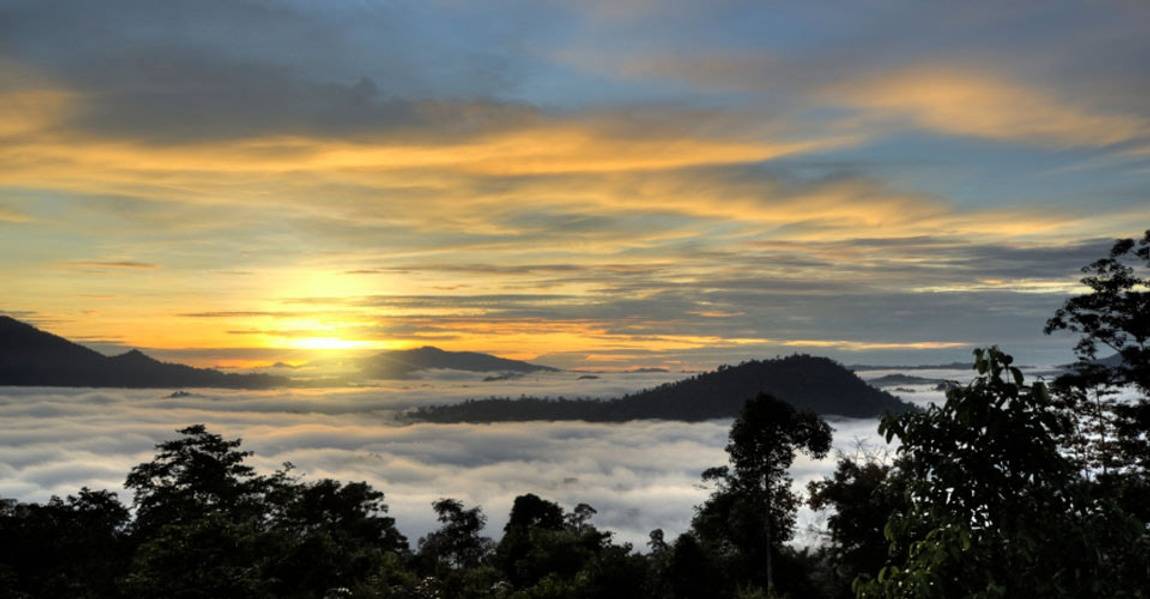 Weather and Climate
Discover the weather and climate in Borneo
Trip Pricing
Trip Price: $12,295 (+internal air).
Internal Air Cost: $524 per person (this will be listed separately on our invoicing).
Single Occupancy: For a single room, add $1,895. Contact us to learn how you can avoid the single supplement.
Deposit: $500 per person
Group Size
Limited to 12 Travelers with Two Expedition Leaders
A very important feature of our Borneo safari is the limited group size of just 12 travelers, as nature encounters are best experienced away from crowds within the intimate setting of a small group. Our photo trips include just nine travelers per departure.
Included
Trip price includes: Accommodations, services of SDZWA's Host and Nat Hab's professional Expedition Leader(s) and local guides, all meals from lunch on Day 1 through breakfast on final day, most gratuities, airport transfers on Day 1 and final day, all activities and entrance fees, all taxes, permits and service fees.
Internal air fee includes: All flights within the itinerary (this will be listed separately on our invoicing).
Not Included
Travel to and from the start and end point of your trip, alcoholic beverages, some gratuities, passport and visa fees (if any), optional activities, camera fees for lenses 500mm and larger and professional video camera fees paid to the parks, items of a personal nature (phone calls, laundry and internet, etc.), airline baggage fees, required medical evacuation insurance, optional travel protection insurance. 
Physical Requirements: Moderate
Travelers must be able to walk unassisted (without the use of walking aids) for a minimum of 2 miles over uneven ground at a steady pace, as well as tolerate daily active excursions in extremely hot and humid rain forest conditions, in order to participate in this trip. The itinerary involves a number of medium- to longer-length walks (typically 2-3 miles each) over a variety of terrain, including boardwalks and unpaved forest trails that can be rough, muddy, slippery and uneven with roots, with some steep inclines. These walks can be quite taxing in the hot and humid climate. Shorter walks are available in some areas in place of more strenuous activities for those who choose. We also travel by vehicle and boat over variable conditions that can sometimes be quite bumpy. Those with back problems or other health issues that could be exacerbated by such conditions should take this into consideration. For those guests who choose, there is an optional opportunity to participate in snorkeling from the beach during our stay at Selingan Turtle Island. Please note that some travel days can be long with multiple flights, and internal flights may require guests to climb up and down several sets of stairs.
Important Information About This Trip
Most of our guests travel to Borneo for encounters with the island's wildlife. While the nature experiences here are indeed remarkable, there is a fundamental difference between a safari in the Bornean jungle and a typical safari in Africa. At times, guests lured to Borneo by tourist brochures promising "jungle safaris" can be disappointed to see fewer animals than they expected, or at least fewer than they might normally see in Africa. It is not that the surviving jungles are thinly populated with wildlife, but, similar to places like Costa Rica where the forest is thick with vegetation, the creatures have mastered the art of camouflage and deception and can be difficult to spot. At Nat Hab we design our itineraries to capitalize on the best conditions to spot orangutans and other wildlife. But various factors can affect potential sightings, including the occurrence of inclement weather. The secret to a successful Borneo nature adventure lies with the expertise of our Expedition Leaders and local guides, as well as knowing what to expect, and in understanding that the privilege of stepping into a wild and untouched natural realm is a reward in itself.
Mandatory Insurance
Since the areas we travel to are remote and wild (that's why we go there!), we strongly recommend that all guests have, at minimum, medical evacuation insurance for this program. While this is not required, we make this strong suggestion in the interest of our guests' safety. We recommend that your chosen independent insurance plan includes at least $250,000 in medical evacuation coverage. 
To protect your investment and to provide peace of mind while you travel, we also strongly recommend purchasing comprehensive travel insurance. Plans may cover everything from medical treatment to trip cancellations, and delays and lost luggage. Please contact our office if you would like more information about the medical evacuation and comprehensive travel insurance policies we offer, by calling 800-543-8917. 
Getting There and Getting Home
Please arrive in Kuching by 8 am on Day 1 in order to meet your group at 10 am for an orientation and lunch, which will be followed by afternoon guided activities. You are free to depart Kota Kinabalu at any time on the final day. We can best serve you if our Natural Habitat Adventures Travel Desk makes your reservations, as we are intimately familiar with the special requirements of this program and can arrange the most efficient travel. Please call us at 800-543-8917. Note that while we offer you the best possible rates available to us on airfare and additional nights' accommodations, you may find special web rates or better fares online.