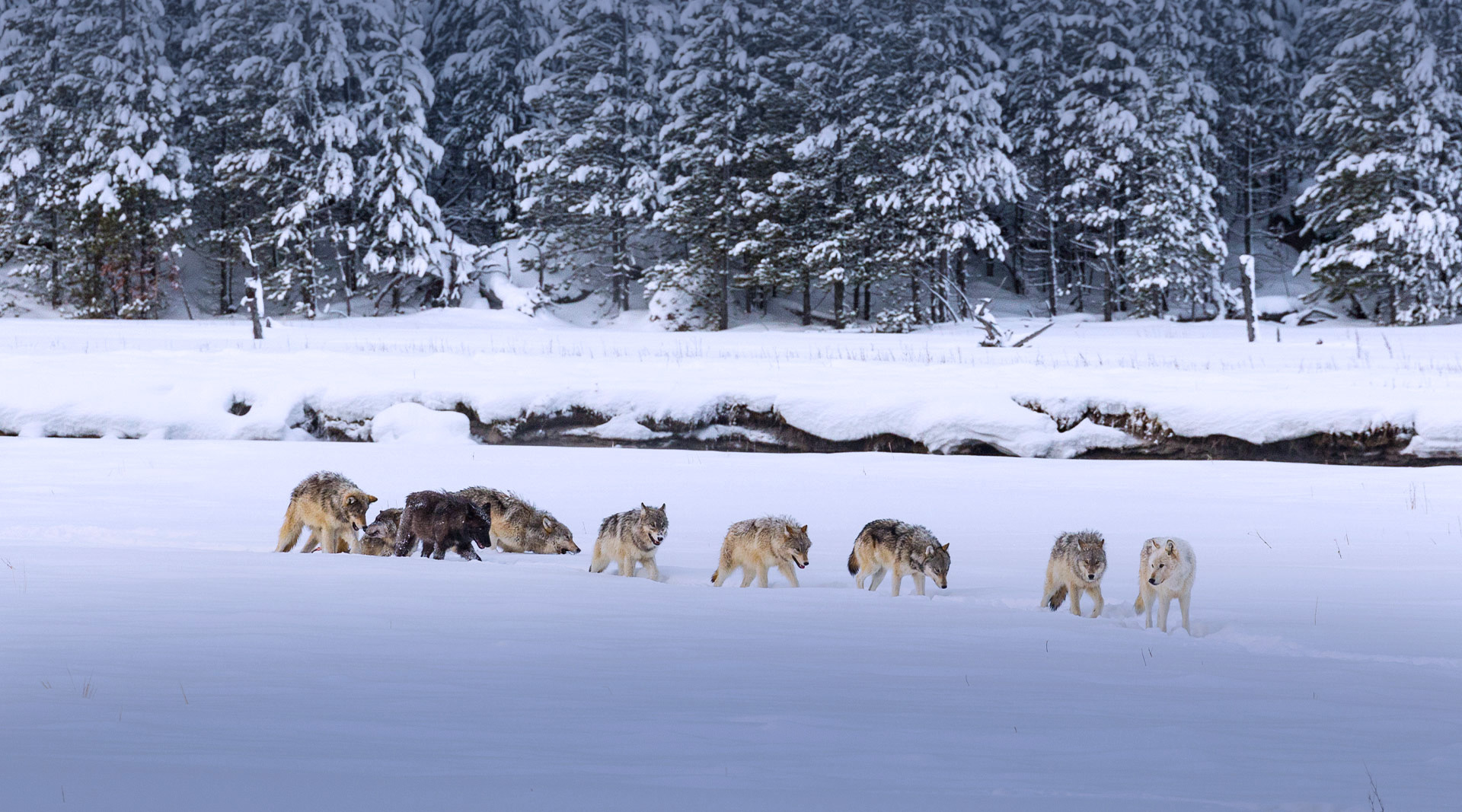 Yellowstone Wolf Quest Photo Adventure
December 5–11, 2022
Prices starting at $6,995
Please call our tour operator at:
800-543-8917
Limited to 12 Travelers
The Very Best Opportunity to Watch Wolves and Winter Wildlife in Their Natural Habitat
You'll find no better chance to observe and photograph wolves in the wild than on this rare immersion in their native realm. Our carefully crafted wolf and wildlife photography itinerary spends four full days in the famed Lamar Valley of Yellowstone's Northern Range, the best spot on Earth for viewing wolf packs living freely in their natural environment. Though wolves are elusive and typically seen at a distance, the wide-open expanse of this remote valley offers the best prospects for sighting them. Through the relationships we've cultivated with local scientists, wolf researchers and renowned wildlife photographers, we are able to offer this exclusive safari for a few privileged guests keen for an encounter with Canis lupus. Other Yellowstone wildlife—which we're sure to come across as well—is a bonus!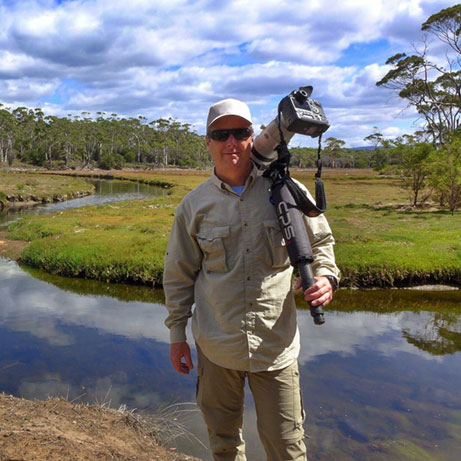 The SDZWA host for this trip will be:
Ken Bohn, Wildlife Photographer
Ken has spent the last 20-plus years documenting the conservation efforts of San Diego Zoo Wildlife Alliance—including the San Diego Zoo and San Diego Zoo Safari Park, and traveling the globe, working with staff and collaborators photographing wildlife. He's vast variety of wildlife imagery has found its way into numerous publications. He has produced more than 60 cover photos for San Diego Zoo Wildlife Alliance Journal and ZOONOOZ magazine. In addition, he has worked on numerous wildlife images with clients as prestigious as the BBC, National Geographic, Time, Rolling Stone, Discovery Channel, and other nature, travel and photography-oriented magazines. An avid explorer with a deep-rooted fascination for and dedication to the natural world, Ken has specialized in-depth knowledge of wildlife photography and animal behavior—priceless experience when it comes to maximizing rare, once-in-a-lifetime photographic opportunities.
Working to change the perception of the Big, Bad Wolf
Watch this short film, produced by our travel partner Natural Habitat Adventures, about the conservation challenges facing the wolves of Yellowstone.  
Trip Highlights
An Intensive Wolf Immersion
With four full days of wolf tracking in Yellowstone's Lamar Valley, you won't find a more in-depth opportunity to focus on wild wolves!
Diverse Wildlife Photography
Wolf habitat is also home to a wide variety of Yellowstone's other legendary wildlife—and photographers may get a chance to capture images of bison, elk, moose, pronghorn, and bighorn sheep.
Enhanced with Local Expertise
A local wildlife photographer, an award-winning filmmaker, and wolf biologists share their expertise in exclusive private engagements.

No One Else Offers This In-depth Immersion in the Wolf's World!
Our winter wolf adventure in Yellowstone country is the most in-depth encounter with this charismatic predator in a natural setting that you will find. And our connections with local field researchers make a big difference in your experience. What else sets our wolf expedition apart? Read on:
More Opportunities to See Wolves
If you're passionate about wolves, this trip offers four full days of wolf tracking in Yellowstone's Northern Range. No one else offers this extensive an immersion in the best place on Earth to see these icons of American wilderness. Of course, we never know exactly where the wolves will be. Even though Yellowstone's Lamar Valley is the world's preeminent spot for viewing gray wolves in the wild (and we've never missed seeing them to date), wolves are at the center of controversy, and their increasing elusiveness due to the impact of hunting can make it a challenge to find them. But we embrace that challenge with enthusiasm, and that is the allure of nature taken on its own terms.
 
A Small Group Offers a Peaceful, Personalized Experience
Our group of approximately 12 guests is further divided into two smaller groups in two vehicles, each with an expedition leader, for a quieter experience of nature with less impact on our natural surroundings. Traveling with fewer people allows us to move quickly to areas where wolves have most recently been spotted, and to observe them without disturbing them. Plus, you're guaranteed more personal attention from our expedition leader, who is always at your side to answer all your questions.
 
Your Guides are Professional Naturalists
You won't find more qualified guides! Our expedition leaders are naturalists with in-depth knowledge of Yellowstone's wolves and their habitat. They are in constant contact with local wolf researchers, giving us the benefit of the most current, inside knowledge of wolf locations and activity. Our Yellowstone expedition leaders have been guiding in this region for an average of eight years, and we're proud that they are the guides called upon to train other local guides.
 
Low-Season Travel + Local Connections = Better Wolf Encounters
Traveling in Yellowstone's low season means far fewer visitors. Visiting the park in December ensures exceptional solitude—meaning wolves may be less shy. This is also when wolf researchers tend to be in the field with scopes and telemetry equipment, looking for wolves. We have relationships with many of these researchers, which means we are constantly communicating with them and have higher chances of seeing wolves.
 
Meet with Renowned Local Wildlife Photographers
Drawing on our years of experience in the area, we've arranged a private visit with two of the country's premier wolf and wildlife photographers and videographers. We'll visit the gallery of famed local naturalist/photographer Dan Hartman, who joins us for an outing in the Lamar Valley for our best chance to see wolves in their natural environment. And we're joined for lunch by Emmy Award-winning wildlife cinematographer Bob Landis, a legendary filmmaker in the Yellowstone region.
 
Exclusive Safari Trucks—Special Pop-top Roofs Enhance Viewing!
As on an African safari, the quality of your adventure vehicle is key to exploring America's national parks. A far cry from the typical buses other companies use, Nat Hab has crafted new Mercedes Sprinters into specialty North American Safari Trucks. Three double-wide pop-top roof hatches, plus large side windows allow for 360-degree views of the landscape and wildlife. Every guest has a window seat and plenty of room for camera equipment and other gear. These exclusive vehicles make a big difference in your overall experience!
 
Cold-weather Boots and Parkas Provided
Don't worry about packing heavy outdoor gear and paying extra for checked baggage fees: we provide sturdy, warm winter boots, plus heavy parkas for our guests' use during the trip. Yellowstone is famously cold in the winter, but you'll be comfortable in our top-quality gear.
Itinerary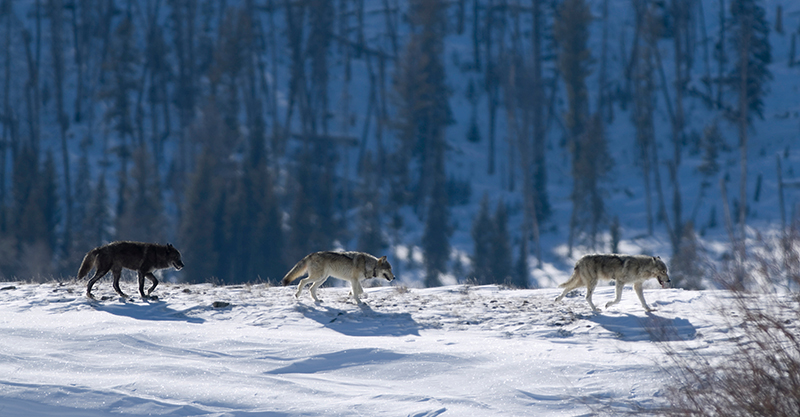 Day 1–7: Join us in the best place on the planet to search for wolves, and photograph an array of Yellowstone's iconic wildlife that shares this habitat with them.
Accommodations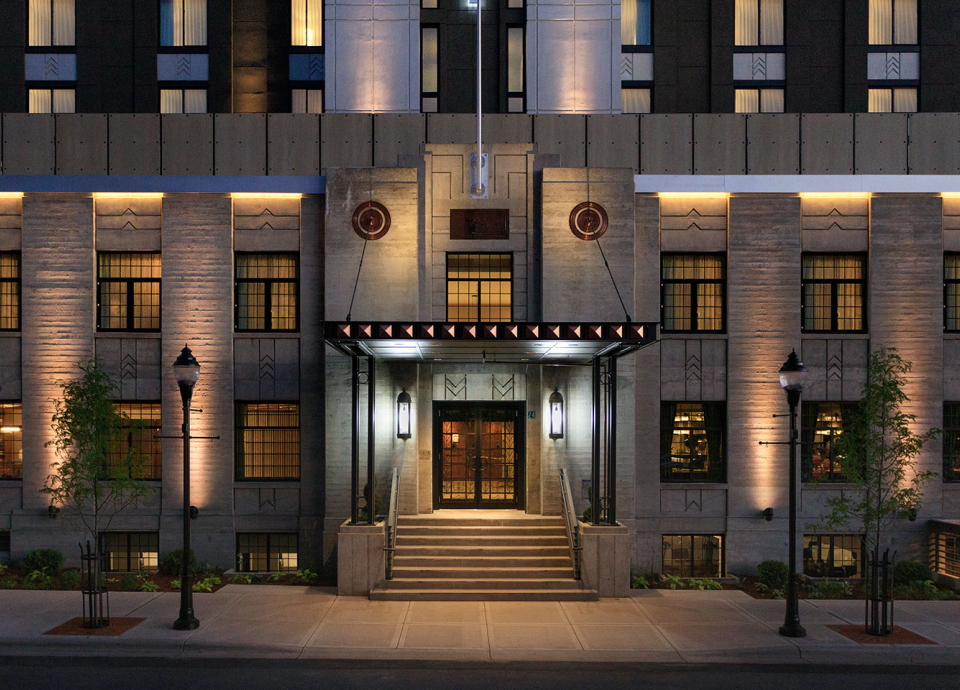 Armory Hotel
Location Bozeman, Montana
A brand-new, yet historic hotel in the heart of downtown Bozeman, the Kimpton Armory Hotel is the city's premier address for visitors. Bozeman's first and only four-star hotel, the Armory melds past and present to honor the heritage of the landmark Armory building, creating an atmosphere of relaxed, contemporary refinement. Just a block off the city's historic Main Street, which remains its most vital commercial and cultural artery, the Armory Hotel enjoys a prime location steps from Bozeman's best shops, galleries, restaurants, coffee shops, and pubs. With a modern twist on mountain style, the Armory's luxe guest rooms offer laid-back elegance, outfitted with a mix of natural materials including rich woods, hand-stitched leather, and woven textiles in a warm, earthy palette that evokes the natural landscape encompassing Bozeman. Rooms have a contemporary, yet cozy vibe, with one king or two queen beds with custom mattresses, luxurious Frette linens including crisp cotton duvets, and chunky accent pillows. Amenities include a work desk, comfortable arm chair, wall-mounted flat-screen LCD smart TV, and mini bar. Spacious bathrooms have all-glass walk-in showers, marble-tiled walls and deep soaking tubs. Thoughtfully designed social spaces feature a casual fine-dining restaurant, basement whiskey bar, rooftop Sky Shed lounge, rooftop pool, and 24-hour fitness center. A hosted evening social hour and morning coffee and tea service are included. Loaner bikes are also available for guests who arrive in time to explore a bit of Bozeman on their own.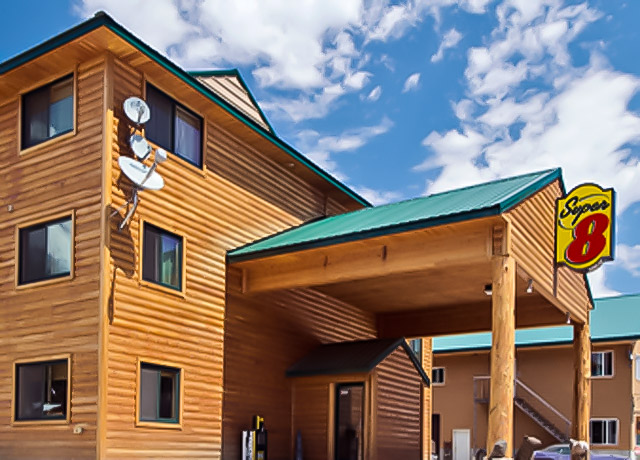 Super 8 Cooke City
Cooke City, Montana
Cooke City is a historic hamlet near the northeast entrance to Yellowstone National Park. Only a handful of accommodations are open in the winter, and the Super 8 provides the town's best available lodging with excellent proximity to the remote Lamar Valley, our focus for wolf watching in the park. Basic but comfortable, guest rooms have TV, Wi-Fi, refrigerator, microwave oven, and self-serve coffee-making facilities. A washer and dryer are available for guests' self-serve laundry needs. The motel enjoys a prime location right on Cooke City's main street, and its log facade evokes the Old West atmosphere of the region.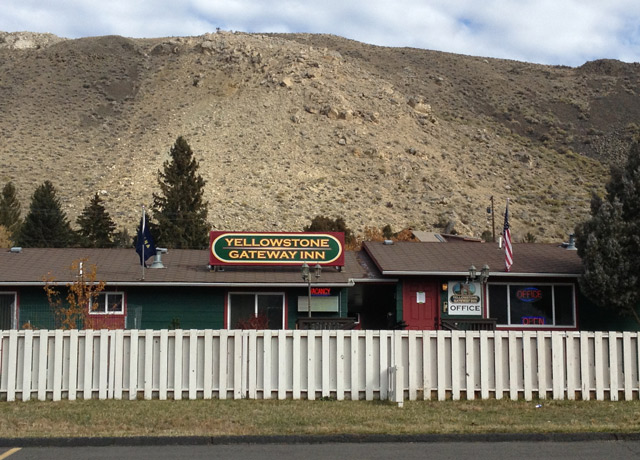 Yellowstone Gateway Inn
Gardiner, Montana
Optimally located at the north entrance to Yellowstone National Park, the eco-conscious Yellowstone Gateway Inn offers 15 newly renovated apartment-style suites. Each has a bedroom that has a king or queen bed, a sandstone-surrounded tub and shower, a full kitchen, and a living room with a sofa bed. Rooms include 42-inch flat-screen high-definition TVs, Blu-Ray DVD players, complimentary high-speed wireless internet, individually controlled heating and air conditioning, organic and natural bath amenities, personal coffee service with "Equal Exchange" fair-trade organic coffee and teas, and in-room recycling. 
Know Before You Go
Whether you're preparing for your upcoming Yellowstone adventure or just want to learn more about America's oldest national park, we've got you covered. We've rounded up an array of useful resources, from wildlife guides and packing tips to compelling firsthand accounts written by Nat Hab travelers and staff.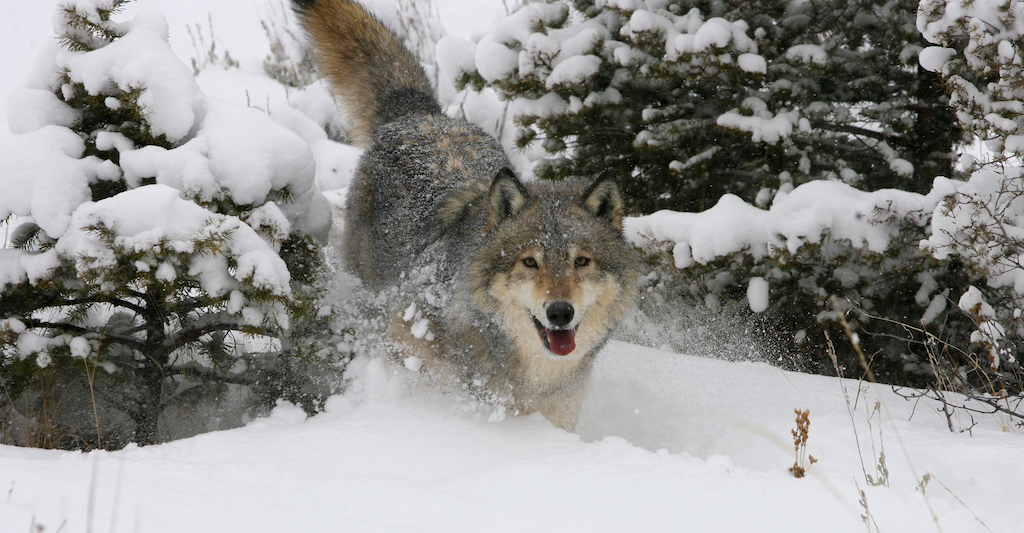 Frequently Asked Questions
Have questions about Yellowstone? We've got answers! We've compiled a list of our most frequently asked questions about wolves, wildlife, photography, winter weather, and more.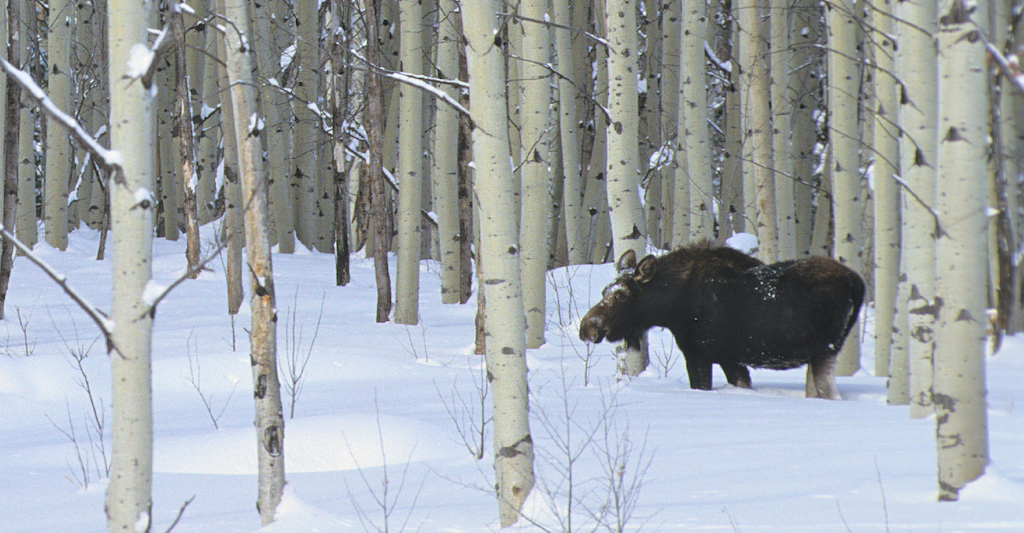 Weather and Climate
Find out about the typical weather conditions and climate in Yellowstone National Park during the winter season.
Trip Pricing
Trip Price: $6,995
Single Occupancy: For a single room, add $995. Contact Us to learn how you can avoid the single supplement.
Deposit: $500 per person (non-refundable)
Group Size
Limited to ~12 Travelers
Small groups are the best way to experience nature, and this is especially true for our photography adventures. With approximately 12 travelers, you're assured plenty of space and personalized attention when you need it. Traveling in specialty North American Safari Trucks, we divide our group into two vehicles, each with a guide, further enhancing our low-key presence. As a small group, we maintain the flexibility to adapt to changing conditions in a way that maximizes photo opportunities—we'll depart early in the morning to chase the best light, remain at a site of specific photographic interest to fully explore its potential, or move to a new destination when desired. Our expert naturalist and accomplished photographer guide is always available to answer your questions, provide tips and techniques, and help you better understand and photograph this amazing region of the world.
Included
Accommodations, services of SDZWA wildlife and conservation expert(s), Nat Hab's professional expedition leader(s) and local staff, transportation in North American Safari Trucks and local snow coaches, all meals from dinner on Day 1 through breakfast on the final day, most gratuities, airport transfers on Day 1 and the final day, gear including warm parkas and winter boots, use of scopes and binoculars, all activities and entrance fees, all taxes, permits, and service fees.
Not Included
Travel to and from the start and end point of your trip, alcoholic beverages, some gratuities, passport and visa fees (if any), optional activities, items of a personal nature (phone calls, laundry, and internet, etc.), airline baggage fees, airport and departure taxes (if any), optional travel protection, and medical evacuation insurance are not included.
Physical Requirements: Easy to Moderate
Tracking wolves in Yellowstone typically occurs in snowy, icy, and/or wet conditions, and temperatures can be very cold, often dropping well below zero at night, with daytime highs in the 30°F range. Our days generally start before sunrise and are filled with activities. Optional hikes and snowshoe excursions require moderate physical exertion, ranging from one to three miles in length over level ground and slight inclines, though snow and ice may create rough and/or challenging terrain conditions. If you opt to snowshoe, you must be able to go at least one-half mile. While much of our wildlife viewing takes place from our vehicles, participants should be prepared to spend extended periods of time outside in cold temperatures. Travelers should be aware that activities in the park occur at altitudes between 4,810 and 7,380 feet. While travelers are not required to participate in all activities, should you opt out of any of the day's scheduled activities, we cannot guarantee that alternatives will be available.
On custom or private departures with smaller groups, our ability to accommodate varying levels of physical abilities or interests is limited, since these trips are staffed with a single expedition leader who may be assisted, pending availability, by local guides.
Important Information About This Trip
While the Lamar Valley and Yellowstone National Park offer some of the best opportunities to see wolves in the wild, these animals are still very elusive, and they usually do not come in close range of humans. This trip offers a totally natural, uncontrived experience, and as a result, most wolf viewing is done at a distance through spotting scopes. This allows us to watch the packs go about their normal behavior uninfluenced by the presence of humans. It is important to understand that it is incredibly difficult to see the wolves without the use of a spotting scope (Nat Hab provides spotting scopes on your trip). Often, the best way to get photos of the wolves is with a cellphone camera through a spotting scope. Your expedition leader will help you with this technique, called "digiscoping." While a long lens is a must for photographers, even then, we can't guarantee excellent shots of the wolves. However, the sheer beauty and grandeur of the Greater Yellowstone Ecosystem provides magnificent nature imagery, and we are likely to see plenty of the region's other iconic species.
Getting There and Getting Home
You will be met at the airport on Day 1 and transferred to the hotel to meet your group for a 6 p.m. orientation dinner. You are free to depart anytime on the final day.