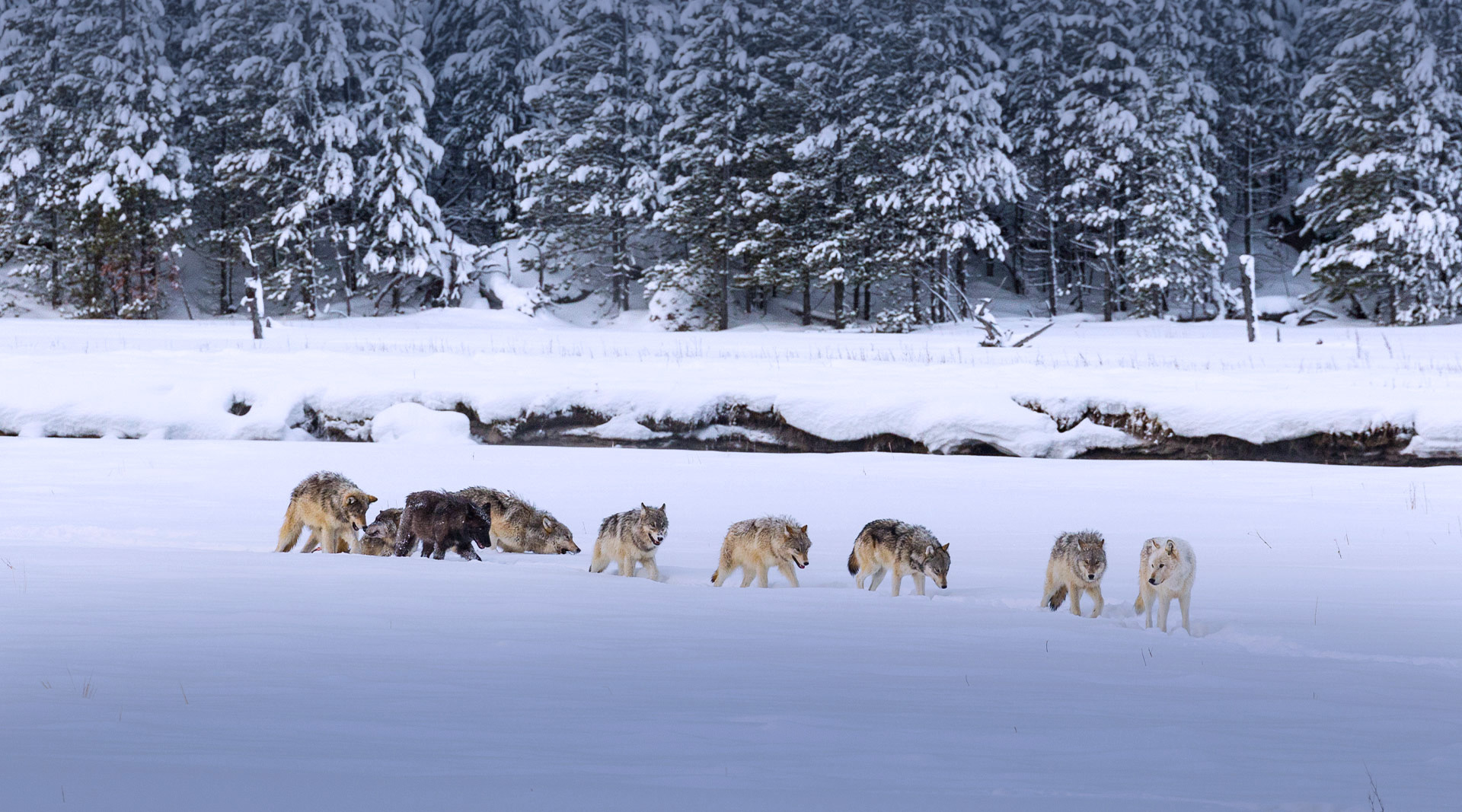 Yellowstone Wolf Quest Photo Adventure
December 5–11, 2022
Prices starting at $6,995
Please call our tour operator at:
800-543-8917
itinerary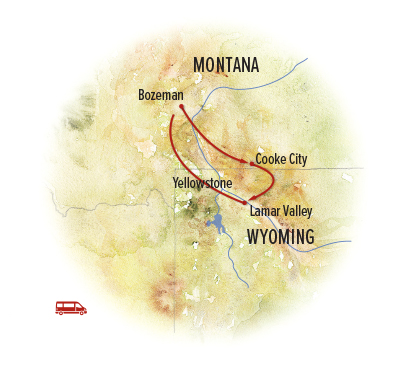 Day 1: Bozeman, Montana
Our Yellowstone adventure begins this evening in Bozeman, where we meet our expedition leaders at a welcome dinner. An orientation to the Greater Yellowstone Ecosystem introduces us to the geology and wildlife of the region, including the fabled gray wolf.
Day 2: Paradise Valley/Yellowstone National Park/Cooke City
Grand vistas of the American West are unveiled this morning as we travel through Montana's Paradise Valley, with the peaks of the Gallatin and Absaroka ranges rising on either side. Following the Yellowstone River, we may spot pronghorn antelope, coyotes, and eagles before we even enter Yellowstone National Park. Traveling along the Old Yellowstone Road, we pass a historic buffalo jump, a cliff that Indigenous peoples once drove bison over in a skillful hunting maneuver.
Specialty North American Safari Trucks offer an unparalleled vantage point for wildlife spotting, with double-wide roof hatches and a window seat for each traveler. Entering the park's northern gate, we are quickly immersed in a wildlife wonderland. Scout for bison, elk, and bighorn sheep, and possibly a glimpse of our first wolves as well, since they range across the entire northern reach of the park. We will witness the geothermal features of Mammoth Hot Springs, where piping-hot water penetrates the frozen ground, creating clouds of steam; and learn about the establishment of Fort Yellowstone near this historic park settlement. Later this afternoon, we drive east across Yellowstone's Northern Range to Cooke City, getting our first look at the prime wolf habitat we'll explore in depth over the next few days.
Day 3: Wolf Tracking in Yellowstone's Lamar Valley/Photo Gallery Visit
Following an early continental breakfast, we're off to the Lamar Valley on an intensive search for wolves. This broad, glacially formed expanse of grassland laced with streams is prime gray wolf habitat, and our expedition leaders will teach us how to look for them. Wolves are drawn here because of the resident elk and bison herds, and by hunting in packs, they are capable of bringing down large prey. While winter is the best time to spot them, since they are readily visible against the snowy backdrop, we must employ patience in our efforts to find these elusive predators. Be sure to bring your longest lens: we generally observe wolves at a distance, but our guides carry high-powered spotting scopes that offer a clear vantage point on their captivating behavior.
After an exhilarating morning, we return to Cooke City for lunch and a visit to the Hartman Gallery, with a slide presentation by Dan Hartman. Dan is a local naturalist and renowned Yellowstone wildlife photographer whose wolf images are widely acclaimed. He'll share insightful observations about wolf behavior gleaned from countless hours in their presence, as well as tips for pursuing photos of wolves and other wildlife. In the waning light of mid-afternoon, we head back to the Lamar Valley for more wolf tracking, knowing our chances to see them are best at dawn and dusk.
Day 4: Lamar Valley Wolf Watching
Rising early once more, we return to the Lamar Valley to track wolves. Our expedition leaders have spent years observing them in this isolated northeast corner of the park, and our experience is enhanced by their in-depth knowledge of wolf behavior and the various individual wolves known to park researchers. While wolves are our primary focus, we expect to encounter a host of Yellowstone wildlife on this vast expanse of open range. Watch for elk, pronghorn, moose, coyotes, bighorn sheep, bald eagles, and bison by the dozens, with icicles clinging to their steaming coats. It's not uncommon to encounter species sharing the same space—sparring moose near a herd of bison, or a sheep's curling horns peeking over a cliff as an eagle glides overhead. The wintry tableau makes for dramatic images as animals stand out against the white landscape, their coats often frosted with snow and ice. Our expert guides are by your side to interpret all the drama and help you capture thrilling images.
Day 5: Lamar Valley Wolf Watching/Cinematographer Visit
In the gentle rays of dawn, we are in the Lamar Valley once more to scout for wolves. Although they are highly wary of human presence and can be difficult to spot, our expedition leaders work tirelessly to find them, remaining in constant communication with local researchers to monitor wolf activity and locations. Sometimes we may see a whole pack in search of prey or a few individuals hunting together—always a thrill. We'll have a chance to snowshoe, too, to examine the snowpack for signs of winter wildlife, from weasel tunnels to scat, and bison head imprints created as these one-ton beasts forage for buried grasses. We'll search for bear claw marks on the trees and wolf tracks under foot. This evening, we're joined by Emmy Award-winning wildlife cinematographer Bob Landis, a legendary filmmaker in the Yellowstone region. Bob's intimate footage of wolves has appeared on PBS Nature and the National Geographic Channel, and his personal presentation to our small group is an inspiring addition to our photography adventure.
Day 6: Blacktail Plateau/Bozeman
Today we explore the Blacktail Plateau in the park's northern reaches, by vehicle and on foot. This relatively open habitat is among Yellowstone's best winter range, inhabited by large herds of bison and elk due to minimal snow on the often-windblown slopes. The plateau is frequently the site of the first post-hibernation grizzly bear emergence in Yellowstone. Mid-March may provide a special opportunity to witness this first sign of spring in the world's first national park. We'll also view two different waterfalls—Undine Falls and Wraith Falls—that may still be frozen, depending on winter weather conditions. After a stop to witness the steaming white limestone terraces of Mammoth Hot Springs, we exit the park by late afternoon and head north once more through the Paradise Valley. The Yellowstone River flows through this aptly named landscape, renowned for world-class trout fishing. The valley is also an important winter range for wildlife, and we have excellent opportunities to spot bald eagles, rough-legged hawks, mule deer, white-tailed deer, and elk. Reaching Bozeman once more, we share a farewell dinner together.
Day 7: Bozeman/Depart
Our Yellowstone wolf safari concludes with a transfer to the airport to connect with departing flights. Travelers wishing to spend extra time in Bozeman will have the remainder of the day free to explore this historic Old West/New West town. With its rich mining and trapping heritage, it's not surprising that Bozeman has 40 individual properties on the National Register of Historic Places. Today it is home to Montana State University and a booming tech industry, offering a wide range of cultural and outdoor activities.
Physical Rating: Easy to Moderate / Flexible