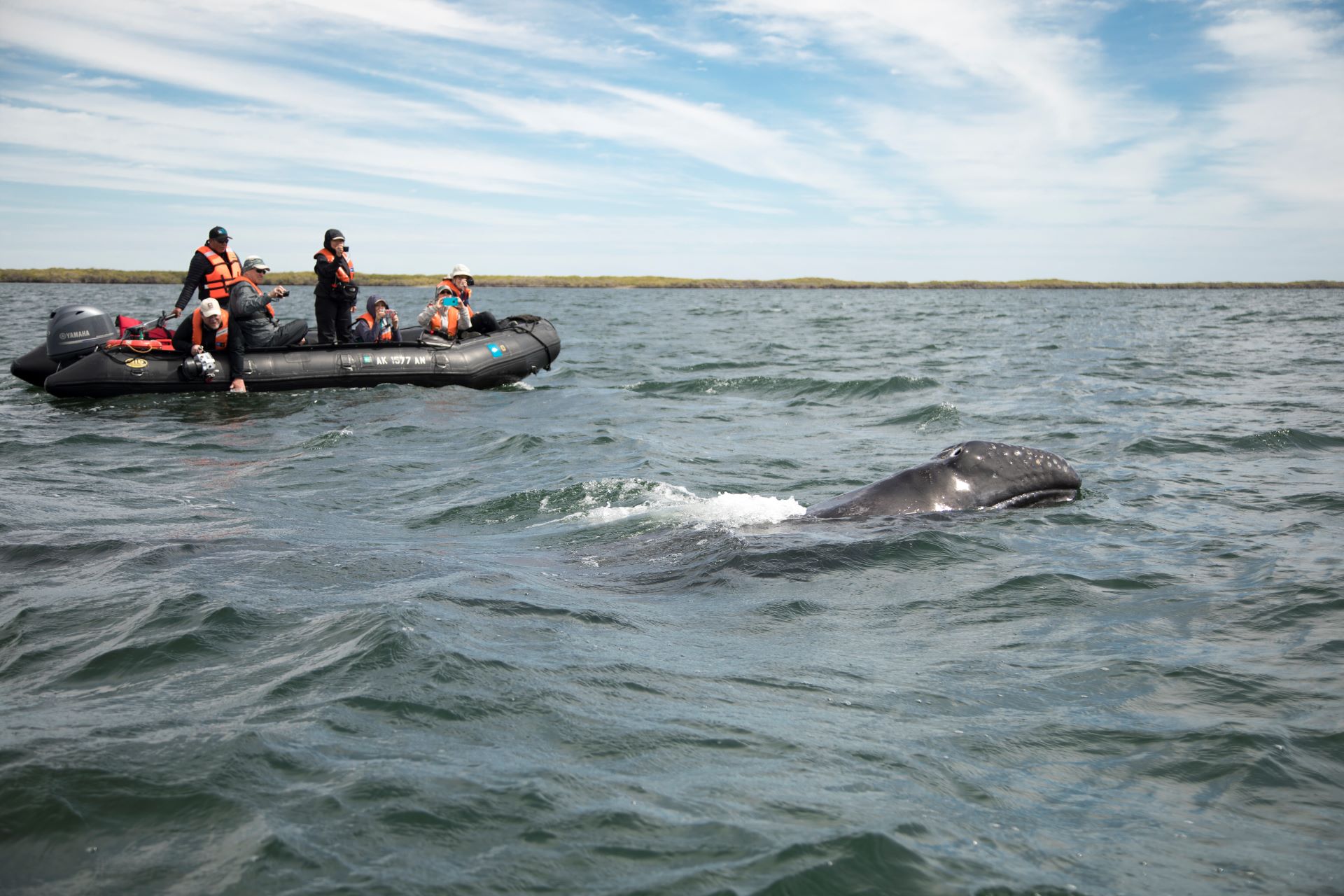 Among the Great Whales 2024
January 20 - 27, 2024
Prices starting at $6,720
Please call our tour operator at:
800-543-8917
itinerary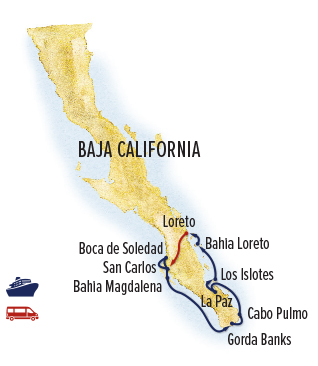 Day 1: Loreto / Embark
Arrive in Loreto by early afternoon to transfer to National Geographic Venture. Embark early evening and savor the sunset as we set sail.
Day 2: Exploring the Gulf of California
Our plan is flexible as we explore some of the gulf's many uninhabited islands. Our captain and Expedition Leader will choose the perfect combination of activities for the day. We may go ashore at Isla San Francisco, where a sweeping arc of white sand beach beckons you to kayak or stand-up paddleboard. Or hike to the nearby ridge for unparalleled views over Isla Danzante with your naturalist. You'll get a chance to see the great diversity offered in the Gulf of California, and with some luck, spot the amazing wildlife. (B,L,D)
Day 3: Los Islotes and La Paz
Conditions permitting, we'll anchor off the coast of Los Islotes, where we'll don flippers, a mask, and snorkel (which we provide) and swim with curious sea lions. Then we'll reposition to the colorful city of La Paz to garner insight into the culture of Mexico, soak in the vibrant street art, and stroll the lively "Malecon." Dinner will be an unforgettable cultural experience, complete with local cuisine, dancing, and folklore. (B,L,D)
Day 4: Gorda Banks and Cabo Pulmo
Kickstart your day snorkeling the pristine reefs of Cabo Pulmo National Marine Park, one of the most successful national marine parks in the world, and chat with locals about their advocacy to protect this unique place. We'll spend the afternoon searching the seas of Gorda Banks seamount, a renowned gathering place for whales, especially humpbacks, dolphins, and other sea life, capping off our day with a majestic sunset over the iconic Friars Rocks at Land's End. (B,L,D)
Day 5: Magdalena Bay / Cruising
Ease into your morning with morning stretch hosted by our onboard wellness specialist on the sun deck. After breakfast, if conditions permit, we'll explore the bay's mangrove system via kayak, standup paddleboard, and Zodiac, and learn how these ecosystems support their surroundings. (B,L,D)
Day 6: Boca de Soledad
Each winter, during their long migration, gray whales travel south from their Arctic feeding grounds to breed and give birth and raise their calves in these sheltered waters. We'll transfer by motorcoach to López Mateos and spend the full day observing, and with luck, interacting with these majestic creatures. Together with savvy local Mexican fishermen we've known for years, we'll board local boats to view the numerous mother-calf pairs that thrive in this sheltering region. Enjoy lunch at a local restaurant before heading back to the ship in late afternoon. (B,L,D)
Day 7: Bahia Almejas / Rehusa Channel / Isla Magdalena
Awake anchored in Bahia Almejas, the southernmost part of the Bay. We'll observe a large frigatebird colony enroute to the spectacular whale grounds of Bahía Almejas. Whales in this part of the bay tend to be very active, seemingly oblivious to our presence so settle in for some great experiences. During lunch, the ship will reposition to Isla Magdalena where we'll head to shore to explore the ever-shifting sand dunes on a cross-island walk to one of the most pristine beaches in the Pacific. Bird watching can be excellent here with abundant seabirds in action and shorebirds patrolling the beaches as they fatten up and prepare for long journeys to Arctic breeding grounds. (B,L,D)
Day 8: San Carlos / Loreto / Disembark
Disembark in San Carlos after breakfast and transfer to Loreto. Here you can choose to visit the first mission in Baja California, as well as the nearby museum to learn more about what makes this town so special. Enjoy free time to explore the quaint shops and vibrant side streets. After lunch, transfer to Loreto Airport for flights home. (B,L)
Note: This itinerary should serve as a guideline only; the actual stops are determined by weather, wildlife activity, and a host of factors in order to provide the best possible experience. This flexibility is what makes traveling on our nimble expedition ships so much more rewarding than on a large vessel with a locked-in voyage plan.