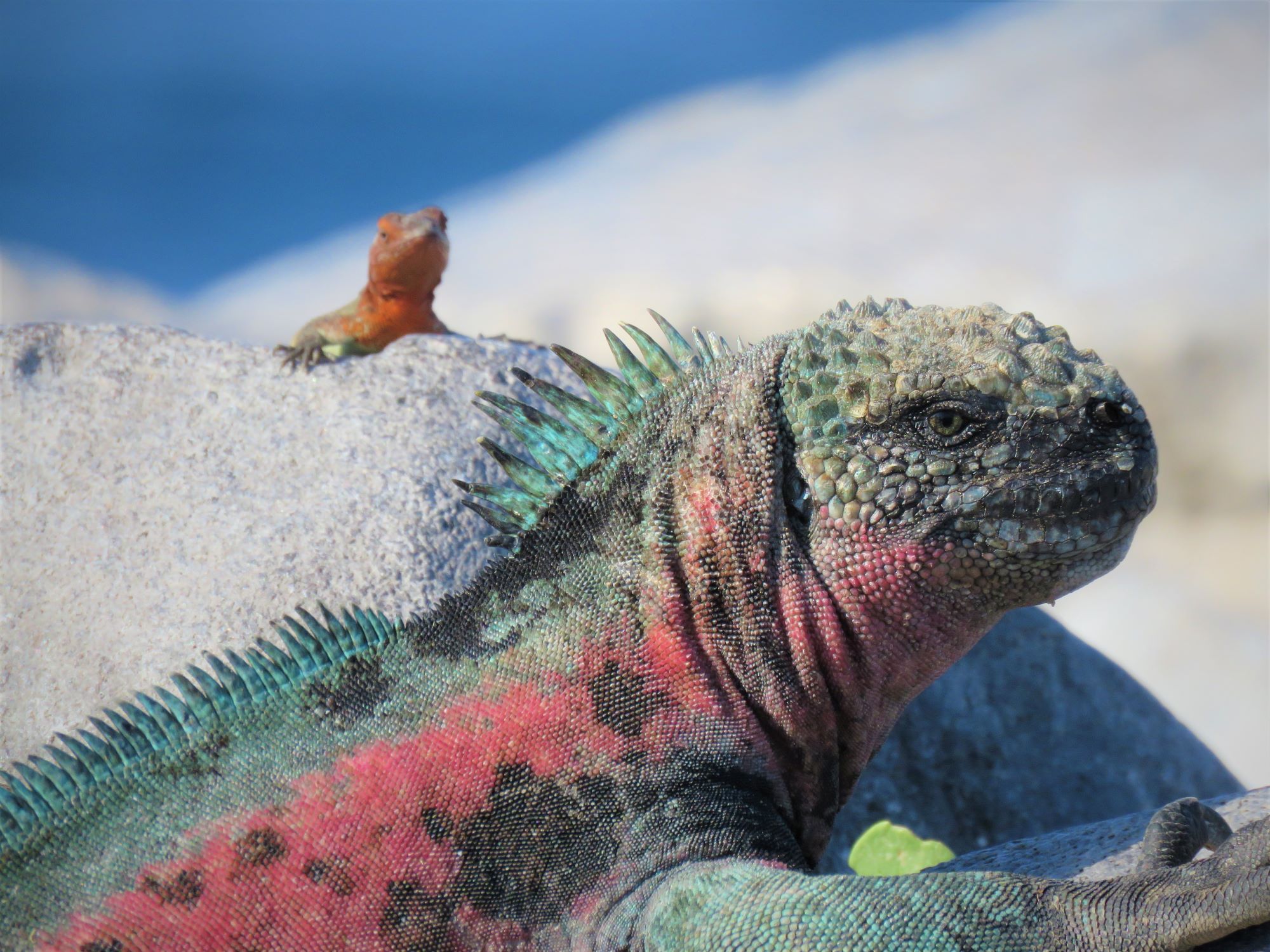 Classic Galápagos Experience 2024
December 4–13, 2024
Prices starting at $10,995
Please call our tour operator at:
800-543-8917
faqs
When is the best time of year to visit the Galápagos Islands?
The Galápagos Islands are an amazing place to visit any time of year; however, there are some slight weather and wildlife differences from season to season. Due to the equatorial climate of the islands, temperatures do not vary much from month to month, so you can't go wrong whatever season you choose.
What time of year has the calmest seas in the Galápagos?
The waters in the Galápagos are generally calmer during the months of December through May and can have more movement June through November. Some of our travel will be in the open ocean where waters can be very unpredictable.
What wildlife will I see in the Galápagos?
We're glad you asked! The Galápagos Islands is the singular most astonishing wildlife viewing spot on the planet. Here, you'll likely see Galápagos sea lions, Galápagos fur seals, Pacific green sea turtles, giant tortoises, marine and land iguanas, lava lizards, bottlenose dolphins, Sally Lightfoot crabs, Galápagos penguins, blue-footed boobies, hundreds of tropical fish, and various other sea bird species. The Galápagos are also home to several whale species, and our best chances are to see sperm whales and Bryde's whales, though we've also seen orcas and blue whales. And, amazingly, most of these creatures show no fear of humans!
Are there any animals that are seasonal in the Galápagos?
Nearly every species encountered in the Galápagos Islands arrived there floating on logs or "rafts" of plants/seaweed. Or, in the case of much of the birdlife, they were blown in. Lucky for travelers, that means most of the iconic wildlife of the Galápagos remains there year round. The only exception is the waved albatross, which is one of the few migratory birds in the Galápagos. The best time to see the waved albatross is April through mid-December. Egg laying occurs from mid-April to late June, and the colonies are active, with parents feeding their single young, through December. When the fledged bird finally leaves the nest, it does not return for four or five years. From January to March, all the albatrosses remain at sea.
How close will I get to wildlife in the Galápagos?
Most Galápagos wildlife is indifferent to human presence, so it is highly likely we'll come very close to many animals on the islands and in the surrounding waters. Galápagos park rules state that we cannot get within six feet of any animal.
What clothes should I pack for this Galápagos trip?
Bring lightweight clothing and adequate sun protection for warm days on the water. It may be windy on the ship, and rain is always possible, so pack warmer layers and waterproof rain gear. 
Will SDZWA provide wetsuits and gear for snorkeling in the Galápagos Islands?
Yes, we provide snorkel gear (wetsuits, fins, mask, and snorkel) for use throughout our adventure. However, if you have your own mask and snorkel, we highly recommend bringing them with you to ensure better comfort and proper fit. There is a large supply of fins, so you will not need to bring your own. If you have an unusually large or small shoe size, please notify our office prior to your departure so we can arrange for gear that will fit properly. There are also life rings provided for those who feel more comfortable with something to hold onto while snorkeling. You are also welcome to wear one of our provided life jackets.
How physically fit do I need to be to travel to the Galápagos Islands?
Our Classic Galápagos trip is rated as easy to moderate, with long days filled with short walks and snorkeling activities. On all trips, each guest has the option to opt out of any activity; however, alternate activities may not be provided.
What are the meals like on the ship in the Galápagos Islands?
Meals on board tend to be served buffet-style with several options for each meal offered. They are a blend of Western-style meals and a sampling of Ecuadorian dishes. The food is plentiful and delicious. Special dietary needs can easily be accommodated.
What is it like to stay at the Tortoise Camp?
Built exclusively for our guests, the Tortoise Camp is a collection of elevated, safari-style tents and tree houses located atop a hillside that overlooks the Pacific Ocean. The camp is set amid the conservation habitat of several dozen giant tortoises, and from July through February guests will regularly see these massive creatures strolling around the property. Tents and tree houses are equipped with beds, large viewing windows, flush toilets, showers and sinks. Our gourmet evening meal is eaten in our thatched dining area, with open views of the surrounding lush highland environs. During the day we will explore the lava caves that are unique to this remote property. Note: guests staying aboard the National Geographic Islander will not stay at the Tortoise Camp.
How rough are the seas in the Galápagos Islands? Is seasickness common on small ships?
The waters around the Galápagos Islands are generally calm, but during bad weather, and when the boat is traveling against the current, the waters can become a bit rough. From July to December the waters tend to be choppier, especially in September and October, because of the Humboldt Current that comes up from Antarctica. We tend to do our traveling at night so seasickness is usually not a big problem, but it does happen. Some travelers prefer to take medication for preventative measures for seasickness. If you are at all susceptible to motion sickness (or if you are unsure), we recommend bringing medication with you. It is better to err on the safe side and bring extra medication, as we generally do not keep medication available on board the boat.
Will there be opportunities to snorkel or dive in the Galápagos Islands?
There will plenty of opportunities to snorkel (sometimes twice a day!), which is the highlight of visiting the islands for many of our guests. By maintaining the smallest groups, we ensure a more personal marine life experience, snorkeling with penguins, sea turtles, rays, sea lions and more. Diving is not offered on our trips.
What currency is used in Ecuador? Will I be able to exchange money or use credit card on the ship?
The national currency of Ecuador is the U.S. dollar. We recommend having cash on hand for incidentals, souvenir purchases and gratuities. Credit cards, particularly Visa, are widely accepted in Quito. ATMs are available in Quito, but they are not easily accessible on the islands.
Is there cell phone service or Internet access in the Galápagos Islands?
Wi-Fi will be available at our hotel in Quito. There is no internet access while on board the ship in the Galápagos. There is very limited cellphone reception in the Galápagos (guests must have an international plan) and none whatsoever on the outer islands. We encourage guests to unplug during the adventure and most enjoy being disconnected during their time on the ship.
Are the Galápagos Islands appropriate for children?
Our Galápagos trips are most appropriate for children ages 7 and up. Our expedition leaders are known for their excellent rapport with kids. This fun dynamic, along with a diverse array of activities and unforgettable wildlife encounters, will leave children with lifelong memories. While 7 is our recommended minimum age, we believe that you, as a parent or guardian, are best qualified to determine whether your child would enjoy and be well suited for this type of trip. We encourage you to make the judgment based on whether your child can comfortably handle this experience without compromising the comfort of others. We strongly encourage you to call our office to speak with an Adventure Specialist about the specific requirements of all of our Galápagos trips.
What is the best way to get to Quito to meet the group?
Guests are responsible for booking round-trip flights from their home city to Quito, Ecuador. We recommend that you use us to book your flights, as our Air Travel Specialists are intimately familiar with the requirements of our trips and can arrange the most efficient and cost-effective travel into Quito.
How will we get to the Galápagos Islands from Quito?
We'll fly from Quito to the Galápagos Islands, where we'll meet our ship and crew. We will arrange these group flights for you.