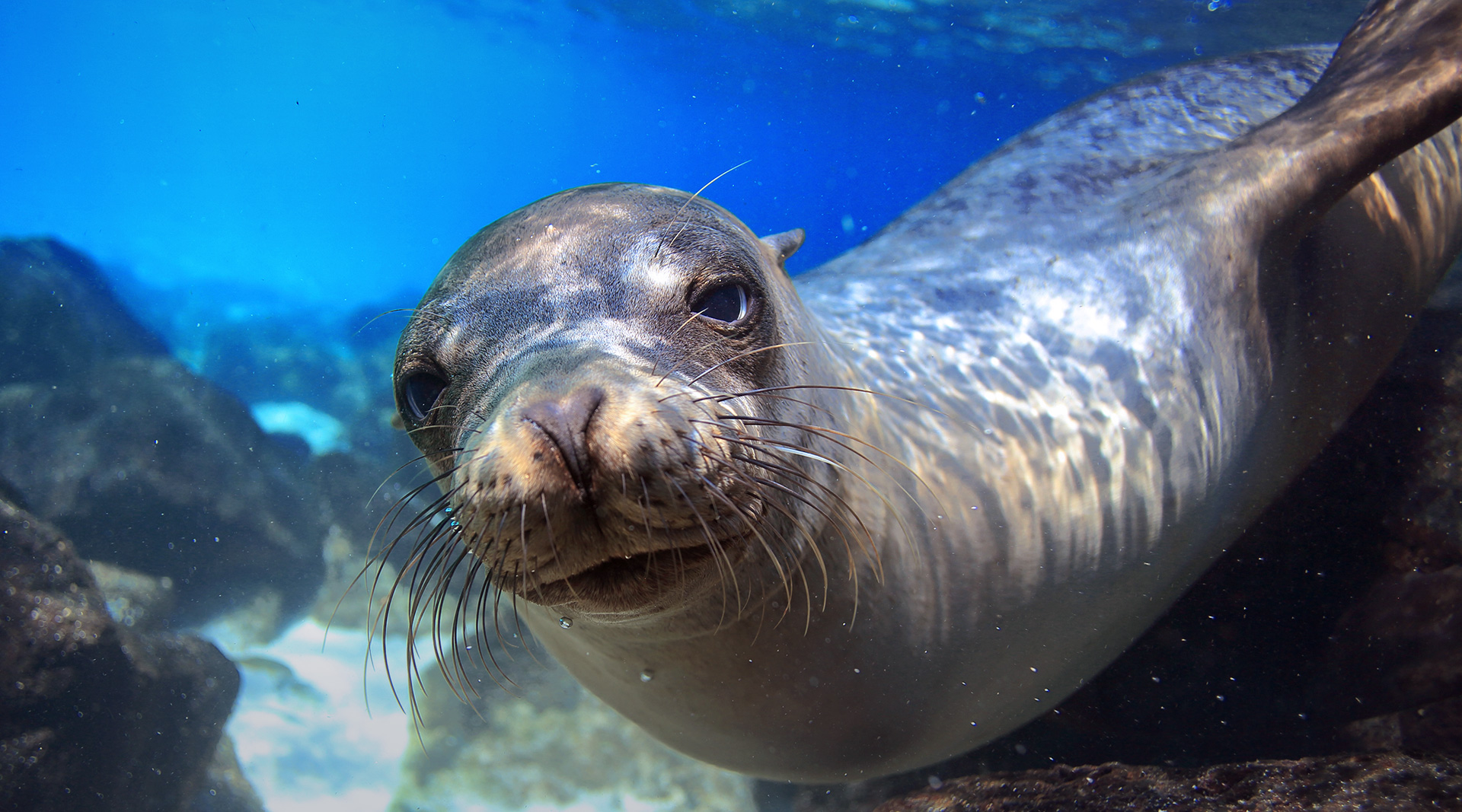 Classic Galápagos Experience 2024
December 4–13, 2024
Prices starting at $10,995
Please call our tour operator at:
800-543-8917
itinerary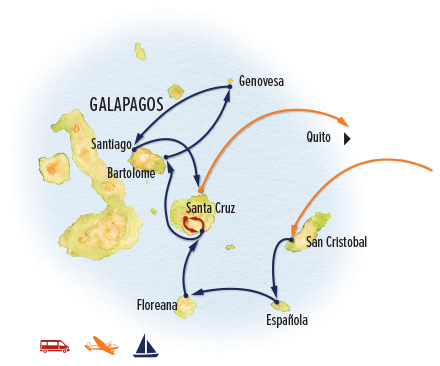 Day 1: Quito, Ecuador
Upon arrival at the airport in Quito, you are met by our local guide and transferred to the city's historic center, about an hour away. Settle into our boutique hotel in the heart of the colonial quarter, and enjoy dinner on your own this evening.
Day 2: Exploring Historic Quito
After breakfast, embark on a full day of discovery in Ecuador's capital. Heralded as Latin America's best-preserved colonial city, Quito's Old Town is a UNESCO World Heritage Site filled with cobblestone lanes, elegant plazas and monuments, and ornate gilded churches. On a guided city tour, take in a panorama of the city and surrounding volcanic peaks from Panecillo Hill, visit the 16th-century Church and Convent of San Francisco, and wander through San Francisco Square. Marvel at the baroque splendor of La Compañia Church with its gleaming gold-leaf interior, and survey Independence Plaza, the original center of Quito from which we view the Archbishop's Palace, Cathedral and Presidential Palace.
We also visit an artisanal chocolate shop featuring products handmade from Ecuador's finest cacao. Ethically cultivated by a women's cooperative using traditional organic techniques, this rare cacao is prized by the great chocolatiers of the world for its heady aroma and unique flavor. We'll do a chocolate tasting, pairing different varieties with craft beer also made of cacao. Following lunch, the afternoon is at leisure to explore the city further on your own or visit the traditional workshops along La Ronda, one of Quito's oldest streets, where artisans craft everything from hats to wooden toys. This evening, we gather for a welcome dinner with one of our Expedition Leaders.
Day 3: Quito / San Cristobal, Galapagos Islands—Board M/C Petrel
Depart early this morning for the Quito airport and our flight to the Galapagos Islands, landing at San Cristobal. Here, we meet our second Expedition Leader who accompanies us to the pier for the start of our Galapagos cruise aboard the stylish luxury catamaran Petrel. After settling into our cabins, join our guides for an orientation and safety briefing. After lunch aboard, we set off for a hike to the top of Frigatebird Hill where we're rewarded with spectacular views of the coast, Kicker Rock, and the town of Puerto Baquerizo Moreno. Seabirds soar overhead, and we're likely to see frigatebirds with their distinctive red chests. Back on board the Petrel, sit down to enjoy dinner as we cruise off into the sunset.
Day 4: Española—Gardner Bay / Punta Suarez
Our first port of call is the island of Española, one of the most prolific wildlife sites in the Galapagos. In the morning, we visit an excellent snorkeling site off Gardner Islet with a colorful diversity of sealife and caves to explore by panga. Later, we land at Gardner Bay, with its long stretch of white sandy beach usually half-covered by a large colony of sea lions. Swim with them right from the beach, or relax on the powdery sand where curious mockingbirds sometimes peck at our sandals. Cruising around to the other side of the island, we step ashore at Punta Suarez, where we find the greatest number of endemic species in Galapagos. From April to December, the huge waved albatross, found only on Española, performs its raucous mating ritual. Colonies of blue-footed boobies show off for potential mates while red-billed tropicbirds take shelter on the cliff walls. We also find Darwin's finches, Galapagos doves, Galapagos hawks, and a unique subspecies of red and green marine iguana endemic to this island.
Day 5: Floreana—Punta Cormorant / Devil's Crown / Post Office Bay
This morning we land at Punta Cormorant on Floreana, one of the few populated islands in the Galapagos. Following a trail through a Palo Santo forest to a brackish lagoon, we find pintail ducks, common stilts and bright pink flamingos. As we wind our way past a rich variety of plants, we reach a beach of fine sand where sea turtles lay eggs in the dunes, and rays swim in the shallow water. Later, we snorkel at Devil's Crown, an eroded volcanic cone that is a roosting site for boobies, pelicans and frigatebirds. Here, we drift-snorkel with the current above the sunken craters colonized by a brilliant array of corals and colorful fish. Rays, sea turtles and reef sharks are also frequent visitors.
Floreana's rich human history is filled with intrigue, including tales of pirates who once hid out here. At Post Office Bay, we learn about a relic of this colorful past, the "Post Office Barrel." Established by British whalers in 1793, it's still a means for travelers to leave mail for personal delivery via visitors passing through. We can also snorkel right from the beach in search of sea turtles.
Day 6: Santa Cruz—Tortoise Breeding Center / Nat Hab's Private Tortoise Camp
Land at Santa Cruz this morning where our day begins in Puerto Ayora, the island's main town. Here, we visit the Fausto Llerena Breeding Center, the world-famous tortoise-rearing center managed in a partnership between Galapagos National Park and the Charles Darwin Research Station. Learn about efforts by international scientists, guides, rangers and park managers to research and conserve the unique habitats and species of the UNESCO World Heritage Site that is the Galapagos. At the tortoise-rearing facility, view the protection pens where tiny hatchlings are bred to increase the depleted tortoise population, a central focus of the station's conservation mission. To date, more than 5,000 tortoises bred at the center have been released into the wild.
After time to explore town, followed by lunch back on board, we disembark to ascend by van into the misty highlands of Santa Cruz, arriving at Nat Hab's private Tortoise Camp. This exclusive setting offers a rare opportunity to spend a night in wild tortoise habitat, and these ancient, gentle reptiles that are the archipelago's namesake often wander right through camp. Accommodations are in safari-style raised platform tents and treehouses with views of the ocean. While rustic, they offer comfortable amenities, including real beds and private en suite facilities—with matchless proximity to wild tortoises in their natural habitat. Attracted to the area's lush vegetation, tortoises are most commonly seen in camp from July through February. From March to June, we make an excursion to a nearby tortoise reserve for closer views, as they migrate seasonally to a lower elevation. Near our camp, we explore a network of subterranean lava tubes and caverns.
Please note: At times, Tortoise Camp may be closed due to poor weather conditions.
Day 7: Santa Cruz / Bartolome—Pinnacle Rock
We continue our exploration of Santa Cruz this morning, in search of more giant tortoises. During the season when they are rare in camp, we visit a tortoise reserve in the highlands to spend more time with these amiable reptiles. This afternoon, we return to the Petrel and sail on to tiny Bartolome, where we snorkel with penguins around the base of Pinnacle Rock. Gentle white-tipped reef sharks, sea turtles and stingrays are also common sightings. A climb to the island's highest point offers 360-degree views as we pass intriguing geological formations such as spatter cones, tuff cones and lava tubes along the way. From the summit, a panorama unfolds of the surrounding islands and Pinnacle Rock, famously shown in the 2003 film Master and Commander. Those who prefer not to hike can take a panga ride along the shoreline, watching for rays and reef sharks just below the surface.
Day 8: Genovesa—Darwin Bay / Prince Philip's Steps
Genovesa Island, also called Tower, is a collapsed shield volcano whose flooded caldera attracts vast numbers of pelagic seabirds that gather here to breed and nest. Inside the submerged crater thousands of great frigatebirds, red-footed boobies, swallow-tailed gulls, Galapagos storm petrels and yellow-crowned night herons create a cacophony of squawks. We anchor at Darwin Bay, formed thousands of years ago after the collapse of the volcano's roof. Surrounded by vertical cliffs, the bay is an ideal breeding site for the more than 1 million birds that congregate on Genovesa. Our second landing is at El Barranco, also known as Prince Philip's Steps. This steep path with stairs carved into the rock leads to a plateau full of birdlife within a Palo Santo forest. Walk among colonies of great frigatebirds and Nazca boobies to a lava field where storm petrels nest in underground lava tubes. We may also see Galapagos doves, mockingbirds and perhaps an endemic short-eared owl.
Day 9: Santiago—Puerto Egas / Buccaneer Cove
At Puerto Egas on Santiago, we make an early-morning landing on a black sand beach with eroded rock formations. Following a trail across the dry interior, observe the remains of a salt mining enterprise before continuing along the coast. Birdlife abounds, with great blue herons, lava herons, oystercatchers, yellow-crowned night herons and seasonal shorebirds on display. In the lava grottos we find a colony of Galapagos fur seals, one of the only places in the Galapagos where we see these endemic animals from land. Afterward, there's time to swim or snorkel from the beach with the resident sea lions. Snorkeling at Buccaneer Cove, which was once a refuge for British pirates, offers a glimpse of underwater rock formations, sea turtles, rays and reef sharks. 
Day 10: Santa Cruz / Quito / Depart
Returning to Santa Cruz this morning, we visit Black Turtle Cove, a sheltered lagoon on the north coast of the island at the entrance of Itabaca Channel. Snorkel or take a panga ride to explore the shimmering turquoise water, hoping to see white-tipped reef sharks, rays and sea turtles. As we say farewell to the Petrel's captain and crew, it's time to transfer to the airport for our flight back to the mainland. Upon arrival at the Quito airport, travelers booked on overnight flights home may transfer to a hotel located just minutes away, to refresh and relax in a comfortable day room before departure. A complimentary shuttle will return you to the airport in time for your evening flight.