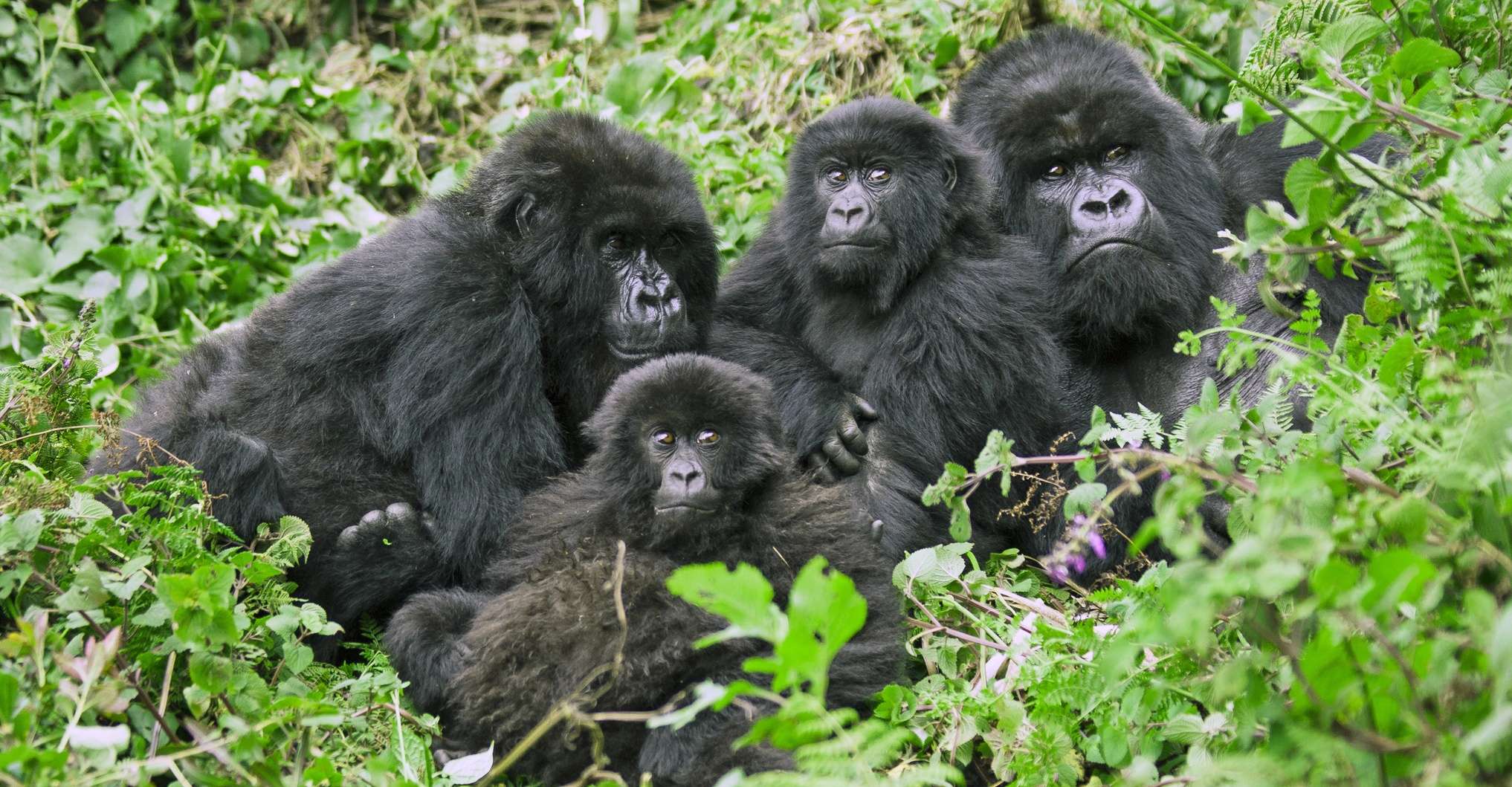 The Great Uganda Gorilla Safari 2024
July 6–15, 2024
Prices starting at $11,495
Please call our tour operator at:
800-543-8917
Limited to 12 Travelers
A Rare Opportunity to Sit with Families of Endangered Mountain Gorillas
You push aside a tangled rope of vines, pressing through the maze of foliage, when at last you see them. Ten or 12 gorillas sit in a forest clearing, two more up in a tree. They stop munching for a moment to observe you, nonchalant. A few feet away, you spy the big silverback. Twice the size of the young females, he sits on massive haunches, stripping leaves from branches. He's close enough to hold your gaze with his liquid brown eyes. Something primal, inexplicable, connects the two of you in that moment. The rest of the world slips away outside this rare encounter. On this riveting wildlife expedition, meet mountain gorillas at close range and observe a host of other primates, too, including chimpanzees.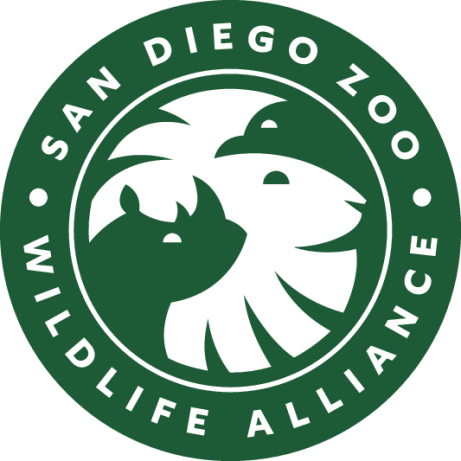 This trip will be hosted by a SDZWA Wildlife and Conservation Expert
The host for this trip will be an SDZWA expert on wildlife specific to the region. They will be with you every step of the way, to educate and inspire you, and to share their passion for nature! Check back for more details.
Trip Highlights
An Extended Gorilla Immersion
Two separate treks through the rain forest of Uganda's Bwindi Impenetrable National Park offer captivating close encounters with endangered mountain gorillas
See Chimpanzees & Other Wildlife
Observe wild chimpanzees on two treks in Kibale National Park, and view a wide array of classic African plains game in Queen Elizabeth National Park
Exclusive Features for a Premier Safari
A dedicated SDZWA Host, outstanding Expedition Leaders, the finest ecolodges close to wildlife, plus two chartered flights (avoiding long drives) set this Uganda primate safari above the rest!i
Choose us for the Most In-Depth Encounter with Uganda's Wildlife
A trek to see Uganda's mountain gorillas offers wildlife lovers a rare, transformative travel experience. While tracking gorillas is our main focus, Uganda offers much more, and this comprehensive safari highlights a variety of wildlife encounters, including chimpanzees and colobus monkeys, plus classic big game and some of Africa's best birding in Queen Elizabeth National Park. Read more about why our Uganda safari is your most rewarding option:
See Uganda's Primates—and So Much More!




While most safari-goers come to Uganda to see endangered mountain gorillas, many may not realize that Uganda is a microcosm of East Africa—this small country is home not just to rain forest primates but a host of classic African safari animals. Our comprehensive and diverse itinerary is designed to take it all in.

Internal Flights for Extra Time & Comfort




Many safari companies drive both ways between Entebbe and western Uganda by mini bus or safari truck, an arduous journey over bumpy dirt roads in sub-par vehicles. We, on the other hand, provide a level of comfort rarely offered by other operators. Our round-trip chartered flights allow us extra time on safari rather than spending time in transit over rough roads—and generous baggage limits allow ample weight and space for camera gear.

Boutique Lodges Offer Secluded Respites & Maximum Wildlife Viewing
While most visitors to Uganda stay in large hotels in the national parks, sharing the experience with hundreds of others in pop-top mini vans, we choose distinctive accommodations away from crowds. Of course, location is critical, and each of our accommodations has been chosen above all for its outstanding proximity to wildlife. Stay at a luxury boutique lodge atop the rim of a volcanic crater lake, an intimate tented camp nestled in the remote Ishasha Sector of Queen Elizabeth National Park, and secluded forest chalets on the edge of Bwindi.

A Window Seat For Each Traveler
Uganda is a visually spectacular country, with terrain ranging from lush, rolling tea plantations and steeply terraced farmland to the snowy summits of the Rwenzoris and open savannas of the east. Against this backdrop, wildlife drives reveal elephants, lions, plains game, colorful birdlife (Uganda is a birder's paradise) and more—not to mention Uganda's beautiful people. You will definitely appreciate your guaranteed window seat!
Itinerary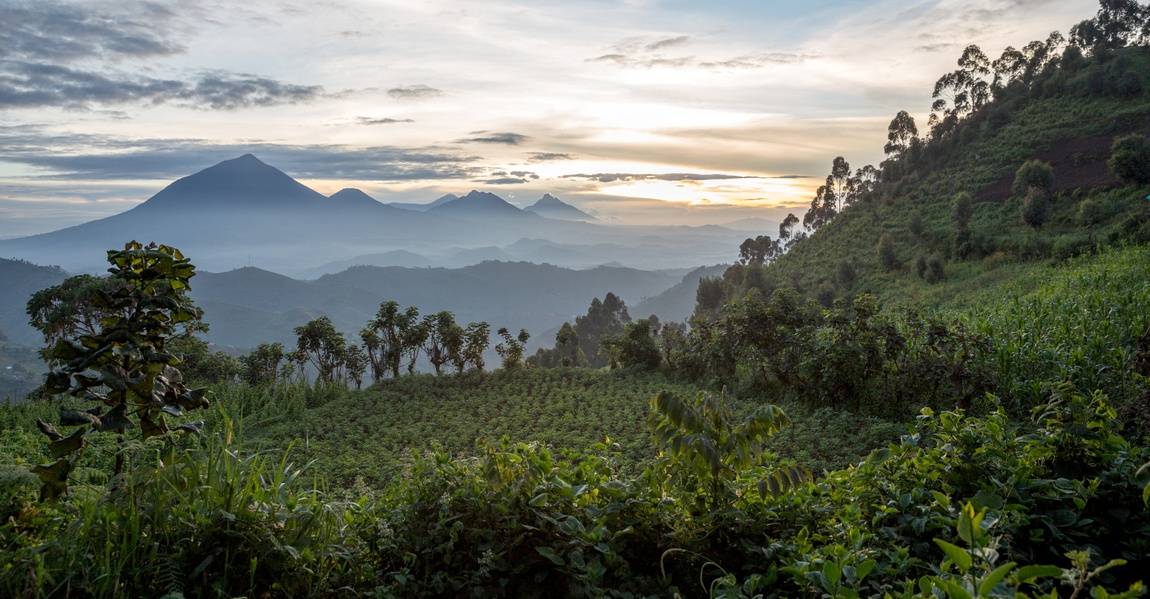 Day 1–10: Revel in face-to-face encounters with endangered mountain gorillas and see chimps in Kibale Forest as we explore Uganda's diverse natural wonders.
Accommodations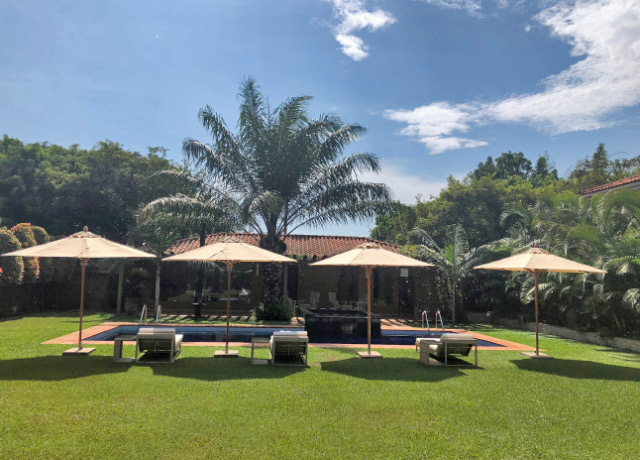 Hotel No. 5
Entebbe, Uganda
Hotel No. 5 is a stylish boutique hotel tucked away in Entebbe's leafy suburbs, just 10 minutes from the international airport. Its luxurious accommodations on Lake Victoria provide a peaceful escape from the urban buzz. Ten airy rooms open onto a lush lawn, palm-studded garden and shaded swimming pool. Plush beds feature mosquito-net canopies, and oversized upholstered furnishings, including armchairs, add to a cozy and contemporary atmosphere. In these calm, earth-toned environs, polished floors are complemented by soft rugs, and a full wall of windows illuminates the space. Each room has air conditioning, en suite bathroom, Wi-Fi, flat screen TV, a safe, and tea- and coffee-making facilities. The hotel offers spa treatments and a gym, and the restaurant features a gourmet menu paired with an international wine list.
Ndali Lodge
Kibale Forest, Uganda
Ndali Lodge in Kibale Forest is one of the most exciting accommodations we offer... anywhere! The setting is one of the most dramatic in Africa: the lodge is perched on the rim of an extinct volcano that has filled with water to become scenic Lake Nyinambuga – 250 acres in size and 430 feet deep.
The main thatched lodge has a spacious sitting room, reception area and dining room flanked by eight cottages providing luxurious accommodation for 16 guests. The west-facing cottages have a panoramic view of the rainforest-draped 'Mountains of the Moon.' Cottages are built of local stone and thatch, and the interiors are imaginatively and comfortably furnished using local natural materials. Each cottage, large enough to accommodate a family, has en suite facilities with bath, shower, toilet and wash basin, plus a private veranda, ideal for watching the sun set behind the Rwenzori Mountains, the snowcapped peaks of which are easily visible on a clear day.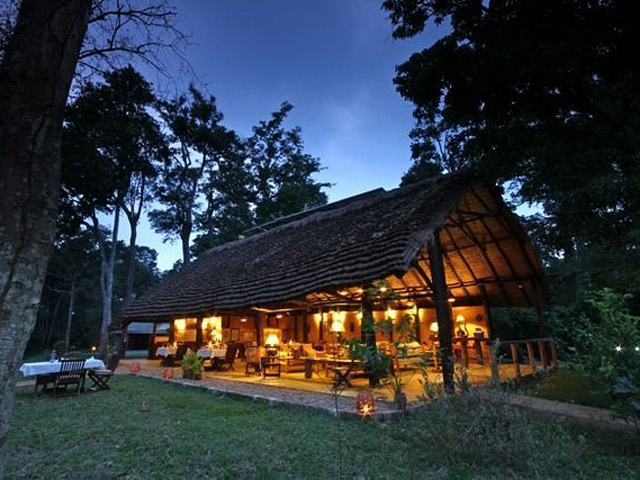 Ishasha Wilderness Camp
Queen Elizabeth National Park, Uganda
Ishasha Wilderness Camp enjoys an isolated setting on the Ntungwe River in the remote southern Ishasha sector of Queen Elizabeth National Park. The region is famed for its tree-climbing lions, which can sometimes be spotted in the branches of the large fig trees in the area. Ten spacious framed canvas tents are situated in the wooded area beside the river, furnished with large mosquito-netted beds. En suite bathrooms have a dressing area, hot and cold running water, "bush-style" showers, and an eco-friendly flush toilet. A central lounge, dining room and bar area under cool thatch provide a comfortable and convivial environment for meals and relaxing. A shaded area beside the river offers al fresco dining and a fireplace for guests to relax around over sundowners, sharing their day's experiences. The camp is designed to be as low-impact as possible, with carefully limited usage of water, power and other resources. Solar power is used for lighting, with power outlets limited to a central area allocated for recharging cameras and other small electronic devices. Wi-Fi access is available.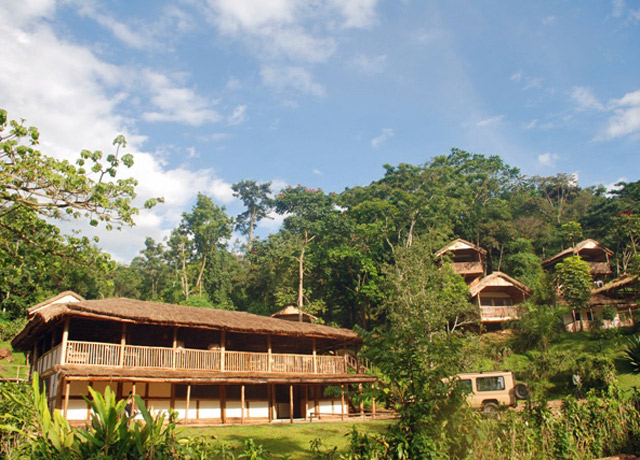 Buhoma Lodge
Bwindi Impenetrable National Park, Uganda
This inspiring ecolodge provides an ideal location for gorilla treks into Bwindi Impenetrable National Park, since trails into the forest leave directly from the grounds. Eight large cottages are built of local natural materials including sustainably sourced stone and wood, with decor in earthy, muted colors. Each has a private veranda offering expansive views of the virgin rain forest. Comfortable beds welcome you after a long day of gorilla trekking, and each cottage has en suite facilities with flush toilets, hot-water rain showers, locally produced natural bathroom amenities and a secure safe. The lodge's water supply is gravity-fed, and solar power provides electricity and lighting. The central lodge comprises an elevated lounge and bar serving local and imported beverages, and dining facilities offering both international and locally flavored cuisine prepared using fresh local ingredients whenever possible.  Fireplaces add warmth and atmosphere to cool evenings, providing a cozy environment in which to discuss the day's adventures. Free Wi-Fi and recharging facilities are available in the bar. Following a long day of gorilla tracking, guests can enjoy a complimentary massage in the spa treatment room by a trained in-house masseuse. The lodge also offers complimentary laundry service and hiking-boot cleaning.
Know Before You Go
Whether you're preparing for your upcoming gorilla trek or just want to learn more about Uganda, be sure to check out these useful resources.
Trip Pricing
Trip Pricing: $11,495 (+internal air/permits).  This price is based on 2023 rates and subject to change slightly.
Internal Air Cost: $1,197 per person (this will be listed separately on our invoicing)
Permits: Gorilla and chimp permits are an additional $1,800. Rarely, due to factors outside our control, trekking permit fees sometimes increase prior to departure.
Single Occupancy: For a single room, add $1,995. Or contact us to learn how you can avoid the single supplement.
Deposit: $1,000 per person (non-refundable)
Group Size
Limited to 12 Travelers
A very important feature of this safari through primate destinations in Uganda is the limited group size, as ecotourism expeditions are best experienced with fewer travelers, for the most intimate wildlife encounters and less impact on the natural environment.
Specialized 4x4 Land Rovers and Land Cruisers
Our vehicles are a key component of the superlative safari experience we offer. They were designed especially for adventures in Uganda and Rwanda, with two goals in mind: offering comfort during overland drives on sometimes-rough roads, and providing excellent wildlife viewing opportunities. We use Nissan Patrols, Toyota Land Cruisers and Land Rovers in several sizes. Depending on our group size, we may use a vehicle that seats seven, five or three passengers, plus a driver, and each traveler will always be guaranteed a window seat. Every vehicle has roof hatches that we leave open during wildlife drives for 360-degree viewing and photo opportunities, but which can be closed for comfort on longer drives. All have 4-wheel-drive and are fitted with high-quality imported tires to ensure that we can press on through rough spots. Seat belts are three-point, instead of the typical lap belts found in most safari vehicles, for added safety. All vehicles are outfitted with a cooler box with drinks, as well as tea and coffee; guide books on mammals, birds and trees; umbrellas and bean bags upon request for avid photographers. Each vehicle was designed with an environmentally friendly oil bypass filtration system that allows for an extended engine service period. This limits the amount of waste oil that must be disposed of, as Uganda and Rwanda do not yet have oil-recycling facilities.
Included
Trip price includes:

Accommodations, services of SDZWA Host and Nat Hab's Expedition Leader(s), local guides, camp staff, gorilla trackers and porter, all meals from dinner on Day 1 through lunch on final day, most gratuities, airport transfers on Day 1 and final day, all activities and entrances fees, all taxes and service fees.

Internal air cost includes:

All flights within the itinerary (this will be listed separately on our invoicing).

Permit fee includes:

Two mountain gorilla and two chimpanzee treks.
Not Included
Travel to and from the start and end point of your trip, alcoholic beverages, some gratuities, passport and visa fees (if any), optional activities, items of a personal nature (phone calls, laundry and internet, etc.), airline baggage fees, airport and departure taxes (if any), required medical evacuation insurance, optional travel protection insurance.
Physical Requirements: Moderate to Difficult
Trekking in search of mountain gorillas is a strenuous activity. This challenging hike through the rain forest to locate the gorillas usually takes between two and five hours, but it can be as short as 15 minutes or as long as eight hours (on infrequent occasions, we've had a few treks take even longer than that). Travelers must be prepared for a full day outside in humid or occasionally rainy conditions, as the exact distance to locate the gorillas is impossible to determine ahead of time. The terrain is uneven as we traverse the forest floor, sometimes requiring us to step over or around sticks and branches, and usually involves a gradual ascent. We travel at a pace to accommodate all hikers, with a designated porter to assist each traveler. Travelers are not required to participate in all activities and are welcome to forego any portion of the trip program, but in order to take full advantage of the itinerary, and in order to view the primates, guests must be able to participate fully in the hikes. Travelers should be aware that if they turn around due to fatigue, illness or any other reason, the remainder of the group, including the Expedition Leader, will go on. The returning traveler will be escorted by a local guide.
Additionally, wildlife and nature drives pose a particular type of physical demand on the body, as they require long hours of sitting and take place over terrain that is often very rough and bumpy, including dirt roads with many ruts and potholes. Travelers with back or neck problems, or other health issues that could be exacerbated by such conditions, should take this into consideration. Days spent on safari are often long, as mornings typically start before daybreak and evening meals are served after sundown. Safari accommodations and vehicles are not climate-controlled and, depending on the season, temperatures can range from quite cold to extremely humid or hot, so it is critical that travelers come prepared.
Important Information About This Trip
Perhaps the two biggest benefits of choosing us for your primate safari are our professional Expedition Leaders and our well-engineered and thoughtful itinerary - both provide for an extraordinary journey through the highlights of Uganda without backtracking. Our leader understands our guests' needs and makes special arrangements to capitalize on impromptu opportunities along the way. This trip is designed for those seeking exposure to all the diversity of Uganda's ecosystems. Each aspect reveals more of Uganda: from the chimps of Kibale, to the lush crater highlands, to the wildlife-rich savannahs of Queen Elizabeth National Park, to the impenetrable forest habitat of the mountain gorillas of Bwindi. NHA has been visiting gorillas in Africa since 1989, and this itinerary includes two treks. We ask our guests to understand that the accommodations in this region are not, collectively, of the standard that may be found in other, more established safari countries. Some lodgings are extremely luxurious while others are plain but clean and comfortable.
Mandatory Insurance
Since the areas we travel to are remote and wild (that's why we go there!), we strongly recommend that all guests have, at minimum, medical evacuation insurance for this program. While this is not required, we make this strong suggestion in the interest of our guests' safety. We recommend that your chosen independent insurance plan includes at least $250,000 in medical evacuation coverage.

To protect your investment and to provide peace of mind while you travel, we also strongly recommend purchasing comprehensive travel insurance. Plans may cover everything from medical treatment to trip cancellations, and delays and lost luggage. Please contact our office if you would like more information about the medical evacuation and comprehensive travel insurance policies we offer by calling 800-543-8917.
Getting There and Getting Home
We ask that you arrive in Entebbe, Uganda by 5 pm on Day 1 in order to attend a 7 pm welcome dinner. For those who would like to arrive in Entebbe in time to visit the botanical gardens (plan to arrive Entebbe by 1 pm), please inform your Adventure Specialist if you would like to participate in a guided group excursion to the gardens at 3 pm on the afternoon of Day 1. We encourage travelers to arrive a day or more early to rest from their plane trip. You are free to depart Entebbe after 4 pm on the final day.
We can best serve you if our Natural Habitat Adventures Travel Desk makes your reservations, as we are intimately familiar with the special requirements of this program and can arrange the most efficient travel. Please call us at 800-543-8917. Note that while we offer you the best possible rates available to us on airfare and additional nights' accommodations, you may find special web rates or better fares online.