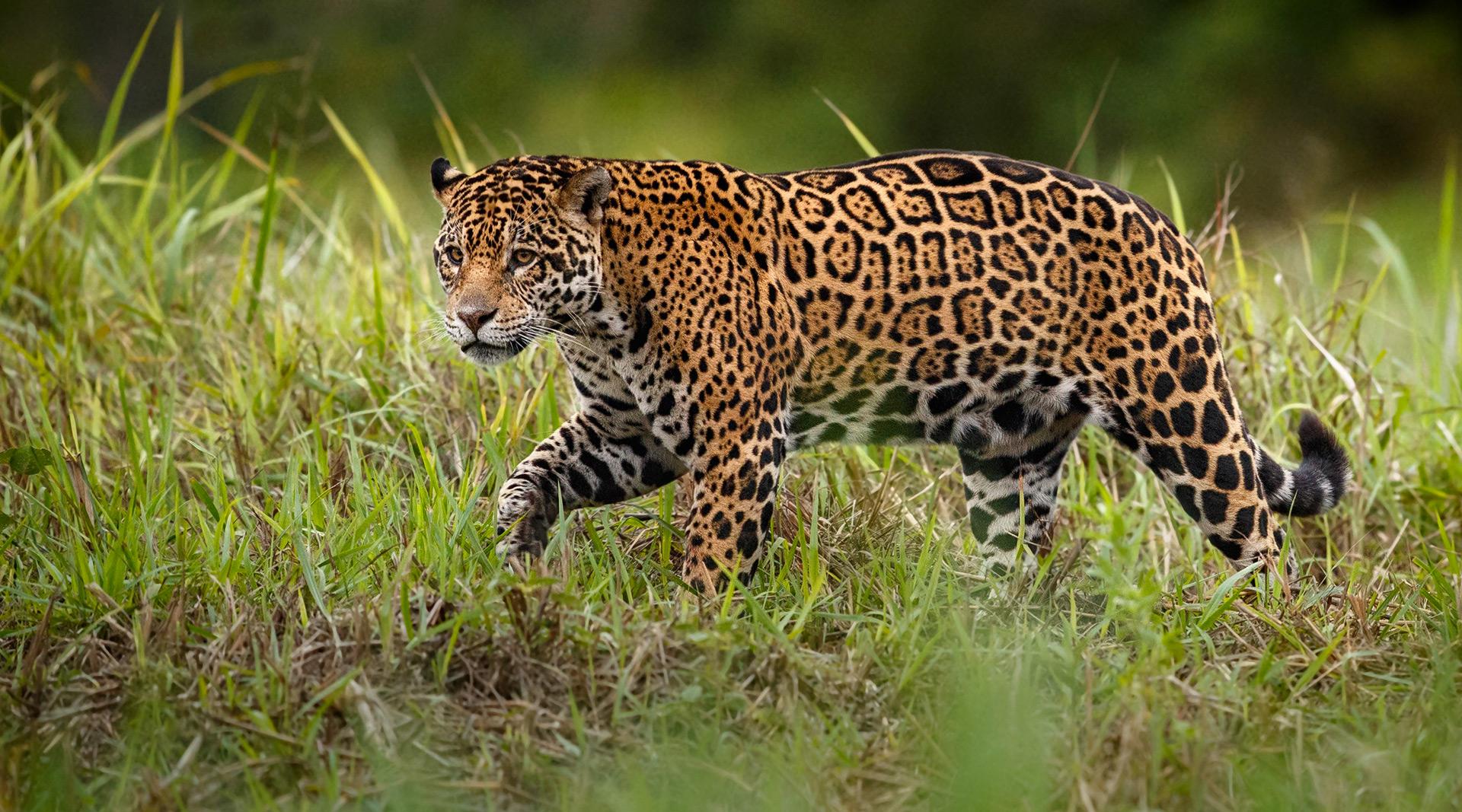 SOLD OUT. Contact us for wait list.
Jaguars & Wildlife of Brazil's Pantanal 2024
August 16-26, 2024
Prices starting at $12,295
Please call our tour operator at:
800-543-8917
Limited to 10 Travelers
An In-Depth Foray into South America's Grandest Wildlife Realm
While the Amazon may be better known, the Pantanal offers South America's greatest wildlife extravaganza. This UNESCO Biosphere Reserve is the world's largest seasonal floodplain, sprawling over 75,000 square miles in the heart of the continent and containing its densest concentration of wildlife. The vast mosaic of marsh and islands is home to 10 million caiman, 650 bird species, and 100 different mammals, including capybara and maned wolf. The Pantanal's freshwater wetlands support a profusion of aquatic fauna that attracts a host of larger predators, creating a huge, intricate food chain. At the top is the elegant and elusive jaguar—and our comprehensive Pantanal adventure offers the world's best chance to see them! On foot, by boat, and by 4x4, explore the Pantanal's verdant recesses on South America's most epic wildlife safari.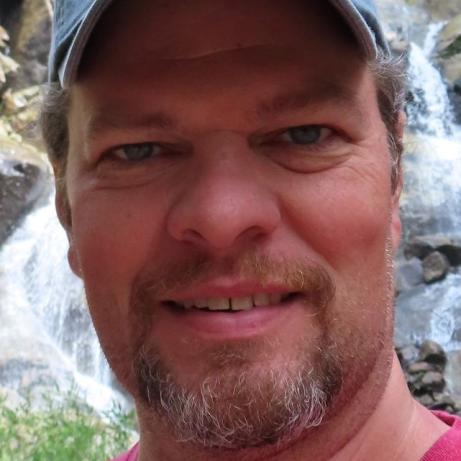 The SDZWA host for this trip will be: Todd Speis, Wildlife Care Supervisor, San Diego Zoo
Todd is the Wildlife Care Supervisor for the Sun Bear Forest Team at the Zoo. He has worked at SDZWA for over 17 years, spending most of this time as the primary caretaker for the Zoo's big cats, and more recently as a supervisor facilitating world class care of a majority of the Zoo's carnivores. One of his main focuses has been being as contributor to the establishment of the San Diego Zoo's Outcome Based Husbandry program. He has traveled to Kenya to work on conservation projects on behalf of SDZWA and has done independent travel to track Snow Leopards in Northern India. He has traveled extensively to National Parks in the lower 48 & Alaska in search of unique experiences with wildlife. As the long-time care specialist for the Zoo's famous melanistic Jaguar, Orson, Todd notes "I'm looking forward to witnessing his wild cousins' behavior in their natural environment. Also, very early in my career I had a formative experience working with a breeding pair of Maned Wolves, so I am also looking forward to the chance to see this unique & underappreciated species."
Trip Highlights
World's Best Chance to View Jaguars
Alongside expert naturalist guides, discover South America's largest wildlife sanctuary—the best place on the planet to spot jaguars in the wild!
See More of the Pantanal's Biodiversity
Explore by boat in the north, then on 4x4 drives and safari walks in the south—you won't find a more varied or comprehensive Pantanal itinerary.
Stay at a Renowned Ecolodge
Enjoy an exclusive stay at Caiman Ecological Refuge, our remote and secluded base, to seek out the giant anteater, tapir, ocelot, and hyacinth macaw.
No One Shows You the Pantanal in Such Depth!
Encompassing vast rainforests, wild ocean coast, and the world's largest wetland—the Pantanal—Brazil is a must for nature lovers. And our nature-intense itinerary immerses you in the wildlife mecca of the Pantanal in greater depth than any other trip we're aware of. See what sets this adventure apart:
The Very Best Locations for Wildlife Viewing
In the Pantanal, wildlife is even more abundant than in the Amazon. We may see Brazilian tapir, capybara, giant armadillo, giant river otter, maned wolf, caiman, and the top prize for most wildlife watchers, the elusive jaguar. But you can't stay just anywhere in this massive marsh and expect those rewards. An itinerary must be strategically based around the best wildlife-viewing locations, and this one won't let you down.
 
More Time in the Pantanal from Multiple Perspectives
We spend seven full days at three different locations in both the north and south Pantanal to fully immerse you in this UNESCO World Heritage Site and Biosphere Reserve. We explore this vast mosaic of flooded marshlands, dry islands, and savanna via multiple means, from nature walks and 4x4 drives to boat rides and canoe safaris—each mode revealing a new vantage point on the varied landscapes and their wild inhabitants.
 
Private Chartered Flight from North to South
Getting from the northern part of the Pantanal to the south can be a challenge. But rather than subject you to a 10-hour drive over rough, remote roads, plus two short commercial flights in between, which most travelers must endure, we charter four-passenger planes to fly directly to Caiman Ecological Refuge. It's not only a far more comfortable and efficient option, but you'll get a 360-degree aerial view that reveals the vastness of the Pantanal—a perspective few visitors get to see.
 
Our Lodgings Immerse You in Nature—Including Caiman Ecological Refuge
We choose our accommodations for comfort, but especially for their superb locations where wildlife viewing is best. We spend three nights in the remote Porto Jofre region, where more jaguars are seen than anywhere else. Another highlight is Caiman Ecological Refuge, part of an acclaimed private research, conservation and ecotourism initiative. Unlike more-touristed Pantanal accommodations, this exclusive ecolodge enjoys a remote, private setting, with ever-increasing jaguar sightings.
 
Your Expedition Leader Is a Top Professional Naturalist
Nat Hab has a well-deserved international reputation for the highest-quality expedition leaders in the industry. Our Brazil guides average 10 years of experience. In the Pantanal, we are also joined by local guides from each lodge, who are resident experts in the region's flora and fauna.
Itinerary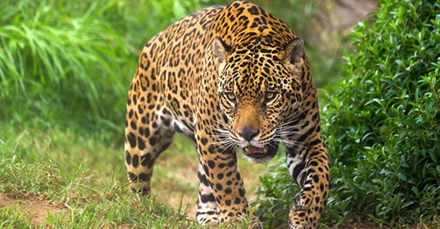 Day 1–11: Track jaguars, scout for tapirs, look for hyacinth macaws, and more in South America's most extensive wild frontier—the sprawling wetlands of the Pantanal—with some of the planet's most abundant wildlife.
Accommodations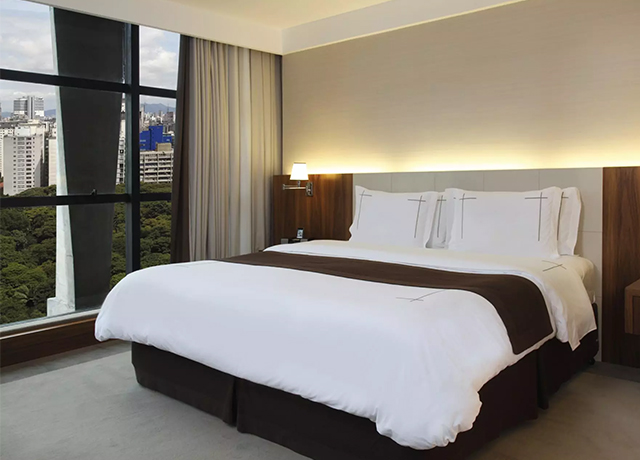 Tivoli Mofarrej
Sao Paulo, Brazil
Tivoli Mofarrej is a low-rise urban oasis in the upscale Jardins district of São Paulo. Tivoli Mofarrej's optimal location offers unmatched access to the cultural capital of South America. The 23-story tower overlooks the gardens and sculptures of Trianon Park, and a block away is bustling Avenida Paulista, where a short walk leads to the world-renowned Museu de Arte de São Paulo (MASP). But just as notably, Tivoli Mofarrej is a luxury retreat unto itself. Named one of the "Top 20 Hotels in South America" in Conde Nast Traveler's Readers' Choice Awards and rated among the top 1% of the best hotels in the world by TripAdvisor, Tivoli Mofarrej is an ideal sanctuary to start and end your journey.
The hotel's 218 rooms are flooded with natural light and decorated with contemporary finishes and orchid arrangements. Each room is equipped with black-out curtains, air conditioning, an executive desk, mini bar, safe, and spacious bathroom with hair dryer, robe and toiletries. The Nespresso machine and Brazilian-themed turndown service (Havaianas flip-flops and a chocolate-honey pão de mel) add a special touch.
The hotel lobby is designed as a glass-enclosed greenhouse, showcasing the lush vegetation outside and an array of flowers and palms indoors. Garage-style windows open to walls of ferns at the Must Bar, where you can order a craft cocktail and listen to live jazz with a view on the outdoor swimming pool. The hotel restaurant and bar, Seen, features a nearly 360° panorama of São Paulo's sparkling skyline.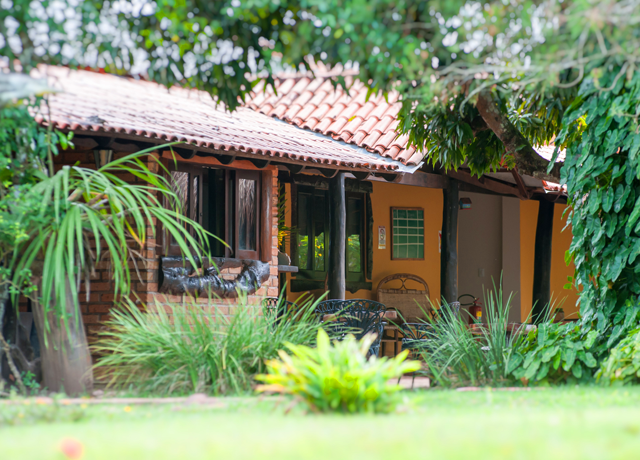 Araras Ecolodge
North Pantanal, Brazil
Araras Ecolodge is located in the northern sector of the Pantanal, the primary wildlife sanctuary on the South American continent. Situated in an environment of mixed habitats and rare biodiversity, the lodge was built in harmony with its surroundings and is accessible via the Transpantaneira park road, 83 miles south of Cuiabá, the capital of the Brazilian state of Mato Grosso. Regional rustic style defines the lodge accommodations, and a simple, homey atmosphere prevails in its 19 guest rooms and shared spaces. Rooms have air conditioning with screened windows, ceiling fans, and private bathrooms with cold and hot shower. Meals are served in the dining room or on the covered outdoor terrace adjacent to the swimming pool. The bar offers refreshing drinks, and hammocks invite relaxing on the large, tiled veranda. Indoors, guests will find a reading room, gift shop, and conference room for naturalist presentations. Food at Araras is a highlight, with delicious regional cuisine featuring locally raised meat and fresh fish from Pantanal waters, as well as organic salads, vegetables, seasonal fruits and fresh juices. Activities around the lodge include Jeep photo safaris, nature trails that offer close-up views of Pantanal flora and fauna, and canoe excursions along placid channels.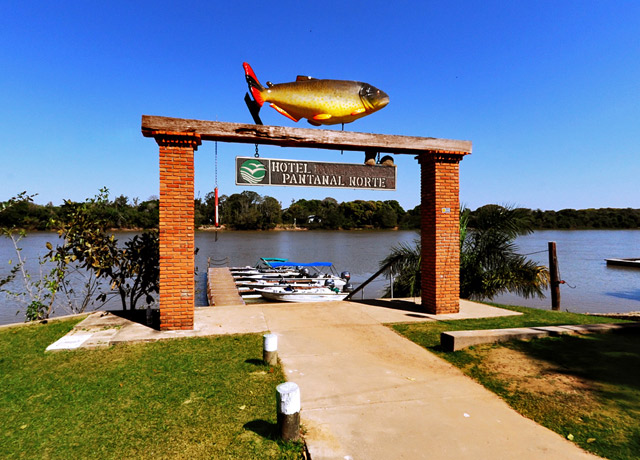 Hotel Pantanal Norte
Porto Jofre, Brazil
The Hotel Pantanal Norte lies in the heart of the Pantanal's best jaguar habitat. The family run hotel was once the site of a small farm, run by the owner's grandparents. Its remote location was legendary for fishing, and as its reputation grew, so did the number of friends who wanted to stay in order to fish. And that's the beginning of what became the Hotel Pantanal Norte. While the hotel still attracts avid fishing enthusiasts, it is also perfectly sited for jaguar tracking and wildlife viewing along the rivers that lace the region. The hotel, while simple, is bright, comfortable and spotlessly clean. Rooms in bungalow blocks front the river or flowering gardens, shaded beneath leafy trees. Abundant birds, including hyacinth macaws and toucans, frequent the grounds. A swimming pool, game room, and pool tables offer recreation after boat safaris. On boat rides into the watery wilderness, look for jaguars, of course, but also for giant otters, caimans, capybaras, sloths, monkeys, and more.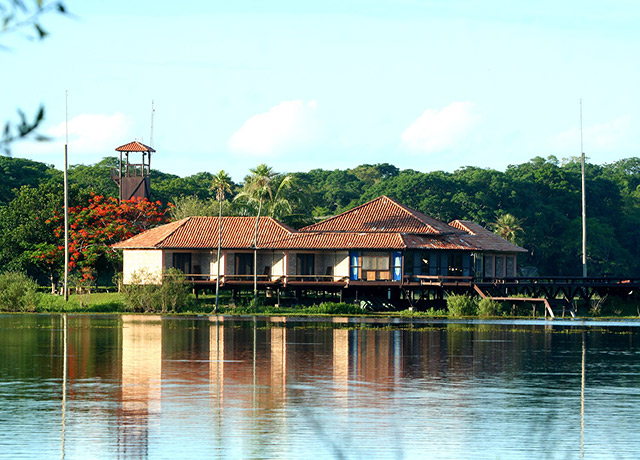 Caiman Ecological Refuge
Pantanal, Brazil
One of the most impressive ecolodges in the world, Caiman Ecological Refuge is part of a renowned private research, conservation and ecotourism initiative. Located deep within the southern Pantanal inside an enormous private reserve, the pousada offers comfortable accommodations, a broad slate of ecological activities, and by far the best wildlife viewing in the area. The ecolodge lies at the heart of a 130,000-acre sustainable cattle ranch that exudes the distinctive local cowboy culture, reflecting 200 years of melded Portuguese, Indigenous, and Paraguyan traditions. The lodge was the first ecotourism operation in the region and remains a conservation leader. When the refuge was established, 10 percent of the ranch acreage was set aside as a private conservation area, off limits to cattle but open to visitors. The protected area, chosen with the aid of research scientists from the University of Sao Paulo, is remarkably diverse, with habitats encompassing wooded and scrubby savanna, open pasture, stands of caranda palm, hammock forests, streams, and seasonal channels—all providing sustenance for numerous Pantanal species. The result is the very best and most exclusive wildlife-viewing experience in all the Pantanal.
Know Before You Go
Whether you're preparing for your upcoming adventure to Brazil's Pantanal or just want to learn more about the world's largest wetland, we've got you covered.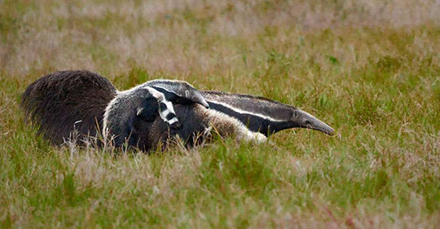 Frequently Asked Questions
Browse most frequently asked questions about Brazil's climate, wildlife, accommodations and more.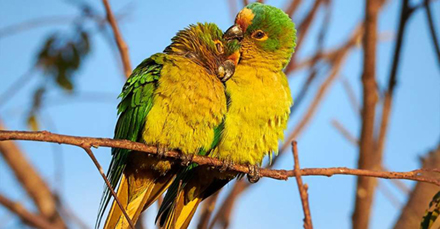 Weather and Climate
Find out about the weather in Brazil's dry season.
Trip Pricing
Trip Price: $12,295 (+internal air).
Internal Air Cost: $2,387 per person (this will be listed separately on our invoicing).
Single Occupancy: For a single room, add $2,995. Contact us to learn how you can avoid the single supplement.
Deposit: $500 per person (non-refundable)
Group Size
Limited to ~10 Travelers
A very important feature of our Brazil ecotourism adventure is the limited group size, as nature encounters are best experienced in the quiet, intimate, low-impact context of a small group of travelers. Our Brazil Pantanal adventure welcomes a maximum of 11 travelers.
Included
Trip price includes: Accommodations, services of SDZWA wildlife and conservation expert(s) and Nat Hab's professional expedition leader(s), local guides and lodge staff, all meals from dinner on Day 1 through breakfast on Day 11, most gratuities, airport transfers on Day 1 and the final day, all activities and entrance fees, all taxes, permits, and service fees.
Internal air cost includes: All flights within the itinerary (this will be listed separately on our invoicing).
Not Included
Travel to and from the start and end point of your trip, alcoholic beverages, some gratuities, passports and visa fees, optional activities, items of a personal nature (phone calls, laundry, and internet, etc.), airline baggage fees, airport and departure taxes (if any), required medical evacuation insurance, and optional travel protection insurance are not included. 
Physical Requirements: Moderate
While this trip does not require a substantial degree of physical fitness, in order to participate fully in this itinerary, guests should be able to undertake several walks and hikes that are typically two to three miles in length, over mostly flat and dry but sometimes uneven terrain. The longest walk is in the Pantanal, three miles over flat terrain. Brazil can be very hot and humid, and guests will often spend several hours at a stretch on walks, drives or boat rides. Sturdy walking shoes with good traction are recommended. All activities are optional.
On custom or private departures with smaller groups, our ability to accommodate varying levels of physical abilities or interests is limited, since these trips are staffed with a single expedition leader who may be assisted, pending availability, by local guides. 
Mandatory Insurance
Since the areas we travel to are remote and wild (that's why we go there!), we strongly recommend that all guests have, at minimum, medical evacuation insurance for this program. While this is not required, we make this strong suggestion in the interest of our guests' safety. We recommend that your chosen independent insurance plan includes at least $250,000 in medical evacuation coverage. 
To protect your investment and to provide peace of mind while you travel, we also strongly recommend purchasing comprehensive travel insurance. Plans may cover everything from medical treatment to trip cancellations, and delays and lost luggage. Please contact our office if you would like more information about the medical evacuation and comprehensive travel insurance policies we offer, by calling 800-543-8917. 
Getting There and Getting Home
Arrival: Arrive in Sao Paulo by 4 p.m. in order to attend a welcome dinner beginning at 7 p.m. on Day 1. 
Departure: You may depart Campo Grande at any time on Day 11.