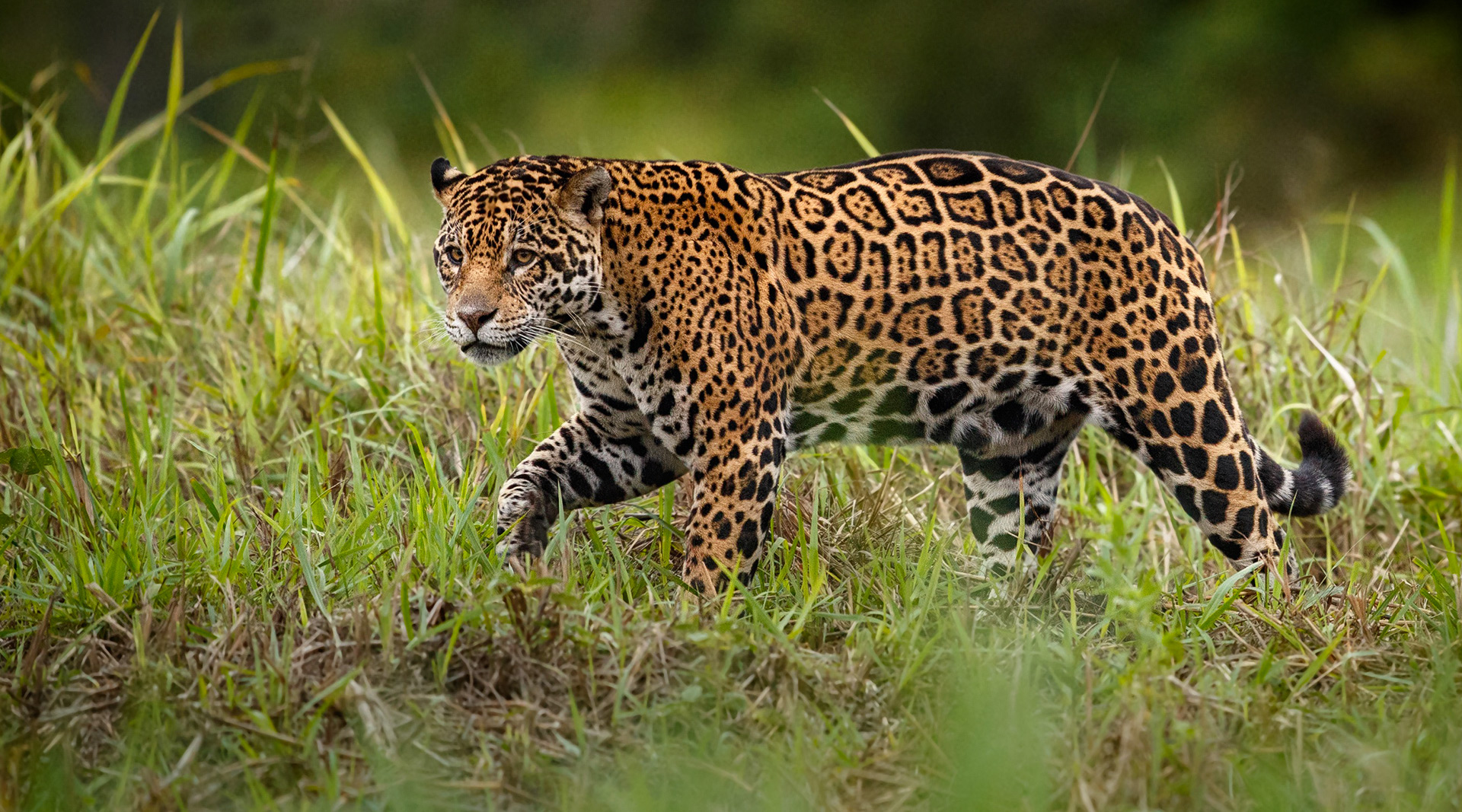 Jaguars & Wildlife of Brazil's Pantanal 2024
August 16-26, 2024
Prices starting at $12,295
Please call our tour operator at:
800-543-8917
faqs
What is the Pantanal? And where is it located in Brazil?
While the Amazon may be the premier wildlife destination in countries such as Peru and Ecuador, in Brazil, nothing beats the Pantanal. Part national park and part UNESCO World Heritage site, the Pantanal is a natural region encompassing the world's largest tropical wetland. It is South America's primary wildlife sanctuary, where thousands of species reside. The Pantanal is located in the midwestern Brazilian state of Mato Grosso do Sul.
When is the best time to visit Brazil's Pantanal?
The dry season (from June through October) is the best time to visit the Pantanal. These months are the coolest and vegetation is less dense, allowing for optimal wildlife viewing and bird watching. Areas of the Pantanal that flood during the rainy season become accessible, allowing for a more in-depth exploration of this biodiverse area and providing the highest chances of seeing elusive jaguars.
What is the weather like in the Pantanal area of Brazil?
The average daytime temperature in the Pantanal during the dry season (from June through October) is around 90ºF. Mornings and evenings can be quite chilly in June, July, and sometimes August, with temperatures dipping to near 40ºF. It can be both hot and very cool, and rain is always a possibility. Temperatures and rainfall begin to increase in October as the wet season approaches.
What wildlife will I see in Brazil's Pantanal?
The Pantanal is the largest tropical wetland on the planet and, as such, is a region of incredible biodiversity. Jaguars, ocelots, capuchins, howler monkeys, peccaries, capybaras, giant river otters, tapirs, South American coatis, anteaters, caimans, macaws, and thousands of other bird species inhabit the Pantanal.
Will I see jaguars in Brazil's Pantanal?
Though jaguars are elusive animals and tricky to find because of their spotted camouflage, there is a good chance we'll see one (or more!). Porto Jofre offers the greatest density of jaguars in the entire Pantanal, so our odds of seeing them there are high. We'll search for the stealthy cats on private skiff excursions, where we may find them prowling, fishing, or lounging by the riverbank.
What are the advantages of chartered flights as opposed to overland drives in Brazil?
By flying between destinations on our chartered planes, we get the most out of our time spent in Brazil. Chartered and scheduled flights maximize our wildlife viewing time by significantly cutting the time we would spend driving overland. Instead of slow and often rugged overland travel by van, we'll have an aerial view of the Pantanal and arrive at our destination quicker, to ensure more time for wildlife encounters.
What clothes should I pack for Brazil?
You will need to pack to prepare for both hot and cool weather on our trips to Brazil, as temperatures can fluctuate significantly from day to night, and rain is always a possibility. We recommend wearing lightweight, quick-drying clothing during the day. In the evenings, you'll want to have long pants and a light jacket to stay warm. Pack hiking boots or sturdy shoes for walks and excursions.
How physically active is this Brazil trip?
This trip is rated as moderate because guests must be able to walk approximately two to three miles over mostly flat but sometimes uneven terrain. Guests may experience long periods of walking or time in transit in hot and humid weather. On this trip, each guest can opt out of any activity; however, alternate activities may not be provided.
What are the hotels and lodges like on this Brazil tour?
While in Brazil, we'll reside in the country's most remote ecolodges, as close as possible to the best wildlife viewing. By staying at accommodations in the heart of private reserves and wildlife sanctuaries, we'll have unparalleled access to explore the region's biodiversity hotspots. Rooms at ecolodges are simple, and are equipped with air conditioning, screened windows, and ceiling fans to keep cool. Pristine wilderness surrounds many of these lodges, so don't be surprised if you catch sight of a howler monkey in the treetops while you're taking a refreshing dip in the swimming pool or dining on delicious traditional dishes from the Pantanal region.
What type of cuisine is Brazil known for? 
Brazilian cuisine is a fusion of African, European, and Indigenous influences, and varies greatly by region due to the large size of the country. Most meals consist of rice and beans, root vegetables, tropical fruits, meat, and fish, frequently combining savory and sweet flavors. Feijoada, the national dish, is a black bean stew served with rice and pork, alongside citrus and sautéed collard greens. There will be Western fare as well as Brazilian cuisine, especially local delicacies sourced from the Pantanal region, such as fresh fish dishes and tropical fruit for breakfast.
What currency will I need to use while traveling in Brazil?
The Brazilian Real (BRL) is the official currency of Brazil. We recommend exchanging money at a casa de cambio or a major bank in Rio for the best exchange rates. Click here to check the current exchange rate for USD to BRL. Credit cards are accepted at larger restaurants, hotels, and gift shops, and Visa is most widely used. Smaller establishments will commonly only take cash, so it's a good idea to have enough money on hand for gratuities and other incidental purchases.
Will there be cellphone service or internet connection on this trip?
Internet access will be available at all our accommodations, including those on the São Paulo, Rio, and Iguazu Falls extensions. Wi-Fi at Porto Jofre is slow and may be unavailable at times. Though there is cellphone service in Rio, it is limited and often nonexistent in the more remote areas of the country, and across the Pantanal. Our trips are focused on providing immersive nature and wildlife experiences, so we kindly ask guests to refrain from using electronics during group activities.
Is this Brazil adventure appropriate for children?
The minimum required age for this trip is 12 years old, because of full days and long transfers that can be difficult for youngsters.
How do I get to São Paulo to meet the group?
Guests are responsible for booking flights from their home city to São Paulo, Brazil. We recommend booking with us, as our air travel specialists are intimately familiar with the requirements of our trips and can arrange the most efficient and cost-effective travel into São Paulo.