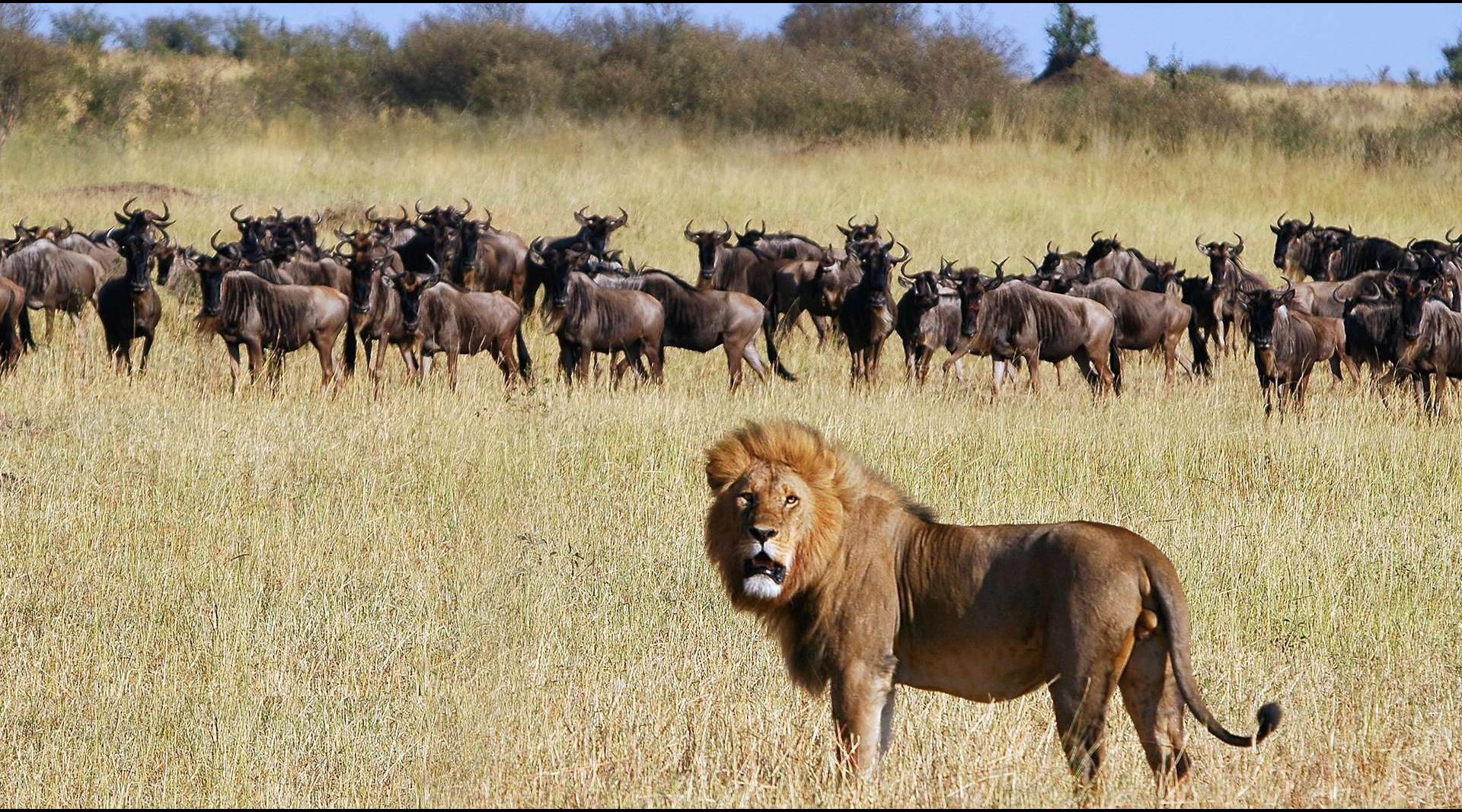 Kenya Migration & Reteti Adventure 2024
August 24- September 5, 2024
Prices starting at $23,995
Please call our tour operator at:
800-543-8917
Limited to 12 Travelers
Witness the migration from the Maasai Mara, with an exclusive visit to Reteti Elephant Sanctuary
No wildlife event on Earth rivals East Africa's Great Migration for sheer drama. Every year, enormous herds of wildebeest and zebra, 2 million strong, make a grand circuit across the plains from the Serengeti into Kenya's Maasai Mara and back, following the new grass that sprouts with the seasonal rains. A host of predators, including the Mara's abundant lions, follows in pursuit, ensuring their own survival by targeting weaker members of the herds. Along with the wonder of the migration, Kenya offers photographers iconic images of Africa: giraffes browsing in lacy acacia trees, elephants trundling over the savanna against the backdrop of snowcapped Mount Kenya, proud Maasai bedecked in traditional beadwork, and much more. Concentrating on private reserves, we avoid the most heavily visited areas, guaranteeing an authentic safari experience reminiscent of Kenya in days gone by.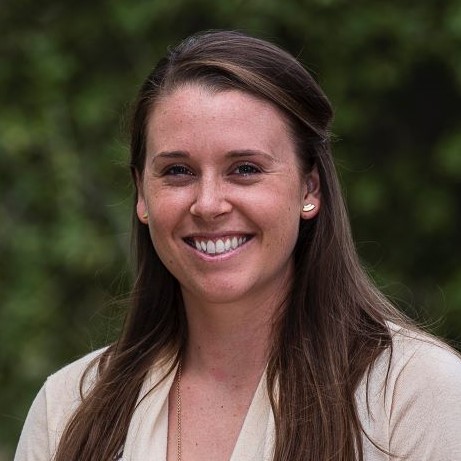 The SDZWA Host for this trip will be: Kirstie Ruppert, Ph.D., Scientist, Community Engagement
Kirstie serves San Diego Zoo Wildlife Alliance as a Scientist for Community Engagement in our Conservation Science & Wildlife Health Department. In this role, she oversees and supports social science and evaluation work to progress our Conservation Hubs, strengthening the connection between community goals and wildlife conservation efforts around the world. Kirstie has helped to lead SDZWA programs focused on savanna landscapes, with many of these collaborations situated in the community conservancies of northern Kenya. There, she works in partnership with local pastoralist communities and conservation organizations to promote coexistence between people and wildlife, including giraffe, leopards, elephants, and rhinos. On this trip, Kirstie is especially looking forward to closing each day with a sundowner or fireside chat, recounting your favorite moments with Kenya's remarkable places and people.
Trip Highlights
Enjoy unparalleled proximity to the herds from our luxury mobile camps in the Maasai Mara and on an adjacent private conservancy
Witness thousands of wildebeest crossing a river as crocodiles lie in wait—and view thrilling predator-prey interactions on the savanna
Private Visit to Reteti Elephant Sanctuary
Our SDZWA Host will lead a private tour of Reteti where you will see behind-the-scenes efforts that go into caring for orphaned elephants.
Special opportunities to experience SDZWA Conservation projects
Visit with our partners and community conservancies working to save rhinos, leopards and giraffe around Loisaba. Guests may even get to participate in field work, like checking cameras or tracking animals. 
What Makes Our Kenya Migration Safari Stand Out?
To witness hundreds of thousands of animals crossing the Maasai Mara, as far as your eye can see, is a wildlife phenomenon with no parallel on Earth. Imagine close-up shots of thousands of wildebeest and zebra clattering over the plains, followed by a phalanx of predators—photographers won't find a greater thrill. That's why, if you're making a once-in-a-lifetime trip to Africa to see the Great Migration, you must do it right. Don't end up in crowded parks, cramped vehicles and large safari lodges far from wildlife corridors. Here's why you should experience the migration with us!
The Most In-Depth Migration Itinerary




Compare itineraries. We spend eight full days in the Maasai Mara at the time of year when the migration is typically at its peak. We stay in two different locations where wildlife is most prolific—in the heart of the national reserve and on a private conservancy adjacent to the park where visitor numbers are strictly limited. Our itinerary is designed to place you in peak proximity to the herds—not other travelers.

Our Private Mobile Camp Puts You Amid the Action




Many "migration safaris" stay at big lodges far removed from the migration itself, having to travel long distances each day to find the herds. In contrast, our private mobile camp—exclusively for Nat Hab guests—is set in a remote area of the reserve where water and good grass typically keep the herds nearby. It's also located near the Mara and Talek rivers, where we may witness exciting river crossings with frequent predator-prey interactions.

Experience & Small Groups Bring Exclusivity




We travel with a maximum of 12 guests divided into smaller groups among safari vehicles, enabling us to get closer to wildlife in a quieter context for photography—and your experience is enriched by more personalized interpretation from our guides. Our Expedition Leaders make all the difference in the popular Maasai Mara. They know the region and wildlife intimately and are able to purposefully avoid other vehicles as we find our own sightings.

Exclusive Safari Activities on a Private Reserve




Most migration safaris stay strictly within the national reserve. But we also stay on an exclusive private conservancy, where we have the opportunity for guided bush walks, off-road exploration and night drives in search of nocturnal wildlife. None of these activities is available inside the national parks.

Fly To and From the Bush




Many safari companies transport you to and from the Maasai Mara from Nairobi by vehicle, meaning long, dusty drives over rough roads. We fly both ways, maximizing time for what you have come to Kenya for: wildlife viewing on safari.

The World's Finest Safari Guides




Natural Habitat Adventures is known worldwide for employing the finest naturalists on the planet. In Kenya, rather than using local camp guides at each stop, you'll travel from start to finish with our own Safari Expedition Leaders—the most highly trained guides in Africa—dedicated to providing exceptional service. Our Expedition Leaders average more than 15 years' experience each.
Itinerary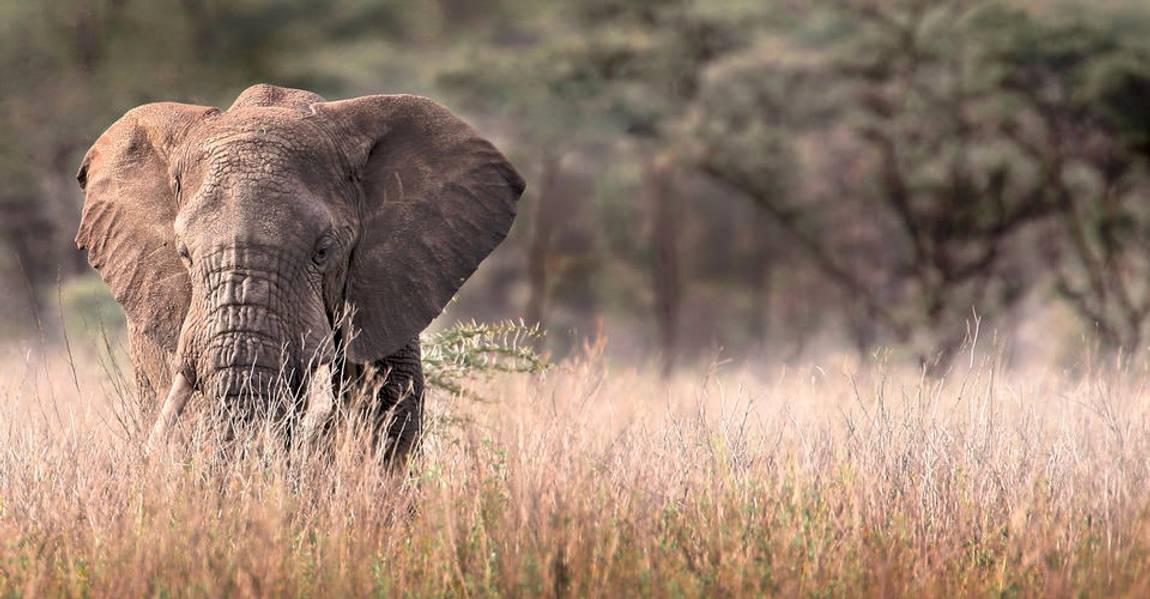 Day 1–13: Experience one of the world's most incredible events in Africa's most classic safari destination - Kenya, home to the massive movement of creatures that is the Great Migration!
Accommodations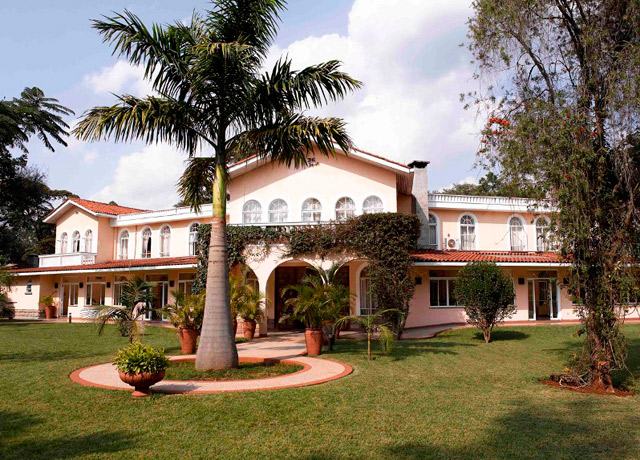 House of Waine
Nairobi, Kenya
The House of Waine, located in the quiet residential suburb of Karen on the outskirts of Nairobi, offers an appealing alternative to standardized city hotels. Set on 2.5 beautifully manicured acres, it was originally built as a lavish private estate. Later acquired by a local family, the elegant property was carefully refurbished, resulting in the distinctive boutique hotel that exists today. The stately home offers guests an authentic experience of personalized African hospitality with uniquely designed rooms, modern amenities and traditional Kenyan charm.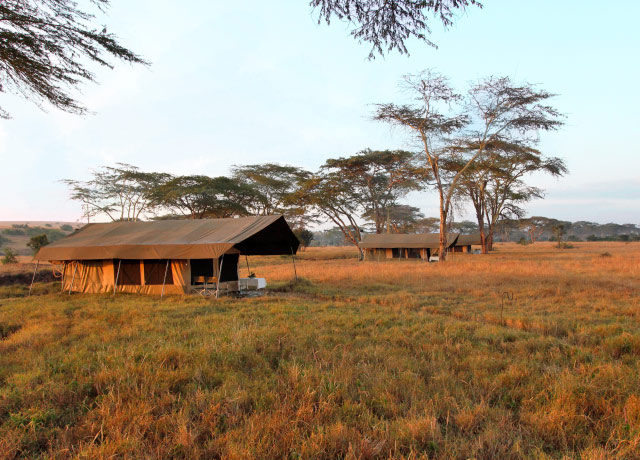 Nat Hab's Private Mobile Camp–Mara Conservancy
Our luxury mobile tented camp is the perfect base for wilderness family adventures. Situated in a remote location on a private conservancy in the Maasai Mara adjacent to the national reserve, it offers outstanding proximity to prime wildlife viewing without the crowds. Each tent has a shaded veranda with table and comfortable chairs. Inside the heavy-duty canvas walls you'll find shelves, luggage racks and hanging caddies for your personal items. At night, sink into cotton linens, duvets and blankets to ward off the chill, with the added comfort of a hot water bottle provided each evening. En suite bathrooms have flush toilet, sink, warm water dispenser and safari-style hot showers. Solar-powered lighting is available around the clock in each tent, with charging facilities for all your electronic needs in the main lounge. After sunset, camp paths are illuminated by kerosene lanterns. Fine meals are served in the dining tent or outdoors under the shade of an acacia tree. A separate lounge tent offers comfortable furnishings so guests can sink back and share stories of the day. Once darkness falls, gather round the campfire and listen for the roar of a lion while the Milky Way puts on a bedtime show.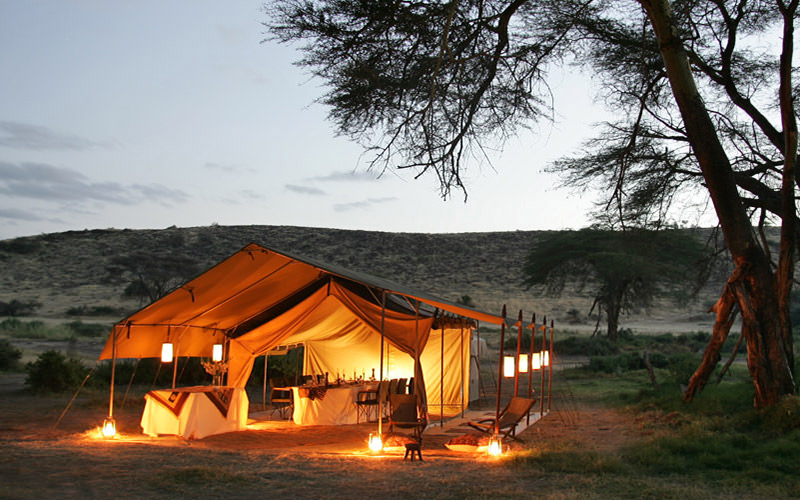 Nat Hab's Migration Base Camp–Maasai Mara
Maasai Mara, Kenya
To sleep beneath canvas in the bush, under a Milky Way so thick with stars that it looks like clouds, listening for the roar of lions in the distance… there's no more iconic safari experience! Yet while a remote tented camp may evoke the classic ambience of old, it doesn't mean you sacrifice modern-day comforts. Natural Habitat's Migration Base Camp in the Maasai Mara is a most refined way to experience the African wilderness. We place the camp in the best wildlife-viewing areas, where seclusion amid raw nature prevails. Inside the deluxe tents, however, you'll find full beds with quality bedding and attached en suite bathrooms—surprising comfort and privacy—and your own veranda with director's chairs out front, shaded beneath a canvas awning. Kerosene lanterns lend an atmospheric glow at night. Evenings in camp are magical, with dinner served on a white tablecloth under the stars, and nightcaps around a roaring fire. If you want a safari straight 'Out of Africa,' you'll find it at our Migration Base Camp in the Mara. 
Conservation of wildlife and the environment in Africa never happens apart from the people who live in and near fragile areas that need protection. In addition to supporting communities by virtue of our safaris, which offer direct economic benefit through our hiring of local staff and the purchase of local goods and supplies in the communities proximate to where we travel, our Natural Habitat Migration Base Camp also supports other regional projects to sustain local people and the environment.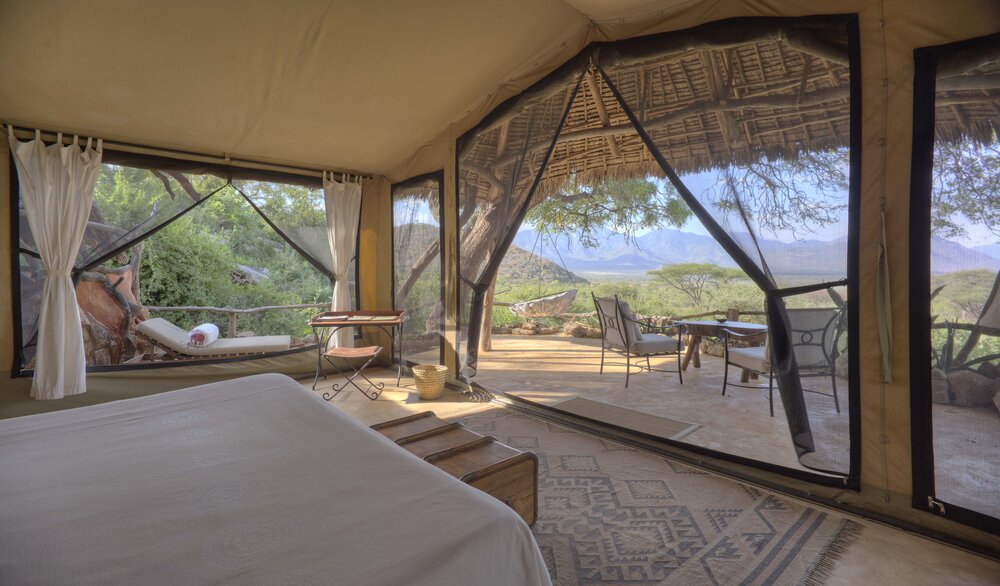 Sarara Camp
Namunyak Wildlife Conservancy, Mathews Range, Kenya
Sarara Camp features just six luxury tents, each placed for stunning views of the Mathews Range of mountains and the water hole that draws wildlife from all around. The tents are made of light, draped canvas with tall ceilings, beautiful rugs, cozy seating and warm linens. The en suite bathroom features hot and cold running water and an outdoor shower with a view. A swimming pool also offers respite after your game drive or a nature walk, and you can simply sit and view elephant at the water hole or playful monkeys in the trees. Situated in the Namunyak Wildlife Conservancy, an area of 850,000 acres of pristine wilderness in the Mathews Range, Sarara has established itself as one of the best places for quality leopard viewing in East Africa and for close-up sightings of the normally extremely shy lesser kudu antelope. Unique to Sarara is the "singing wells" experience. The Samburu people have a wonderful tradition, which guests are welcome to observe.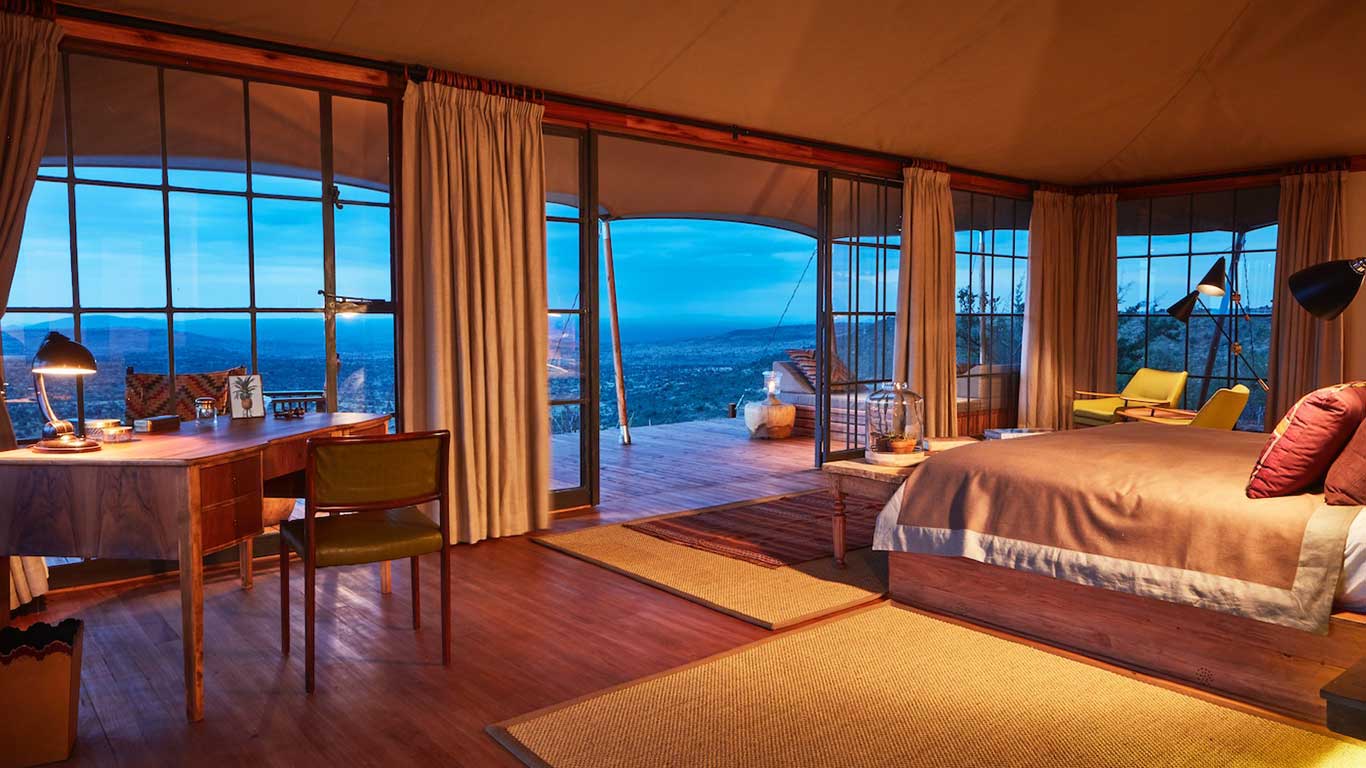 Loisaba Lodo Springs
Loisaba Conservancy, Kenya
Loisaba Lodo Springs is a distinctive retreat featuring just eight en suite tented rooms with incredible views reaching across the landscape to Mount Kenya. Service is a priority, with each suite assigned an ambassador to cater to guests needs and wants. In each semi-tented room, floor-to-ceiling windows and doors lead to a private veranda with a daybed, while drapes can be pulled closed for privacy and comfort. Antique and handmade furniture adorns the space, which comprises a large bedroom and sitting area as well as a spacious en suite bathroom with a double vanity, shower and separate water closet. The views are legendary, and a waterhole a few hundred feet below draws continuous wildlife. The central areas of camp include a lounge, bar, dining room, infinity pool and viewing decks, always taking in the amazing views.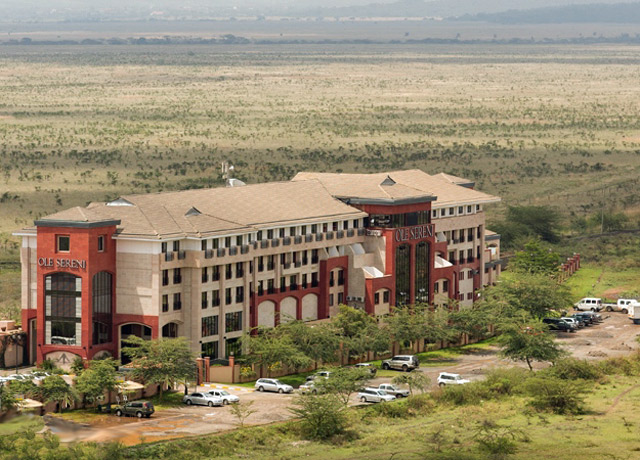 Ole Sereni Hotel
Nairobi, Kenya
Conveniently located between Nairobi's domestic Wilson Airport and Jomo Kenyatta International Airport (the latter is less than 15 minutes' drive), Ole Sereni also offers a taste of wild Kenya, overlooking the bushlands of Nairobi National Park. Hotel guests frequently see giraffe, zebra, antelope and buffalo lounging near the nearby waterhole. The hotel offers all the conveniences you might need upon arriving in Kenya or before flying home. Each en suite room is equipped with the most modern amenities, with complimentary Wi-Fi, a well-lit desk, LCD flat screen TV and mini bar. The Big Five Restaurant serves meals on a 300-foot-long veranda with a view over Nairobi National Park. The Waterhole Snack Bar offers the same vista, while Eagle's is a fine-dining steak house on the fourth floor. Relax with a drink at the Ngong Pool Bar after a swim in the infinity pool. The Duma Health and Fitness Club features a full gym, salon, steam room and sauna, as well as massage facilities.
Know Before You Go
Whether you're traveling to witness the Great Migration or just want to learn more about Kenya, peruse this array of helpful resources. Our wildlife guides, packing tips and safari stories will give you a true taste of wild Africa.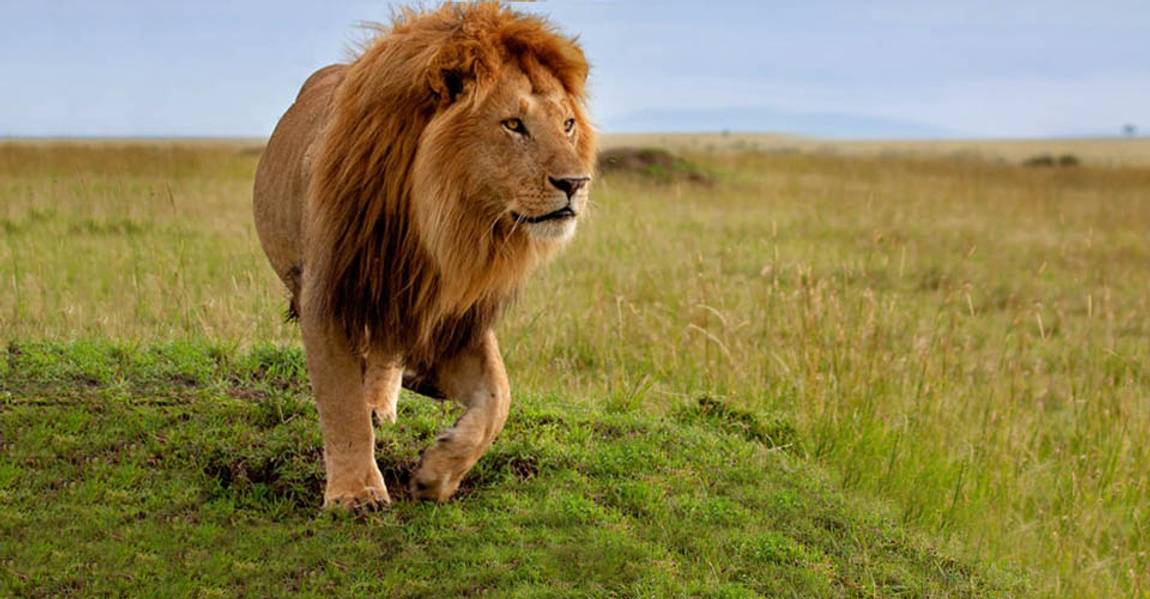 Frequently Asked Questions
Browse our most frequently asked questions about Kenya's wildlife, accommodations and more.
Weather and Climate
Kenya Weather & Climate
Trip Pricing
Trip Price: $23,995 (+internal air). This price is based on 2023 rates and subject to change slightly.
Internal Air Cost: $1,013 per person (this will be listed separately on our invoicing).
Single Occupancy: For a single room, add $4,682. Contact us to learn how you can avoid the single supplement.
Deposit: $2,000 per person, non-refundable
Group Size
Limited to 12 Travelers
Small groups are our hallmark, as they ensure better access and a quieter context for intimate wildlife encounters. We divide our groups further on game drives, splitting up into multiple vehicles to assure plenty of space and personalized attention from our guides.
Specialized 4x4 Land Rovers and Land Cruisers
Explore the wilds of Kenya in custom-built, durable 4x4 Toyota Land Cruisers or Land Rovers. All travelers have a window (side) seat. On safari, we use open-sided vehicles with a canvas roof, offering an open field of view with protection from the sun. Built to withstand the rigors of rough roads, they provide a relatively comfortable ride and excellent wildlife viewing opportunities. Reinforced suspension systems and spacious interiors enhance the safari experience. Amenities available in each vehicle include a car fridge or coolers with water and soft drinks, bird and mammal reference guides, bean bags for camera stability, and Maasai shuka blankets for added warmth on cool morning and evening drives. Our vehicles truly enhance your safari experience!
Included
Trip price includes: Accommodations, services of SDZWA Host and Nat Hab's Expedition Leader(s), local guides, camp staff, all meals from dinner on Day 1 through lunch on final day, some alcoholic beverages, most gratuities, airport transfers on Day 1 and final day, all activities and entrance fees, all taxes, permits and service fees.
Internal air fee includes: All light aircraft flights within the itinerary (this will be listed separately on our invoicing).
Not Included
Travel to and from the start and end point of your trip, some alcoholic beverages, some gratuities, passports and visa fees, optional activities, items of a personal nature (phone calls, laundry, and internet, etc.), airline baggage fees, airport and departure taxes (if any), required medical evacuation insurance, and optional travel protection insurance are not included. 
Physical Requirements: Easy / Moderate
To participate in this trip, you must be able to walk unassisted at a steady pace for at least one mile over uneven terrain, climb steps to get into and out of our raised safari vehicles, and be able to tolerate daily outdoor excursions that may last 4-5 hours or even a full day at a time, sometimes in hot, windy and/or dusty conditions. Wildlife drives pose a particular type of physical demand on the body, as they require long hours of sitting and take place over terrain that is often very rough and bumpy, including dirt roads with many ruts and potholes. Travelers with back or neck problems, or other health issues that could be exacerbated by such conditions, should take this into consideration. While any walking safaris are considered optional, travelers must be able to walk unassisted to and from the vehicle to our camp accommodations, sometimes walking over uneven ground or on boardwalks. Days spent on safari are often long, as mornings typically start before daybreak and evening meals are served after sundown. Safari accommodations and vehicles are not climate-controlled and, depending on the season, temperatures can range from quite cold to extremely hot, so it is critical that travelers come prepared.
Mandatory Insurance
Since the areas we travel to are remote and wild (that's why we go there!), we strongly recommend that all guests have, at minimum, medical evacuation insurance for this program. While this is not required, we make this strong suggestion in the interest of our guests' safety. We recommend that your chosen independent insurance plan includes at least $250,000 in medical evacuation coverage. 
To protect your investment and to provide peace of mind while you travel, we also strongly recommend purchasing comprehensive travel insurance. Plans may cover everything from medical treatment to trip cancellations, and delays and lost luggage. Please contact our office if you would like more information about the medical evacuation and comprehensive travel insurance policies we offer, by calling 800-543-8917. 
Getting There and Getting Home
Please plan to arrive in Nairobi, Kenya by 5 pm on Day 1 in order to attend a 7 pm welcome dinner. You are free to depart Nairobi after 6 pm on the final day.
We can best serve you if our Natural Habitat Adventures Travel Desk makes your reservations, as we are intimately familiar with the special requirements of this program and can arrange the most efficient travel. Please call us at 800-543-8917. Note that while we offer you the best possible rates available to us on airfare and additional nights' accommodations, you may find special web rates or better fares online.