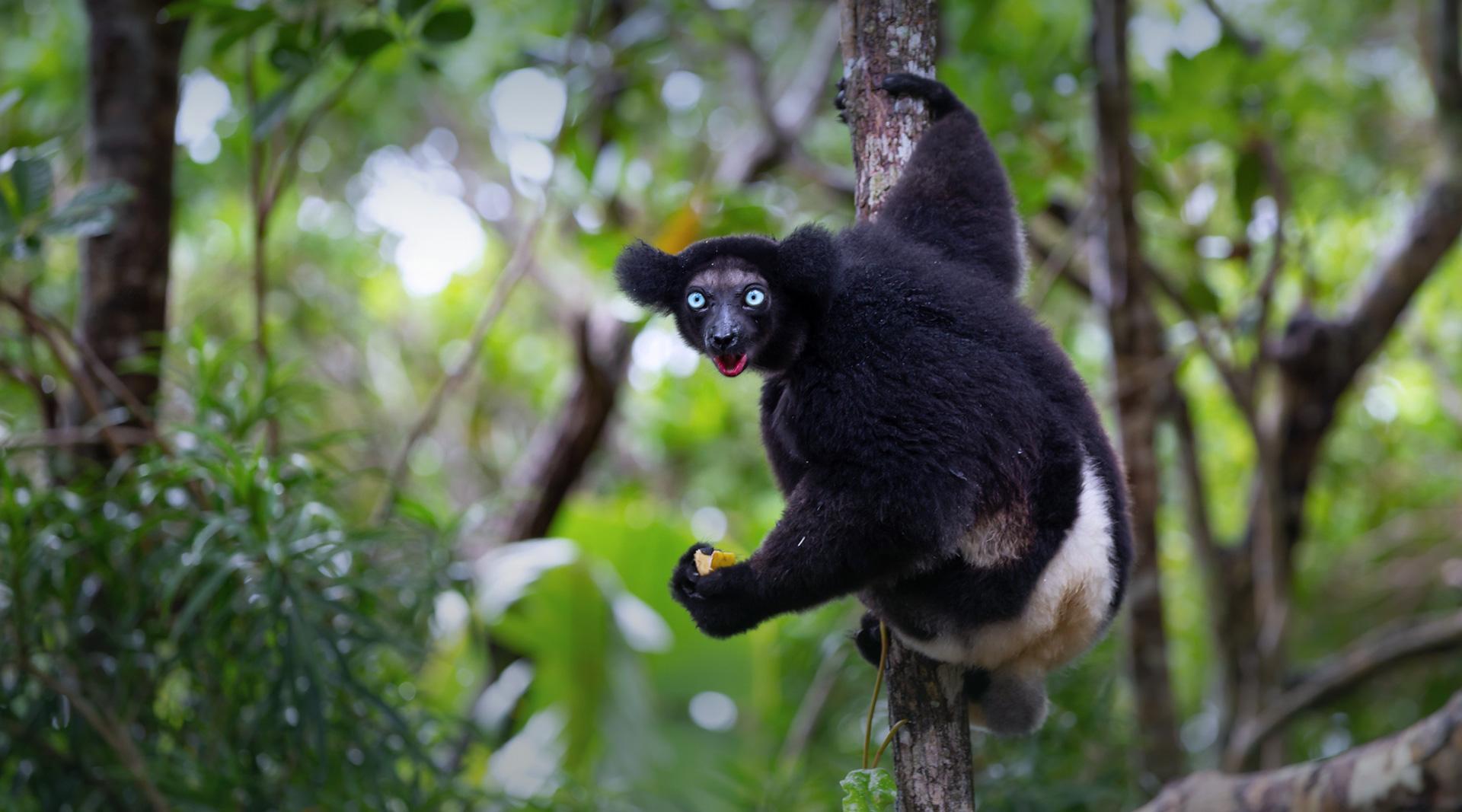 Madagascar Wildlife Adventure 2024
September 26–October 8, 2024
Prices starting at $13,595
Please call our tour operator at:
800-543-8917
Limited to 10 Travelers
An Exclusive Encounter with the World's Most Unique Biodiversity Hotspot
Madagascar is indeed a world apart. Its rainforests are home to diademed sifakas, indris, fossas, and tenrecs, while baobabs and pachypodia dot its sandstone deserts. Curious about these exotic-sounding names? For even the best-traveled nature lover, Madagascar offers a kaleidoscope of discoveries. It's no wonder it is referred to as a priority destination—more than 80percent of the island nation's rare and intriguing plants and animals, including more than 100 different varieties of lemur, exist nowhere else. There's no better way to experience this living time capsule that broke away from the super-continent some 100 million years ago than on our exclusive small-group journey, with private chartered flights to maximize your time. Discover an "eighth continent" you never knew existed, as we enjoy close encounters with some of the planet's most unusual species.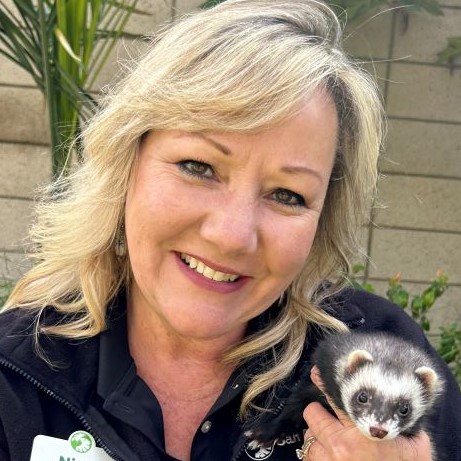 The SDZWA host for this trip will be: Nicki Boyd, Curator of Applied Behavior, San Diego Zoo
Nicki is the Curator of Applied Behavior at the San Diego Zoo. Her educational background includes graduating from Moorpark College's Exotic Animal Training and Management Program, Mesa College's Animal Health Technician Program, with an Associate in Science Degree, and earning a Bachelor's in Business Administration from the University of Phoenix. Nicki is currently working on her MA in Biology Conservation through Miami's Ohio University, Project Dragonfly Program.
Nicki has worked at the San Diego Zoo for 30 years in various departments and roles such as wildlife care specialist, team area lead, Wildlife Care Supervisor, Wildlife Care Manager, Associate Curator of Behavioral Husbandry and now Curator of Applied Behavior. Nicki is also in charge of Wildlife Connections at the Zoo, which includes all four of the wildlife ambassador teams. She is on the board of directors for the Animal Behavior Management Alliance, The Biodiversity Group, Red Panda Network and currently serves on AZA's Behavior Scientific Advisory Group and Ambassador Animal Scientific Advisory Group.
One of the things Nicki is most excited for on the trip to Madagascar is seeing the native habitats to so many animal species she has worked with over the years including lemurs, fossa, and tenrecs. As a world traveler she is always ready for the next adventure!
Trip Highlights
Lemurs, Lemurs, and More Lemurs!
View a variety of fascinating lemurs on multiple encounters with these primates found only on this biologically isolated island. 
Four National Parks and a Private Reserve
Discover rare habitats and endangered wildlife in four distinctly different parks, plus the exclusive Anjajavy Reserve accessible only by our chartered flight.
Chartered Flights Enhance Your Trip
Maximize time in wild areas and minimize long, rugged drives via chartered flights that ensure comfortable, timely travel.  
Our Madagascar Adventure Is a Standout in an Outstanding Land!
When it comes to unique destinations for nature adventures, you can't top Madagascar. More than 80 percent of the intriguing plants and animals on the world's fourth largest island exist nowhere else. An intimate discovery of this "world apart" requires a very small group and exclusive transportation features not offered on any other tour we're aware of. Take a look at what sets our Madagascar adventure apart:
Our Unique Itinerary Maximizes Your Time in Nature
Most people who visit Madagascar do so just once, so it's crucial to get the most out of each day. Compare itineraries carefully: on other trips, you may lose several days crossing the country on long drives, or your travels may be confined to fewer regions. With us, you'll spend more time in distinctly varied wild places, rather than traveling great distances between them. By including chartered flights, we avoid many long, tiring days on rough roads, and we access a greater selection of rarely visited areas.
 
A Very Small Group (10 to 12 Max) Ensures Intimate Wildlife Encounters
The best wildlife experiences are always more likely to occur in the presence of fewer people. We explore Madagascar with no more than 10 or 12 travelers—likely the smallest group you'll find—ensuring a quieter experience in nature.
 
Chartered Flights are Key to a Superlative Experience 
When other companies include flights, they typically use the national carrier, Air Madagascar, with a terrible track record for delays and cancellations. In fact, in recent years, altered schedules have become the norm. Travelers booked on Air Madagascar can sometimes wait a full day or more in airports, or be re-routed in a manner requiring a 24-hour drive on very poor dirt roads. To be certain we don't compromise your comfort or waste valuable time for wildlife viewing, we have arranged our own private chartered flights. This is a costly commitment, but it ensures we get where we want to be in a convenient and timely manner, so you don't lose out due to airline caprices.
 
Travel in the Company of a Top Expedition Leader, Plus Expert Local Guides
Compare the quality of guides and guest-to-guide ratio: You'll travel with a top expedition leader experienced in guiding in Madagascar, plus a seasoned local guide who knows the country like none other. Our expedition leader provides expert tour management and the integrated perspective of a professional naturalist, while our Malagasy guide adds in-depth local knowledge, helping to maximize the variety of wildlife you'll see. We're also joined by regional park guides in several places, who add even more depth and expertise.
 
We Tailor Activities to Varied Physical Abilities
We will often divide our groups on hikes in order to accommodate different physical capacities. Since we explore with a complement of guides, from our own expedition leader and in-country partner to various local guides in the parks we visit, we're able to split up based on physical challenge, ensuring you won't feel let down or frustrated when other travelers' abilities may not match yours (though all guests must be able to meet our minimum physical requirements for this trip).
 
Unique Accommodations Close to Nature—Including Anjajavy Lodge
We emphasize secluded lodging on private reserves and/or close to protected national parks. From bungalows tucked within the rainforest to your own eco-villa on a nature reserve accessible only by private airstrip, our focus is on intimate natural settings. Anjajavy Lodge is a special highlight: Madagascar's only Relais & Chateaux property (a four-star establishment, by European standards), its guests have access to more than 17,000 acres on a private reserve containing 1,800 floral species and a multitude of rare wildlife. At Andasibe-Mantadia National Park, our stay on a private estate near the park includes a visit to its small lemur preserve, where we get very close to Madagascar's famous icons.
 
Be Part of a Conservation Success Story
It's not an exaggeration to say that without our presence, and that of other eco-conscious travelers, most of Madagascar's remaining wild habitat would be gone. By demonstrating the economic value of nature tourism, bringing visitors to observe the intriguing species found in Madagascar's remarkably biodiverse forests, we show local communities the value of protecting their wild surroundings. Conservation travel is imperative to the future of nature in Madagascar. And when you travel with us, you're central to that mission.
Itinerary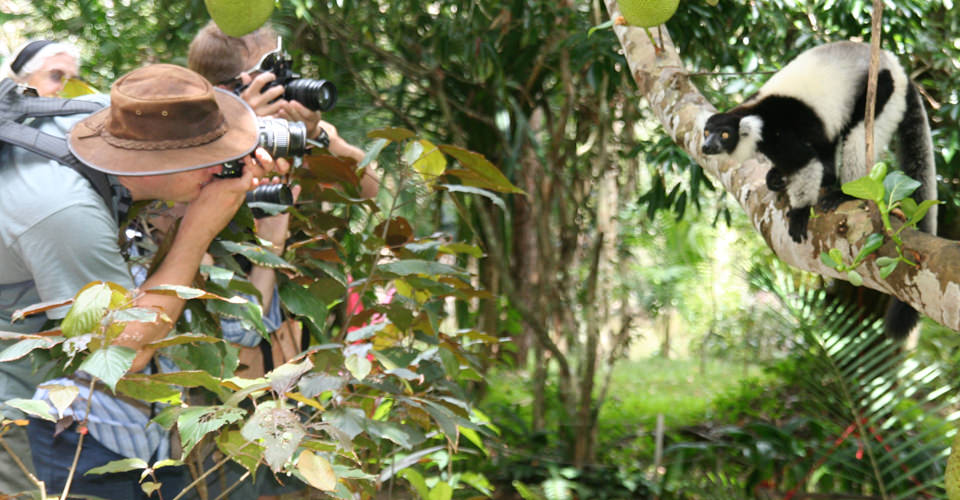 Day 1–13: Look for lemurs and so much more, as we explore the wondrous biodiversity of the planet's most unique island. Madagascar is truly a world apart!
Accommodations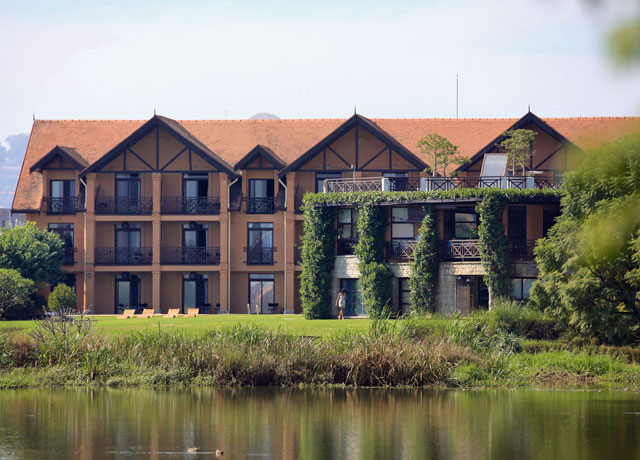 Hotel Tamboho
Antananarivo, Madagascar 
This 30-room boutique hotel offers convenient proximity to Madagascar's capital, while providing a haven of peace and privacy on the green banks of a small lake not far from the city center. Hotel Tamboho combines traditional Malagasy architectural touches with modern comforts, incorporating natural materials into the design, including stone, wood, iron, aluminum, and raffia. Spacious guest rooms feature rich wood furnishings and bamboo flooring, air conditioning, flat-screen satellite TV, free Wi-Fi, a safe, and facilities for making hot drinks. The on-site restaurant offers creative Malagasy cooking, and enjoys shaded terrace views across the lake, while the tea garden offers a serene setting for drinks. A heated swimming pool and massage therapy services are also available, and a small, secure shopping center is located within easy and safe walking distance.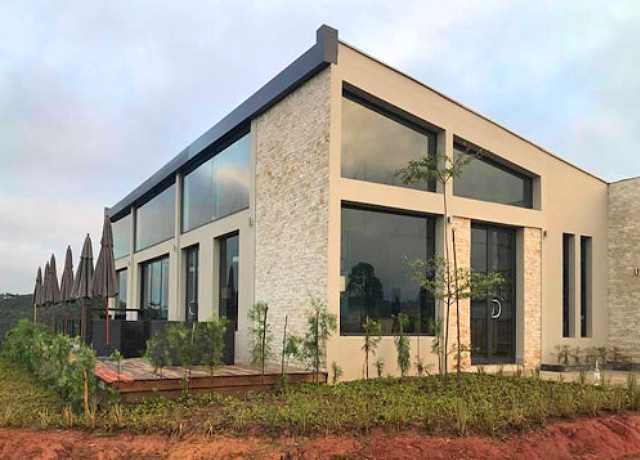 Mantadia Lodge 
Andasibe, Madagascar 
Set high on a ridge overlooking a eucalyptus forest, rooms in Mantadia Lodge's contemporary, whitewashed stone and stucco bungalows each have a terrace with broad views over the domain of the indri, a lemur found only in nearby Perinet Reserve and Mantadia National Park. In this casual, comfortable atmosphere, crisp white linens are set off by natural wood and stone decor in spacious bedrooms. Beds are raised on heavy timber platforms, and abundant glass lets you absorb a panoramic view. During the cooler season, retreat to your sumptuous private lounge area with a wood-burning stove. En suite bathrooms have showers that let you take in the lush view, and rooms are equipped with Wi-Fi and satellite TV. The on-site restaurant has a sprawling deck for fresh-air dining, as well as enormous picture windows that bring the outdoors in. On the manicured grounds, you'll also find an infinity pool, a spa and a small souvenir shop featuring products made by local artisans.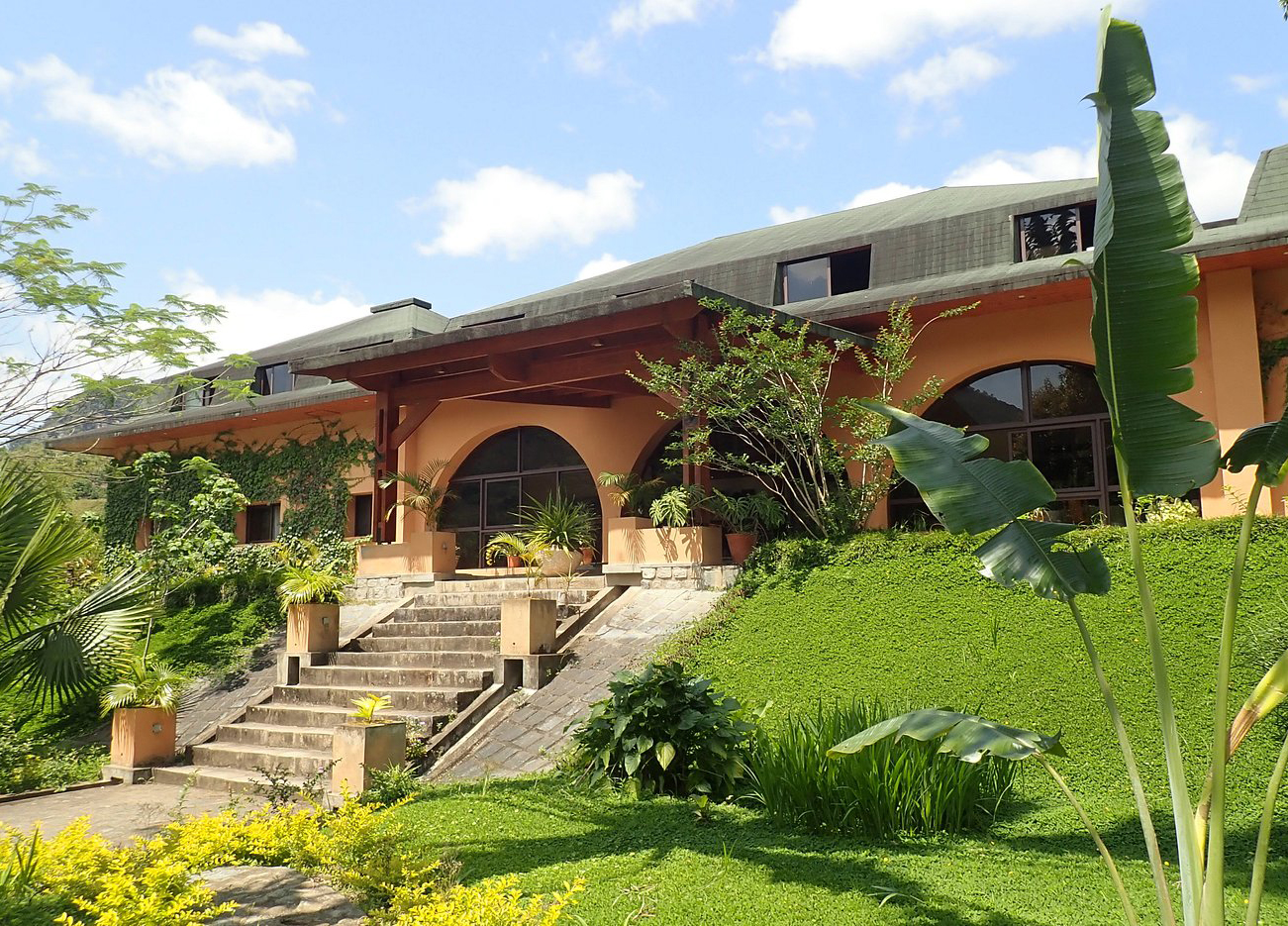 Hotel Thermal Ranomafana  
Ranomafana National Park, Madagascar 
Formerly a health resort, Thermal Hotel was recently reconstructed to restore balance to the local environment and the community of Ranomafana. Designed to exist in harmony with the lush mountainous terrain, Thermal Hotel evokes a cozy cabin ethos with rich wooden interiors and 21 guest rooms lined with pine panels and punctuated by vibrant fabrics. Spacious and airy, each room includes an en suite bathroom, air-conditioning, a TV, a safe and a mini bar.
Thermal Hotel is committed to sustainable tourism development in cooperation with the local community. The property rests on a fertile riverside plot on the western edge of Ranomafana village. Ranomafana means 'hot water,' named for the region's thermal spring—a popular attraction that guests can visit from the hotel's footbridge. The hotel grounds blend seamlessly with the surrounding landscape and are thoughtfully maintained by the people of Ranomafana, who tend to the garden and vegetable patch. Guests can lounge on outdoor seating, search for resident chameleons, or take a leisurely stroll to the river to bird-watch. The property also boasts a wellness center with massage treatments, private pools and a gym. Venture to the light-filled restaurant for ornate dishes imbued with Malagasy flare and fresh, seasonal ingredients from the garden outside. Then, grab a drink at the hotel bar and connect to the Wi-Fi to share photos and stories from the day's adventures. Golden bamboo lemurs, Milne-Edwards's sifaka and the elusive aye-aye await!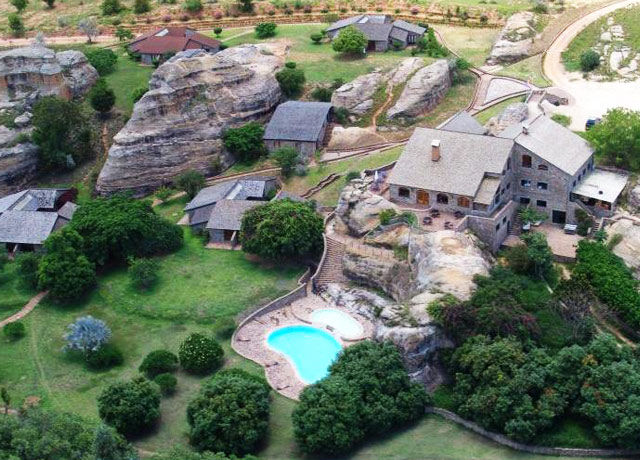 Relais de la Reine  
Isalo National Park, Madagascar 
Constructed by local craftsmen using the local granite and sandstone found in this part of Madagascar, this family run boutique ecolodge blends seamlessly with its natural environment. Stone pathways are carved in harmony with the rocky surroundings, while guest chalets merge with the landscape. The lodge's 30 guest rooms have thick stone walls to keep them cool in this desert environment, with handcrafted rosewood furnishings within. Beautifully manicured gardens, flowering trees, and lawns, set against a backdrop of red sandstone cliffs, complement the natural beauty of the property. An inviting outdoor pool beckons after a long day of exploration, while the Brigitte Spa offers an enticing menu of massages, facials, scrubs, and wraps infused with Malagasy spices and fruit extracts. The dining room, bar, reception area, and lounge all have high-peaked ceilings and large windows. Several patios offer the option of outdoor dining.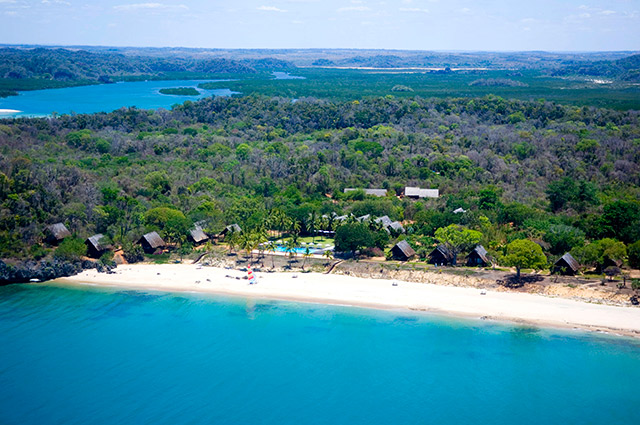 Anjajavy Lodge 
Northwestern Madagascar 
Set within a private nature reserve at the end of a peninsula jutting into the Mozambique Channel, Anjajavy Lodge offers an immersion in Malagasy nature at the edge of the sea. Yet, despite its remote location, which is accessible only by private airstrip, this boutique ecolodge offers all the contemporary comforts a discerning guest could wish for. A four-star establishment by European standards, Anjajavy features 24 rosewood villas, each with a private terrace facing the sea. Each villa has a bedroom with a sitting area, breakfast table, and bathroom with separate lavatory. A small staircase provides access to the upper level with an additional small loft for lounging. An individually controlled, silent air conditioning system keeps the villa at an optimal temperature. 
Know Before You Go
Whether you're traveling to this biodiversity hotspot or just want to learn more about Madagascar, peruse this array of helpful resources.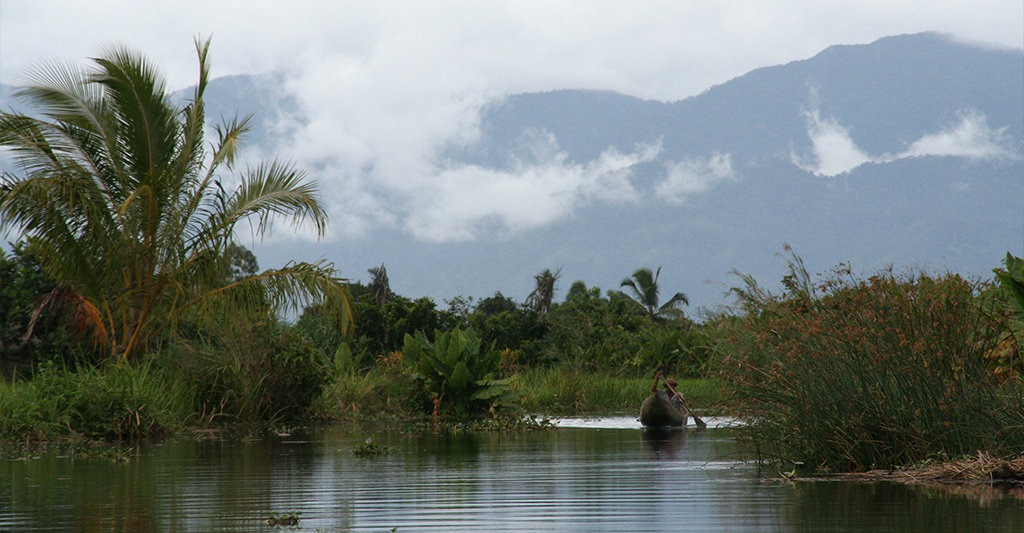 Weather and Climate
Find out about the typical weather conditions in Madagascar in this breakdown of average temperatures and rainfall. 
Trip Pricing
Trip Price: $13,595 (+internal air) per person. Price based on double/shared occupancy.
Internal Air Cost: $3,481 per person (this will be listed separately on our invoicing).
Single Occupancy: For a single room, add $2,295. Contact us to learn how you can avoid the single supplement.
Deposit: $500 per person (non-refundable)
Group Size 
Limited to 10 Travelers 
A very important feature of our Madagascar safari is the small group size, as nature travel is best experienced with fewer people, in order to enhance intimate encounters with wildlife and nature. Our Madagascar Wildlife Adventure is capped at 10 travelers.
Included 
Trip price includes: Accommodations, services of SDZWA wildlife and conservation expert(s) and Nat Hab's professional expedition leader(s), local guides and camp staff, all meals from dinner on Day 1 through lunch on the final day, most gratuities, airport transfers on Day 1 and the final day, all activities and entrance fees, all taxes, permits, and service fees. Internal air cost includes all charter flights within the itinerary (this will be listed separately on our invoicing). 
Not Included 
Travel to and from the start and end point of your trip, some alcoholic beverages, some gratuities, passport and visa fees (if any), optional activities, items of a personal nature (phone calls, laundry, and internet, etc.), airline baggage fees, airport and departure taxes (if any), required medical evacuation insurance, and optional travel protection insurance are not included.  
Physical Requirements: Moderate to Difficult
In order to participate fully in this adventure, guests must be able to hike unassisted for at least three miles in a single stretch along dirt trails, up and down steep and sometimes slippery slopes, over or around tree roots that protrude from the trail, up and down tall steps cut into the paths, and occasionally off-trail and into the brush over wet leaves, tree roots and through hanging vines to see wildlife. The group may do multiple hikes during a day, and total distances may exceed 5 miles. Travelers must be comfortable crossing a sturdy bridge over a gorge, walking through sand and into knee-deep water to climb into and out of a boat with assistance, and walking along wooden boardwalks without a railing. All guests must be able to climb stairs unassisted.  
Throughout the itinerary, we will travel with more than one guide, allowing us to divide the group by varying physical ability level, to accommodate those who prefer more or less demanding hikes. But in all cases, guests must meet the minimum physical requirements as explained here.  
Days are often long, as mornings typically start before daybreak with dinner served after sundown. All wildlife-viewing activities happen on foot and require a combination of endurance, balance, and a good view of the trail underfoot. Trekking poles can be very helpful, enhancing stability, and we will provide them to anyone who wishes at any point during the trip. Most hikes are considered moderate with regard to exertion level, though some are more difficult, particularly in the rainforests, where terrain can be especially rugged and/or slippery. While our longest excursions can last up to four hours, we move at a leisurely pace, interspersing many stops to view wildlife in the trees around us with bursts of more moderate exertion as we trek between wildlife sightings. While all activities are optional, those who can walk longer distances on more strenuous trails will gain the most from this trip and may see more wildlife species that reside deeper within the forest. Longer and more difficult hikes may be offered in certain areas when time permits, though guests have the option of whether or not to seek that extra challenge, since we are able to split the group according to different physical abilities.  
Our private chartered flights utilize unpressurized turbo-prop aircraft that may fly as high as 10,000 feet. Elevations can reach 4,700 feet above sea level during our excursions. Temperatures can be quite cold in some areas, especially during the months of July and August, while heat in other areas can demand greater exertion, particularly on September through November departures. Some roads are winding, and guests prone to motion sickness are advised to carry medication for such conditions. Other roads may have potholes, creating rough driving conditions and possibly causing you to bounce in your seat. 
On custom or private departures with smaller groups, our ability to accommodate varying levels of physical abilities or interests is limited, since these trips are staffed with a single expedition leader who may be assisted, pending availability, by local guides.  
Important Information About This Trip 
Madagascar's varied ecosystems offer a range of nature encounters. We will hike in rainforests (which can be hot and humid), take boat rides to view wildlife, and may have the chance to snorkel, for those who desire. Participation in all physical activities is optional. We ask our guests to understand that the accommodations in Madagascar are not, collectively, of the standard that may be found in other more established African safari countries. Some lodgings are relatively luxurious, while others are plain but clean and comfortable. In all cases, we have selected the best accommodations available at each location. Changes to the itinerary may occur in order to take advantage of conditions unique to the season and/or to accommodate unexpected internal chartered flight schedule changes; therefore, itineraries may on occasion need to be rerouted or redesigned without notice.
Mandatory Insurance
Since the areas we travel to are remote and wild (that's why we go there!), we strongly recommend that all guests have, at minimum, medical evacuation insurance for this program. While this is not required, we make this strong suggestion in the interest of our guests' safety. We recommend that your chosen independent insurance plan includes at least $250,000 in medical evacuation coverage.

To protect your investment and to provide peace of mind while you travel, we also strongly recommend purchasing comprehensive travel insurance. Plans may cover everything from medical treatment to trip cancellations and delays and lost luggage. Please contact our office if you would like more information about the medical evacuation and comprehensive travel insurance policies we offer, by calling 800-543-8917.
Getting There and Getting Home 
You must arrive in Antananarivo, Madagascar by 3 p.m. on Day 1 for a 7 p.m. welcome dinner. You are free to depart Antananarivo any time after 2 p.m. on the final day (Day 13).